Imagine with me. You are the boss of an ice cream shop. You decide on the amount of stock to keep and prepare in advance. You will definitely stock up and prepare more in summer where the hottest period of the year is.
Trading during the European session is like selling ice cream in summer. There is an enormous amount of trading activity and breakouts are more commonly seen.
#1 European Session Trading Hours
Europe wakes up as Asia winds down at 7am GMT. We will look at the opening and closing time of London as it is the biggest financial center in Europe.
#2 Reasons
Reason 1: Being the most active Forex market in the world, you will expect high liquidity and low spreads, saving you time and money.
Reason 2: Volatility is higher which presents more trading opportunities such as breakouts. This means that you don't have to wait for long before you pocket a profit.
Reason 3: About 30% of all Forex transactions take place here.
#3 Characteristics
London's session overlaps with 2 other major trading sessions – the Asian session prior to the open, and New York session towards the end. As such, this session is usually the most volatile.
Volatility will tone down in the middle of the session as traders head off for lunch before waiting for the New York session to begin. 
Before the New York session, there is a tendency for reversals to occur, especially if the currency pair has made a substantial move.
#4 Average Pip Movement
The table below shows the average pip movement for the London session.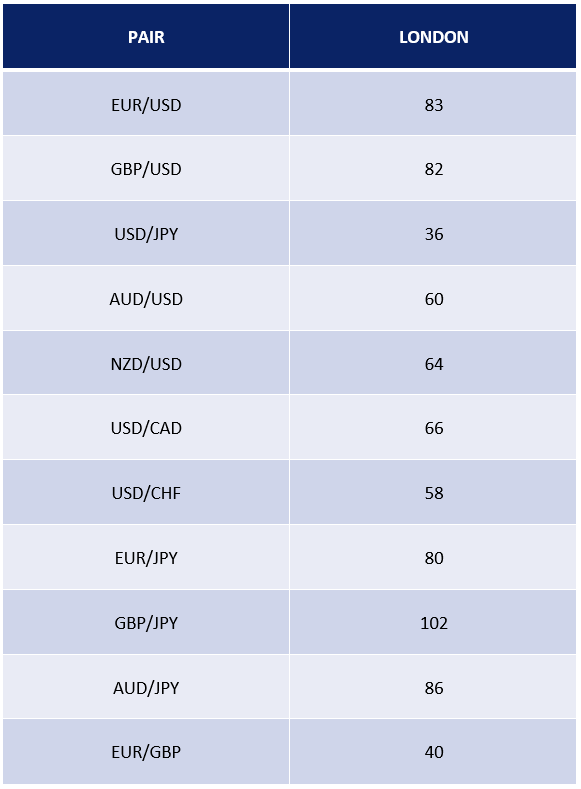 Please note that this table is not all-inclusive and the range may differ from time to time depending on various conditions such as news and specific economic trading activity. 
#5 Which Pairs Should You Trade?
You guessed it! You should focus on the pairs with a larger range and trade those.
Conclusion
With the right understanding and expectations, this session can be extra rewarding.
As trend following and breakout strategies work great in this session, this session favors those who can read price action.
For those who are able to only trade when the USA's markets are open, look out for the next article as we shift our focus to New York.
Here's What You Can Do To Improve Your Trading Right Now:
#1 Join us in our Facebook Group and share your questions as we learn and grow.
#2 Never miss another market update; get it delivered to you via Telegram.
#3 Grab a front row seat and discover how you can expand your trading arsenal in our FREE courses (for a limited time only).
See you around!