Can you imagine a life without electricity?
You'll need to light candles or lamps to illuminate your place. You'll have romantic candlelight dinner everyday.
Our forefathers survived with little to no electricity. However, the reliance on electricity has skyrocketed as we own more and more electronics and gadgets. It's therefore unimaginable to live without electricity, not even for a day!
This week's stock pick of the week is an electricity, gas, and steam provider in the US. It's also the leading solar power producer in North America. 
Introducing… Consolidated Edison.
Before we dive right into the performance of Consolidated Edison, let's 1st have a look at the overall stock market.
Performance Of US Stock Market vs Consolidated Edison

Can you spot 1 similarity and 1 difference? 
Let's talk about the difference 1st. 
While the S&P 500 futures is in a downtrend since the turn of 2022, the share price of Consolidated Edison (ED) has been in a magnificent uptrend even before the start of 2022. 
This shows that ED has been stronger and outperforming the US stock market for a long time! 
Zooming into the similarity, both the S&P 500 futures and ED enjoyed a bullish week, and even ending the week well. 
Having discovered that ED is and has been much stronger than the overall US stock market, the next step is to measure each of its up move to determine if it's worth analyzing ED further for an explosive swing trade. 
How Explosive Is ED?
To put things into perspective, ED has a huge market capitalization of $35b. This places it in the top 500 largest companies by market capitalization. 
Can a company that supplies electricity, gas, and steam bring explosive up moves for its shareholders? Let's find out!
The smallest up move measures 6% while the largest up move in the past 7 months measures 11.5%!
Given that this is a huge company whose share price has been on an uptrend while the overall US stock market is in a downtrend, do you share the same conclusion that the share price of ED has been pretty explosive? 
Can you remember what the next step of analysis involves? 
Yes! You'll need to uncover ED's hidden price levels.
Let's do just that in the next section. 
Key Price Levels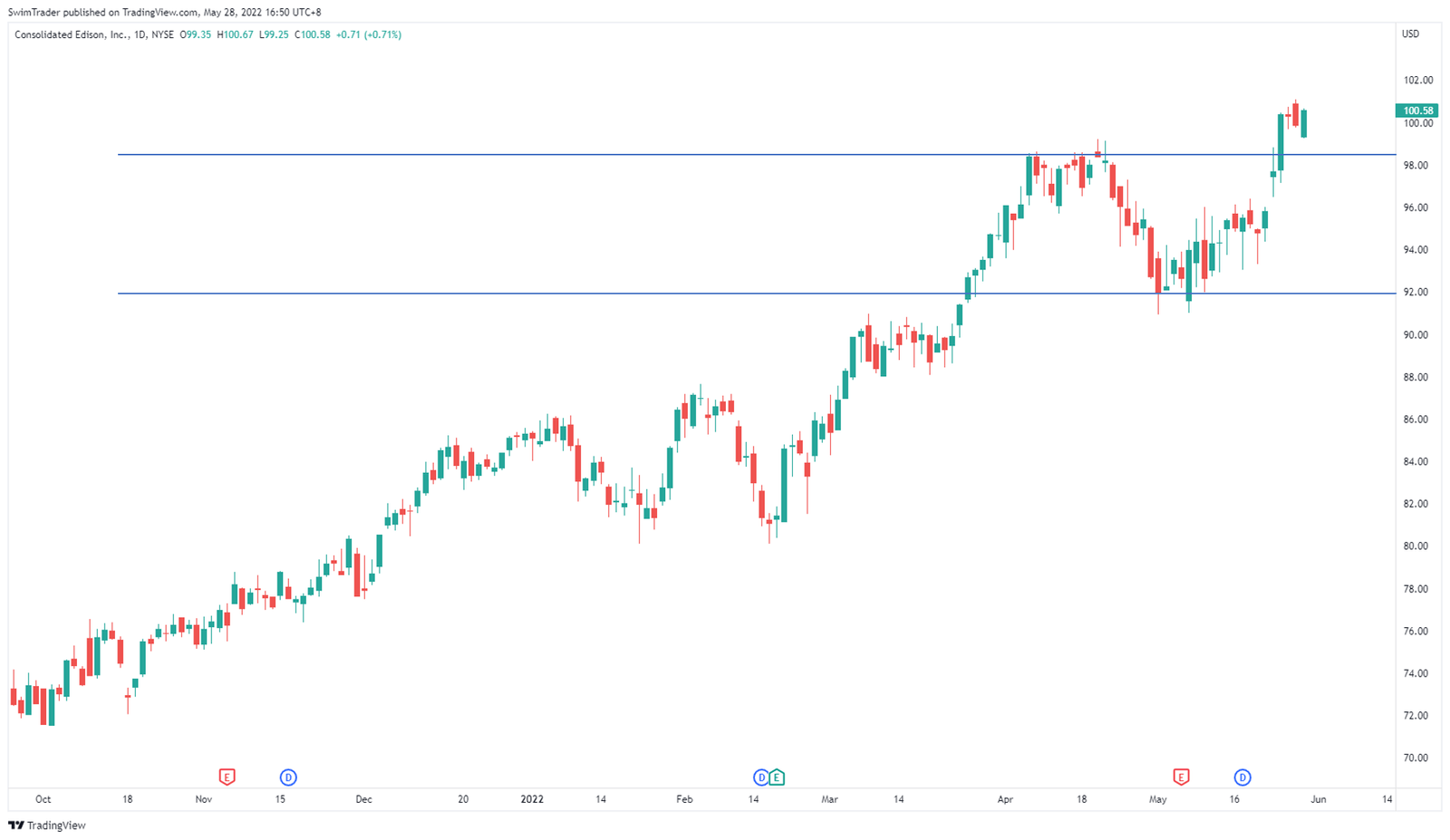 Having plotted the support and resistance zones of ED, you can tell that there're 2 support zones at $98 and $92. 
It's important to view support and resistance zones as zones where the buying and selling pressure is high. Therefore, there's a chance that the price of ED pulls back to $98 before taking off. 
In the event that the price of ED doesn't pull back to $98, it'll take off to form new all-time highs. 
After comparing the performance of ED to the performance of the overall US stock market, determining if ED has been capable of making explosive up moves, and uncovering its hidden price levels, the next step is to select a suitable strategy to capture its next explosive up move. 
The Strategy You Can Use To Trade ED
Here, you'll be planning your entry, profit taking, and stop loss levels. 
In every trading strategy, you must know your entry, profit taking, and stop loss levels to stay in business. Yes, trading is a business indicating that the strategy you use must be well formulated too.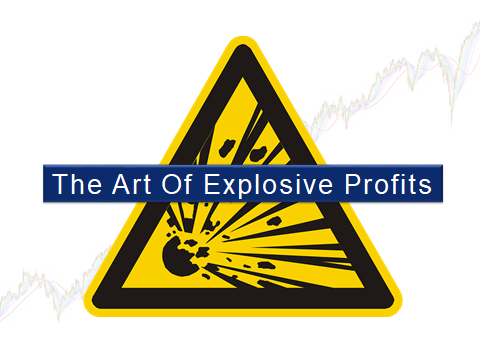 Using The Art of Explosive Profits framework (AEP for short), I'd like for the price of ED to pull back to its support level around $98 before launching a fresh up move. 
As its name suggests, you'll be looking to catch an explosive move in a short period of time consistently. 
In the AEP course, you'll be coached on how to search for strong stocks like ED instead of relying on news and hear-say.
You'll also become fluent in reading charts to shortlist stocks that are about to have an explosive move.
Finally, you'll learn how to identify the optimized entry, stop loss, and take profit level to capture these explosive moves that you've been waiting for (in a safe manner, of course)! 
Have a look at the AEP framework and add this explosive trading strategy to your arsenal to seize more trading opportunities.
Why Is ED The Stock Pick Of The Week?
Source: https://www.conedison.com/en/
ED is the stock pick of the week because it has been and still is much stronger than the overall US stock market. 
As the S&P 500 futures headed up last week, ED's share price headed up likewise. 
In addition, ED's share price has proven to be explosive, with each move measuring at least 6% despite its huge market capitalization. 
I know that you're excited. Before you jump into trading ED, you need to know that I'm not a financial advisor. So please take what you've read here for edutainment. 
Otherwise stated, all photos and images are from unsplash.com, pexels.com, pixabay.com, and tradingview.com.
Here's What You Can Do To Improve Your Trading Right Now:
#1 Join us in our Facebook Group as we can discuss the various ways of applying this by clicking here
#2 Never miss another market update; get it delivered to you via Telegram by clicking here
#3 Grab a front row seat and discover how you can expand your trading arsenal in our FREE courses (for a limited time only) by clicking here
Trade safe!