Talk of recession and the fear of one is everywhere.
While there're a couple of signs of recessions, not all is gloomy.
There're a handful of stocks that are strong. They provide a short-term trading opportunity in this uncertain and volatile times.
Shall we explore one such stock that's in the technology sector? 
Let's have a look at Dell Technologies. 
Performance Of US Stock Market vs Dell Technologies
Adopting the top down approach, we start by analyzing the overall US stock market, which is represented by the S&P 500 futures.
From the chart of the S&P 500 futures above, you can see that the overall US stock market is in a downtrend. The past week has been bearish too, with the S&P 500 futures losing more than 5.5%. 
How has the share price of Dell Technologies (DELL) performed?
Its share price has been dropping from the start of 2022, similar to the S&P 500 future's price. However, the price trend of DELL has changed to an uptrend as shown below.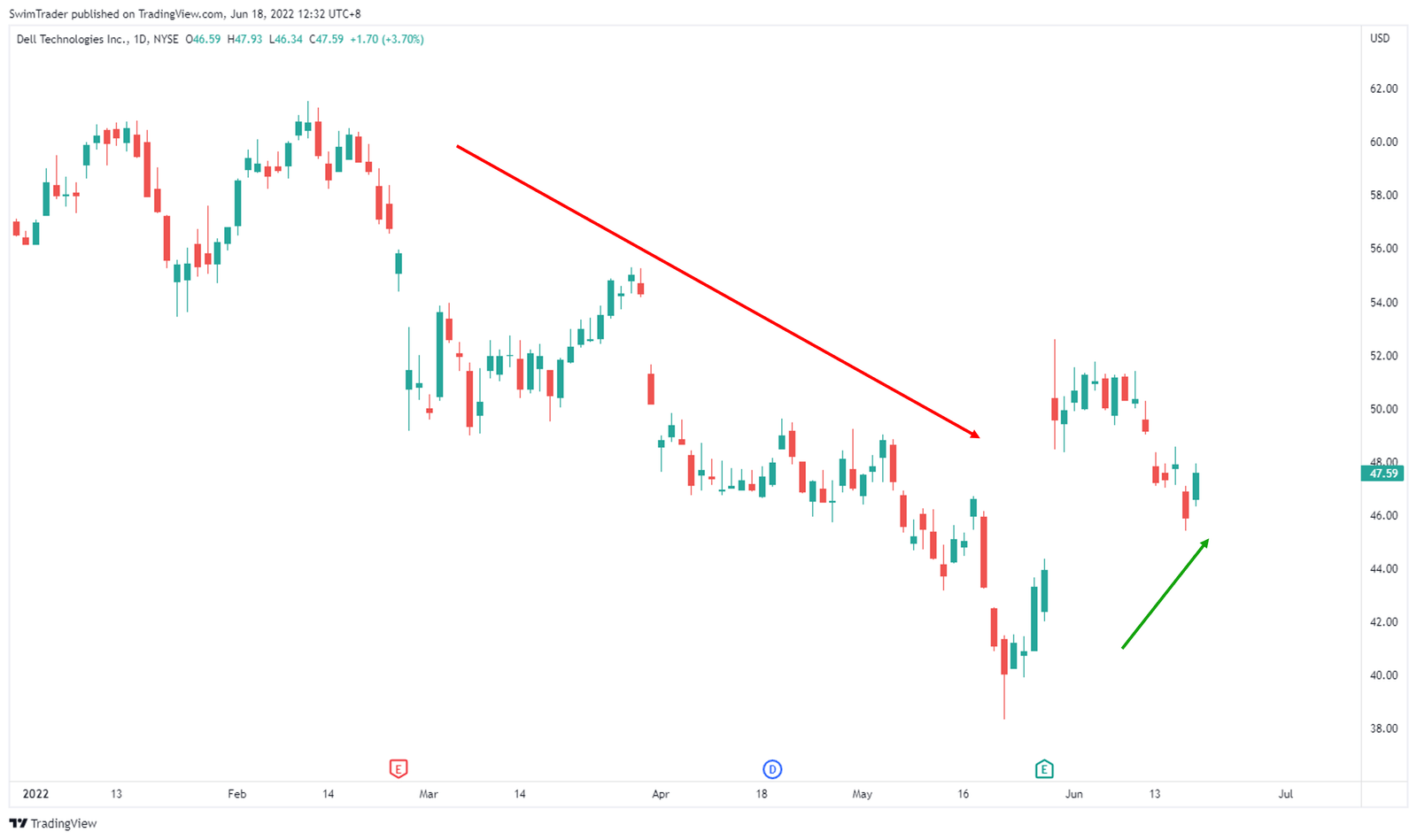 DELL's performance was flat last week, and this is a much better performance than the overall US stock market. 
Knowing that DELL is outperforming the overall US stock market, let's analyze it further by checking out the explosiveness of DELL's up moves.
How Explosive Is DELL?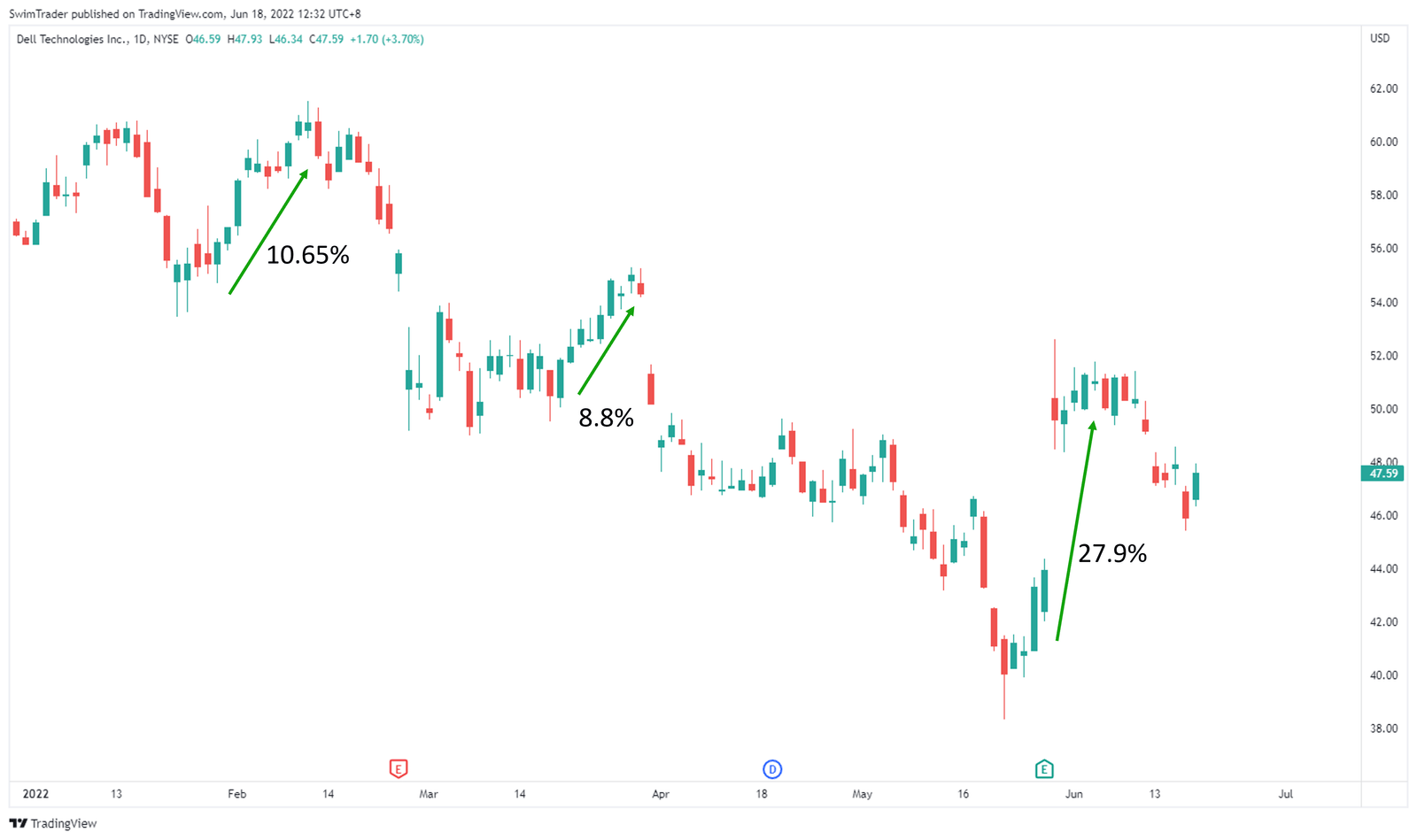 Even while in a downtrend, every up move by DELL is explosive! They measure between 8.8% to 27.9% which is remarkable for a technology giant with a market capitalization of almost $34b.
If these up moves were to continue in its new uptrend, that would be nothing short of breathtaking. And I cannot wait!
But before you get overly excited and rush to place an order, there's 1 other thing you'll need to analyze. 
Yes, you'll need to identify DELL's key price levels to have a gauge on where its price is likely to turn.
Key Price Levels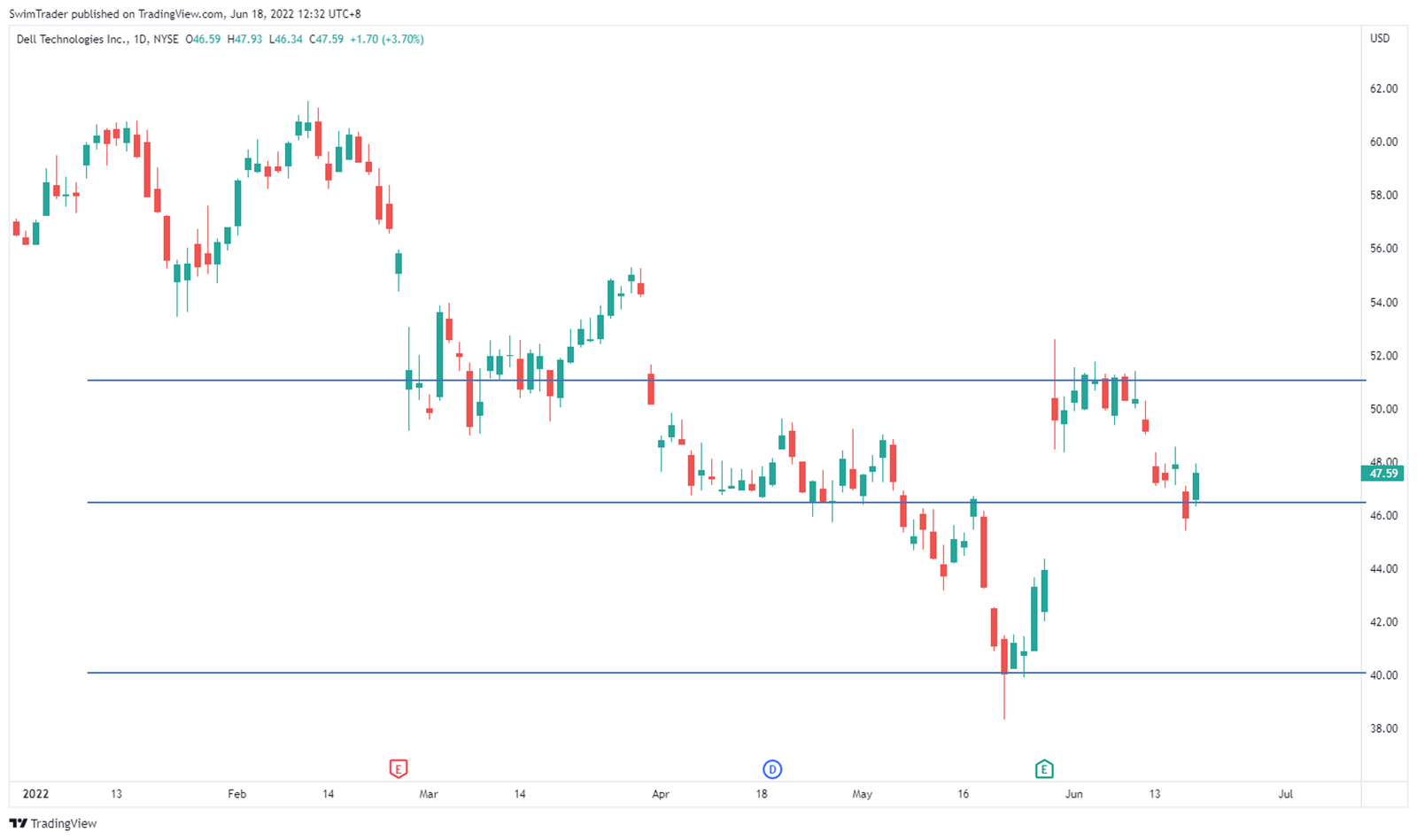 Drawn on the chart of DELL are its support and resistance zones where its price is likely to turn at. 
Performing this analysis is critical to help you evaluate if there's sufficient headroom for its price to increase to make your trade worthwhile. 
Here, you can see that DELL's immediate support zone is at $46.50. There's a lower support zone at 40. 
$51 is where it's likely that the price of DELL is heading towards and may face resistance at. 
Given that the price of DELL has pulled back to its support zone at $40.50 and bounced, I'm expecting it to continue rising towards its immediate resistance zone at $51. 
Finally, we've arrived at the part where we talk about strategy. 
The Strategy You Can Use To Trade DELL
Here, you'll be planning your entry, profit taking, and stop loss levels. 
In every trading strategy, you must know your entry, profit taking, and stop loss levels to stay in business. Yes, trading is a business indicating that the strategy you use must be well formulated too.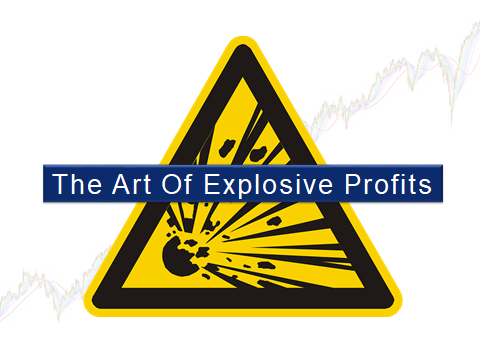 Using The Art of Explosive Profits framework (AEP for short), I'd like for the price of DELL to launch a new up move to $51 or higher. 
As its name suggests, you'll be looking to catch an explosive move in a short period of time consistently. 
In the AEP course, you'll be coached on how to search for strong stocks like DELL instead of relying on news and hear-say.
You'll also become fluent in reading charts to shortlist stocks that are about to have an explosive move.
Finally, you'll learn how to identify the optimized entry, stop loss, and take profit level to capture these explosive moves that you've been waiting for (in a safe manner, of course)! 
Have a look at the AEP framework and add this explosive trading strategy to your arsenal to seize more trading opportunities.
Why Is DELL The Stock Pick Of The Week?
Source: https://www.dell.com/en-us
Demand for computing solutions will remain. Demand may rise with the world's population and more cities transform into smart cities.
Moreover, as the overall US stock market continues to drop, the price DELL is heading higher. 
With a higher high and higher low formed, the trend of DELL has changed. It's share price is now in a fresh uptrend.
Besides, each of its up moves (while DELL was in a downtrend) measured at least 8.8%! That's some serious explosive moves. 
Please note that I'm no financial advisor, so I encourage you to treat this edutainment and do your own research.
Lastly all photos and images are from unsplash.com, pexels.com, pixabay.com, and tradingview.com.
Here's What You Can Do To Improve Your Trading Right Now:
#1 Join us in our Facebook Group as we can discuss the various ways of applying this by clicking here
#2 Never miss another market update; get it delivered to you via Telegram by clicking here
#3 Grab a front row seat and discover how you can expand your trading arsenal in our FREE courses (for a limited time only) by clicking here
Trade safe!