When we thought that the disruption of global supply chains was about to end, war in Eastern Europe has resulted in more disruption. 
We've experienced a sharp spike in oil prices – 29% in just 2 weeks!  
My heart is with you. We need oil in our daily lives – electricity, transportation, work, entertainment, and more! 
Beside the price of oil, prices of precious metals – gold and silver, have also jumped by 6% and 10% respectively in 2 weeks. 
Is it too late to look at stocks in either of these industries?
I don't think so. 
Shall we have a look at this interesting stock – Freeport-McMoRan (FCX)?
Performance Of US Stock Market vs Freeport-McMoRan
The long bodies of last week's candlesticks tells us that the bulls and the bears fought hard the whole of last week.
And there's no clear winner. Prices of the S&P 500 were stuck in a range as shown by the gray box. 
It's a completely different story for FCX though! FCX enjoyed a strong rally, finishing the week higher by 8.7%! 
Could this be a fluke? Let's look back before we conclude. 
As the S&P 500 futures declined at the start of the year, FCX followed suit. However, as the S&P 500 futures continues to head lower, FCX became bullish and a new uptrend was formed. 
Thus, we can conclude that FCX has been stronger than the overall US stock market for some time and it's bullish momentum is likely to continue. 
How Explosive Is FCX?
FCX is an interesting stock. It's involved in mining precious metals, minerals, and the exploration of oil and gas. 
Does this ring a bell?
Prices of precious metals and oil and gas have been skyrocketing! Therefore, FCX is likely to benefit from further price increment.
Here are 2 other stocks which are benefiting from the war in Ukraine – Occidental Petroleum (OXY) and Raytheon Technologies (RTX).  
Hang on for a second. The market capitalization of FCX is more than $72b. Can the up moves of FCX be explosive? Have they been explosive?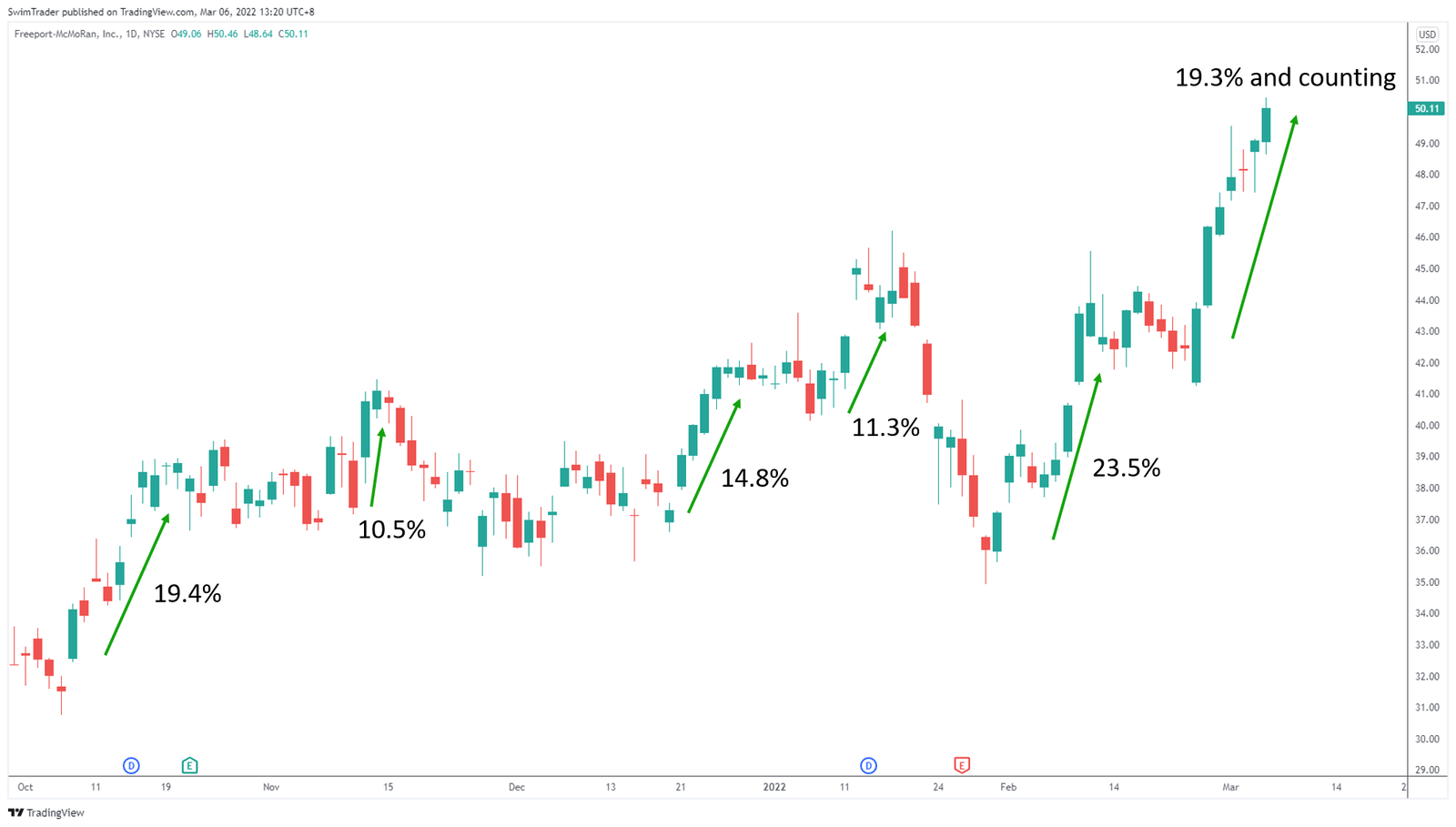 In a short span of 5 months, prices of FCX have surged by 6 times! 
What more, each up move ranged between 10.5 and 23.5%! That's a feat for a mega cap company. 
Before you get too excited, there's a step which you'll want to perform – plot out FCX's key price levels. 
Key Price Levels
Why do you need to plot the key price levels of FCX? 
Key price levels are support and resistance zones. They are also potential turning points for prices because each support zone acts as a price floor while each resistance zone acts as a price ceiling.
Plotting support and resistance zones can get tricky to identify at times. How do you know if the support and resistance zones you've plotted are significant? You can learn all about support and resistance zones in All You Must Know About Support And Resistance.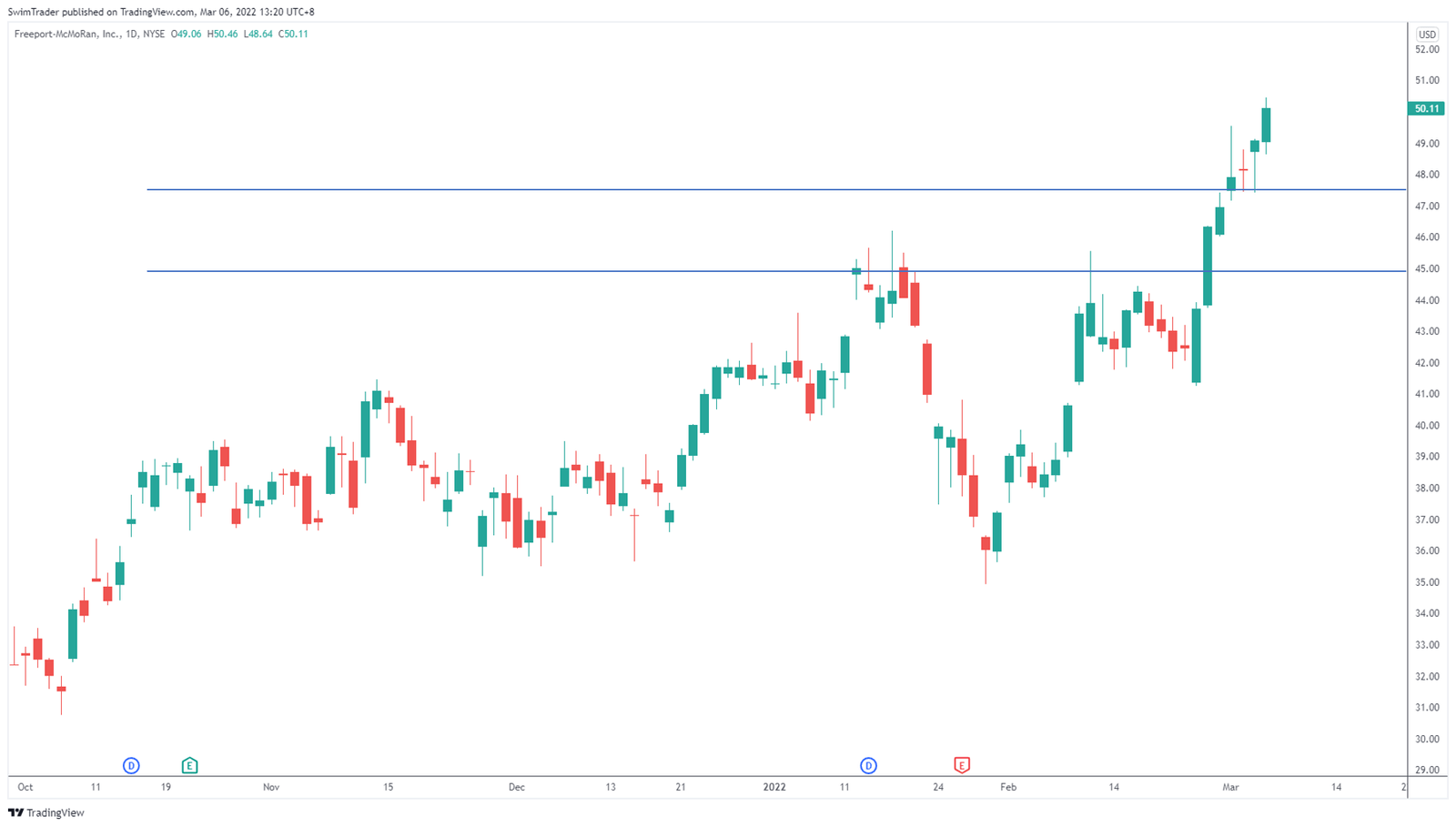 Here, you can see that there're 2 support zones at $45 and $47.50. These are likely an area where the price of FCX could turn if it falls. 
Given the explosive nature of FCX, I'd prefer the price of FCX to reverse to $47.50 instead of $45. 
The Strategy You Can Use To Trade FCX
The current up move on FCX measures 19.3%. You'll be much better off waiting to enter on a pullback. 
Since you're looking to capture a short term explosive move, you won't want the share price of FCX to pullback to $45 too.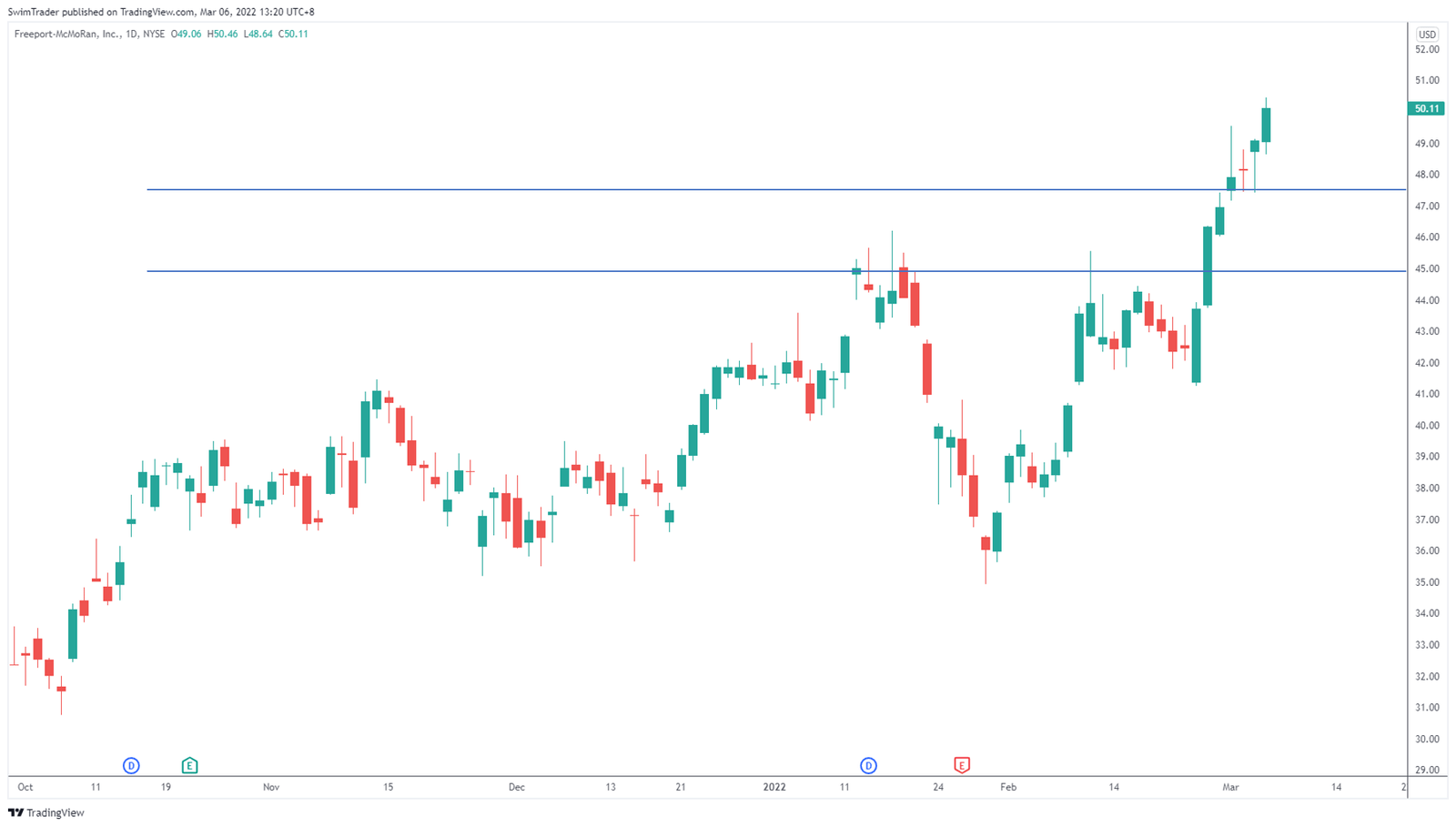 Because the pullback hasn't occurred and that the entry price to catch such an explosive stock is discretionary, I've created an e-course with examples to share this strategy with precision and clarity – The Art Of Explosive Profits (AEP for short). 
You'll be coached on how to search for strong stocks like FCX instead of relying on news and hear-say.
You'll also become fluent in reading charts to shortlist stocks that are about to have an explosive move.
Finally, you'll learn how to identify the optimized entry and exit points to capture these explosive moves that you've been waiting for (in a safe manner, of course)! 
Have a look at the AEP and add this explosive trading strategy to your arsenal to seize more trading opportunities
Why Is FCX The Stock Pick Of The Week?
FCX is a super strong stock and has been outperforming the S&P500 for months. 
The unfortunate situation in Ukraine is driving the price of oil and precious metal up. Given that FCX is in both the oil and precious metal industry, FCX a prime candidate for the AEP setup.
In the past 5 months alone, FCX has experienced 6 explosive up moves ranging between 10.5 and 23.5%! This is a magnificent feat given that FCX has a market capitalization exceeding $72b.
However, you'll need to know that I'm not a financial advisor, so please treat this article as education. Have fun conducting your research and I'd love to hear your thoughts in our Facebook Group. 
Here's What You Can Do To Improve Your Trading Right Now:
#1 Join us in our Facebook Group as we can discuss the various ways of applying this by clicking here
#2 Never miss another market update; get it delivered to you via Telegram by clicking here
#3 Grab a front row seat and discover how you can expand your trading arsenal in our FREE courses (for a limited time only) by clicking here
Trade safe!