"Dear, what would you like to have for dinner?" 
"McDonald's, Daddy!"
"But I was asking Mummy." I answered. 
After trying the fries from McDonald's, my little girl has been asking to dine at McDonald's every other week. If you have any method to weave kids off fast food, please let me know! 
And I have a confession to make: I love dining at McDonald's too.
So, instead of just being a customer, let's see if it's worth being a part owner of McDonald's shall we? 
Performance Of US Stock Market vs McDonald's
We enjoyed a good run up in the S&P 500 futures last week. It was a welcomed 4% up move.
However, the S&P 500 futures has been dropping steadily since the start of 2022 and this is likely to continue in the weeks to come. This 4% rally has not changed that fact that the S&P 500 futures is still in a downtrend. 
How did MCD perform?
MCD rose a good 3.4% last week, aided by its strong earnings release. 
Overall, the price of MCD looks to continue trending higher after an initial decline in the start of 2022.
This means that MCD has been more resilient to the bearish sentiment felt in the overall US stock market. Being stronger than the overall US stock market is a sign that I love.
The very next step is to assess if the up moves of MCD has been explosive. This will determine if MCD is worth examining in greater detail. 
How Explosive Is MCD?
As mentioned earlier, the price of MCD was in a downtrend in early 2022 before ranging till late July 2022. 
Despite it all, MCD has experienced multiple explosive up moves! The smallest up move measures 3.5% while the largest up moves measures 9.6%.
This is made more incredible given that MCD boasts a market capitalization of close to $195b! It's no coincidence that MCD is the world's 49th most valuable company. 
Ok, so MCD ticks the box of being explosive in nature. 
Is it likely to continue rising this week? 
It's time to uncover MCD's key price levels to help answer this question.
Key Price Levels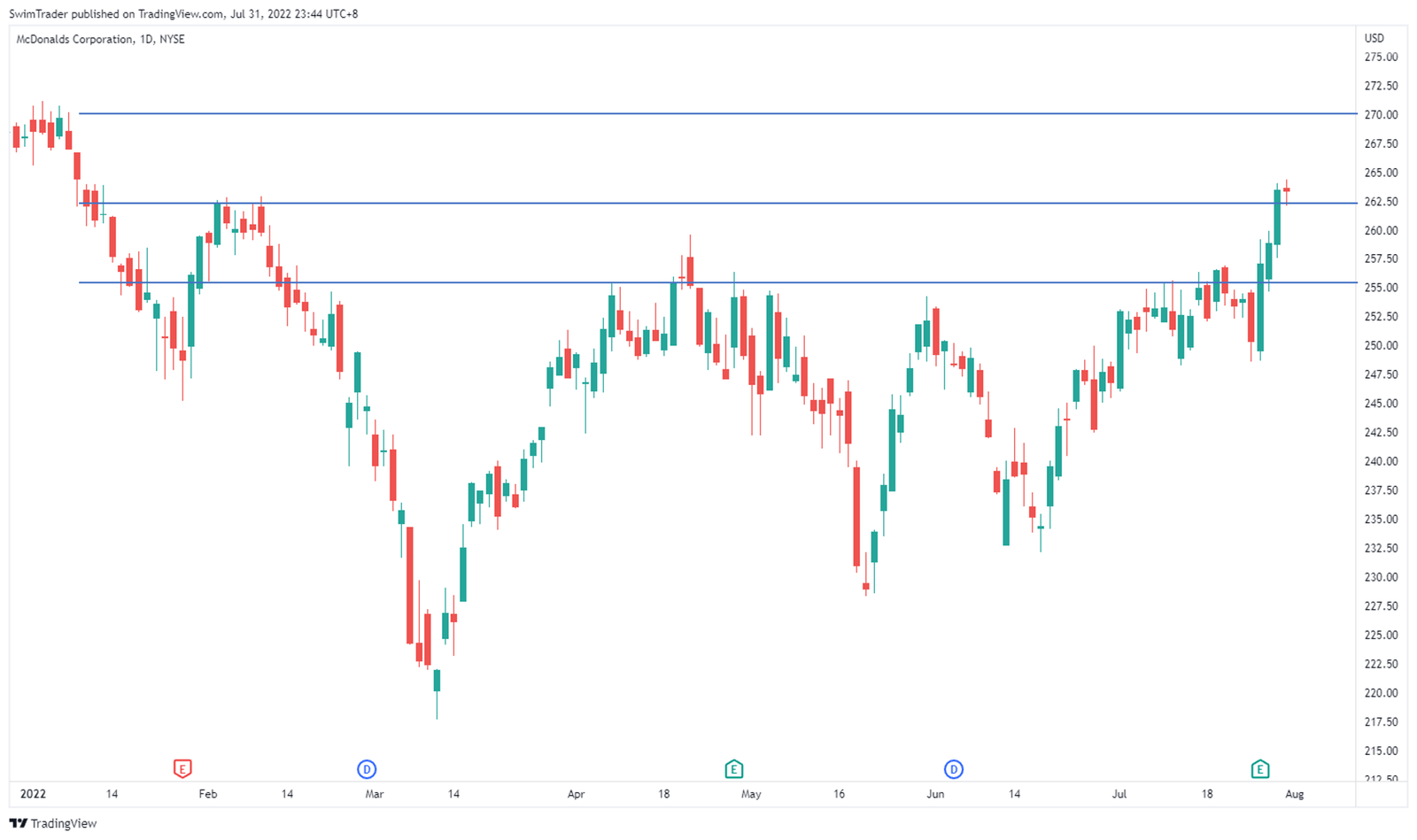 These key price levels act as support and resistance. I'd like to emphasize that support and resistance are zones more than absolute lines. 
Support and resistance is an important concept in trading as these are psychological zones here prices are most likely to turn at. 
From the chart of MCD above, you can see that there's a resistance zone at about $270. This means that if the price of MCD continues to rise, it could go up to $270 before turning downwards.
There are 2 support zones at $262.50 and $255. Should the price of MCD fall, it could be likely to drop to $262.50 before bouncing higher. 
In the event where the price of MCD drops below $262.50, then it could head to $255 before bouncing up. 
What's my take?
I think that the price of MCD is likely to fall slightly below $262.50 before launching a fresh up move towards $270.  
The Strategy You Can Use To Trade MCD
After comparing MCD's performance to the broader US stock market, examining if MCD has experienced explosive up moves, and uncovering its key price levels, it's time to talk strategy. 
In every trading strategy, you must know your entry, profit taking, and stop loss levels to stay in business. Yes, trading is a business indicating that the strategy you use must be well formulated too.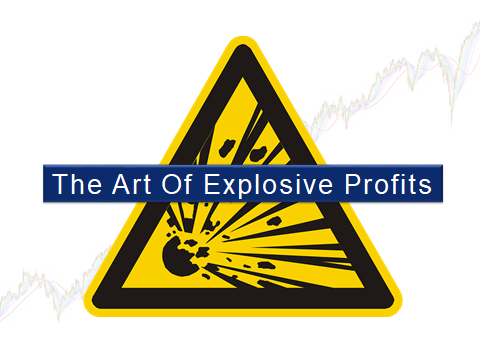 Using The Art of Explosive Profits framework (AEP for short), I'd like for the price of MCD to pull back and break out of $262.50 before considering an entry.
As its name suggests, you'll be looking to catch an explosive move in a short period of time consistently. 
In the AEP course, you'll be coached on how to search for strong stocks like MCD instead of relying on news and hear-say.
You'll also become fluent in reading charts to shortlist stocks that are about to have an explosive move.
Finally, you'll learn how to identify the optimized entry, stop loss, and take profit level to capture these explosive moves that you've been waiting for (in a safe manner, of course)! 
Have a look at the AEP framework and add this explosive trading strategy to your arsenal to seize more trading opportunities.
Why Is MCD The Stock Pick Of The Week?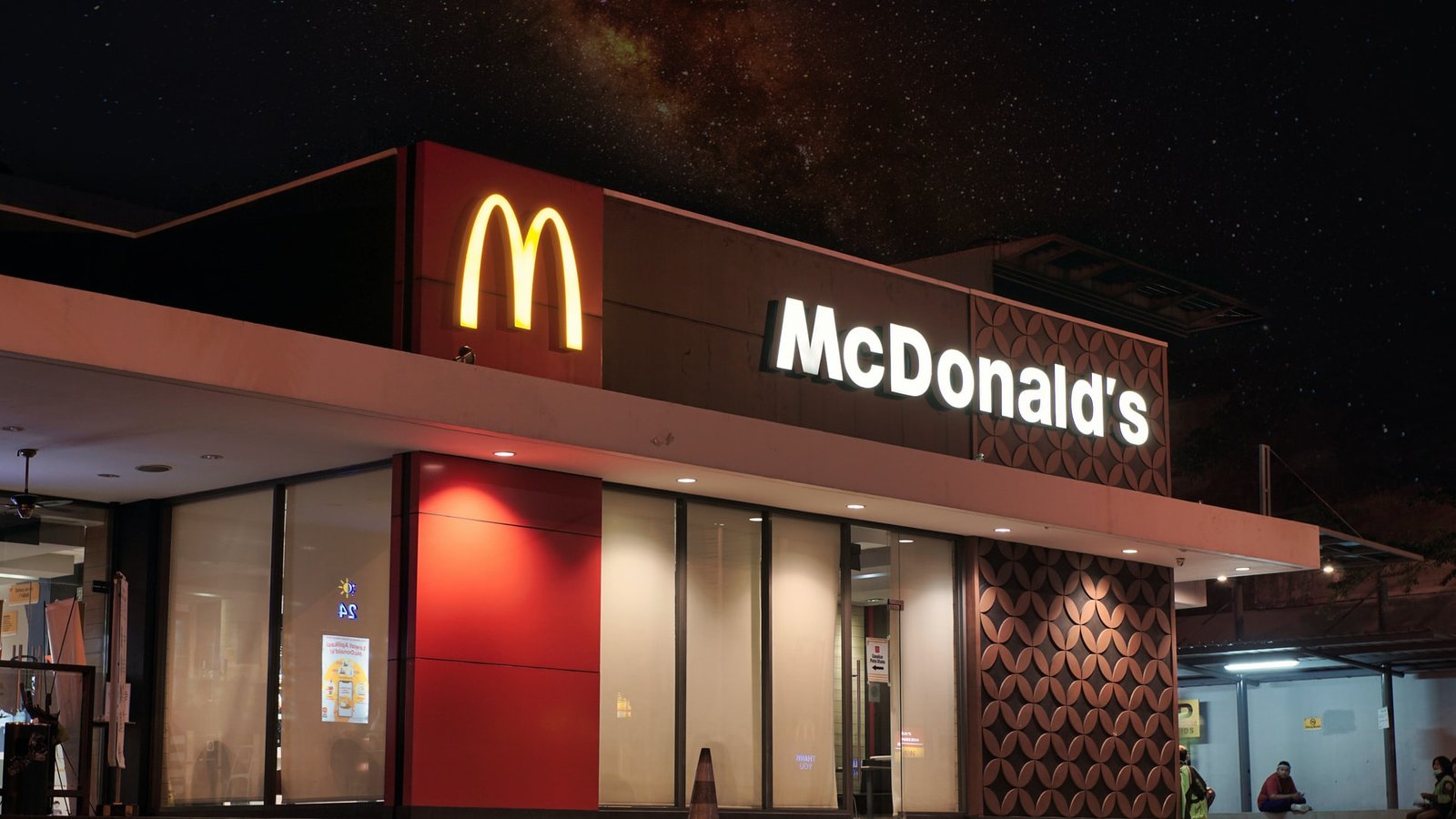 MCD's food is seriously addictive. I feel like eating McSpicy now. 
On a more serious note, the market is bullish on MCD while still bearish on the S&P 500 futures. 
Despite the rough economic and investment landscape, MCD has experienced 8 huge explosive up moves in 6 months! That's a feat especially because it has a market capitalization of nearly $195b.
I sense that there's an opportunity coming for a quick swing trade on MCD too. 
As I wait for the opportunity to arrive, please note that I'm no financial advisor, so I encourage you to treat this edutainment and do your own research.
Lastly, all photos and images are from unsplash.com, pexels.com, pixabay.com, and tradingview.com.
Here's What You Can Do To Improve Your Trading Right Now:
#1 Join us in our Facebook Group as we can discuss the various ways of applying this by clicking here
#2 Never miss another market update; get it delivered to you via Telegram by clicking here
#3 Grab a front row seat and discover how you can expand your trading arsenal in our FREE courses (for a limited time only) by clicking here
Trade safe!