Star-struck.
That describes my experience when bumping into big personalities I respect and admire. They include business people, politicians, activists, investors and traders, and artistes.
I like this to be star-struck as it motivates me to improve and have a greater impact in this world.
The next thing that I'd like to strike is the top prize of any lucky draw. Funny how I haven't won any lucky draws. 
That aside, it's time to analyze our pick of the week – CrowdStrike.
CrowdStrike, or CRWD, is a cloud storage and cybersecurity provider. As things in the metaverse heat up, cybersecurity has a greater role to play. After all, there'll be a lot more gadgets which will be connected to the Internet (Internet of Things).
This means that there'll be an increased demand in data storage space and protection, especially if the data is deemed sensitive. 
Does the chart of CRWD indicate that the future of CRWD is bright for investors? Let's find out!
Big Picture
We can tell that the price of CRWD has been rising for several months now; its prices are on an uptrend. 
Are there easy and quick ways to tell a trend? Yes! You can learn how to read a trend under 5 seconds from this article. 
Shall we zoom out of the chart of CRWD and analyze it further?
Key Price Levels
After zooming out, we can see that the uptrend begun earlier, in Apr 21. 
From this chart, we can observe the immediate support and resistance levels of CRWD. Support and resistance are not absolute numbers. Rather, they are price areas.
Support and resistance are also psychological areas where market participants prefer to buy or sell at. 
Armed with this information, we can conclude that its immediate support level of around $266 and its immediate resistance level of around $288 are key price levels. 
Given that prices of CRWD have been rising, should you be buying CRWD now and bet that its price will break its resistance of $288? Let's have an X-ray look into the momentum of CRWD. 
Technically Speaking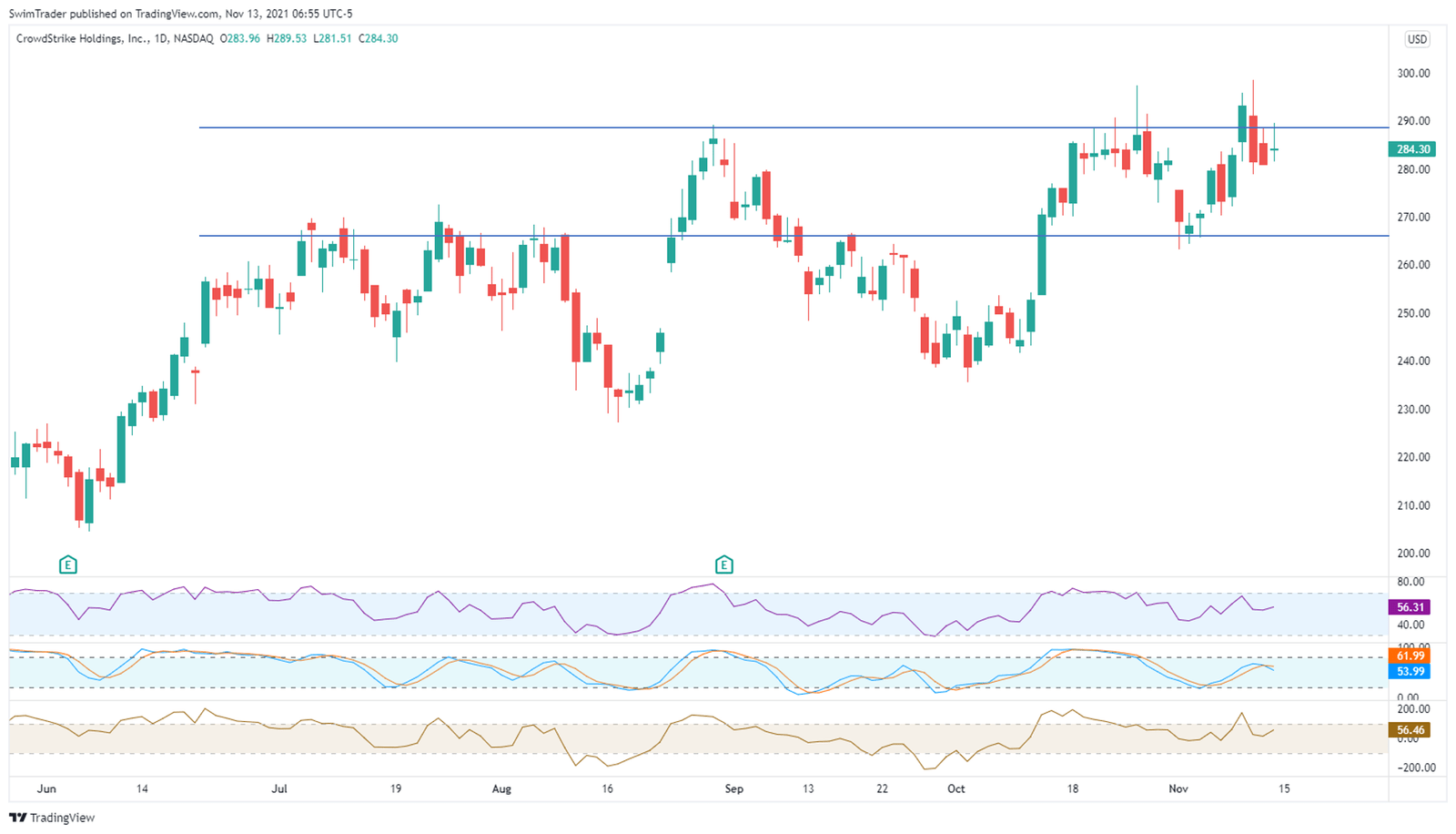 CRWD is in an uptrend. What does this mean? 
You'll want to find opportunities to buy CRWD instead of shorting it. The multi-million dollar question therefore is "should I buy CRWD now?" 
To help answer that, let's add 3 momentum indicators. 
All 3 momentum indicators are in their neutral zone, showing that there's headroom for an upward move in price. 
A good trader needs to think of the possible scenarios and adjusts his/her plan over time. What are the possible scenarios?
CRWD rises to test its immediate resistance zone at $288 before heading lower towards its immediate support zone at $266
CRWD rises to test its immediate resistance zone at $288 and charges upwards to challenge its all-time high
CRWD heads straight down to its immediate support zone at $266
Which scenario do you think will pan out in the coming days?
And, remember to place your stop loss! Here's 1 reliable indicator you'll want to use to help you discover a good stop loss level.  
Conclusion
CRWD is in a growing industry that as a big impact in our lives. 
Given that the US stock market has rebounded from its short and shallow dip, there's a higher chance of Scenario 2 occurring. But please don't sell everything you have and buy CRWD now. I'd prefer waiting for a confirmation of the breakout of $288 before buying CRWD. 
Here's a disclaimer that I need to make. I'm not a financial advisor, so please do your own research lest you get badly struck by CrowdStrike. I rather you get star-struck. 
Here's What You Can Do To Improve Your Trading Right Now:
#1 Join us in our Facebook Group as we can discuss the various ways of applying this by clicking here
#2 Never miss another market update; get it delivered to you via Telegram by clicking here
#3 Grab a front row seat and discover how you can expand your trading arsenal in our FREE courses (for a limited time only) by clicking here
Trade safe!