7-0.
Manchester United was comprehensively beaten by its bitter rivals and defending champions, Liverpool, last week. 
Fans of Manchester United were left in shock as the performance of their team leading up to this big match had been nothing short of marvelous.
Liverpool fans all over the world took this opportunity to celebrate. They had hoped for a turn in fortune as their team hadn't been performing all season.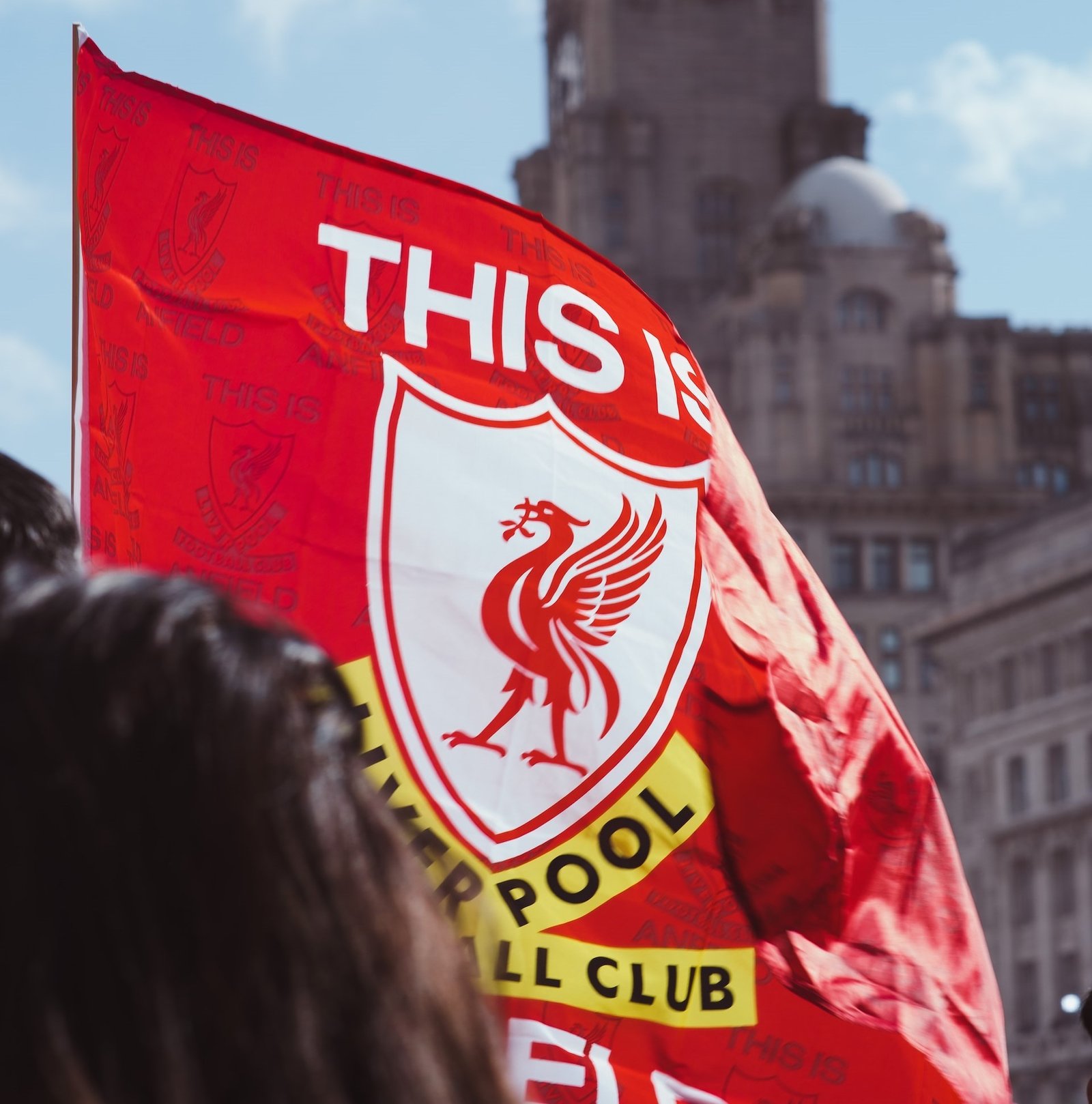 However, Liverpool's massive win over Manchester United wasn't pivotal. 
Liverpool got beaten 1-0 by a lower team, exposing their inconsistency. 
With each passing week, Liverpool's hope of finishing the season at 4th place slips further and further away.
Ok, enough about soccer. 
Let's talk about the US stock market and the swing trading opportunity that I see: DICK'S Sporting Goods.
And if you're wondering if there was a swing trading entry on Pentair, there was no entry based on The Art of Explosive Profits.
Performance Of US Stock Market vs DICK'S Sporting Goods (DKS)

Looking at the chart of the S&P 500 futures, what observations can you make?
The S&P 500 futures is in a highly volatile uptrend overall. 
This volatility is likely to stay after Fed Chair, Jerome Powell, had signaled that the terminal interest rate could rise. Fear of a contagion effect stemming from the collapse of Silicon Valley Bank is another reason that's adding more volatility to the market. 
Last week, the S&P 500 futures tanked 3.7% after a good start.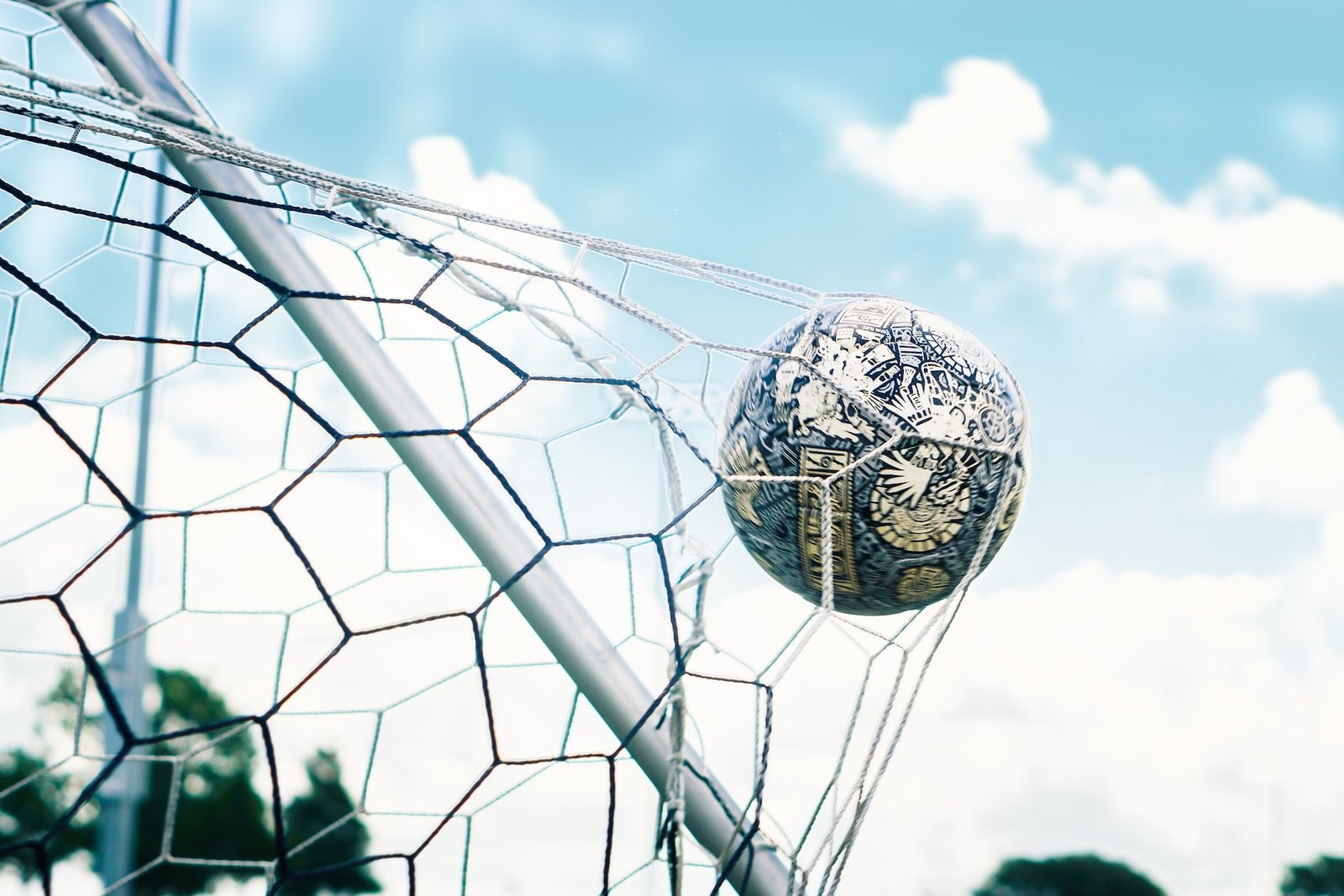 How did the share price of DICK'S Sporting Goods perform in the past few months? 
After a 3 month sideways movement, its share price began climbing. 
Its price ascent is much predictable and less volatile. 
Last week, the share price of DICK'S Sporting Goods shot up by 10.2%!
This is the complete opposite of the S&P 500 futures. 
If I may, the S&P 500 futures is pretty unpredictable like Liverpool while shares DICK'S Sporting Goods have been more consistent like Manchester United. 
You can conclude that DICK'S Sporting Goods' shares have outperformed the S&P 500 futures, an important conclusion for buying any stock for a swing trade.   
How Explosive Is DICK'S Sporting Goods (DKS)?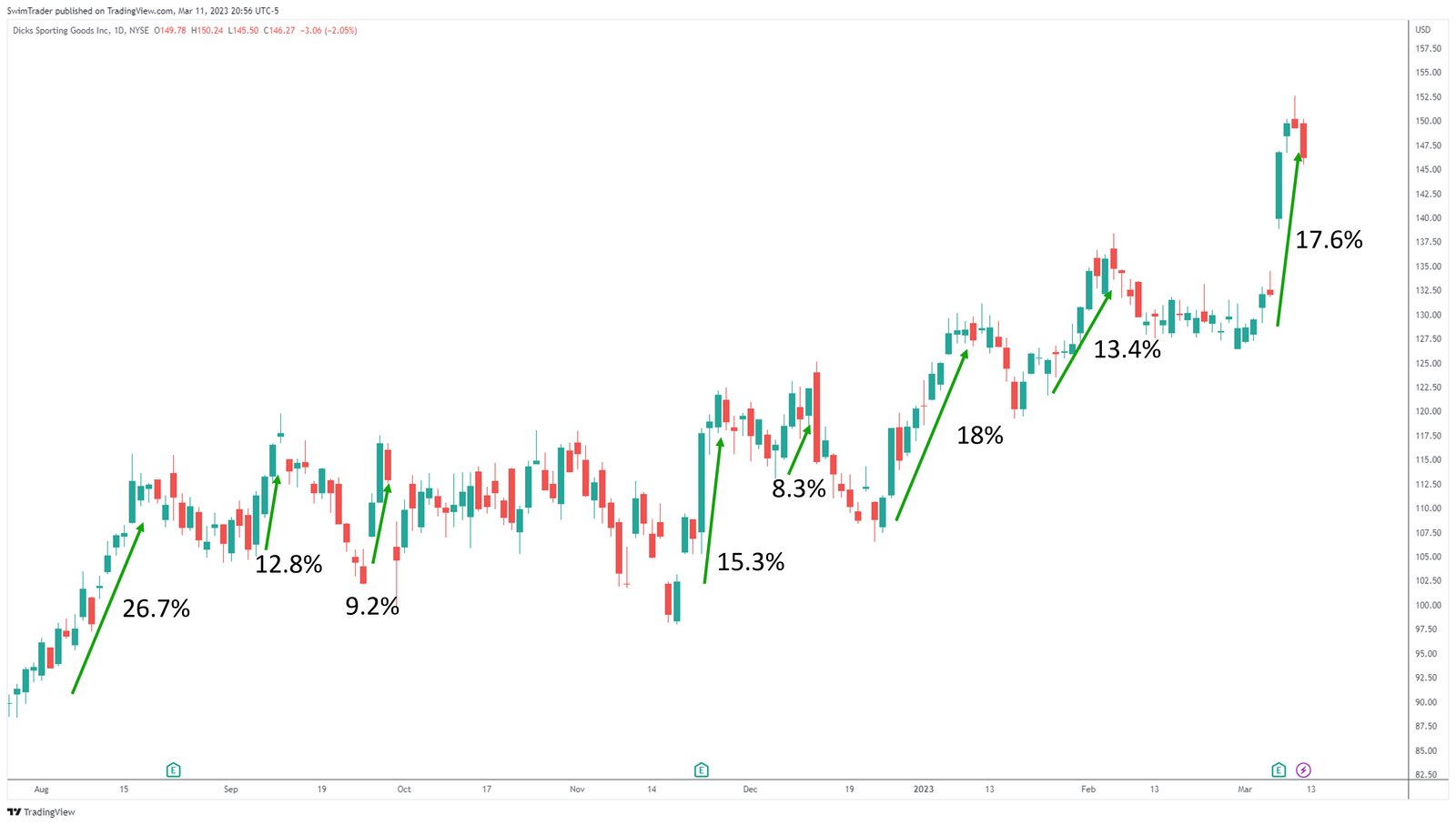 Whenever the share price of DICK'S Sporting Goods moves up, how huge are they?
This is an important question to ask to set your expectations and determine whether trading its stock is worth your time. 
So, let's count and measure each up move. 
In the span of 7 months, there have been 8 huge up moves, measuring at least 8.3% for this company which enjoys a huge market capitalization of $12.2b.
The most explosive up move took place in late Jul 2022, measuring an eye-popping 26.7%  in 3 weeks! 
So, should you buy shares of DICK'S Sporting Goods for a swing trade right away? 
Let's uncover its key price levels to help answer that question.
Key Price Levels
Why is it important to uncover the key price levels of any financial asset?
Key price levels act as support and resistance zones, giving you a clue if there's enough demand at the price are you're looking at, minimizing your risk.
Looking at the chart of DICK'S Sporting Goods, I've uncovered 2 key price levels: $136 and $150. 
Should the pullback continue, the shares of DICK'S Sporting Goods are likely to bounce off around $136. 
I think that the pullback could continue given the fact that its share price had risen by 17.6% in under 2 weeks. 
Based on The Art of Explosive Profits framework, I'll watch for a buying opportunity after the pullback. 
The Strategy You Can Use To Swing Trade DICK'S Sporting Goods (DKS)
After comparing the performance of DKS with the broader US stock market, determining whether DKS has experienced explosive up moves, and identifying its key price levels, it's time to talk strategy. 
To stay in business, you must know your entry, profit taking, and stop loss levels in every trading strategy. Yes, trading is a business, which means that your strategy must be well thought out.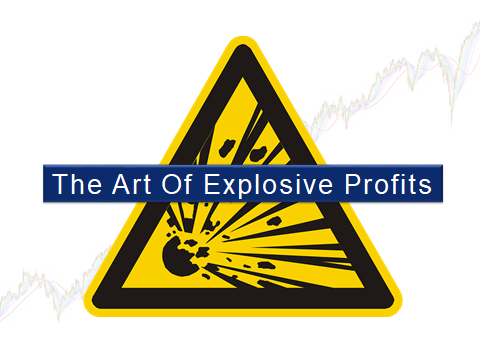 Using The Art of Explosive Profits (AEP) framework, I'd like to see DKS  pullback to around $136 before considering an entry for a swing trade.
As the name implies, you'll be looking to consistently catch an explosive move in a short period of time.
Instead of relying on news and hearsay, the AEP course will teach you how to screen stocks for swing trading like DKS.
You'll also learn how to read charts and identify stocks that are about to make a big move.
Finally, you'll learn how to identify the optimal entry, stop loss, and take profit levels to capitalize on these explosive moves (in a safe manner, of course)!
Can you apply the AEP framework to provide you with a side income while working full time? 
Yes, you can! 
Come, have a look at the AEP framework and incorporate this explosive trading strategy to your arsenal to capitalize on more swing trading opportunities.
Why Is Swing Trading DKS Worth It?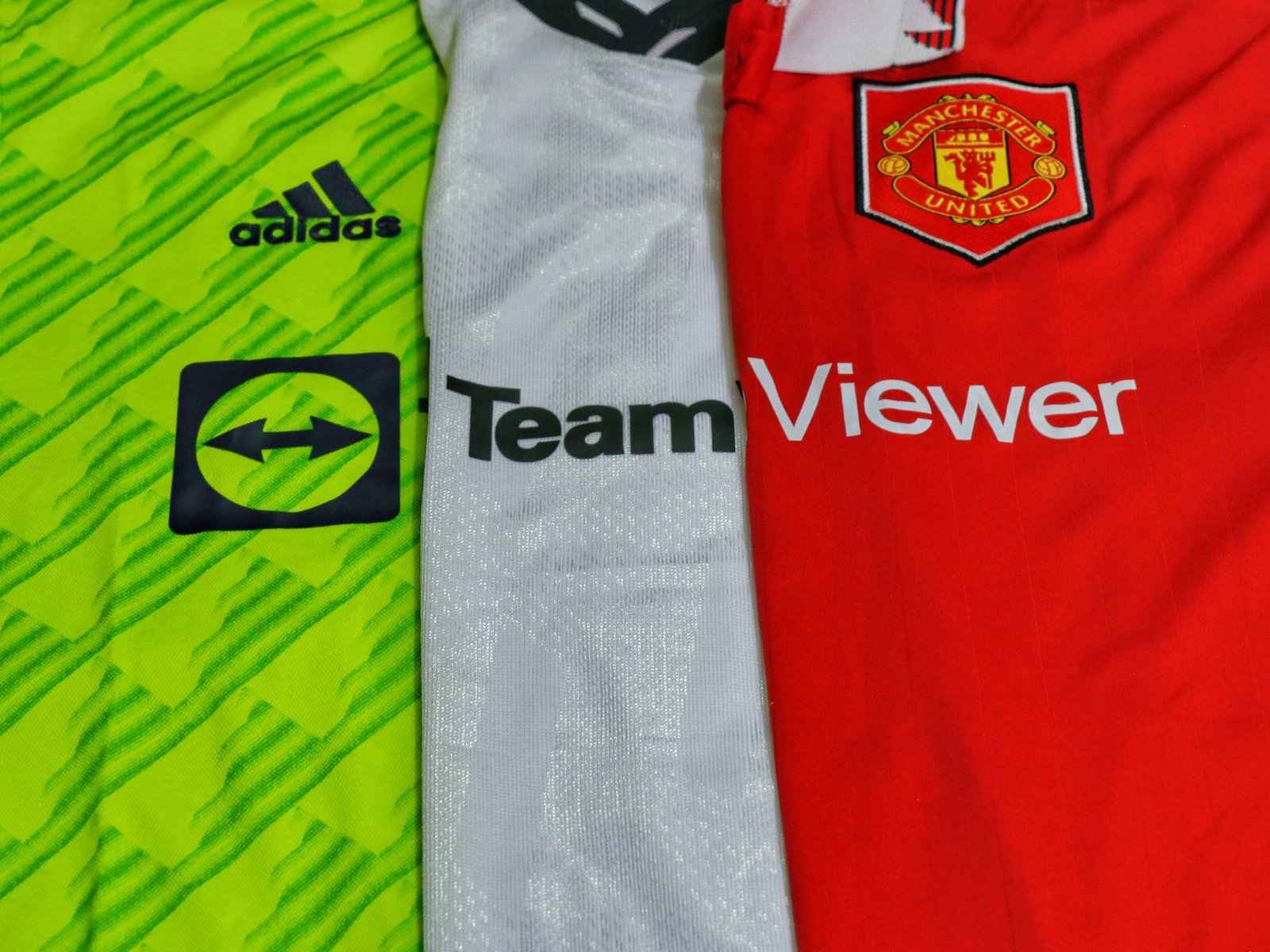 The share price of DICK'S Sporting Goods has continued to defy gravity while the S&P 500 futures struggles. 
Its shares have also proven to perform consistently, exploding in value, thus being an excellent stock to watch for a swing trading opportunity. 
We've also analyzed its chart and uncovered 2 important key price levels that we need to pay attention to. 
While we wait for a pullback, please keep in mind that I'm not a financial advisor, so please treat this as edutainment and conduct your own research.
Lastly, all photos and images are from unsplash.com, pexels.com, pixabay.com, and tradingview.com.
Here's What You Can Do To Improve Your Trading Right Now:
#1 Join us in our Facebook Group where we discuss the various ways of applying this by clicking here.
#2 Never miss another market update; get it delivered to you via Telegram by clicking here.
#3 Grab a front row seat and discover how you can expand your trading arsenal in our FREE courses (for a limited time only) by clicking here.
Trade safe!