(Accurate as of May 2021)
The US stock market has been soaring since April 2020 with healthy pullbacks along the way. You spot many golden opportunities to swing trade. You are excited.
Hold on! Before you get carried away, it is crucial to have a good broker – one which suits your trading frequency and more.
A broker is like a bank. You want it to be safe, secure, easy to deposit and withdraw, and accessible through the internet. Are there other considerations?
We will also compare the 6 popular brokers in Singapore – CMC Markets, IG Markets, Saxo Markets, Interactive Brokers, TD Ameritrade, and Tiger Brokers to help you decide on the best broker to trade US stocks.
Are you ready? Let's dive right in!
#1 Brokerage Type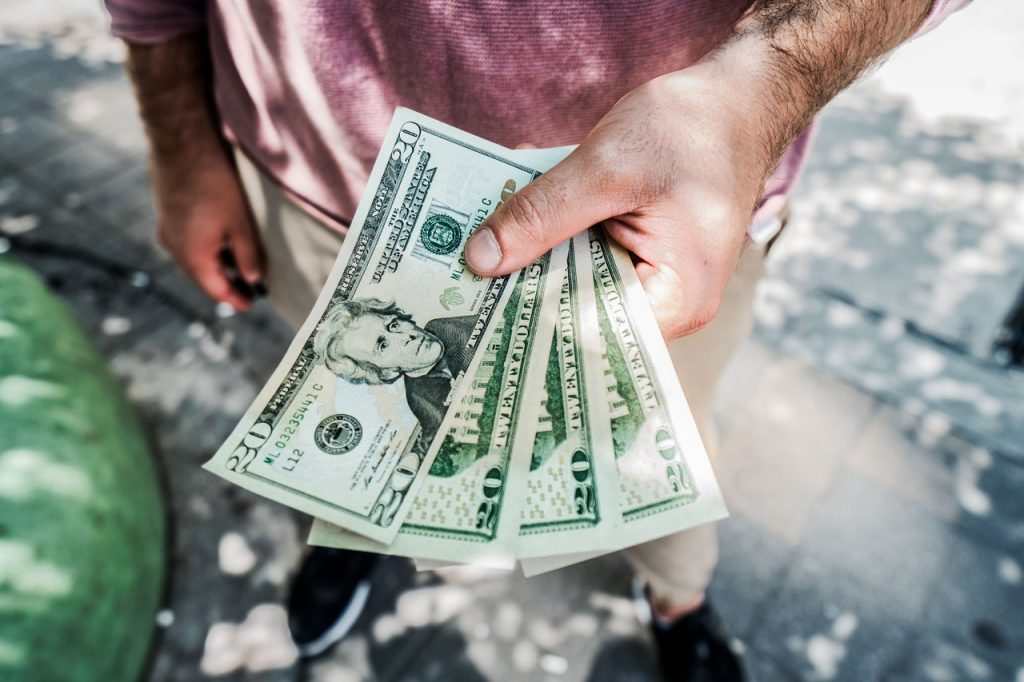 Huh? You mean that the "stocks" I bought aren't stocks?
If you bought shares through brokers such as DBS Vickers, OCBC Securities, and UOB Kay Hian as a Singapore resident, you own the shares. They are held in your Central Depository (CDP) account.
If you bought shares through Standard Chartered or other custodians, you don't exactly own the shares. The shares are kept in custody. This means that your shares are safe as long as the custodian doesn't shut down. This has not happened in Singapore, so far. Let's keep it that way.
There's another type of brokerage – Contracts for Difference (CFD).
A CFD is a derivative. It can be a derivative of stocks, indices, commodities, and so on. In this article, I shall limit it to stocks.
A CFD is also a leveraged financial product. The leverage provided ranges from 5 times to 20 times, depending on the instrument. The usual leverage for stocks is 10 times.
Leverage is a double-edged sword. An educated and seasoned trader will be able to capitalize on the leverage to grow his trading account by up to 10 times.
Losses are also magnified when leverage is used. Hence, the horror stories where traders had losses that were much larger than their trading account. I'm sure you've heard the tragedy of Alex Kearns who owed his broker more than USD700,000 from trading Options (another highly leveraged product).
But, if you are an educated and seasoned trader, you'll want to make use of leverage.
#2 Regulation
This is one of the few ways you'll be assured that you won't get cheated by your broker.
You'll want your broker to be governed in your home country and other countries where the laws are strict. This will provide you with an avenue to seek redress if your broker is dishonest.
I've done the research and listed it down for you in a table at the end of this article.
#3 Demo Account
Though not a deal breaker, having a demo account by your broker is beneficial. A demo account will get you familiarized with the broker's trading platform as you practice.
You'll learn of the features and tips to improve your trading efficiency.
#4 Products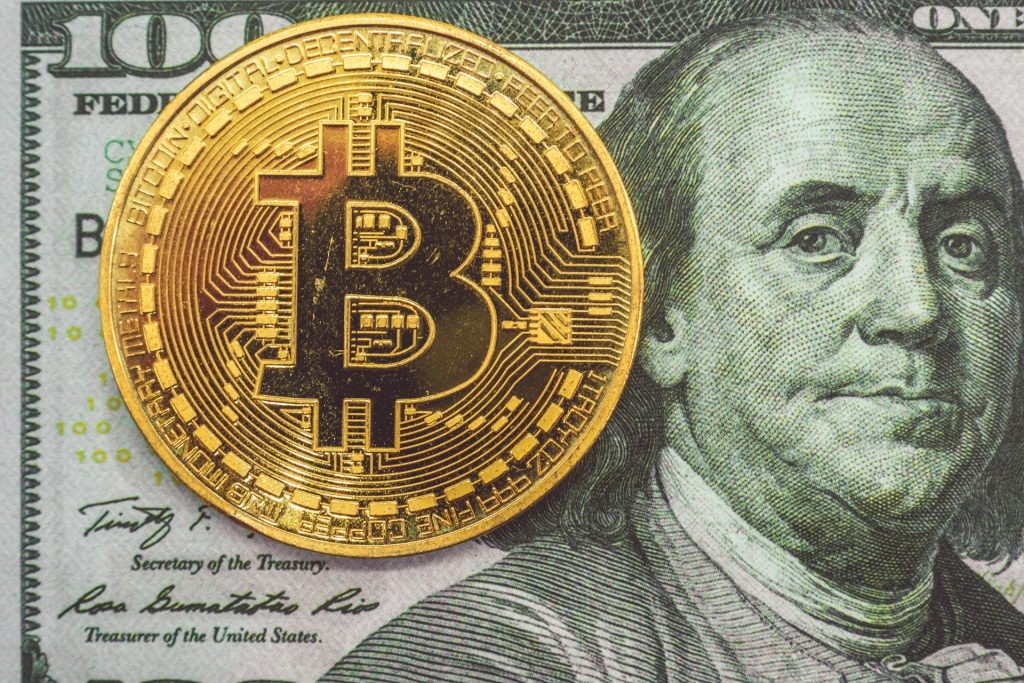 You'll be spoilt for choice in the financial world. There are so many instruments that can be traded – bonds, cryptocurrencies, commodities, indices, stocks, and more!
Have a glance at the products sheet to know if you are able to trade your favorite stock, index or cryptocurrency. You can find almost any bond, stock, exchange traded fund (ETF), and index CFD on Interactive Brokers' trading platform.
#5 Bid/Ask Spread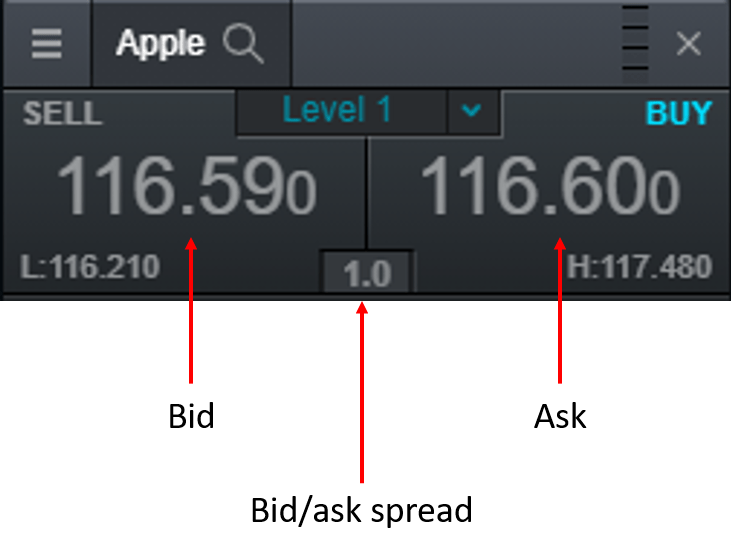 The tighter the bid/ask spread, the better. A bid/ask spread of 1 to 3 is acceptable for stocks below $50. A bid/ask spread of 1 to 6 is acceptable for stocks between $50 and $100. A bid/ask spread of 1 to 10 is acceptable for stocks above $100.
A tight bid/ask spread means that you don't overpay for a stock when you go Long; and you don't undersell your stock when go you Short.
The width of the bid/ask spread depends on several factors:
a) Liquidity
b) News
c) Broker
#6 Guaranteed Stop Loss
A guaranteed stop loss ensures that you close your position at the price you had determined regardless of gaps.
In the chart below, the gaps in the chart of BIIB are highlighted.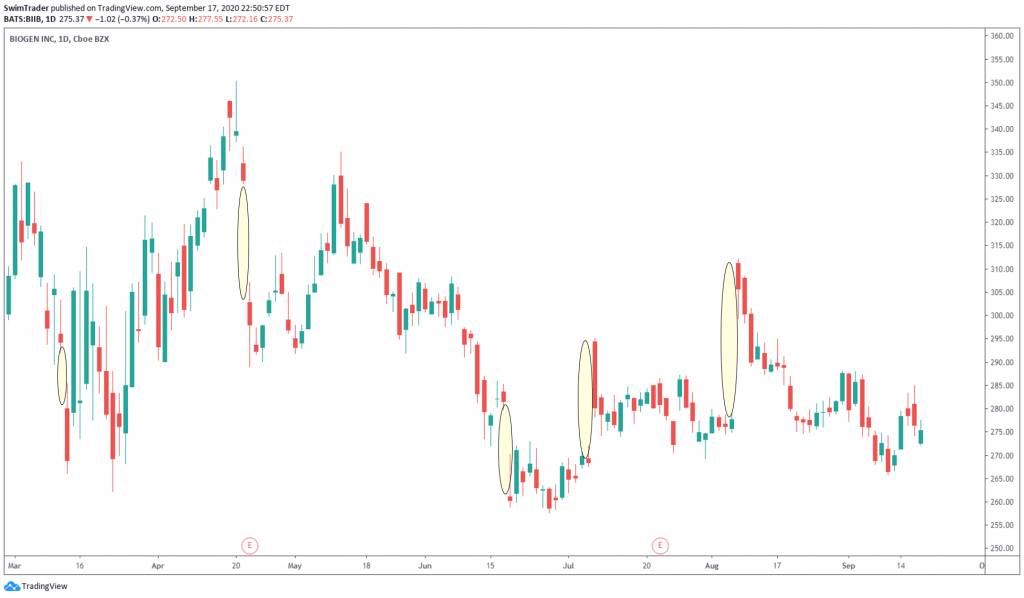 Here's how the guaranteed stop loss works.
When you are Long and prices gap down (for any reason), the opening price may have shot below your regular stop loss level. Your regular stop loss order will therefore be triggered way below your intended price, causing you to lose more than planned.
When you are Short and prices gap up, the opening price may have pierced through your regular stop loss level. This would result in steep losses.
A guaranteed stop loss will ensure that you don't get out at a worse price level. You will be sure that you are able to exit your trade at the price you've determined.
Is there a cost for a guaranteed stop loss? Yes.
This is a pretty new feature which CMC Markets and IG Markets provide.
A guaranteed stop loss is known as a knock-out in IG Markets.
#7 Minimum Deposit & Fees
Pay close attention to the fine print for obvious reasons.
While most brokers don't require clients to pay for live market data, Interactive Brokers charges for live market data.
In addition, Interactive Brokers charges clients an inactivity fee of USD10+ while Saxo Markets charges clients a hefty USD100. Again, it pays to read the fine print as you don't want to be hit with unnecessary fees.
#8 Customer Service & Technical Support
Have you had a sour experience where your issue wasn't understood? Or a time where you had to wait for a long time before hearing back?
And if the trading platform of your broker is complex, you'll want as much help as you can. This is another reason why you should sign up for a demo account first (see Point 3).
#9 Trading Platform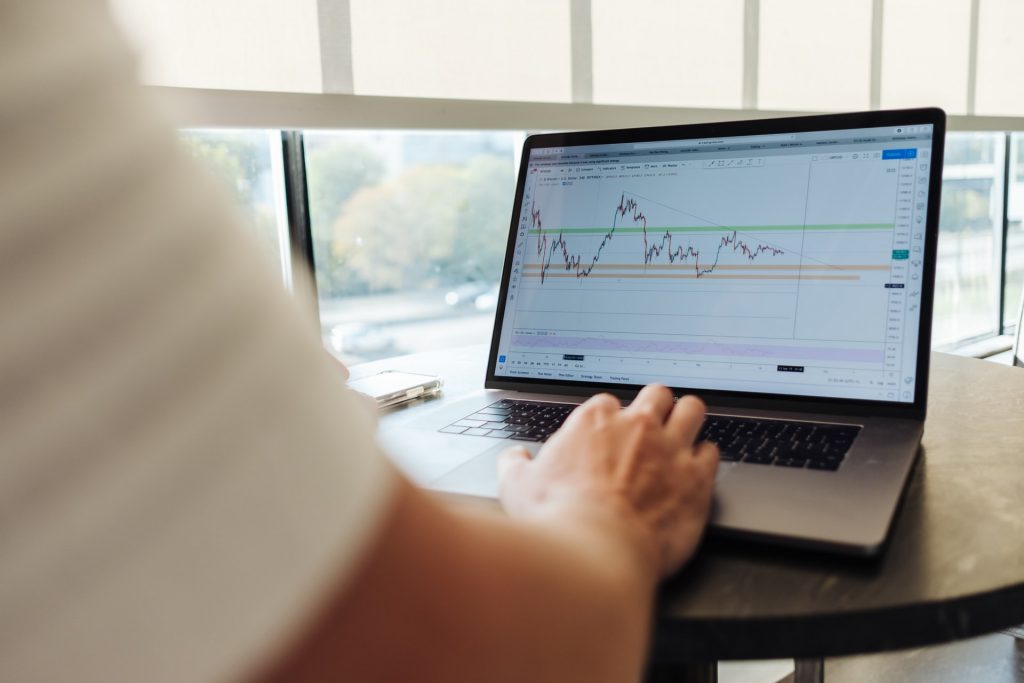 If this is your first time trading, you'll want your trading platform to be as intuitive as possible.
The answers to "Which tool should I select to draw trendlines?", "Where do I click to add the volume indicator?" ought to be figured out by yourself in a matter of seconds.
CMC Markets, IG Markets, Saxo Markets, and Tiger Brokers provide trading platforms that are easy to use. They are great for beginners and seasoned traders alike.
Phillip Securities provides a great trading platform, but it takes some time to learn how to use their functions.
TD Ameritrade provides a world class trading platform, but there is a steep learning curve. They have videos to help you navigate their platform, learning all the tips and features.
#10 Withdrawal
Easy withdrawal of your money is a must. You shouldn't have to wait for a week or more.
#11 Suitability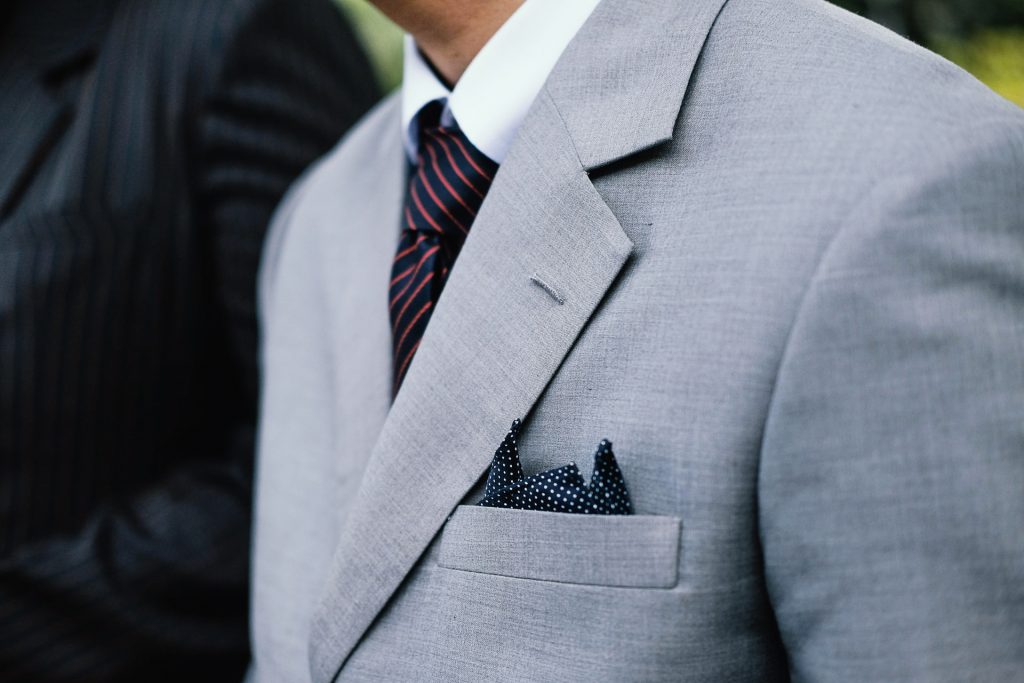 Considering all factors, you'll want to trade with either CMC Markets, IG Markets, Saxo Markets, or Tiger Brokers if you trade less frequently (about once a fortnight or less).
Interactive Brokers is more well-suited for the experienced and hyperactive brokers. This is because there is an inactivity fee involved if you don't chalk up USD10 or more on commissions every month.
TD Ameritrade suits the more experienced trader. You'll be able to trade Options (which is a more complex instrument).
Opening an account has never been easier. I recommend opening an account with Phillip Securities, CMC Markets or IG Markets as they offer a wide range of instruments and their trading platforms are intuitive. In addition, I know that you'll be in good hands as I know the relationship managers personally.
This is not a sponsored post. I don't get remunerated. 
Here's What You've Learnt Today
1 Minimum deposit of $0 is only for bank transfers and checks. The minimum deposit amount for card is S$450.
2 Saxo Markets market data fee is waived if clients trade a minimum of 4 times across stocks, ETFs, or CFDs on the exchange each calendar month. The minimum is 6 for those listed on the Australian Securities Exchange.
3 Saxo Markets doesn't charge a custody fee for Singapore residents. A custody fee of 0.25% applies for residents of other countries.
4 Interactive Brokers monthly inactivity fee is $0 for the 1st 3 calendar months. This monthly inactivity fee is waived if your monthly commission is USD10 or more for accounts larger than USD2,000, and USD20 for accounts smaller than USD2,000.
Here's What You Can Do To Improve Your Trading Right Now:
#1 Register for our market outlook webinars by clicking here
#2 Join us in our Facebook Group as we can discuss the various ways of applying this by clicking here
#3 Never miss another market update; get it delivered to you via Telegram by clicking here
#4 Grab a front row seat and discover how you can expand your trading arsenal in our FREE courses (for a limited time only) by clicking here
Trade safe!