Not all types of gaps are made equal. Some will help make you a fortune, while others will set you back on your goals and dreams drastically.
There are a number of different kinds of gaps. You will learn of the 3 main ones, of which 2 of them will bring you the best results while the other one will serve as a warning.
What are the 3 main types of gaps? 1) Breakaway, 2) Continuation and 3) Exhaustion. Let's explore.
What's The Cause Of Gaps?
Gaps are caused by the buying and selling interest while the market is closed, esp over a weekend or when there's a release of a piece of substantial news.
Spot It Right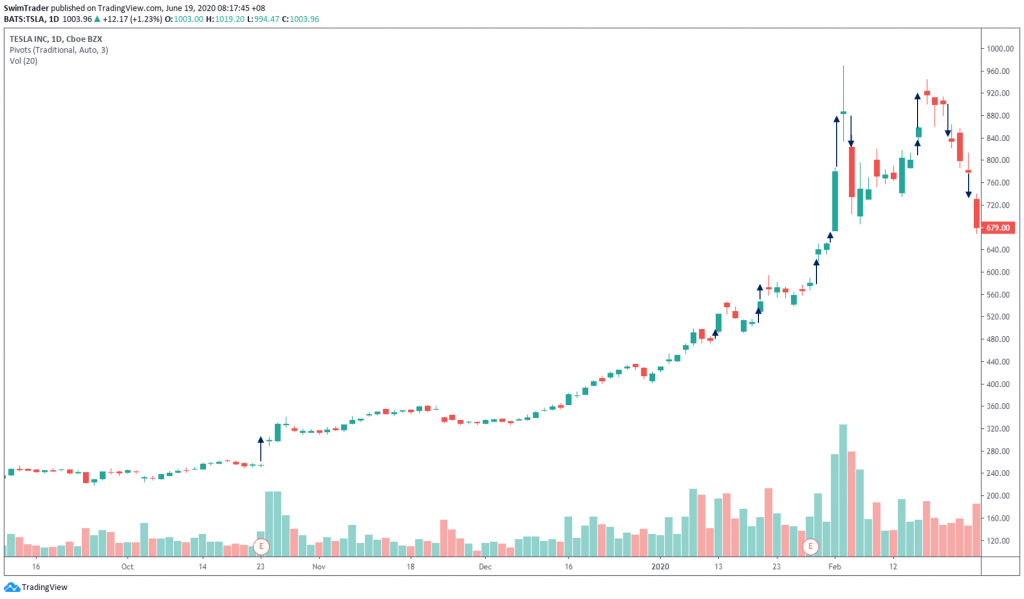 A gap is an empty vertical space between one trading period and another. It can be a gap upwards or downwards (shown in the black vertical arrows).
The direction of the gap depends on the sentiment of the market participants.
Size Matters
From the chart of Tesla (TSLA) above, you can tell that gaps can be small or large.
While most gaps get filled, it may take a long time for them to be filled. This is important to note because if you are waiting for a retest, it may not happen within your waiting window. Looking at Tesla's chart above, you'd notice that the 1st gap on 23 Oct 2019 isn't filled to this date.
In general, the larger the gap, the more significance it has. Gaps are important support and resistance levels.
Characteristics Of The 3 Main Types Of Gap
Recalling the 3 main types of gap – 1) Breakaway, 2) Continuation and 3) Exhaustion, the table below summarizes the critical things to note for each type of gap.


Price of Tesla has been stuck in a range up till late Oct 2019 when a better-than-expected earnings result caused it to gap up. That started a new uptrend. Coupled with a spike in volume, that is a breakaway gap.
Tesla's chart is punctuated with gaps, and the more significant ones are pointed out by the vertical arrows and labeled. Prices of Tesla continued to gap up in Jan and Feb 2020, continuing the uptrend. These gaps occurred in the middle of the uptrend. They are therefore known as continuation gaps.
How do you tell if the latest gap is an exhaustion gap or a continuation? This depends from stock to stock. Some stocks have the tendency to be in a trend for a couple of months, while others trend for a number of years before a huge reversal. This is why you need to zoom out and study the behavior of the stock you are considering to purchase.
If the stock starts trending in a hyperbolic fashion, you can tell that the end is near. Any gap up could potentially be the exhaustion gap (aka the finale). This is well displayed in the charts of Tesla (above) and Nikola (NKLA).
Show Me The Money
Only trade the breakouts on breakaway and continuation gaps.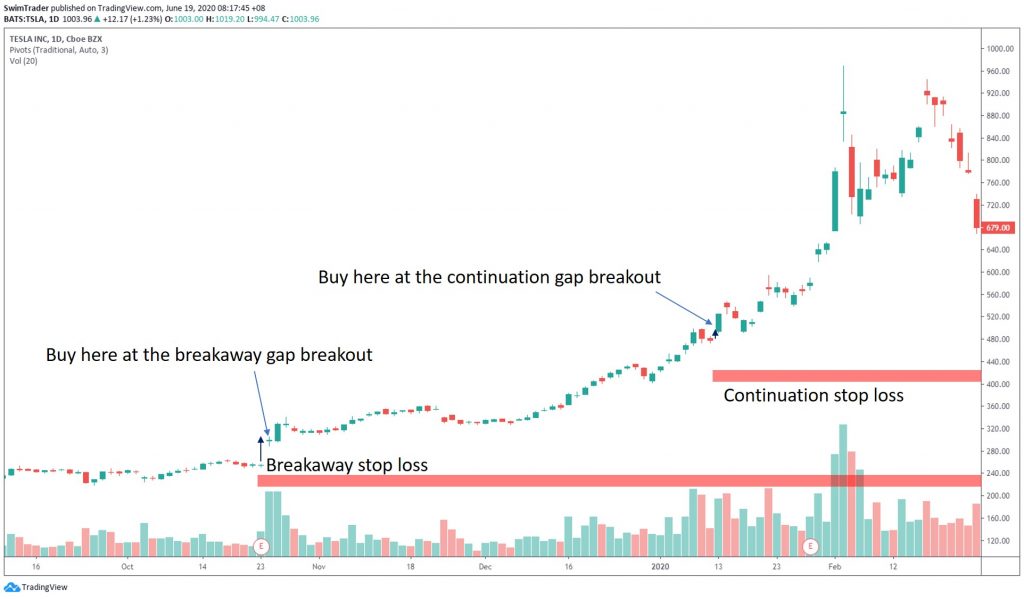 Calculate your position sizing
Set your stop loss level and trail it after a few days
Buy on the same day as the breakaway or continuation gap
Conclusion
Which types of gaps bring the best results? You might have guessed them right – breakaway and continuation. They signify a powerful trend that is young; with more potential to keep trending.
Knowing the behavior of the stocks you have in your watchlist can help you avoid entering right after an exhaustion gap. You will want to stand aside when you spot an exhaustion gap.
Here's What You Can Do To Improve Your Trading Right Now:
#1 Register for our market outlook webinars by clicking here
#2 Join us in our Facebook Group as we can discuss the various ways of applying this by clicking here
#3 Never miss another market update; get it delivered to you via Telegram by clicking here
#4 Grab a front row seat and discover how you can expand your trading arsenal in our FREE courses (for a limited time only) by clicking here
Trade safe!