(Accurate as of October 2021)
In the month of Sep 2021, the price of Bitcoin dipped. As Bitcoin is the big boss of all the other crypto, the price of most crypto also fell by a similar margin or even more. The price of Bitcoin recovered, resulting in most of the other crypto to recover as well.
If you have bought more crypto, congrats!
Crypto is much loved for many reasons. One of the biggest reasons is the ability to generate and earn a passive income from crypto. How much, you ask.
It's well over the fixed deposit rates we can get today. It's also higher than the dividend payout by most listed companies.
There's a short list of disclaimers which I need to proclaim before we proceed:
#1 Rates may change to the discretion of the crypto platforms
#2 Rates shown here are for non-US residents/citizens
#3 Some of these crypto platforms may not be available at your place of residence
All right, it's time to put your cup of beverage down and explore these 5 crypto platforms which offer high rates for your crypto!
#1 Blockfi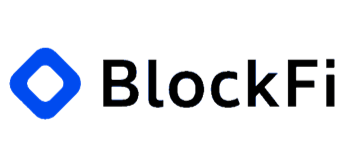 Blockfi is a crypto lending platform and exchange. As a lending platform, it's interest rates is pretty competitive. As an exchange, it's pretty simple and basic, with high fees of 1%. Therefore, it's preferable to earn interest on your crypto using Blockfi rather than using it to trade.
If you hold under 4,000 Uniswap tokens (UNI) or more than 40,000 Maker's Dai (DAI), this is the place to park them at. You'll receive 3.25% and 7% respectively. Furthermore, the return you'll get on Chainlink (LINK) is generous at 3.5% for 100 or fewer LINK tokens, while you'll get 4.75% for parking 20 or fewer Litecoin (LTC) with Blockfi.
There are 2 features you'll love about Blockfi.
A) You are entitled to 1 free crypto and 1 free stablecoin withdrawal every calendar month
B) You can choose the crypto of your choice to be paid out as interest in (Eg. You have UNI in Blockfi. You can choose for your interest to be paid out in Bitcoin instead)
I love them as it means that I can move my crypto around without incurring a cost and that I can earn Bitcoin (BTC) rather than purchasing BTC.
You can open an account with Blockfi using this link. Opening an account is free.
#2 Gemini (Singapore)

Gemini (Singapore) is for those living in Singapore. Gemini (Singapore) has a clean and intuitive design, catering to the needs of new and seasoned crypto investors.
Here, you'll be given access to many crypto. There's a long list of popular crypto which you can earn interest on too, namely Dogecoin (DOGE), Injective Protocal (INJ), Terra (LUNA), and The Graph (GRT).
This is the place to hold your Axie Infinity tokens (AXS), Basic Attention Token (BAT), DOGE, GRT, INJ, and LUNA. You'll get 4.04% on AXS, 3.49% on BAT, 3.78% on DOGE, 6.43% on GRT, 1.51% for INJ, and 4.52% on LUNA.
You may have heard about the ban of Binance International in Singapore from 26 Oct 21. Gemini (Singapore) is exempted from holding a license under the Payment Services Act (PS Act) by the Monetary of Singapore (MAS).
You can sign up for a Gemini (Singapore) account using this link. Signing up for an account is totally free.
#3 HODLnaut

HODLnaut is another lending platform with high interest rates.
It's also exempted from holding a license under the Payment Services Act (PS Act) by the Monetary of Singapore (MAS), so you can use HOLDnaut without worries if you are residing in Singapore.
If you have BTC, DAI, USDC, or USDT, this is the place to store them.
You'll earn 7.46% for 2 or fewer BTC, 7.46% for 20 or fewer Ethereum (ETH), 8.32% for 25,000 or fewer DAI, 12.73% for 25,000 or fewer USDC and USDT.
Similar to Blockfi, you can choose the crypto you want to be paid interest in.
Don't have a HODLnaut account yet? Here's the link to sign up for HODLnaut. Again, signing up for an account is free.
#4 Kraken

Kraken is the 3rd largest crypto exchange for the number of crypto listed. Only Binance International and Huobi Global have more crypto listed. You can compare the different crypto exchanges in this article.
Kraken is easy to navigate and generous in its staking rewards (aka passive income). You'll love Kraken as it offers 4.6% for Cardano (ADA), 7% for Cosmos (ATOM), 12% for Polkadot (DOT), 12% for Kusama (KSM), and 6.5% for Solana (SOL).
WHAT? That's the same reaction I got from a friend when I share this to him. He opened an account with Kraken immediately.
#5 Celsius Network
Celsius Network is a lending platform. It's known to be the king of stablecoins, but they also offer wonderful interest rates for other crypto which you'll discover in a while.
You'll be presented with the option to stake Celsius Network tokens (CEL) for a higher interest rate. Here, I'll share the interest rates Celsius Network is offering to clients outside of the US without staking CEL.
You can expect high interest rates from Celsius Network. Here are the crypto that they stand out from their competitors: receive a rate of 4.51% for Bitcoin Cash (BCH), 6.71% for Binance Coin (BNB), 5.05% for 100 or more ETH, 4.08% for LTC especially good if you have more than 20 LTC tokens, 10.51% for Polygon (MATIC), and 2.5% for Uniswap (UNI) especially good if you have more than 4,000 UNI tokens.
Oh I forgot to mention the rates Celsius Network offers for stablecoins. You'll receive 8.88% on your BUSD, GUSD, USDC, USDT, and PAX, while you'll be receiving 5.78% on your DAI without choosing to receive your payout in Celsius Network tokens (CEL). You'll get 5.5% on your PAX Gold (PAXG).
You can open an account with Celsius Network using this link and using the code 170065710d.
Bonus Cheat Sheet
Oh my, that's full of words. Here's a cheat sheet just for you.
And here's the cheat sheet for stablecoins.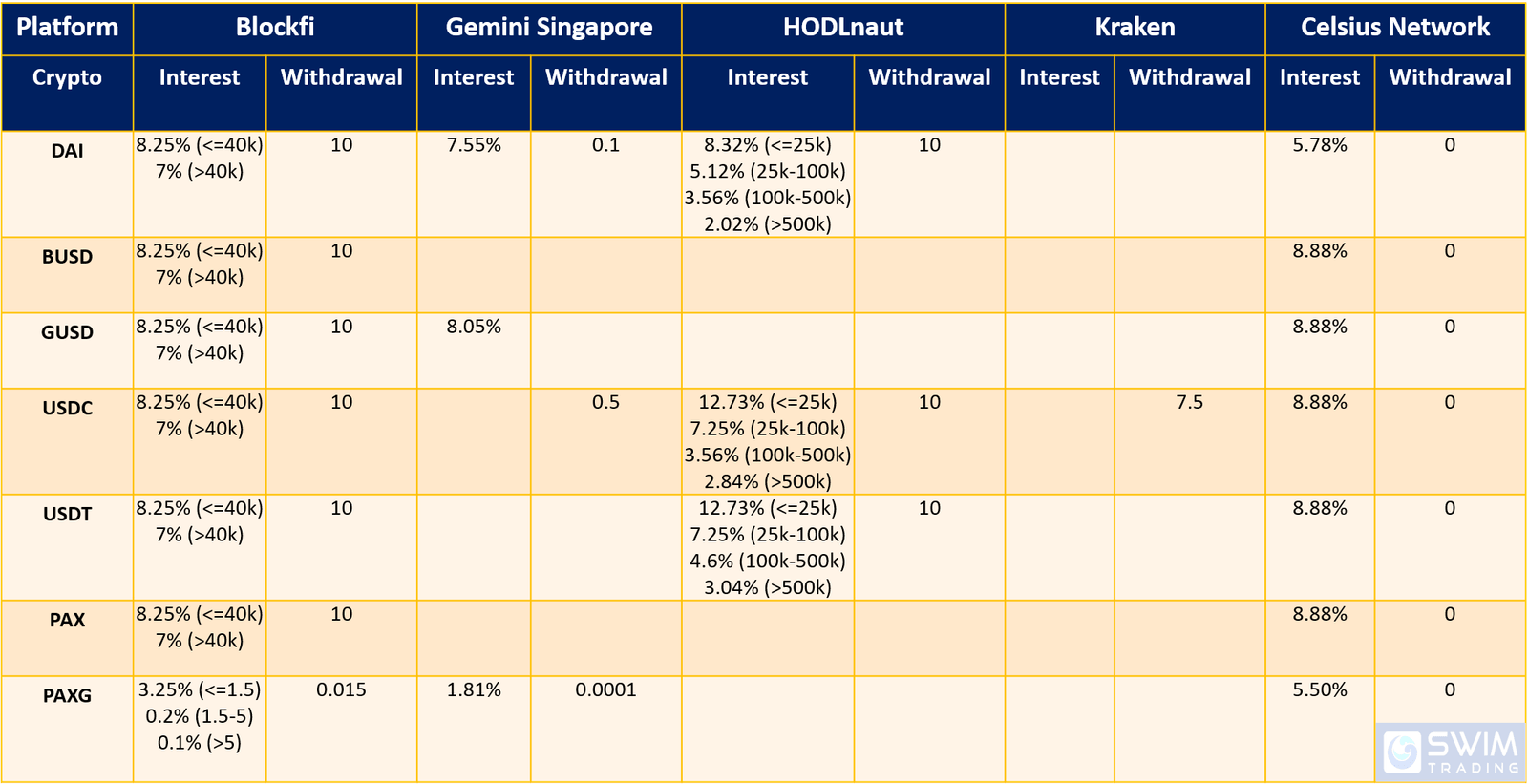 Important notes:
#1 Interest rates for crypto and stablecoins may change over time, so it's best to refer to the rates provided by the platform every few months.
#2 I've only included the larger and more popular crypto for comparison.
#3 There are other crypto platforms which provide high rates but require your crypto to be locked up for a period of time. Such platforms are not included here.
I know that you're excited about generating high passive income on your crypto. However, it'll be prudent to consider the amount of crypto you have and the withdrawal fees involved especially when you want to transfer your crypto across platforms.
4 Things You Must Remember
#1 Put your crypto to work by placing them into these crypto platforms to earn passive income
#2 Blockfi and HODLnaut allow you to receive interest payments in the crypto of your choice
#3 Gemini (Singapore) and HODLnaut are exempted from holding a licence by the MAS (only applicable to residents in Singapore)
#4 Interest rates may change over time, so it's best to refer to the rates provided by the platform every few months
Here's What You Can Do To Improve Your Trading Right Now:
#1 Join us in our Facebook Group as we can discuss the various ways of applying this by clicking here
#2 Never miss another market update; get it delivered to you via Telegram by clicking here
#3 Grab a front row seat and discover how you can expand your trading arsenal in our FREE courses (for a limited time only) by clicking here
Enjoy earning a passive income from your crypto today!