Do you find yourself shopping online more often ever since COVID-19 struck?
I do! This is compounded by the erratic weather that's blazing hot in a minute, and rainy in the next.
E-commerce is forecasted to continue enjoying more growth in the long term. The rate of growth, however, is expected to decrease as the e-commerce landscape becomes more competitive.
With the crackdown on technology companies in China starting to ease, I think that the share price of this e-commerce giant looks poised for some serious gains.
This is none other than the shares of Alibaba Group that's listed in the US.
Performance Of US Stock Market vs Alibaba Group
Using the top down approach, let's 1st look at how the overall US stock market is doing. This is reflected by the performance of the S&P 500 futures.
The past 6 months have been brutal to the S&P 500 futures. It has been in a downtrend for 6 months now, with no end in sight.
Looking at its performance last week, it was another red week. The market's sentiment is fiercely bearish based on the size of the last 2 red candlesticks.
Similar to the S&P 500 futures, Alibaba Group's (BABA) share price has also been in a downtrend. In fact, the price of BABA has been in a downtrend since late 2020.
However, its performance in the past week has been spectacular. Its share price has shot up by more than 10% while the overall US stock market fell by more than 5%.
In addition, a new uptrend has formed for BABA.
Are you able to spot this change in trend?
Knowing that BABA is showing strength against the overall US stock market, let's analyze it further by checking out the explosiveness of BABA's up moves.
How Explosive Is BABA?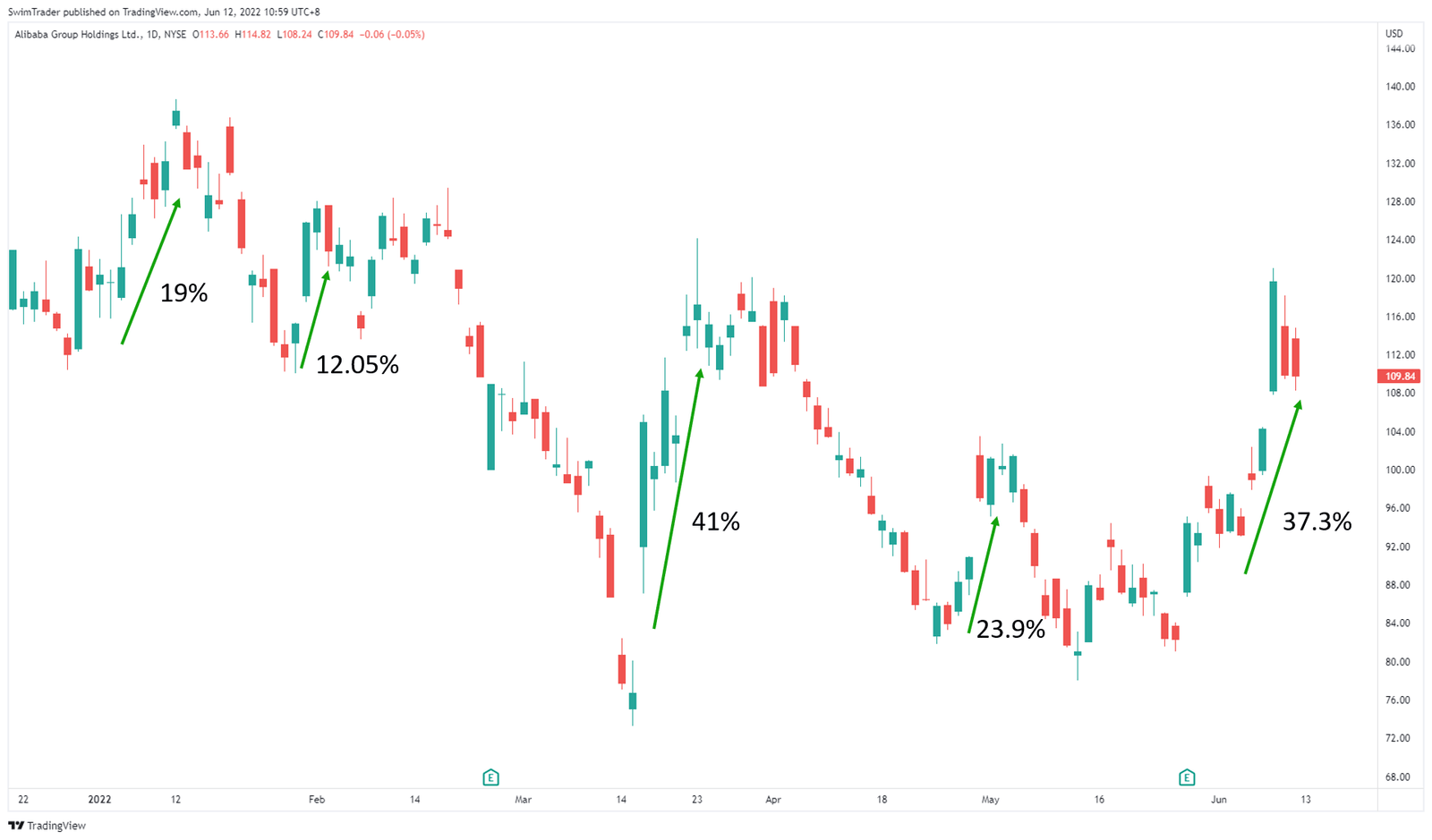 While in a downtrend, each up move by BABA was still explosive. The least explosive up move measured 12.05% while the most explosive one to date measured 41%! And that's just in the past 6 months alone!  
I can't wait to measure the up moves of BABA in the weeks to come. 
Wait, hang on a second. 
Before you get overly excited, there's one other thing you need to plot on the chart of BABA. 
Yes, you'll need to plot BABA's support and resistance zones to tell you where its price is likely to turn to optimize your trading plan. 
Key Price Levels
Support and resistance zones are also known as key price levels. These are areas where the price of BABA could bounce, so you'll be prepared to take action.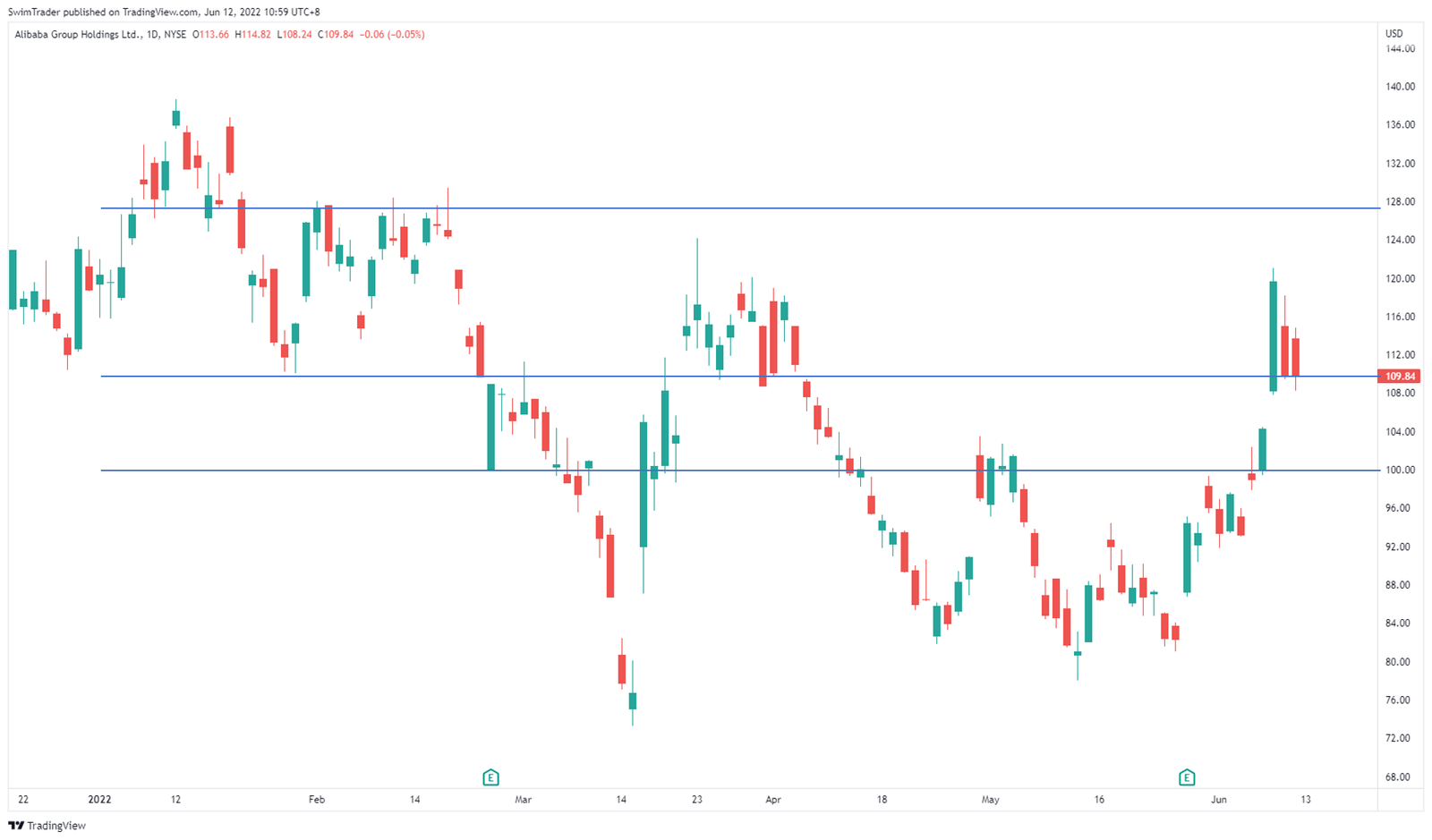 Here, you can see that the price of BABA is sitting nicely on its support zone at $110. 
There's a lower support zone at $100, and a higher resistance zone at $128.  
Given that the price of BABA has risen by more than 37% in its latest up move, I'm expecting a deeper pullback to around $104, closing the gap that's created 3 days earlier before launching itself higher. 
I would want to observe how the price of BABA behaves in the coming days too as this is a fresh uptrend. Fresh uptrends can be more volatile as the bears may prepare for one last onslaught before giving up. 
Finally, the time to talk about the strategy is here. 
The Strategy You Can Use To Trade BABA
Here, you'll be planning your entry, profit taking, and stop loss levels. 
In every trading strategy, you must know your entry, profit taking, and stop loss levels to stay in business. Yes, trading is a business indicating that the strategy you use must be well formulated too.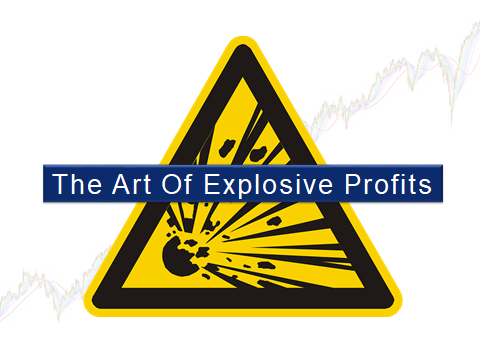 Using The Art of Explosive Profits framework (AEP for short), I'd like for the price of BABA to pull back to test its gap at about $104 before launching a fresh up move. 
As its name suggests, you'll be looking to catch an explosive move in a short period of time consistently. 
In the AEP course, you'll be coached on how to search for strong stocks like BABA instead of relying on news and hear-say.
You'll also become fluent in reading charts to shortlist stocks that are about to have an explosive move.
Finally, you'll learn how to identify the optimized entry, stop loss, and take profit level to capture these explosive moves that you've been waiting for (in a safe manner, of course)! 
Have a look at the AEP framework and add this explosive trading strategy to your arsenal to seize more trading opportunities.
Why Is BABA The Stock Pick Of The Week?

Source: https://www.alibabagroup.com/en/global/home
Demand for e-commerce will continue to grow as more people grow familiar with online purchases. 
In addition, the price of BABA has been beaten down for far too long. Its share price has finally shown some life and formed a new uptrend. 
Even while the price of BABA was trending down, each of its up move in the past 6 months has been spectacular, measuring between 12.05% to 41%!
Now, I know that you're as excited as I am. Before you rush to buy BABA, there's something you need to know. I'm not a financial advisor, so please take what you've read here as edutainment. 
Lastly all photos and images are from unsplash.com, pexels.com, pixabay.com, and tradingview.com.
Here's What You Can Do To Improve Your Trading Right Now:
#1 Join us in our Facebook Group as we can discuss the various ways of applying this by clicking here
#2 Never miss another market update; get it delivered to you via Telegram by clicking here
#3 Grab a front row seat and discover how you can expand your trading arsenal in our FREE courses (for a limited time only) by clicking here
Trade safe!