When was the last time you went online to buy an item or service? 
I'd just ordered food delivery a couple of days ago. 
Online retail and service providers are here to stay after COVID-19 had caused us to shop online. 
Giants in the e-commerce industry have been battered recently as interest rates rise. Their lofty valuations have come crashing back to earth, or at least to a more sustainable growth level. 
Is this all doom and gloom for e-commerce companies? 
I don't think so. 
There're a couple of companies whose stock prices are showing signs of recovery. One such company is eBay.
Are you ready to analyze eBay together?   
Performance Of US Stock Market vs eBay

What did we experience in the US stock market last week? 
The S&P 500 futures was up for the entire week except for Friday. It's been a long time since the last time the S&P 500 futures was bullish for the week.
Before you get carried away, it's important to look at the longer term. 
Since the start of 2022, the S&P 500 futures has been tumbling down. The bearish sentiment has yet to be replaced with bullishness. 
Against this backdrop, how has the shares of eBay (EBAY) performed? 
EBAY enjoyed a spectacular run up last week, closing 6.3% higher! 
The price of EBAY has also been sliding, but I think that it has just turned bullish. This is because its downtrend line has been broken and its prices are forming higher highs.
Here's what I see. 
There are a couple more ways to read the trend fast and accurately. 
How Explosive Is EBAY?
Can EBAY pass the next test of being capable of explosive up moves?  
Let's find out if the price of EBAY been explosive even while it was in a downtrend.
While EBAY was in a downtrend, it experienced 3 huge up moves, ranging between 5.6% and 15.5%. This is fantastic given that EBAY is a $26.1b company. 
Presently, EBAY's up move measures 8.4% and counting. 
How high more can it go to in the next couple of weeks? 
To help answer this question, let's uncover the key price levels of EBAY.
Key Price Levels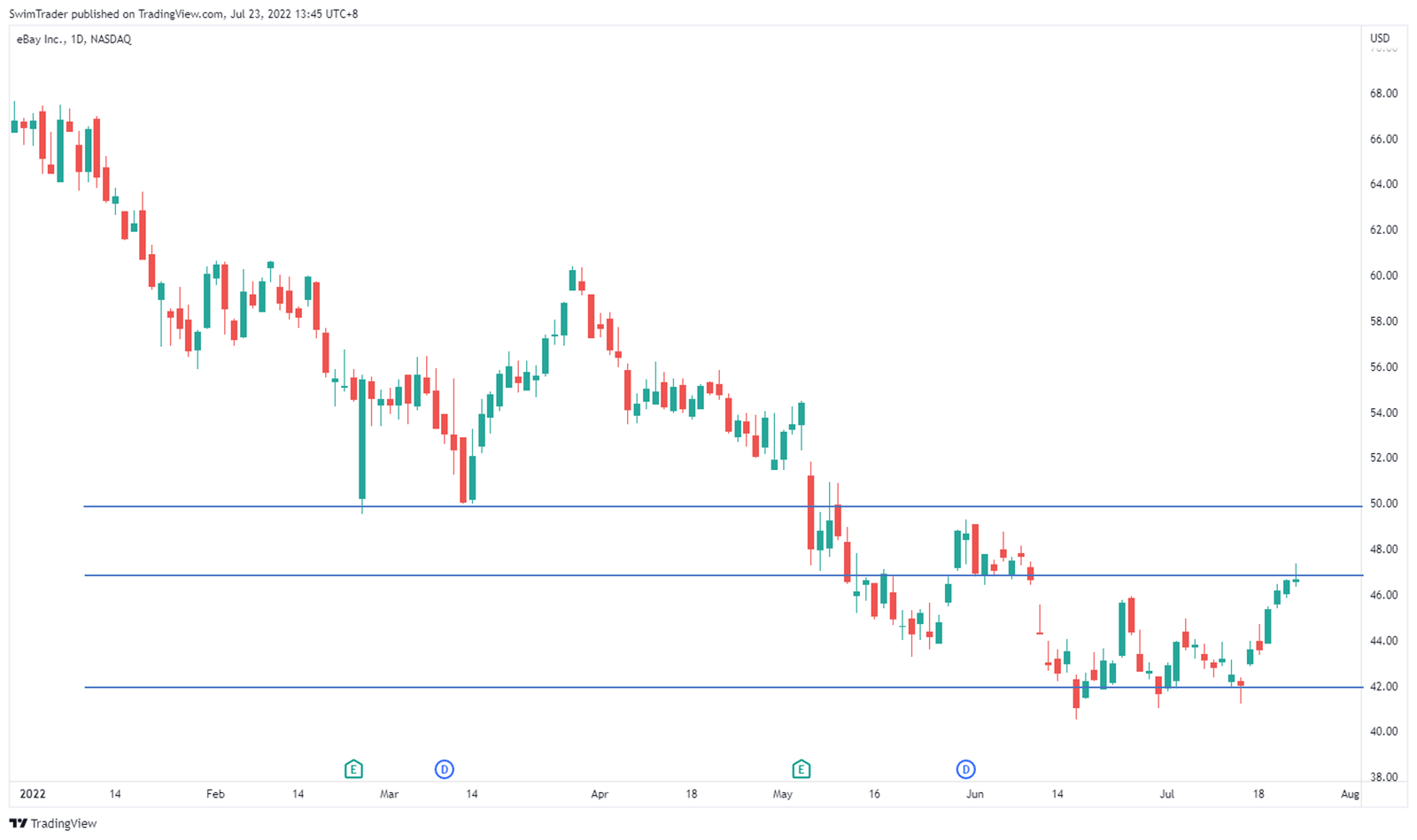 By uncovering the key price levels of EBAY, you identify its support and resistance zones. This will bring to your attention the price zones where the price of EBAY could possibly turn at. 
From the chart of EBAY above, you can see that there is an immediate support zone at about $42. 
There's an immediate resistance zone at about $47, and another at $50. 
These 3 price levels mean that should the price of EBAY drop, it's likely to head towards the $42 area and turn up. If the price of EBAY continues to rally, it's likely to break out of the $47 price zone and head towards $50 before turning down. 
What's another significance of these key price levels? 
Knowing that the price of EBAY is near $47, there's a high chance that its price drops in the coming days. This means that buying EBAY now isn't the wisest idea. 
The Strategy You Can Use To Trade EBAY
After comparing EBAY's performance to the broader US stock market, examining if EBAY has experienced explosive up moves, and uncovering its key price levels, it's time to talk strategy. 
In every trading strategy, you must know your entry, profit taking, and stop loss levels to stay in business. Yes, trading is a business indicating that the strategy you use must be well formulated too.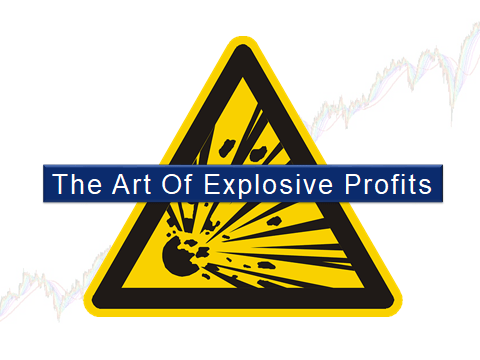 Using The Art of Explosive Profits framework (AEP for short), I'd like for the price of EBAY to break out of $47 and remain higher before entering. 
As its name suggests, you'll be looking to catch an explosive move in a short period of time consistently. 
In the AEP course, you'll be coached on how to search for strong stocks like EBAY instead of relying on news and hear-say.
You'll also become fluent in reading charts to shortlist stocks that are about to have an explosive move.
Finally, you'll learn how to identify the optimized entry, stop loss, and take profit level to capture these explosive moves that you've been waiting for (in a safe manner, of course)! 
Have a look at the AEP framework and add this explosive trading strategy to your arsenal to seize more trading opportunities.
Why Is EBAY The Stock Pick Of The Week?
Source: ebay.com
Purchasing goods and services online has been made a norm. This won't change in the foreseeable future.
While the overall US stock market continues to be bearish, the same isn't true for EBAY. The price of EBAY has broken its downtrend line and is on a fresh uptrend.
Even when EBAY was in a downtrend, it has experienced several explosive up moves. This is achieved despite of having a huge market capitalization of $26.1b!
And I sense that a trading opportunity is emerging.
As I wait for the opportunity to arrive, please note that I'm no financial advisor, so I encourage you to treat this edutainment and do your own research.
Lastly, all photos and images are from unsplash.com, pexels.com, pixabay.com, and tradingview.com.
Here's What You Can Do To Improve Your Trading Right Now:
#1 Join us in our Facebook Group as we can discuss the various ways of applying this by clicking here
#2 Never miss another market update; get it delivered to you via Telegram by clicking here
#3 Grab a front row seat and discover how you can expand your trading arsenal in our FREE courses (for a limited time only) by clicking here
Trade safe!