The price of Nasdaq has been flying to the moon since June 2022! 
No, I'm not referring to the index. 
I'm referring to the Nasdaq exchange.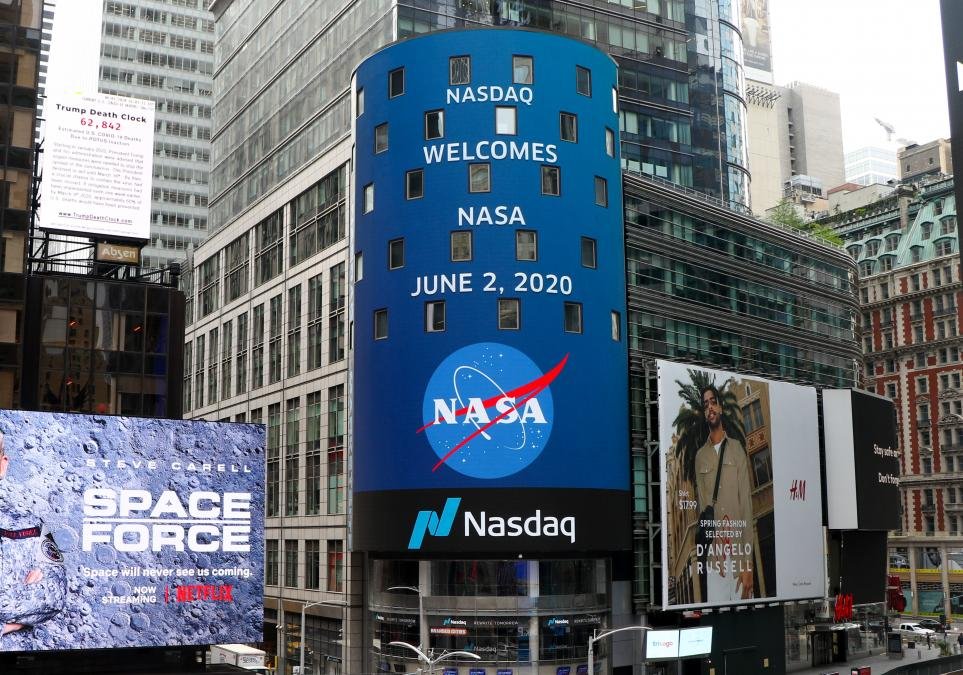 Source: nasdaq.com/events/nasa-rings-the-opening-bell-from-the-international-space-station
Do you know how Nasdaq makes money? 
A quick search shows that Nasdaq provides anti-financial crime technology to brokers and financial institutions to help them comply with rules and policies. This is interesting because rules and policies can be complex and tough to comprehend, let alone fully comply fully. 
As the share price of Nasdaq has flown, are there still swing trading opportunities? 
Let's go on an adventure to analyze Nasdaq together!
Performance Of US Stock Market vs Nasdaq

The S&P 500 futures is in a downtrend. It has been on the slide since the start of 2022. 
Since then, it has shed 15%. 
In the past week, it has risen by 3%. This bullish run could continue for a couple more days before another drop. 
While the sentiment of the overall US stock market remains pessimistic, there are a handful of stocks that are well-loved by market participants. One such stock is Nasdaq (NDAQ). 
NDAQ had only shed 10% of its value since the start of 2022.
While the S&P 500 futures had risen by 3% last week, the share price of NDAQ shot up by 4.9%! 
NDAQ is a stock with a track record of delivering superior performance. Hence, shall we continue analyzing NDAQ? 
How Explosive Is NDAQ?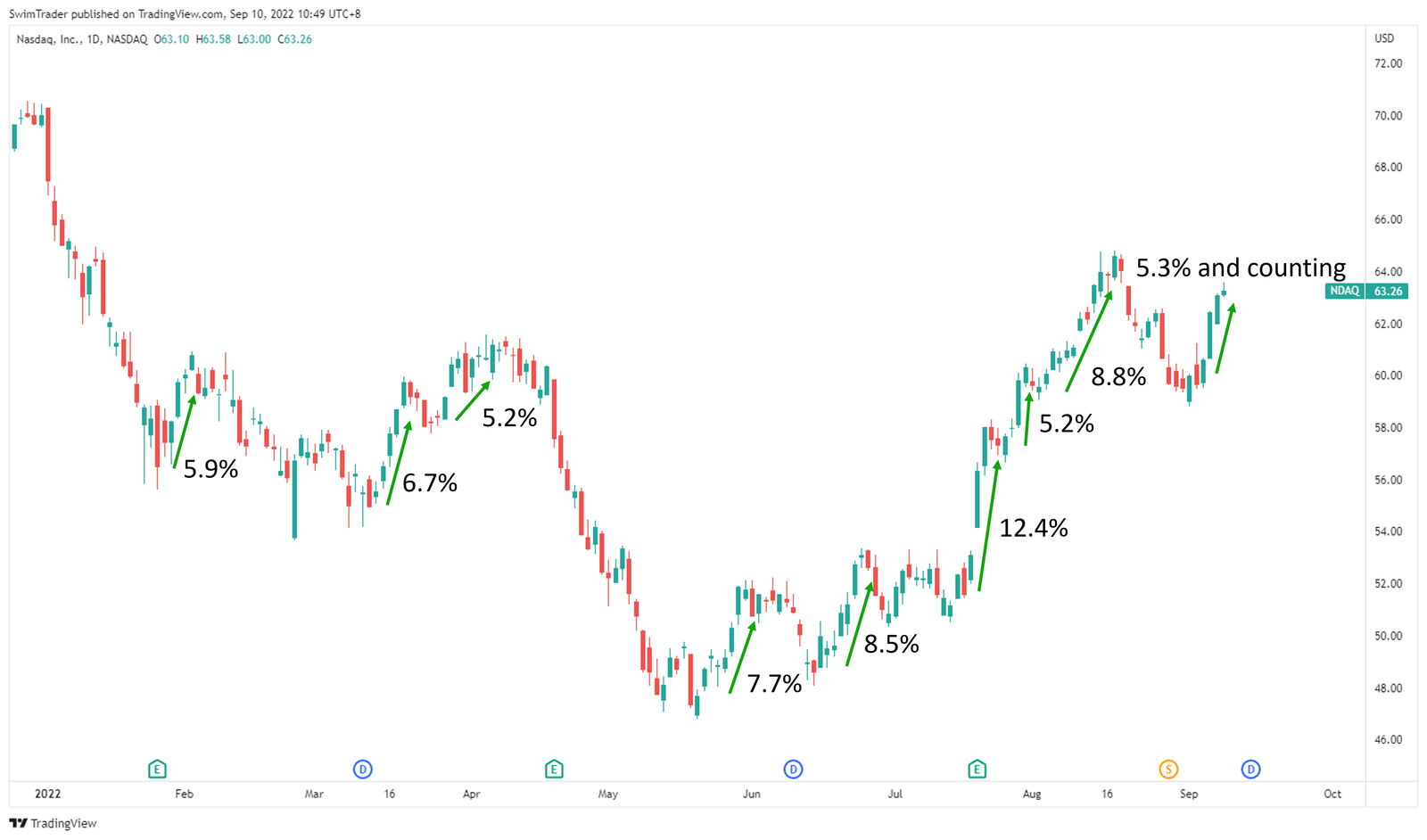 You've discovered that NDAQ has been consistently beating the US stock market. 
Does the share price of NDAQ enjoy explosive moves for swing trading?
There are 9 explosive up moves from Jan to early Sep 2022, ranging between 5.2% and 12.4%! 
This is no easy feat considering NDAQ's market capitalization – $31b! With this market capitalization, NDAQ is the world's 541st most valuable company. 
In this analysis of its explosive up moves, NDAQ passes this round with ease. 
Shall we proceed to uncover its key price levels to help us decide if it's a good time to swing trade NDAQ? 
Key Price Levels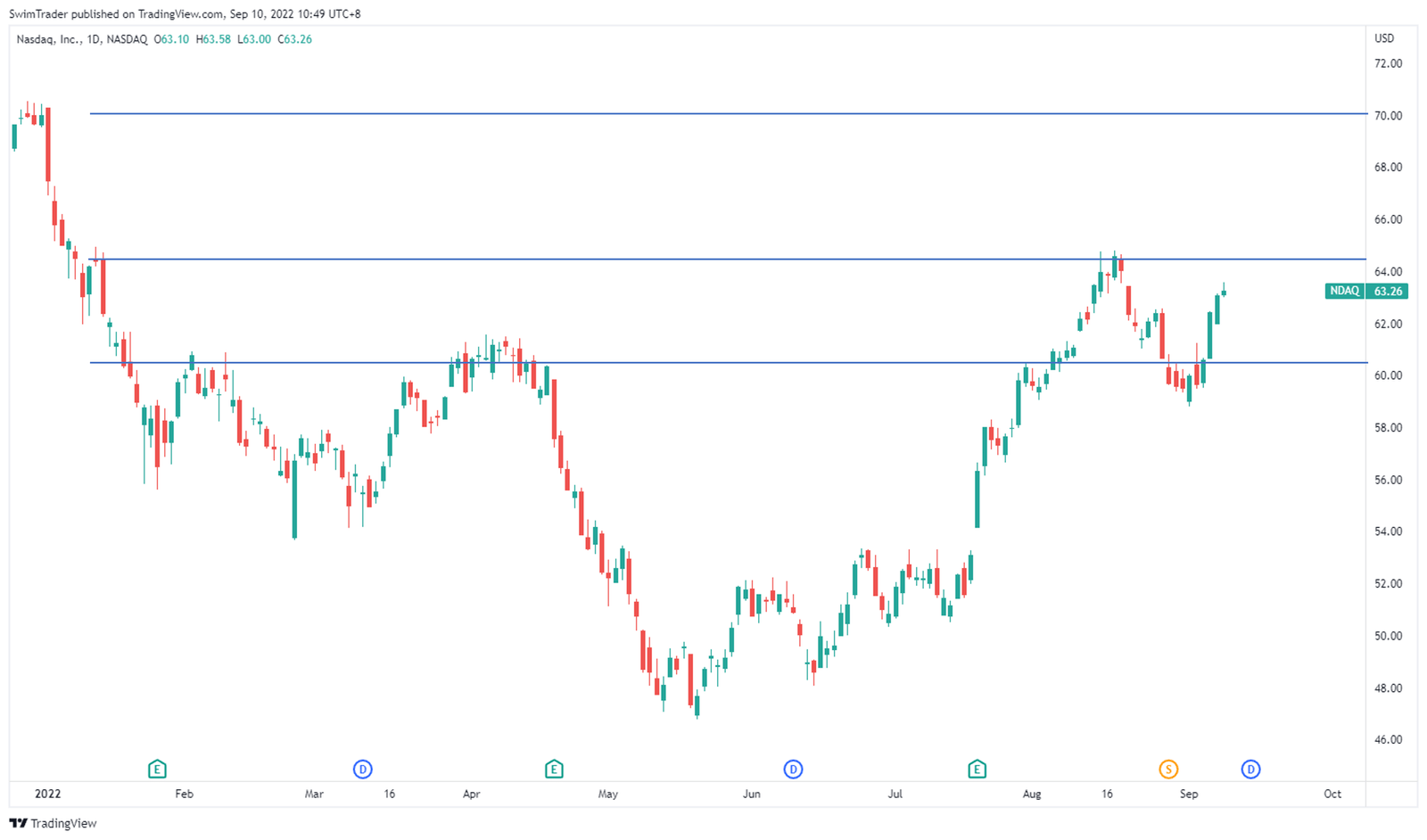 With some practice, you'll be able to spot and uncover key price levels on any chart. 
Yes, these are also known as support and resistance zones as prices tend to turn upon reaching the zones. 
There's something psychological about these zones. Every educated trader pays attention to them to avoid losing money right from the beginning of his/her trade. 
Looking at the chart of NDAQ above, you can see 1 support zone at around $60.50, and 2 resistance zones at around $64.50 and $70.
The price of NDAQ is nearing its immediate resistance zone at around $64.50, so it isn't the best idea to buy NDAQ for a swing trade now. 
What is my game plan? 
I'll wait and watch the $64.50 zone. I'd like to see the price of NDAQ break above its immediate resistance and then pull back to an area near $64. I'll continue to monitor it for a while before deciding to take this swing trade.  
I think that this outcome is more ideal as it's a show of confidence by the market participants. This scenario could be unveiled in the coming days.  
The Strategy You Can Use To Trade NDAQ
After comparing NDAQ's performance to the broader US stock market, determining if NDAQ has experienced explosive up moves, and identifying its key price levels, it's time to talk strategy. 
To stay in business, you must know your entry, profit taking, and stop loss levels in every trading strategy. Yes, trading is a business, which means that your strategy must be well thought out.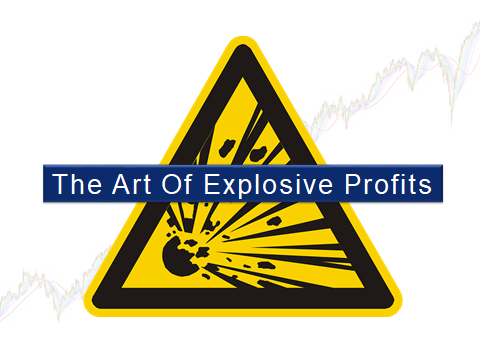 Using The Art of Explosive Profits (AEP) framework, I'd like to see NDAQ break out of $64.50 and pull back before considering an entry.
As the name implies, you'll be looking to consistently catch an explosive move in a short period of time.
Instead of relying on news and hearsay, the AEP course will teach you how to look for strong stocks like NDAQ.
You'll also learn how to read charts and identify stocks that are about to make a big move.
Finally, you'll learn how to identify the optimal entry, stop loss, and take profit levels to capitalize on these explosive moves (in a safe manner, of course)!
Have a look at the AEP framework and incorporate this explosive trading strategy to your arsenal to capitalize on more swing trading opportunities.
Why Is NDAQ The Stock Pick Of The Week?

Source: nasdaq.com
NDAQ has deep roots in the financial markets and has been outperforming the S&P 500 futures. 
Over the past 9 months, NDAQ has proven to be capable of explosive up moves which are critical to swing traders. 
We may see the share price of NDAQ pull back in the next few days, before launching higher, making it ripe for a swing trade. 
While I await the opportunity, please keep in mind that I'm not a financial advisor, so please treat this as edutainment and conduct your own research.
Lastly, all photos and images are from unsplash.com, pexels.com, pixabay.com, and tradingview.com.
Here's What You Can Do To Improve Your Trading Right Now:
#1 Join us in our Facebook Group where we discuss the various ways of applying this by clicking here
#2 Never miss another market update; get it delivered to you via Telegram by clicking here
#3 Grab a front row seat and discover how you can expand your trading arsenal in our FREE courses (for a limited time only) by clicking here
Trade safe!