Have you attended any of the National Day celebrations? 
The National Day celebrations have kicked off all over Singapore.
Fireworks lit the sky on Sunday night as part of the celebrations.
Discounts are offered by many retailers during this joyous occasion.
And this brings me to last week's swing trading opportunity: PDD (PDD). 
Although the share price of PDD has fallen to $82 and bounced, there's no entry yet according to The Art of Explosive Profits framework. 
You can save it in your watchlist to be alerted of an entry in the next couple of weeks.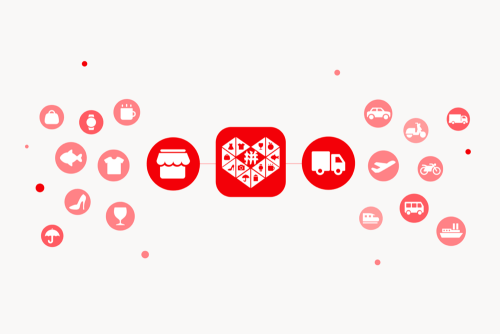 Source: en.pinduoduo.com/products
This week's swing trading opportunity is in the packaging industry, which is widely needed in almost all occasions ranging from celebrations to grocery: Packaging Corporation of America (PKG).
Let's dive in, shall we?
Performance Of US Stock Market vs Packaging Corporation of America (PKG)
What are the criteria of the stock that you are about to buy and hold for a few days? 
Personally, I'd like the stock to be outperforming the overall stock market. 
This can be done by comparing the stock with the S&P 500, which I've done above.
As you can see, the shares of Packaging Corporation of America were underperforming the S&P 500 until late Jul 2023. 
While the S&P 500 pulled back, the share price of Packaging Corporation of America rose! 
Can you also tell that its share price has been in a mighty uptrend since Jun 2023? 
How Explosive Is Packaging Corporation of America (PKG)?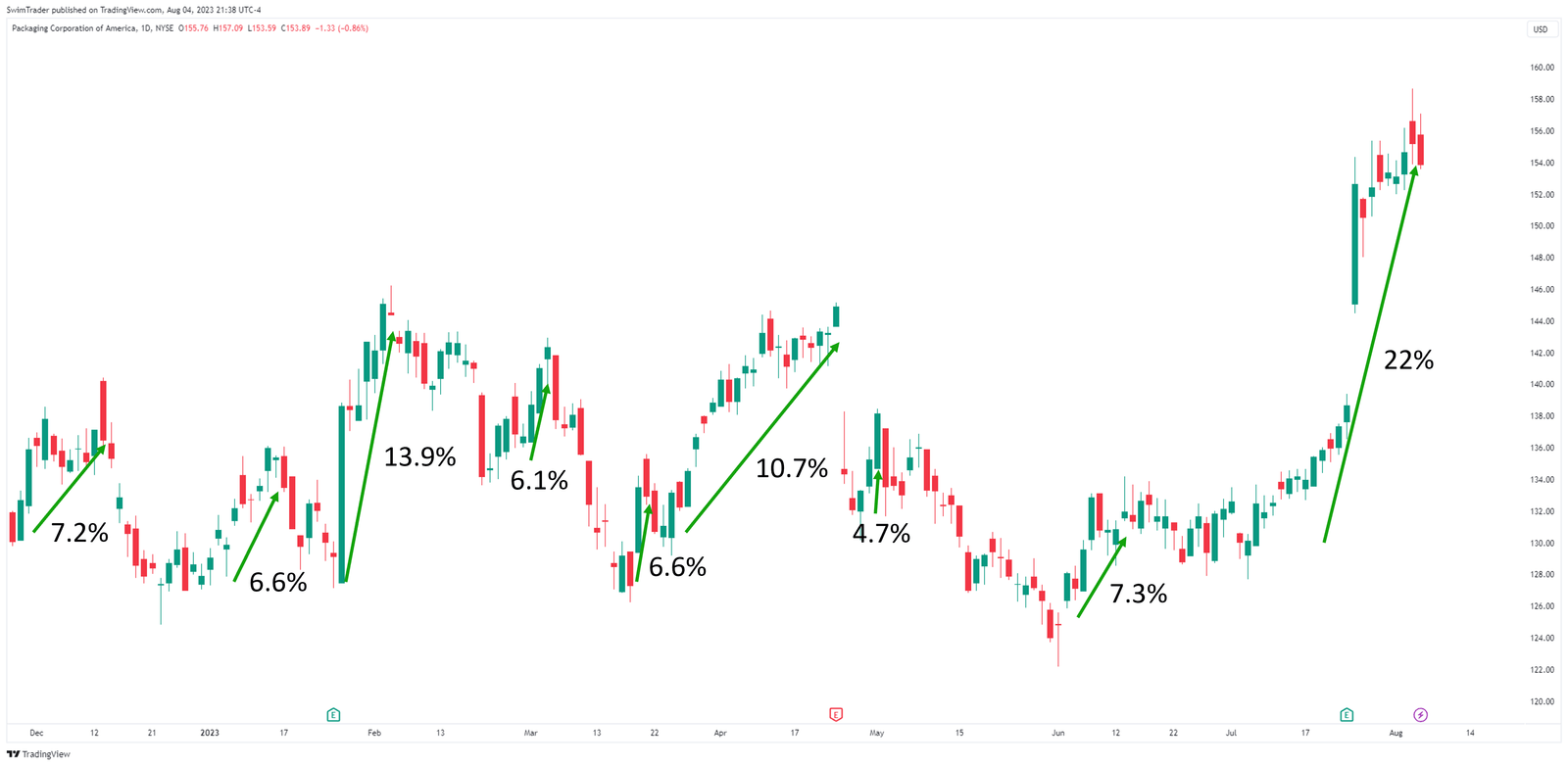 With thousands of stocks to choose from, how else can you narrow your search for a swing trade? 
Counting the number of explosive up moves and measuring them can certainly help you.
Such analysis will help to select the biggest and most explosive stocks to ride on.
How explosive have the shares of Packaging Corporation of America been?
As of Dec 2022, there have been 9 huge up moves, measuring between 4.7% and 22%!
Are these up moves considered explosive? 
Considering that Packaging Corporation of America enjoys a large market capitalization of almost $14b, such up moves are considered to be explosive.
Great! 
You've concluded that this stock is worth your time and money. 
Before you rush off to place an order, let's discover if the time for a swing trade is ripe. 
Key Price Levels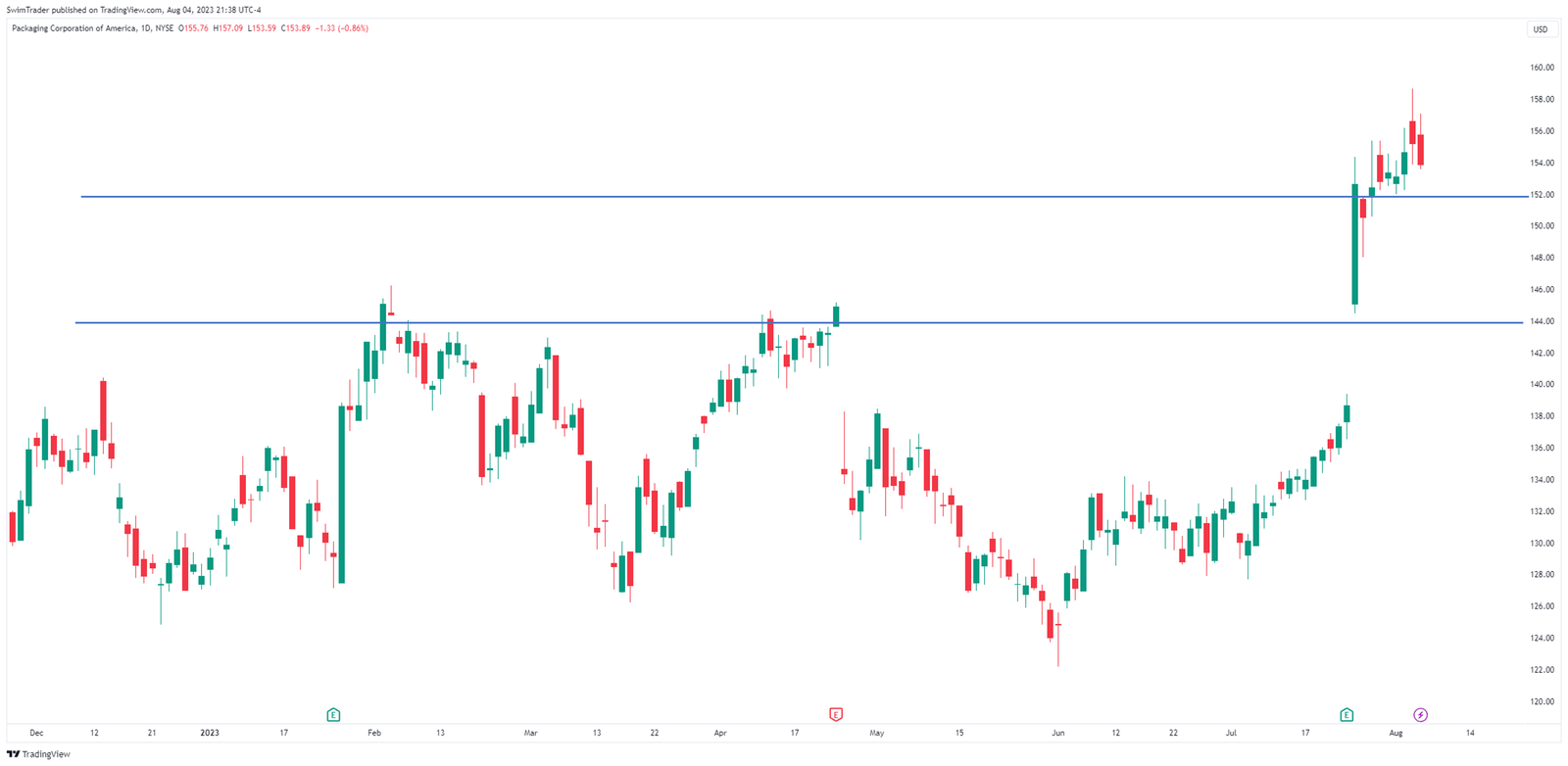 How do you determine whether you should buy a stock now or later?
I'd mark out the support and resistance areas, which are also the key price levels to watch.
This is because the share price of any stock is likely to turn at these areas. 
Looking at the chart of Packaging Corporation of America above, you can see 2 support areas: the 1st at ~$152 and the 2nd at ~$144.
Its share price looks to be pulling back in the days to come and you can expect it to fall to ~$152 before a small bounce. I think that it's more likely for its share price to fall to ~$144 before a swing trading opportunity appears. 
Therefore, I'd be paying attention to the $144 price level.
The Strategy You Can Use To Swing Trade Packaging Corporation of America (PKG)
After comparing the performance of PKG with the broader US stock market, determining whether PKG has experienced explosive up moves, and identifying its key price levels, it's time to talk strategy. 
To stay in business, you must know your entry, profit taking, and stop loss levels in every trading strategy. Yes, trading is a business, which means that your strategy must be well thought out.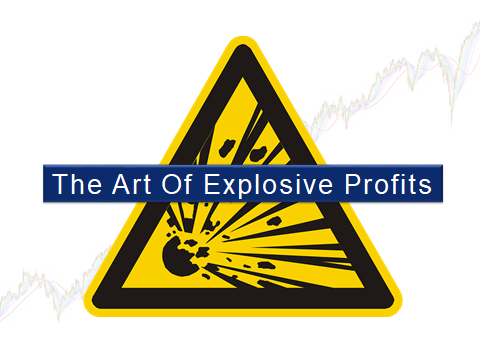 Using The Art of Explosive Profits (AEP) framework, I'd like to see PKG pullback and bounce at around $144 before considering an entry for a swing trade.
As the name implies, you'll be looking to consistently catch an explosive move in a short period of time.
Instead of relying on news and hearsay, the AEP course will teach you how to screen stocks for swing trading like PKG.
You'll also learn how to read charts and identify stocks that are about to make a big move.
Finally, you'll learn how to identify the optimal entry, stop loss, and take profit levels to capitalize on these explosive moves (in a safe manner, of course)!
Can you apply the AEP framework to provide you with a side income while working full time? 
Yes, you can! 
Come, have a look at the AEP framework and incorporate this explosive trading strategy into your arsenal to capitalize on more swing trading opportunities.
Why Is Swing Trading PKG Worth It?

Source: packagingcorp.com
PKG has been enjoying a resurgence of late, outperforming the S&P 500 since Jul 2023. 
Furthermore, it has been displaying consistent explosive up moves which are important for swing trades.  
While we wait for the setup, please keep in mind that I'm not a financial advisor, so please treat this as edutainment and conduct your own research.
Lastly, all images are from pexels.com, pixabay.com, sectorspdrs.com, tradingview.com, and unsplash.com.
Here's What You Can Do To Improve Your Trading Right Now:
#1 Join us in our Facebook Group where we discuss the various ways of applying this by clicking here.
#2 Get market updates delivered to you via Telegram by clicking here.
#3 Grab a front row seat and discover how you can expand your trading arsenal in our FREE courses (for a limited time only) by clicking here.
Trade safe!