Do you feel like you're melting whenever you leave your house or workplace?
Yes, even late at night!
Because I'm still suffering from my sunburnt face and legs, all my meet-ups have taken place in air-conditioned venues such as shopping malls. 
And there's a certain allure to wandering around malls. The glitz unleashes my creative juices, giving birth to ideas of all kinds.
What's the best part?
They present us with money-making opportunities.
Many large shopping malls have been securitized as REITs (real estate investment trusts) or business trusts, allowing investors like you and me to share a large portion of their profits.
While sieving through charts of REITs, this particular REIT caught my eye. This REIT is based and listed in the US. Its portfolio includes over 80 malls worldwide.
Simon Property Group is the name of this company.
Performance Of US Stock Market vs Simon Property Group

It's been such a happy week for you if you're invested in the US stock market. 
The S&P 500 futures rose 3%, which is a cause for celebration.
This is because the S&P 500 futures had tumbled by more than 24% from Jan 2022 to mid Jun 2022 before the recent rally.  
In the same period, shares of Simon Property Group (SPG) tumbled by 43% before rallying. 
Just last week, shares of SPG shot up by 7.6%!
Did you also notice the positive price gaps between each of its last 4 candles?
This is music to my ears because it shows that market participants are extremely interested in this stock, driving up its price.
Based on this comparison, you can conclude that SPG is a super strong stock that's worth analyzing further for a quick swing trade. 
So, shall we proceed to the next stage of analysis? 
How Explosive Is SPG?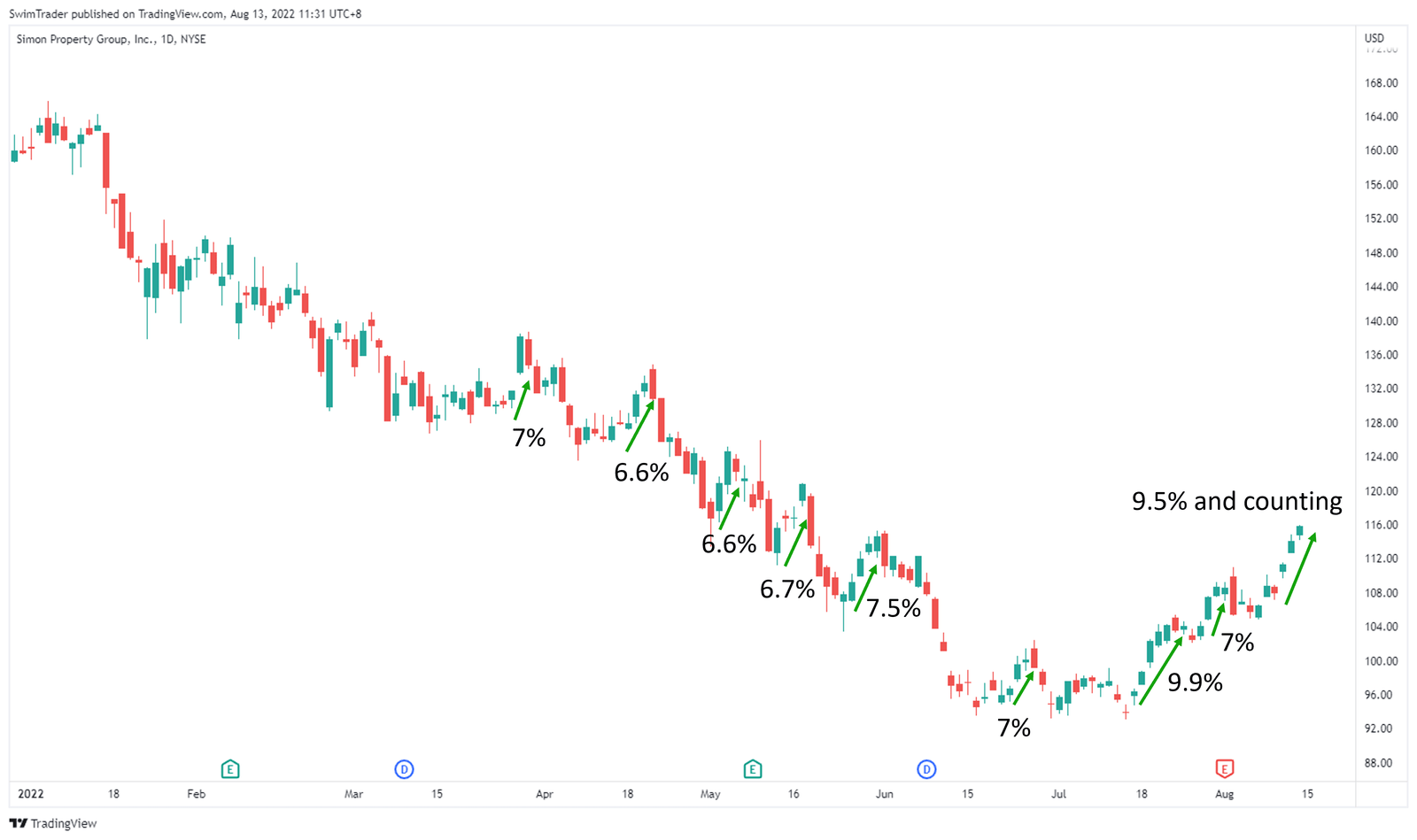 The share price of SPG has been in a strong downtrend from late 2021 till mid Jul 2022. 
Even as its share price fell, it experienced strong up moves ranging from 6.6% to 7.5%.
The numbers get even better when the price of SPG starts to trend upwards, ranging between 7 and 9.9%!
These figures are impressive given that SPG is the world's 400th largest publicly traded company, with a market capitalization of $43b. 
Before you log in to your broker's platform to place an order, let's identify SPG's key price level to see if it's the right time to buy its stock.
Key Price Levels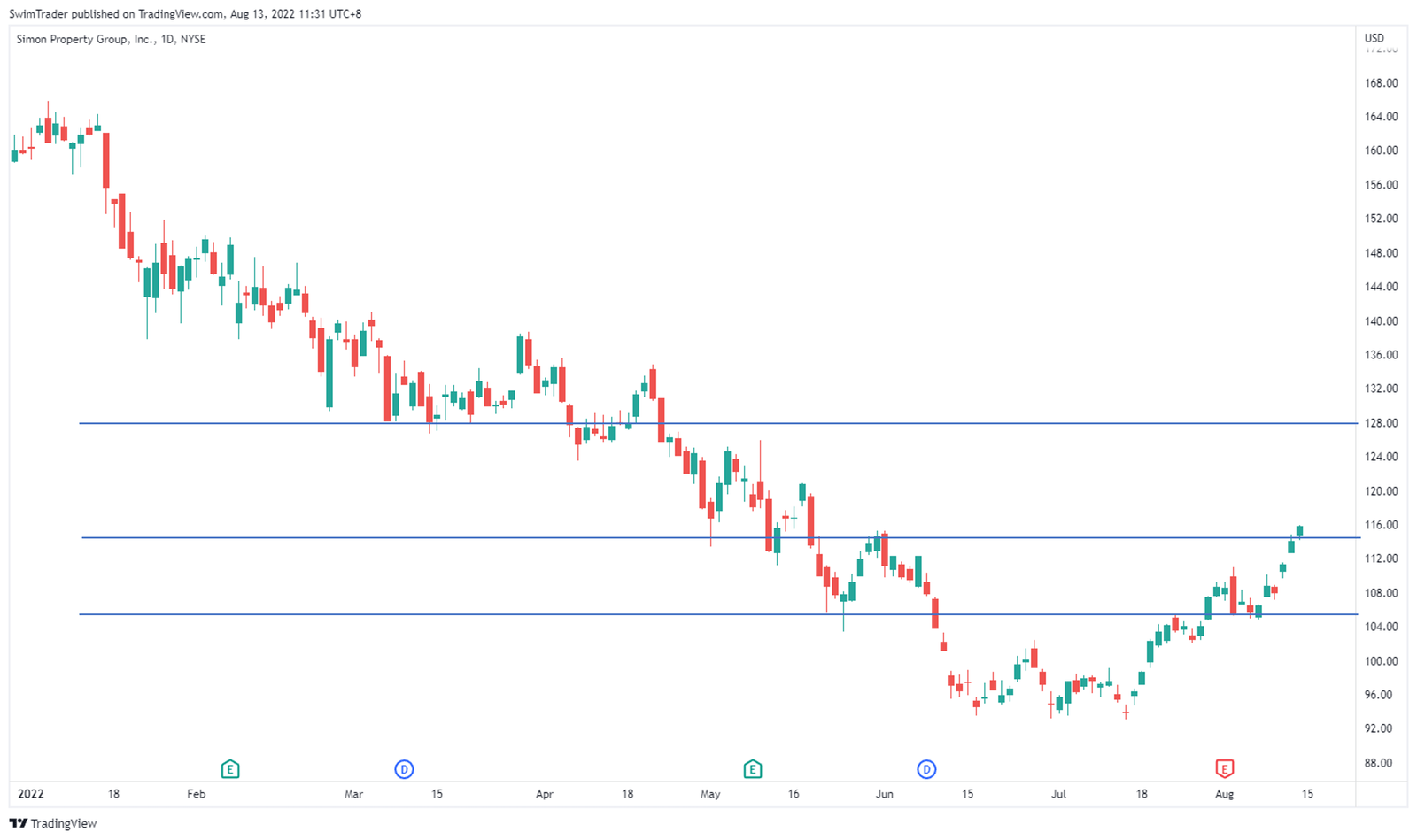 Knowing SPG's key price levels is critical because they serve as support and resistance zones.
In other words, when these key price levels are illuminated, they shed light on potential turning points, saving you the agony of buying SPG shares when they are about to fall.
After plotting the support and resistance zones of SPG, you can see that there are 2 strong zones of resistance at around $105 and $115. 
This means that if the price of SPG falls in the near term, it could fall to around $115 before rising again. And if it breaks through $115, there's a chance it'll reverse at $105.
There's a strong zone of resistance at about $128 where its price may get stuck or reverse. 
Do you think that the price of SPG will shoot towards $128 in the next 2 weeks? 
I believe the price of SPG will rise a little further before falling and bouncing off the $115 level.
A pullback of this magnitude is a good sign because no sustainable stock can rise for an extended period of time without a pullback.
The Strategy You Can Use To Trade SPG
After comparing SPG's performance to the broader US stock market, determining if SPG has experienced explosive up moves, and identifying its key price levels, it's time to talk strategy. 
To stay in business, you must know your entry, profit taking, and stop loss levels in every trading strategy. Yes, trading is a business, which means that your strategy must be well thought out.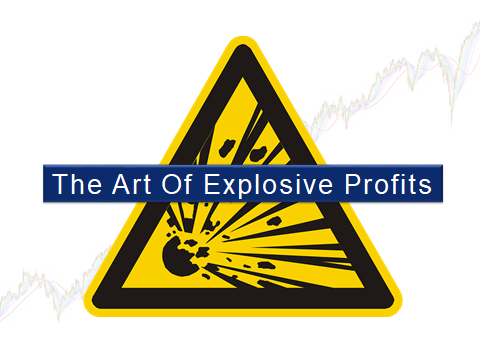 Using The Art of Explosive Profits (AEP) framework, I'd like to see SPG pullback and bounce at around $115 before considering an entry.
As the name implies, you'll be looking to consistently catch an explosive move in a short period of time.
Instead of relying on news and hearsay, the AEP course will teach you how to look for strong stocks like SPG.
You'll also learn how to read charts and identify stocks that are about to make a big move.
Finally, you'll learn how to identify the optimal entry, stop loss, and take profit levels to capitalize on these explosive moves (in a safe manner, of course)!
Have a look at the AEP framework and incorporate this explosive trading strategy to your arsenal to capitalize on more swing trading opportunities.
Why Is SPG The Stock Pick Of The Week?

Source: simon.com
The price of SPG has stopped sliding. Instead, it has been rallying hard for the past week. 
Each rally has been explosive, measuring between 6.6% and 9.9%. Because of the price explosion, it's ideal for the AEP framework.
SPG's share price is currently trading above its support level. I believe it will rise a little more before reversing and bouncing off around $115. This gives you time to relax while you wait for a quick swing trade.
While I wait for the opportunity, please note that I'm no financial advisor, so I encourage you to treat this edutainment and conduct your own research.
Lastly, all photos and images are from unsplash.com, pexels.com, pixabay.com, and tradingview.com.
Here's What You Can Do To Improve Your Trading Right Now:
#1 Join us in our Facebook Group as we can discuss the various ways of applying this by clicking here
#2 Never miss another market update; get it delivered to you via Telegram by clicking here
#3 Grab a front row seat and discover how you can expand your trading arsenal in our FREE courses (for a limited time only) by clicking here
Trade safe!