Where do you usually meet your friends to catch up?
For the young and young at heart, it's usually at a cafe. 
The cafe needs to be welcoming for its customers – have comfortable seats, ample sitting area, and tolerate customers who sit in its premises for an extended period of time. 
Often than not, this cafe comes to mind – Starbucks.  
It's in their DNA to welcome social meetings and this has served them well. 
So, shall we examine the performance of Starbucks' shares? 
Performance Of US Stock Market vs Starbucks
Both the price of S&P 500 futures (a good representation of the overall US stock market) and Starbucks (SBUX) have fallen considerably since the start of 2022. And that's where their similarities end. 
In the past week, the S&P 500 futures was down by 0.8% while the share price of SBUX was up by 1%.
Overall, the S&P 500 futures is still in a downtrend while SBUX has emerged from its downtrend to form consecutive higher lows in mid June 22 and again in mid July 2022.
Having gained 1% last week on the backdrop of a sliding US stock market and having formed higher lows, SBUX is clearly outperforming the overall US stock market.
Can you safely conclude that SBUX is therefore a stock to watch in the coming days or weeks?
Not yet.
Let's find out what the next step to our analysis should be. 
How Explosive Is SBUX?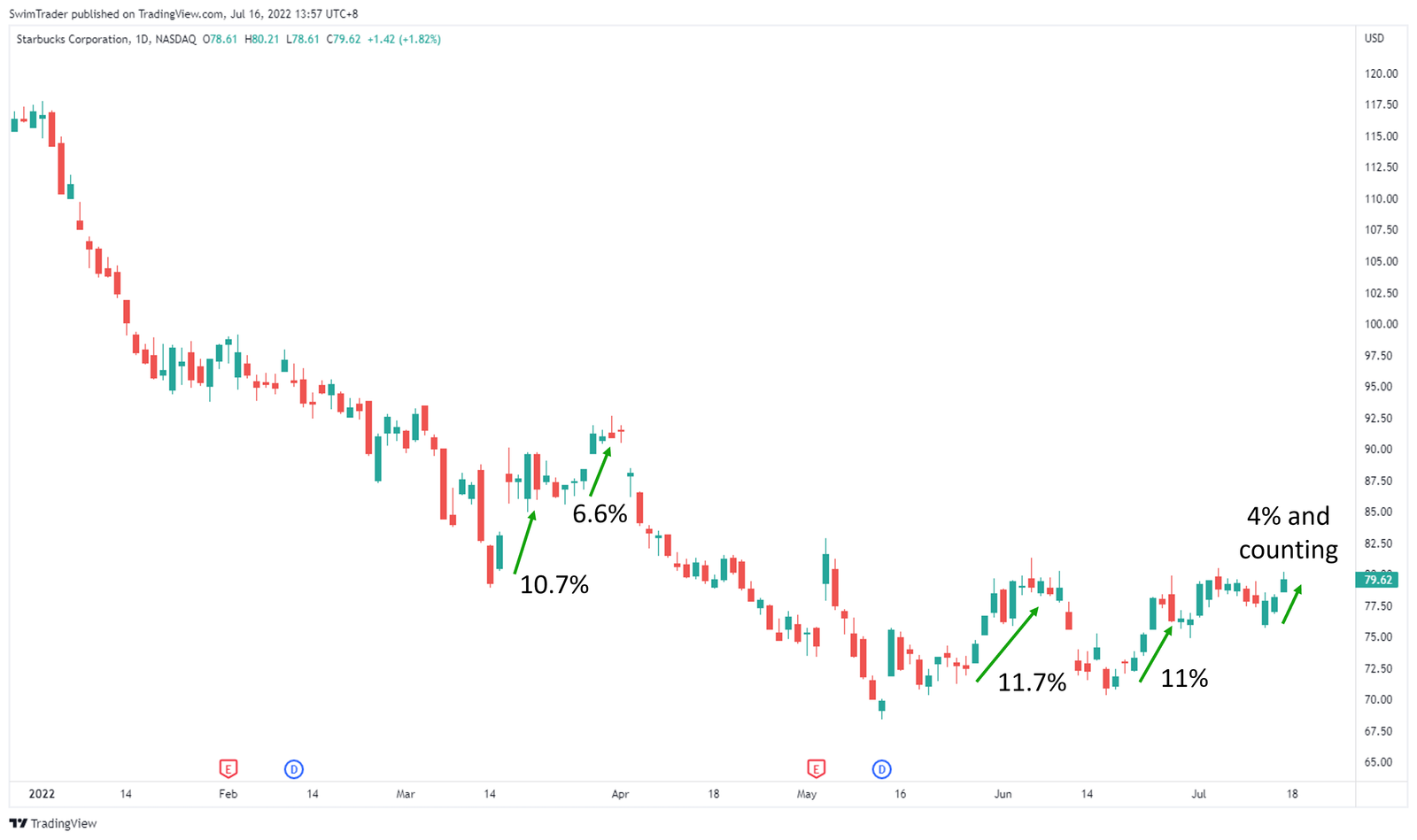 The very next step is to measure each of SBUX's up moves to determine if it's worth your time watching it in the coming days or weeks. 
As shared earlier, SBUX was in a strong downtrend until recently. 
Are each of the up moves huge as SBUX's price slid? Let's have a look. 
There're 2 up moves as the price of SBUX declined. The price of SBUX rose by 10.7% and 6.6% as shown in the chart above. These up moves are significant for SBUX, a company with a market capitalization of over $91b, ranking it as the world's 130th most valuable company by market capitalization. 
Since June 22, SBUX is no longer in a downtrend. 
Instead, it's showing signs of bullishness.
Each up move since then measures 11% or greater. And we are in the midst of another up move! 
Yes, it's tempting to visit your broker's platform to place a buy order on SBUX now. But, there's another step that your analysis should include – identifying SBUX's key price levels. 
Key Price Levels
The very next step is to identify the key price levels of SBUX. This will help you to know where the support and resistance zones are to help you avoid buying or selling at the most inappropriate time. 
Performing this analysis is also essential in helping you to evaluate if there's enough headroom for the price of SBUX to increase to make your trade worthwhile. 
Looking at the chart above, you can see that there's a support zone at around $70. There's an immediate resistance zone at around $80 and another resistance zone at around $90. 
Given that the price of SBUX is at $79.62 now, if the price of SBUX gets rejected at $80, then there's little headroom for you to profit from. Hence, I would like to see the price of SBUX breaking out of $80 and pulling back to $80 before considering an entry. 
The Strategy You Can Use To Trade SBUX
Here, you'll be planning your entry, profit taking, and stop loss levels. 
In every trading strategy, you must know your entry, profit taking, and stop loss levels to stay in business. Yes, trading is a business indicating that the strategy you use must be well formulated too.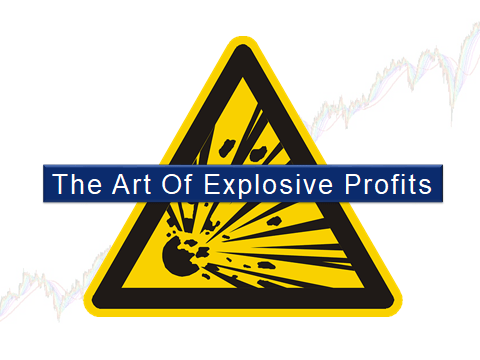 Using The Art of Explosive Profits framework (AEP for short), I'd like for the price of SBUX to break out of $80 and remain higher before entering. 
As its name suggests, you'll be looking to catch an explosive move in a short period of time consistently. 
In the AEP course, you'll be coached on how to search for strong stocks like SBUX instead of relying on news and hear-say.
You'll also become fluent in reading charts to shortlist stocks that are about to have an explosive move.
Finally, you'll learn how to identify the optimized entry, stop loss, and take profit level to capture these explosive moves that you've been waiting for (in a safe manner, of course)! 
Have a look at the AEP framework and add this explosive trading strategy to your arsenal to seize more trading opportunities.
Why Is SBUX The Stock Pick Of The Week?
Many people have been craving to head out after being cooped up for 2 years or so. Starbucks is a popular and well-liked cafe to hang out or meet at.
While the overall US stock market is sliding, the price of SBUX is picking up. SBUX is stronger than the overall US stock market, giving it a higher chance of positive performance at least in the near future. 
Each of its up moves have been significant, ranging between 6.6% and 11.7% despite it being the world's 130th largest listed company. 
Besides, I smell a trading opportunity that's nearing. 
As I wait for the opportunity to arrive, please note that I'm no financial advisor, so I encourage you to treat this edutainment and do your own research.
Lastly, all photos and images are from unsplash.com, pexels.com, pixabay.com, and tradingview.com.
Here's What You Can Do To Improve Your Trading Right Now:
#1 Join us in our Facebook Group as we can discuss the various ways of applying this by clicking here
#2 Never miss another market update; get it delivered to you via Telegram by clicking here
#3 Grab a front row seat and discover how you can expand your trading arsenal in our FREE courses (for a limited time only) by clicking here
Trade safe!