Weekly Analysis – Bitcoin – Change Has Started…
Big Picture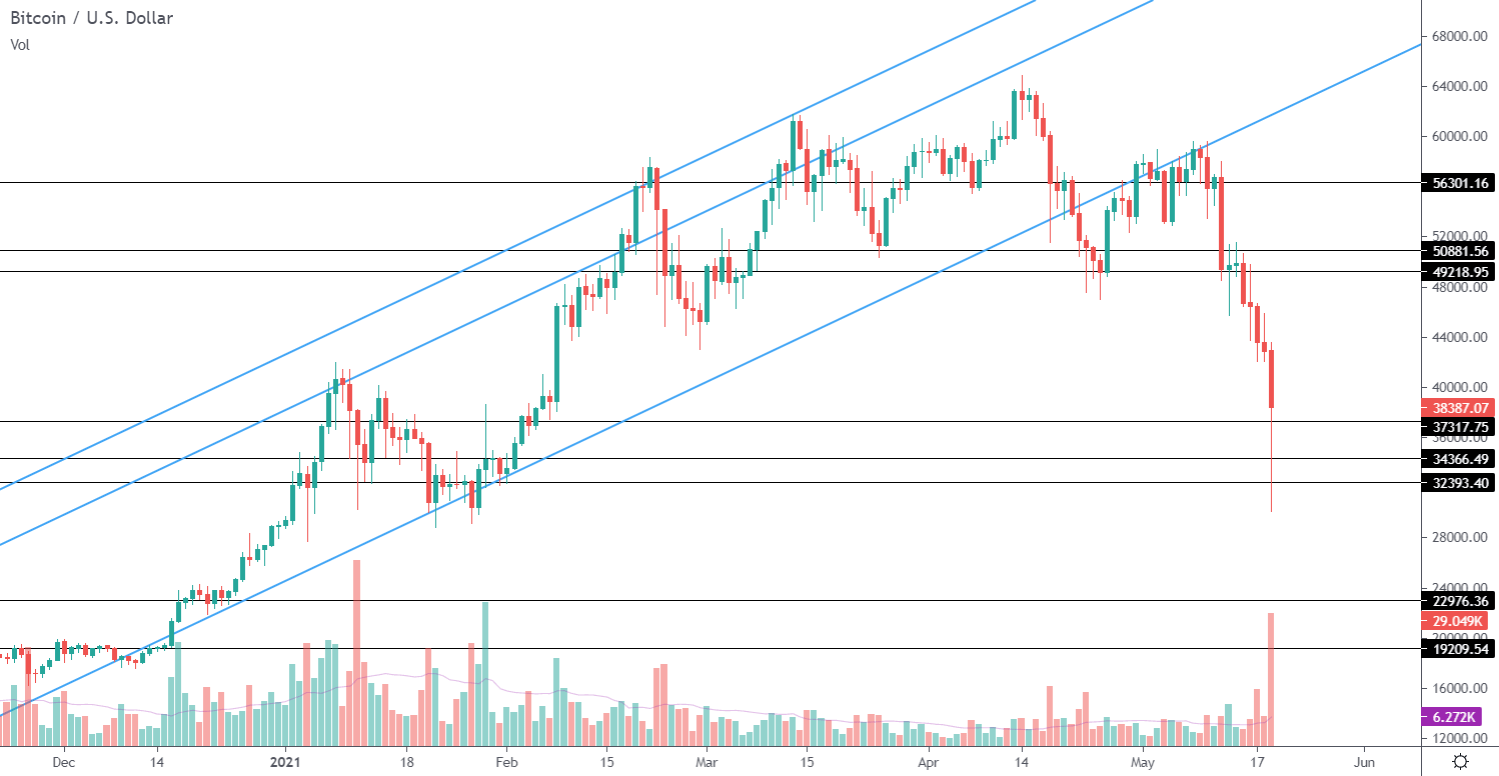 Following the 2 prior analysis on the king of cryptocurrency, the downtrend has finally started. We literally can see the slow down in the bullish momentum of BTC, and then slowly changing its stance to turn into a bearish structure.
This week, we saw a break of the key level that I mentioned last week. While it's such a shame that it didn't pull back to the level that I was envisioning ($56,000 level for a glorious short), what happened was a break of the $48k level and a hard flush towards the $30,000 level.
As I am writing this analysis, the price of BTC has flushed below to touch $30,000 and recovered mid-day. Is this still a good time to be getting into the king of crypto? Lets see… 
Bitcoin vs Alt-Coins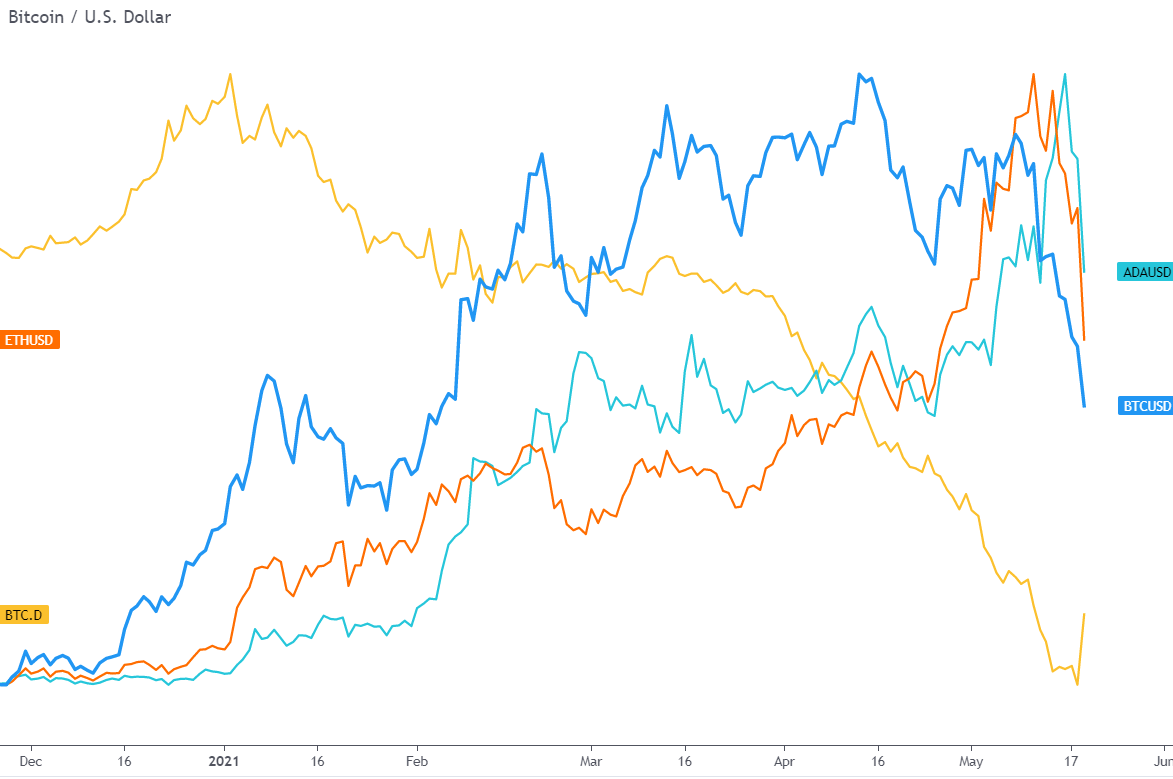 On this chart, you can see that I am comparing the performance of Bitcoin (blue), Ethereum (orange), Cardano (green) & Bitcoin.Dominance (yellow). Why?
In the crypto world where Bitcoin is the "king", we are looking at 2 camps of money flow. The 1st camp of money flow is into BTC itself, while the other is into other alternate coins (aka alt-coins) such as ETH etc. With the BTC.D (Bitcoin.Dominance) falling aimlessly, it was a clear sign that it's the season for now.
However this has reversed today where you see that BTC is dropping less than the rest of the alt-coins. While the major alt coins are tanking mad today, you can also find some of the stronger Alt-coins that have not dropped all that much.
If you still wish to HODL, these would be the coins you can look at.
Technically Speaking…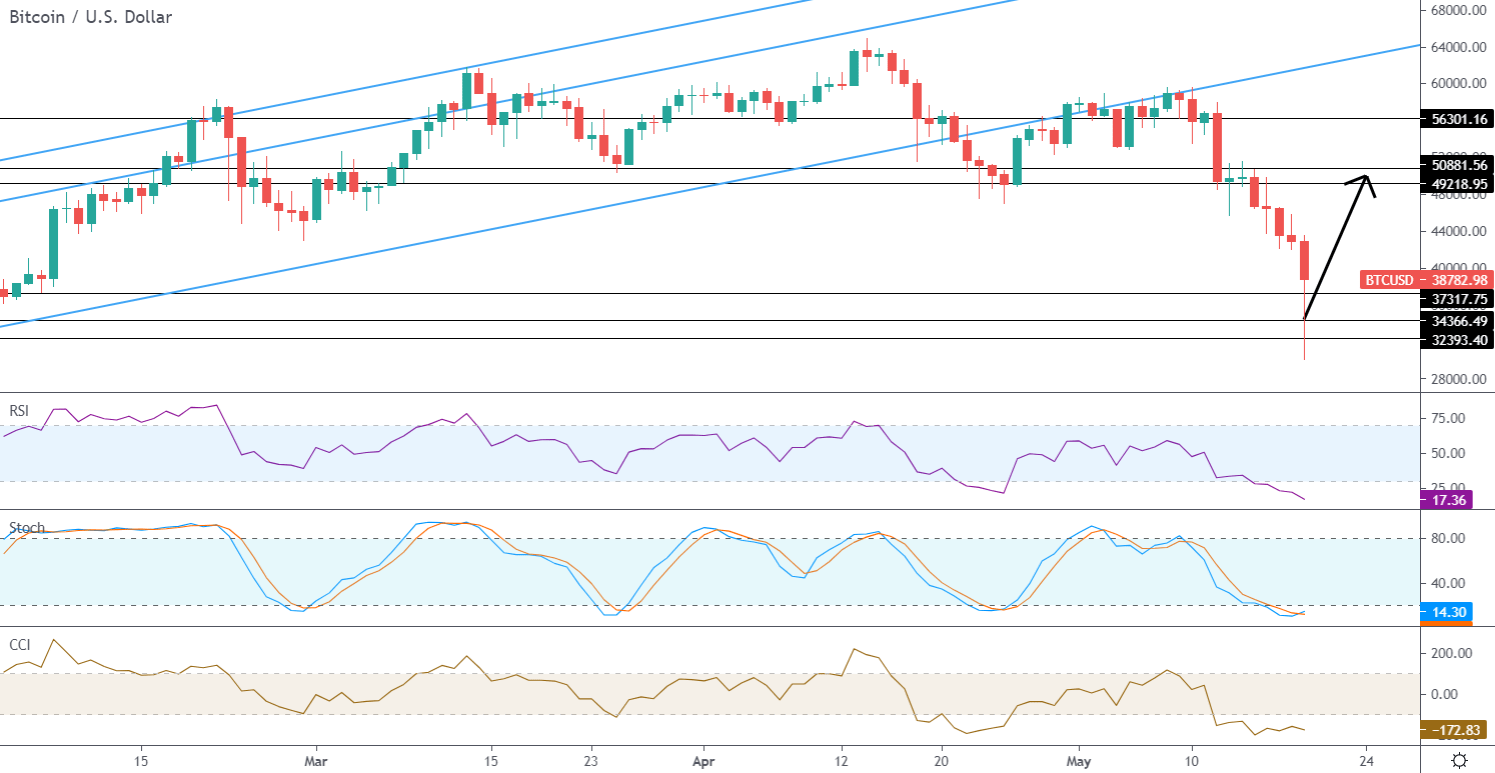 For BTCUSD, the momentum oscillators are heading near the oversold territory. This suggests that there might be further downside before a dead cat bounce might happen. In a price structure that is bearish, I am leaning towards the dead cat bounce bear trade instead of HODL.
Here is what might happen technically…
In the bullish scenario,

BTCUSD

will bounce off the support zone (

$35,000 zone

) and head up towards the

$48,000 zone

for a retest.

In the bearish scenario, we can see

BTCUSD

breaking the

$35,000 zone

and continuing to slide downwards.
Conclusion
The current structure of the price is suggesting that it's more likely to continue dropping than heading up. For HODLRs, you may want to reconsider.
However with such a fierce drop, we might be looking at a reactionary bounce with long term believers jumping in without thinking too much.
The safer choice here would be to wait for the dead cat bounce to the key level mentioned (if true) and for the price to exhaust itself, before shorting it.
Here's What You Can Do To Improve Your Trading Right Now
#1 Register for our market outlook webinars by clicking here
#2 Join us in our Facebook Group as we can discuss the various ways of applying this by clicking here
#3 Never miss another market update; get it delivered to you via Telegram by clicking here
#4 Grab a front row seat and discover how you can expand your trading arsenal in our FREE courses (for a limited time only) by clicking here
See you around!