Largest company by market capitalization. Trillion dollar company. Innovative. Elegant.
These are common words that describe Apple and its incredible success. 
With the festive season around the corner, we will have more get-togethers, celebrations and gift purchases. Is it a good idea to buy shares of Apple (AAPL) now to help offset your expenditure this festive season? Let's find out!
Big Picture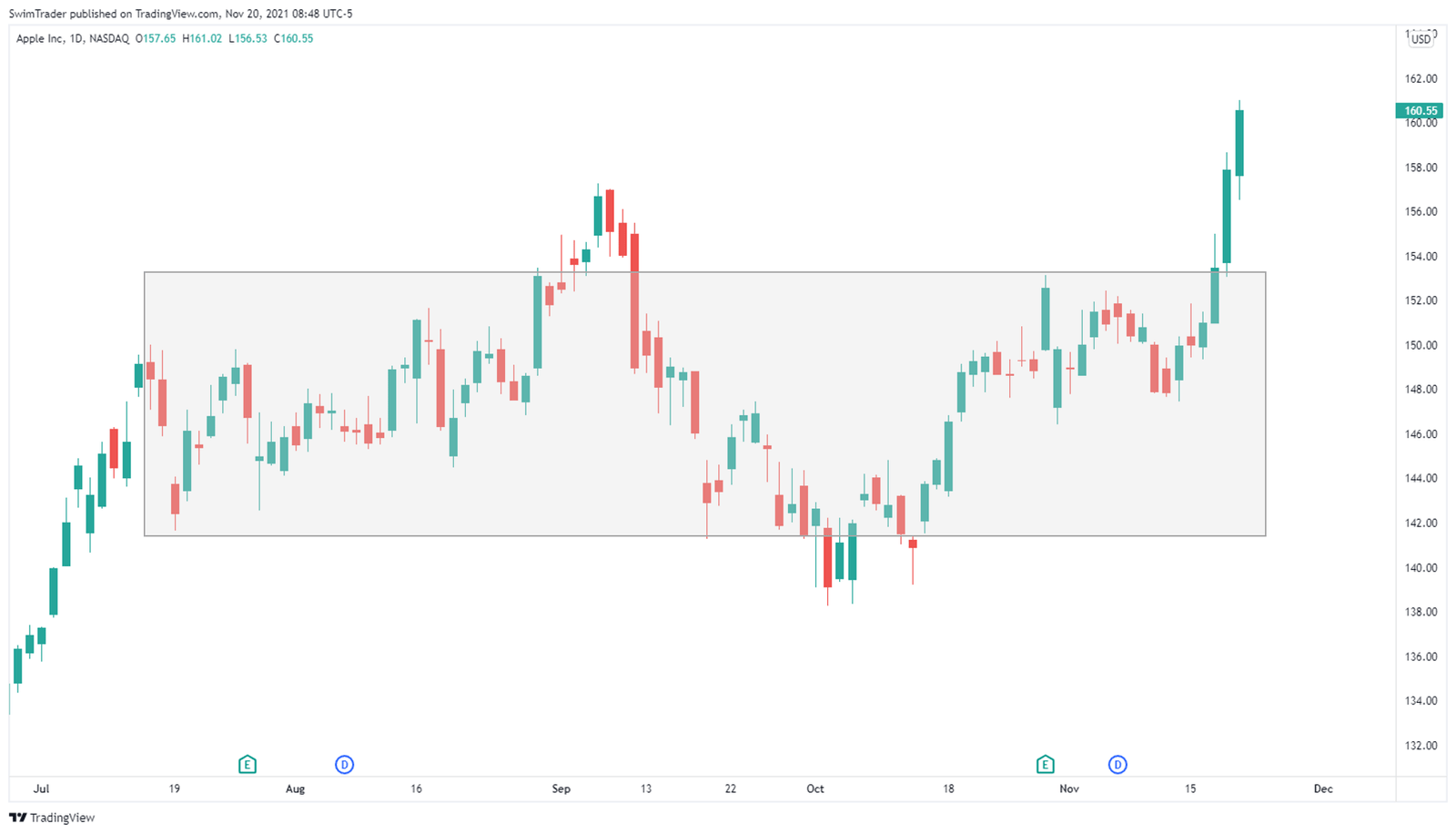 Prices of AAPL had been stagnating and ranging between $141 and $153 for 4 months before breaking out decisively in the past 2 trading days. This is shown by the gray box drawn in the chart above. 
Should you rush to buy in this breakout? Is this breakout even for real? I mean, there was a false breakout in early Sep which had caught many traders unaware. 
To answer these questions, we will need to identify AAPL's key price levels and have a peek at its internals. Shall we head to the next section to uncover the key price levels of AAPL?
Key Price Levels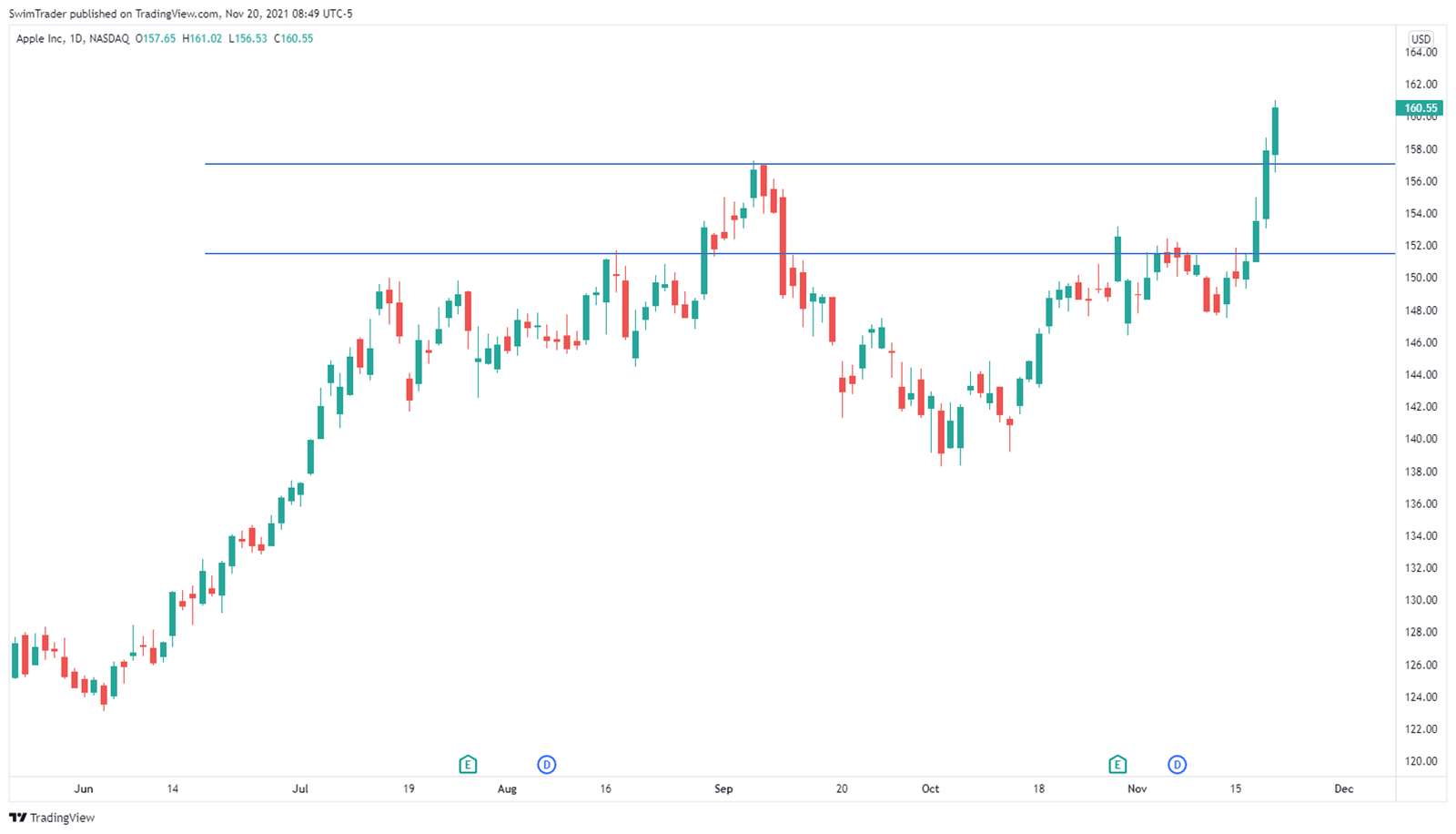 From the chart above, we can identify 2 immediate support levels of AAPL, at $157 and $151.50 respectively. Please note that support and resistance aren't exact lines and price points. Rather, they are price zones.
Support and resistance levels are also psychological areas where market participants prefer to conduct business (buying and selling) at. This means that you want to buy at support as market participants are likely to buy, causing prices bounce off its support level and rise.
Therefore, you'll also want to sell at resistance levels as that's where market participants are likely to sell, causing prices to bounce off its resistance level and drop. 
Having identified the 2 key price levels of AAPL, let's get an X-ray view of AAPL's internals. 
Technically Speaking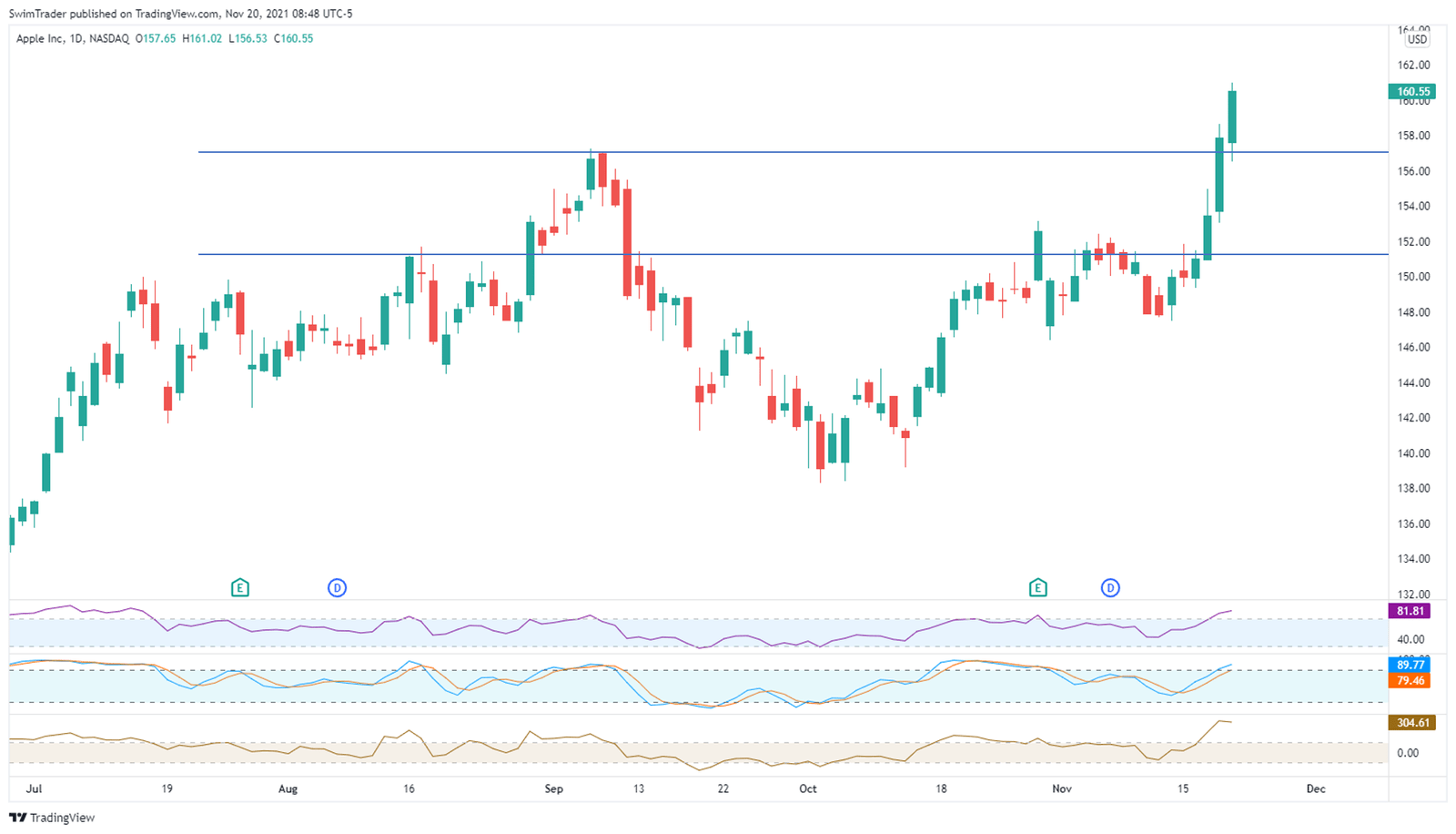 With the addition of 3 momentum indicators, we can tell that this breakout is gravity defying. 
Will this breakout continue? Maybe not. 
Why?
The white area above each momentum indicator is their overbought area. This suggests that although this rally is super strong, there's a high chance that it will run out of steam soon, leading to a drop of price in the near future.
What are the possible scenarios for the coming days? 
AAPL continues to rally for a few days and forming new all-time highs before dropping towards its immediate support level at $157
AAPL heads down towards its immediate support level at $157 before bouncing up to form new all-time highs
AAPL crashes through its immediate support level at $157 to its next support level at $151.50
Which of these scenarios do you think will play out?
As always, it's wise to have a sufficient buffer for your stop loss. This can be achieved by using this indicator.  
Conclusion
Apple is at the forefront of technology regarding computing and artificial intelligence. It's also in the metaverse scene, making it an attractive company to invest in and even trade. 
However, is the time ripe to buy shares of Apple? Maybe not.
I'm expecting a pullback to occur sometime soon (Scenario 2) and that would present a better opportunity to load up on Apple's shares. By doing so, your expenditure for this festive season could be taken care of by this trade!  
I see you smiling and eagerly waiting for tonight. However, I need to notify you that I'm not a financial advisor, so please take everything written here as education and entertainment. You're highly advised to conduct your own research.
Here's What You Can Do To Improve Your Trading Right Now:
#1 Join us in our Facebook Group as we can discuss the various ways of applying this by clicking here
#2 Never miss another market update; get it delivered to you via Telegram by clicking here
#3 Grab a front row seat and discover how you can expand your trading arsenal in our FREE courses (for a limited time only) by clicking here
Trade safe!