Last week was intense. 
As the news emerged that a couple of other banks needed liquidity, and some corporate bonds defaulted on, the stock market went swinging from side to side like a pendulum. 
When I was watching the S&P 500 futures in the day while in Singapore, its candle would be bullish (green)/bearish (red). But its candle would change to be bearish (red)/bullish (green) later at night!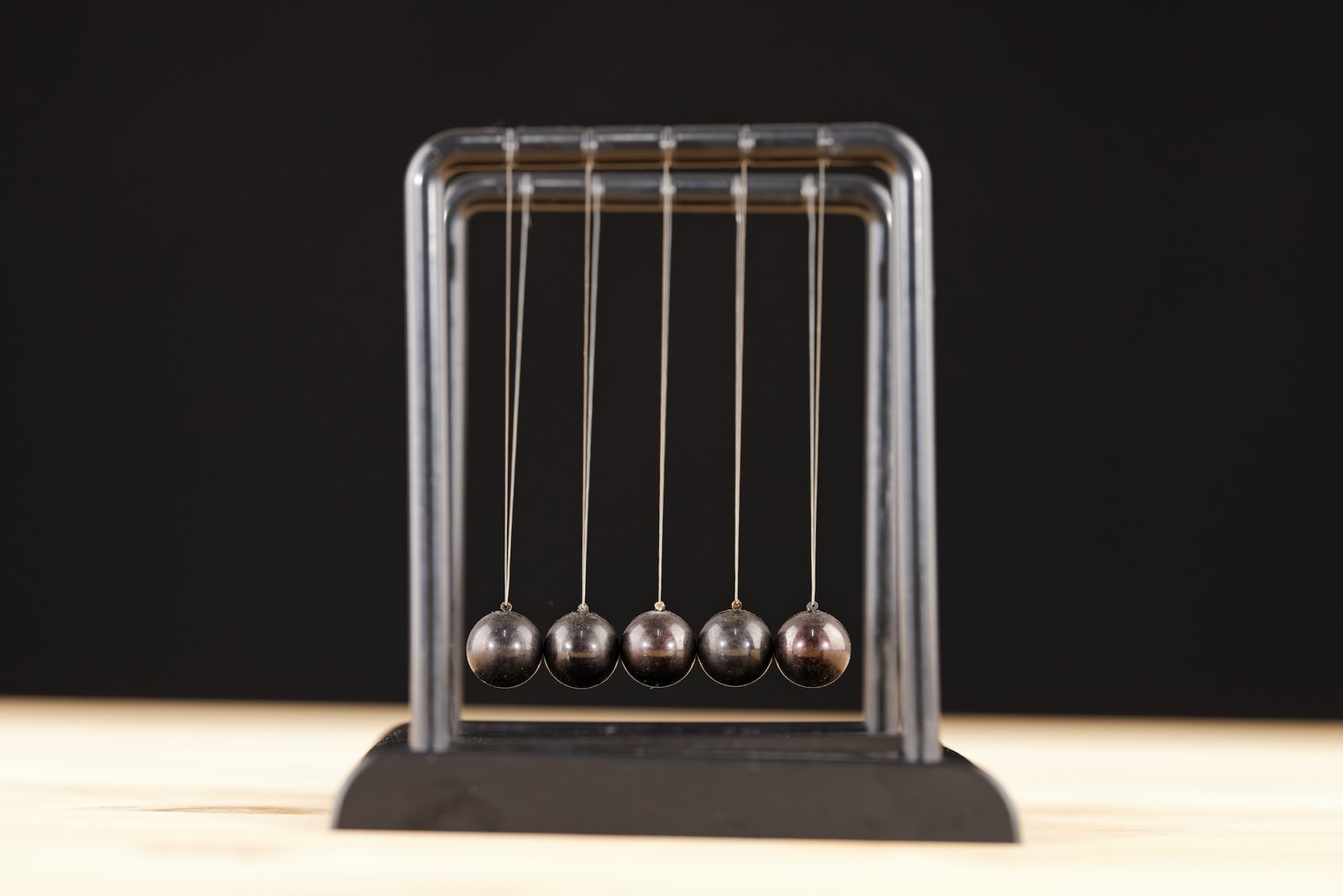 Were you caught off-guard?
With a sound understanding of the stock market, its behavior, and a sound trade management system, there are many swing trading opportunities. 
Last week's swing trading opportunity, Advanced Micro Devices (AMD), took off as planned. 
Its share price reached $92, triggered an entry, and rocketed to $102.40 (past our take profit target of $101). You would've enjoyed a tidy profit of $3.63 per share, or 3.67%.
Congrats to those who've taken this trade and stuck to the trading plan!
Can you employ the same strategy on this week's swing trading opportunity, AbbVie? 
Let's find out!
Performance Of US Stock Market vs AbbVie (ABBV)

From the chart of the S&P 500 futures on the left, what can you observe? 
 The S&P 500 futures embarked on an

uptrend

in mid-Oct 2022. 
 This uptrend is extremely volatile, punctuated with huge bullish and bearish candles
 Many long wicks in the recent weeks
 Its value rose last week
As a result from the yo-yo experience, many of its recent candles have long wicks. This is another signal of enhanced volatility which you need to know.
What can you observe from the chart of AbbVie that's on the right?
AbbVie's share price rose faster and harder than the S&P 500 futures from Oct 2022 to early Jan 2023 before a deep pullback. And its uptrend resumed, forming higher highs and higher lows. 
Moreover, its share price rose last week!
Now comes the most important question in this section – is the performance of AbbVie's shares stronger than the S&P 500 futures'?
Yes, it is! 
Knowing that its shares have been outperforming the overall US stock market, shall we switch our attention to look deeper into the nature of AbbVie's shares? 
How Explosive Is AbbVie (ABBV)?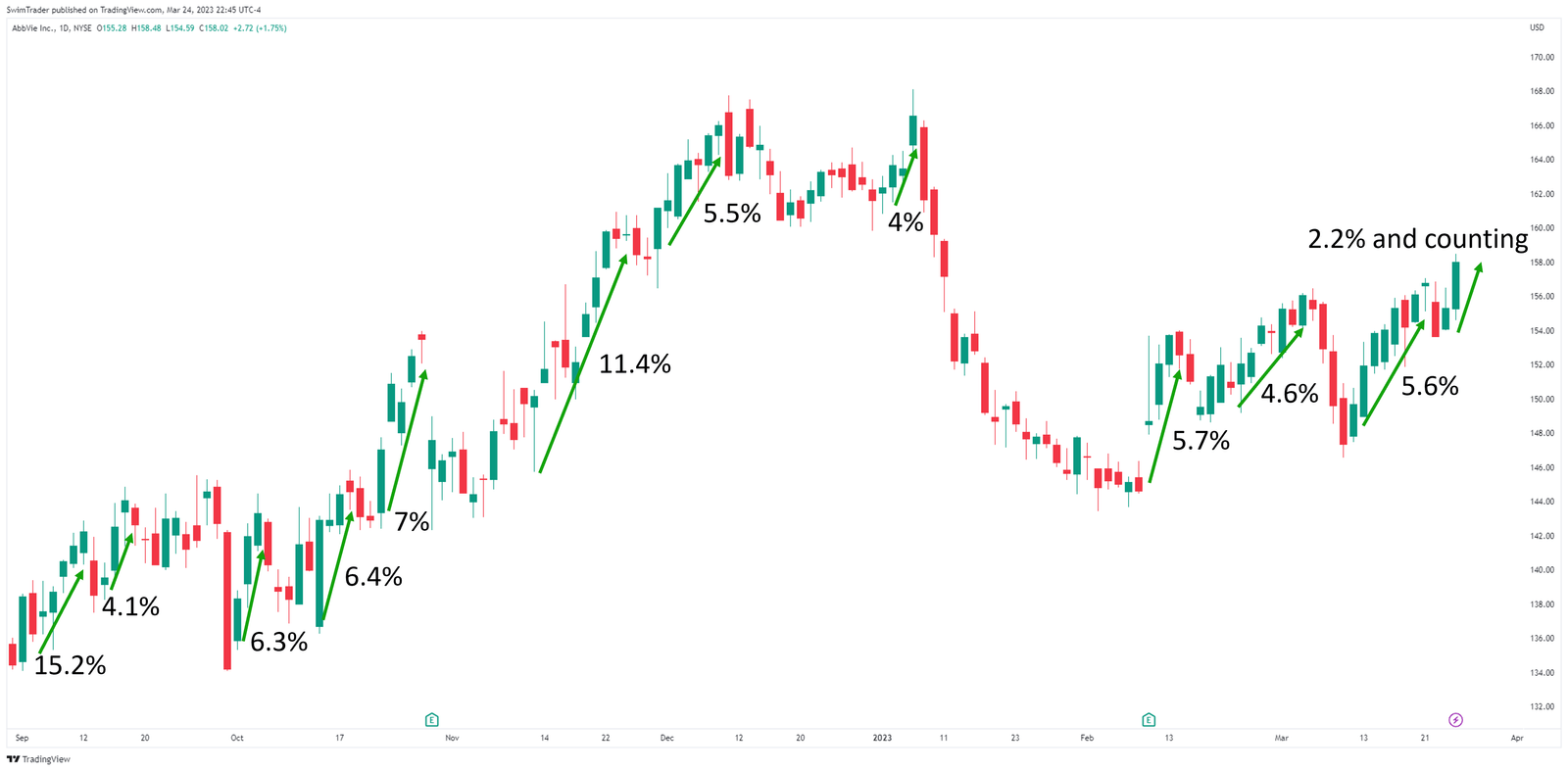 Just like any other assets you purchase, you'll want the share price of AbbVie to rise over time.
But you wouldn't want it to take years for it to rise slowly. 
This is due to other available opportunities. 
So, it's a good idea to have a closer look at the explosiveness of AbbVie's shares. 
In just the past 7 months, the share price of AbbVie has experienced 11 explosive up moves, excluding the 1 that's in the making. 
AbbVie enjoys a mega market capitalization of nearly $280b, so the up moves it has been enjoying (between 4% and 15.2%) are fabulous! 
Its shares upward movement has proven to be explosive, passing this criteria with flying colors. 
Next, let's uncover the hidden key price levels so to help you conclude if it's an opportune time to buy AbbVie's shares for a swing trade. 
Key Price Levels
From the chart of AbbVie above, you can easily spot 2 key price levels which act as support and resistance zones. 
There's an immediate support zone at ~$156 while its immediate resistance zone lies around $161. 
What does this mean and how does this apply to your trading plan?
Knowing that the US stock market hasn't been favoring breakout trades, and that AbbVie's share price has just broken out of $156, I think that a shallow pullback could happen in the next few days. 
And that could be the opportunity for an entry for a swing trade.
The Strategy You Can Use To Swing Trade AbbVie (ABBV)
After comparing the performance of ABBV with the broader US stock market, determining whether ABBV has experienced explosive up moves, and identifying its key price levels, it's time to talk strategy. 
To stay in business, you must know your entry, profit taking, and stop loss levels in every trading strategy. Yes, trading is a business, which means that your strategy must be well thought out.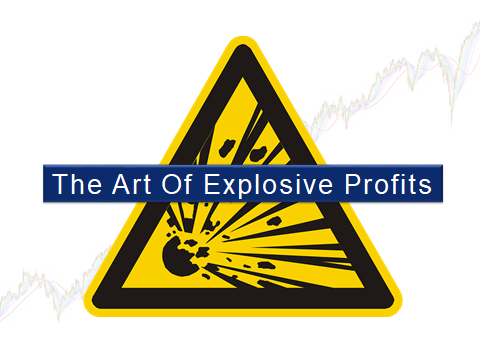 Using The Art of Explosive Profits (AEP) framework, I'd like to see ABBV pullback to around $156 before considering an entry for a swing trade.
As the name implies, you'll be looking to consistently catch an explosive move in a short period of time.
Instead of relying on news and hearsay, the AEP course will teach you how to screen stocks for swing trading like ABBV.
You'll also learn how to read charts and identify stocks that are about to make a big move.
Finally, you'll learn how to identify the optimal entry, stop loss, and take profit levels to capitalize on these explosive moves (in a safe manner, of course)!
Can you apply the AEP framework to provide you with a side income while working full time? 
Yes, you can! 
Come, have a look at the AEP framework and incorporate this explosive trading strategy to your arsenal to capitalize on more swing trading opportunities.
Why Is Swing Trading ABBV Worth It?

Source: investors.abbvie.com/static-files/9200a822-5d4b-4a1d-a4f3-720cb7b76723
While the S&P 500 futures is in an uptrend, it has been volatile with 
On the other hand, the price movement of ABBV looks far smoother, protecting your heart.
ABBV has proven to be explosive in nature, experiencing up moves as large as 15.2% in the past 7 months alone.
Its share price has broken above its resistance and may pullback soon, providing an opportune entry for a swing trade. I hope that this pullback comes quickly and lasts for a short time.   
While we wait for a pullback, please keep in mind that I'm not a financial advisor, so please treat this as edutainment and conduct your own research.
Lastly, all photos and images are from unsplash.com, pexels.com, pixabay.com, and tradingview.com.
Here's What You Can Do To Improve Your Trading Right Now:
#1 Join us in our Facebook Group where we discuss the various ways of applying this by clicking here.
#2 Never miss another market update; get it delivered to you via Telegram by clicking here.
#3 Grab a front row seat and discover how you can expand your trading arsenal in our FREE courses (for a limited time only) by clicking here.
Trade safe!