Gong Xi Fa Cai! 
Happy Lunar New Year!
May you enjoy abundance and seize the opportunities the stock market brings.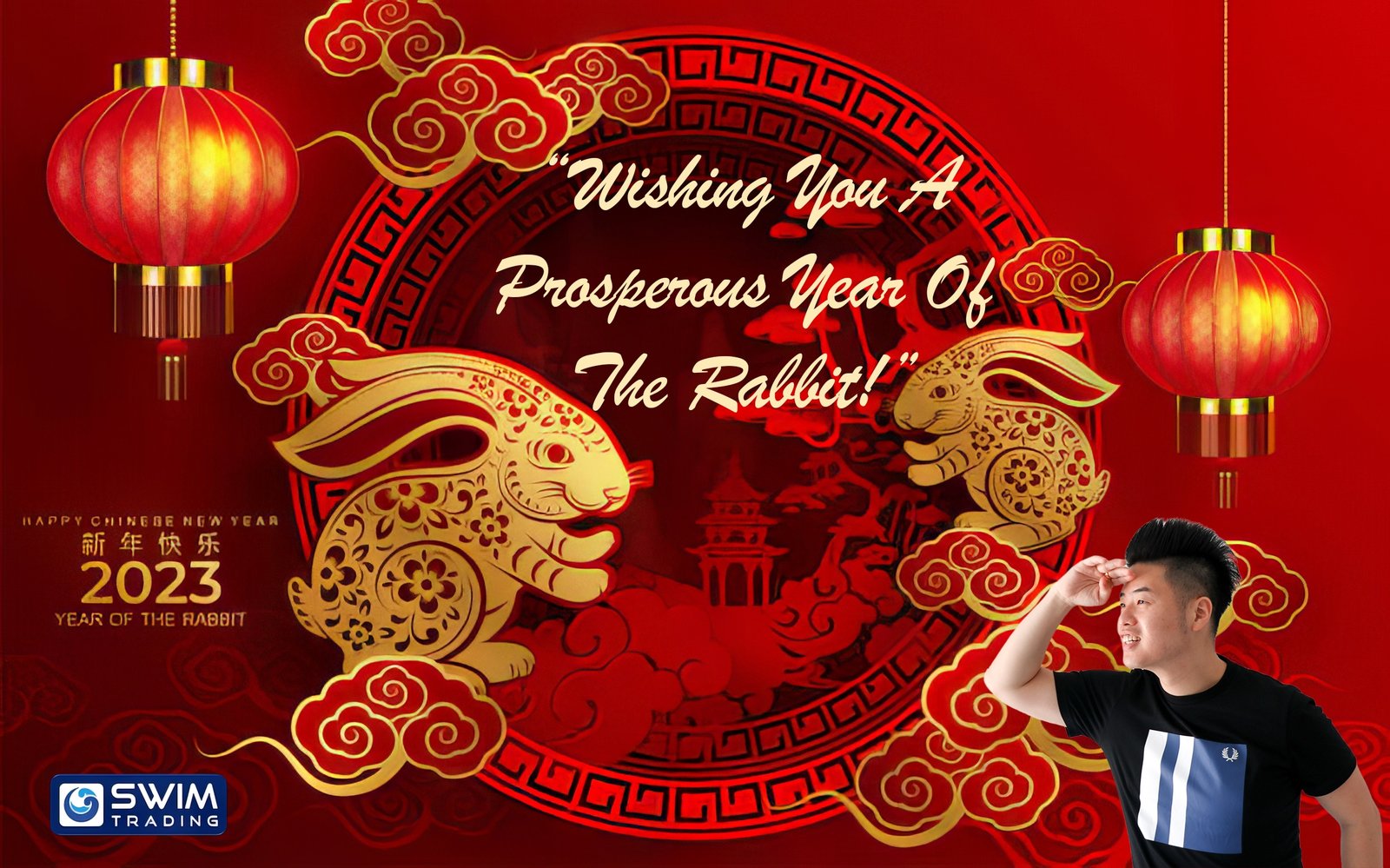 The Lunar New Year is celebrated by Chinese around the world. This also means that many stock markets in Asia are closed for the next few days. 
Can you guess which stock market isn't affected by the Lunar New Year? 
Yes, it's our favorite – the US stock market!
2023 is likely to be another volatile year for the US stock market due to speculation on the Fed's pivot, recession fears, and continued interest rates hike. 
With high volatility, there's lots of swing trading opportunities for you to catch explosive up moves, while minimizing the risk of getting caught is sudden and deep pullbacks. 
Hence, I strongly encourage you to swing trade instead of position trade or even invest for the long-term. 
And this has been going well so far! 
The swing trading opportunity shared last week did exceptionally well, rising 2.6% in just 1 day! 
So check out last week's insight on The Interpublic Group before scrolling. 
Done? 
Let's examine this week's swing trading opportunity: JPMorgan Chase.
Performance Of US Stock Market vs JPMorgan Chase (JPM)

With the S&P 500 futures rallying hard since mid-Oct 22, chatter about the US stock market is returning to the lips of many. 
Zooming out past mid-Oct 22, you can see that the S&P 500 futures has been ranging, whipsawing traders who had bought or short-sold at the breakouts. 
A much anticipated pullback took place last week before a surge in the value of the S&P 500 futures. 
Although the S&P 500 futures closed in the red for the week, there are many positives to take note of. 
This presents wonderful swing trading opportunities to many stocks
A new up move is usually explosive in nature 
This new up move could last for days, and you're on time
Understanding the analysis on the S&P 500 futures and the significance of the latest pullback, let's have a close look at the performance of JPMorgan Chase's shares. 
How did the shares of JPMorgan Chase perform when the S&P 500 futures took a lift off from mid-Oct 22? 
Its shares shot through the roof, and into outer space!
From that date on, its shares started trending incredibly higher,
But, as with all trends, a pullback will always be around the corner.
And it has arrived. 
The share price of JPMorgan Chase has fallen in the past week.
Could this provide a buying opportunity for a swing trade given that the shares of JPMorgan Chase have been outperforming the S&P 500 futures too?
Let's analyze further. 
How Explosive Is JPMorgan Chase (JPM)?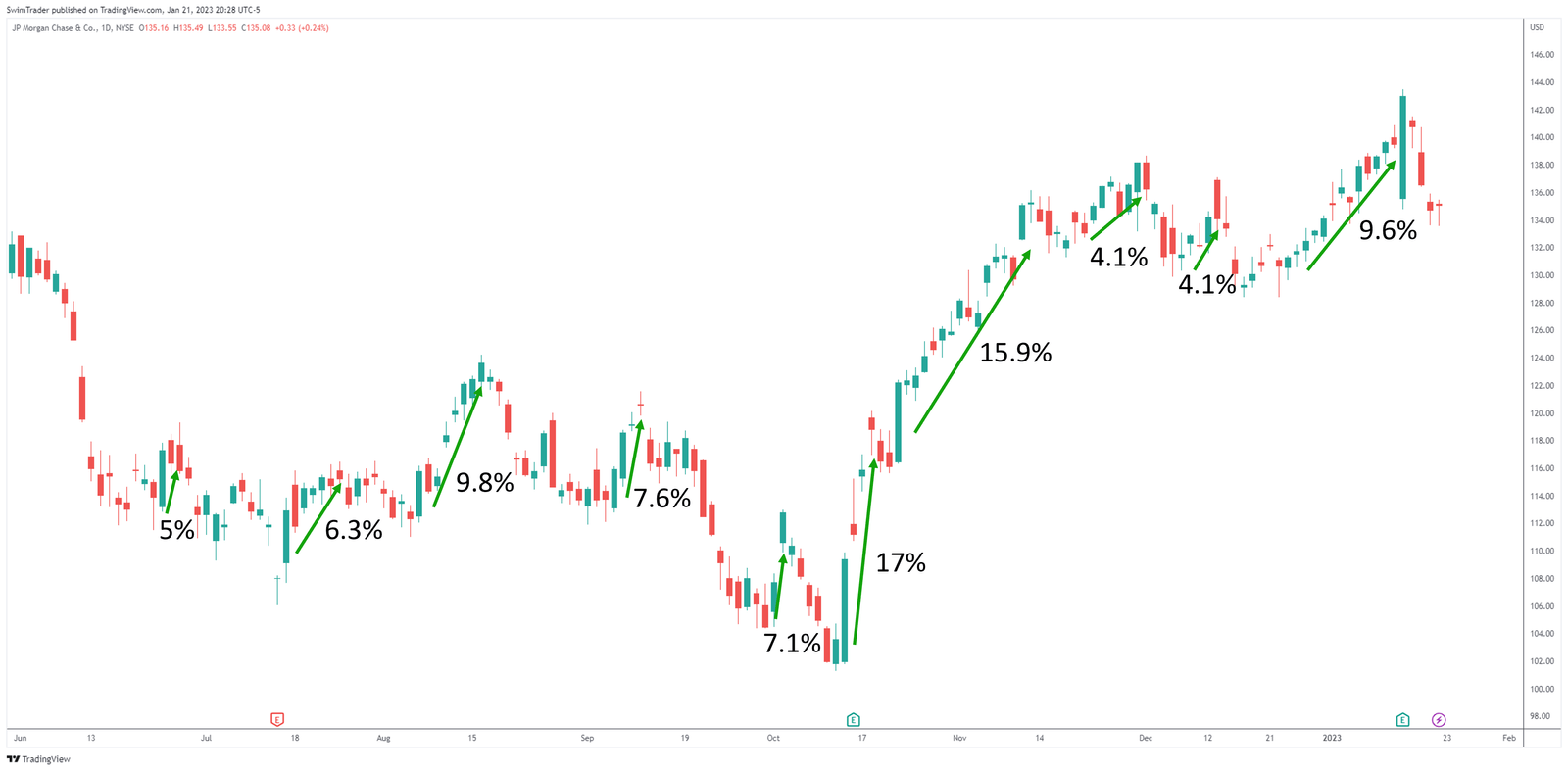 For any counter to be worthy of consideration, you need to know if its share price has proven to be consistently explosive. 
Here, I've marked out all of its explosive up moves. 
Each up move measures at least 4%, with the largest measuring 17%! 
When you consider that the share price of JPMorgan Chase is above $100 and has a mega market capitalization of almost $400b, this is insane! 
JPMorgan Chase's shares have proven to be capable of huge up moves, bringing you the dollars instead of cents. This makes it a great candidate for a swing trade.
But that's not the end of the analysis! 
As you're looking to buy its shares, you need to have a gauge on the price you'd like to enter to minimize your risk. 
That brings us to the next section on identifying its key price levels. 
Key Price Levels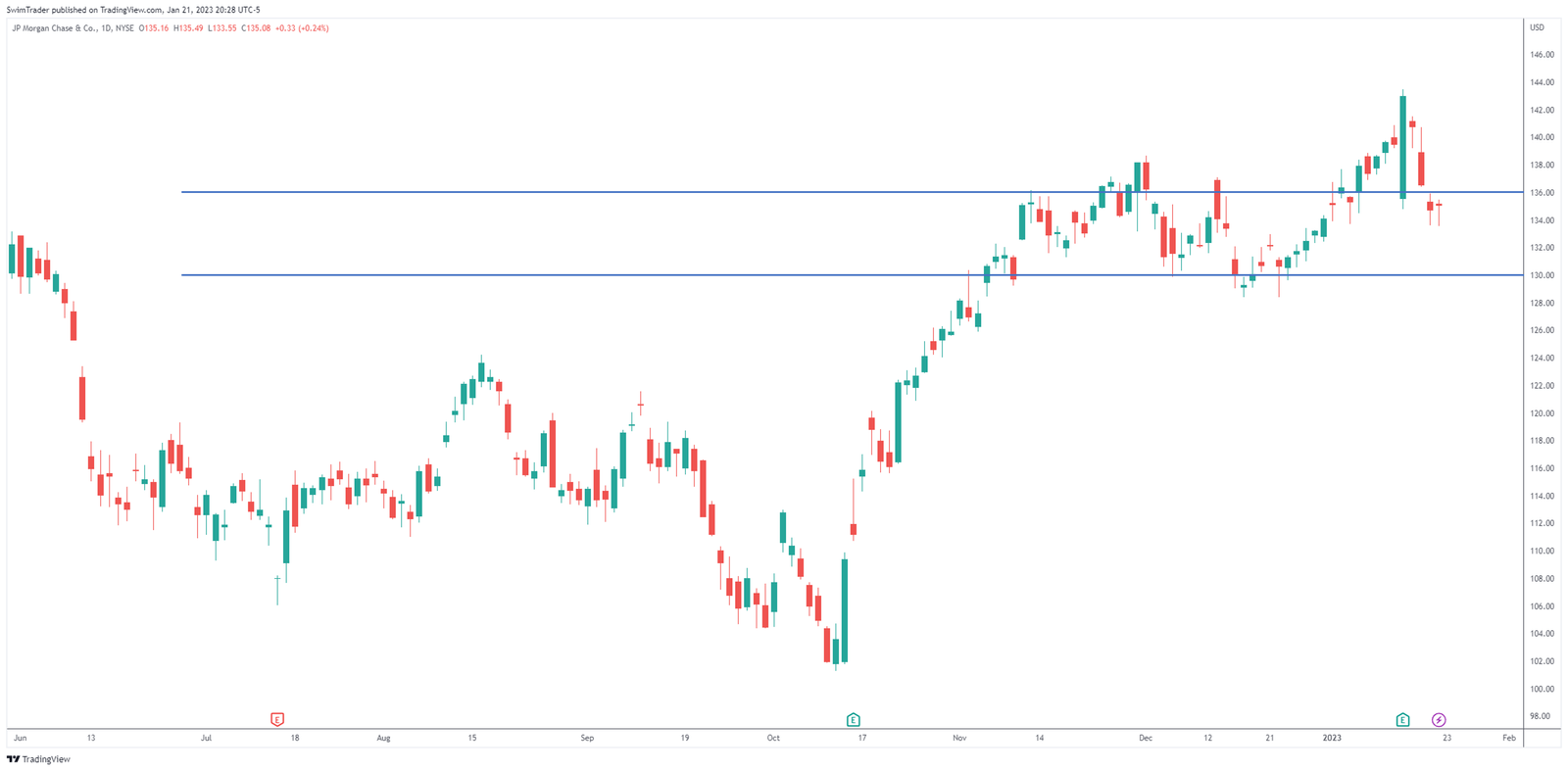 Before looking at the chart of JPMorgan Chase above, did you manage to uncover its key price levels? 
These are important key levels which act as support and resistance areas where prices are likely to pivot around. 
Yes, there's an immediate resistance area at ~$136, and an immediate support area at ~$130. 
Knowing that the share price of JPMorgan Chase is just under its immediate resistance area of ~$136, what will you be waiting for? 
You'll want to wait for its share price to break out of $136 before entering. And where do you place your stop loss at? 
This brings me to the part on strategy. 
The Strategy You Can Use To Swing Trade JPMorgan Chase (JPM)
After comparing the performance of JPM with the broader US stock market, determining whether JPM has experienced explosive up moves, and identifying its key price levels, it's time to talk strategy. 
To stay in business, you must know your entry, profit taking, and stop loss levels in every trading strategy. Yes, trading is a business, which means that your strategy must be well thought out.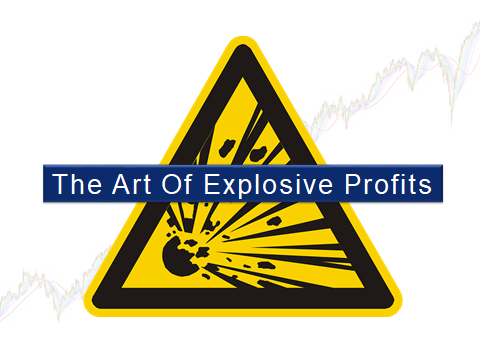 Using The Art of Explosive Profits (AEP) framework, I'd like to see JPM breakout above $136 before considering an entry for a swing trade.
As the name implies, you'll be looking to consistently catch an explosive move in a short period of time.
Instead of relying on news and hearsay, the AEP course will teach you how to screen stocks for swing trading like JPM.
You'll also learn how to read charts and identify stocks that are about to make a big move.
Finally, you'll learn how to identify the optimal entry, stop loss, and take profit levels to capitalize on these explosive moves (in a safe manner, of course)!
Can you apply the AEP framework to provide you with a side income while working full time? 
Yes, you can! 
Come, have a look at the AEP framework and incorporate this explosive trading strategy to your arsenal to capitalize on more swing trading opportunities.
Why Is Swing Trading JPM Worth It?

Source: jpmorganchase.com
As the S&P 500 futures head higher, JPM is heading higher too. But, JPM is rising at a far more rapid pace!
This indicates that JPM is much stronger than the US overall stock market, checking the 1st box for going long for a swing trade. 
Calculating each of its up moves has made it clear that its shares have the ability to produce a significant return, between 4.1% and 17% in a short period of time. 
However, there's 1 catch!
Its share price is just below its resistance area. 
You'll need to allow it some time to break past this barrier before sniping it using cash or CFD. 
While I await the opportunity, please keep in mind that I'm not a financial advisor, so please treat this as edutainment and conduct your own research.
Lastly, all photos and images are from unsplash.com, pexels.com, pixabay.com, and tradingview.com.
Here's What You Can Do To Improve Your Trading Right Now:
#1 Join us in our Facebook Group where we discuss the various ways of applying this by clicking here
#2 Never miss another market update; get it delivered to you via Telegram by clicking here
#3 Grab a front row seat and discover how you can expand your trading arsenal in our FREE courses (for a limited time only) by clicking here
Trade safe!