What are the common headlines that you've seen in the past couple of weeks?
Distressed banks.
Massive layoffs continue in the technology and communication services sectors. 
Interest rates.
The looming recession.
What if you dig into the US stock market to find out what's really going on?
You'd realize a dissonance. 
Hence, instead of reading news, it's a better idea to watch the stock market.
AbbVie (ABBV) was shared last week and an entry has not occurred based on The Art of Explosive Profits framework. 
An entry might be near, so I encourage you to check out last week's swing trading opportunity, AbbVie (ABBV). 
This week, I have my eyes on this stock in the technology sector: Salesforce. 
Let's uncover the reasons.
Performance Of US Stock Market vs Salesforce (CRM)

The aim of comparing the performance of the S&P 500 futures (aka overall US stock market) to Salesforce's shares is to determine whether the shares of Salesforce has been a stronger performer. 
Ideally, you'll want to trade the shares of an outperformer in a bull market as that increases your chances of success. 
You can see that the S&P 500 futures has been on an uptrend since Oct 2022. This uptrend is volatile which can be inferred from the jagged movement and the long wicks.
Last week, the S&P 500 futures was extremely bullish and closed 3.4% higher! 
How did the shares of Salesforce perform?
The shares of Salesforce only turned up in Jan 2023, some 2 months after the S&P 500 futures. 
Is this significant? 
I don't think so! 
This is because its share price had exploded ever since Jan 2023, creating multiple new 52-week highs in the process. 
The angle of ascent is much steeper than the S&P 500 futures' clearing showing that its shares are outperforming the overall US stock market. 
Momentum is clearly in the shares of Salesforce and hence, its a stock you'll want to further analyze. 
How Explosive Is Salesforce (CRM)?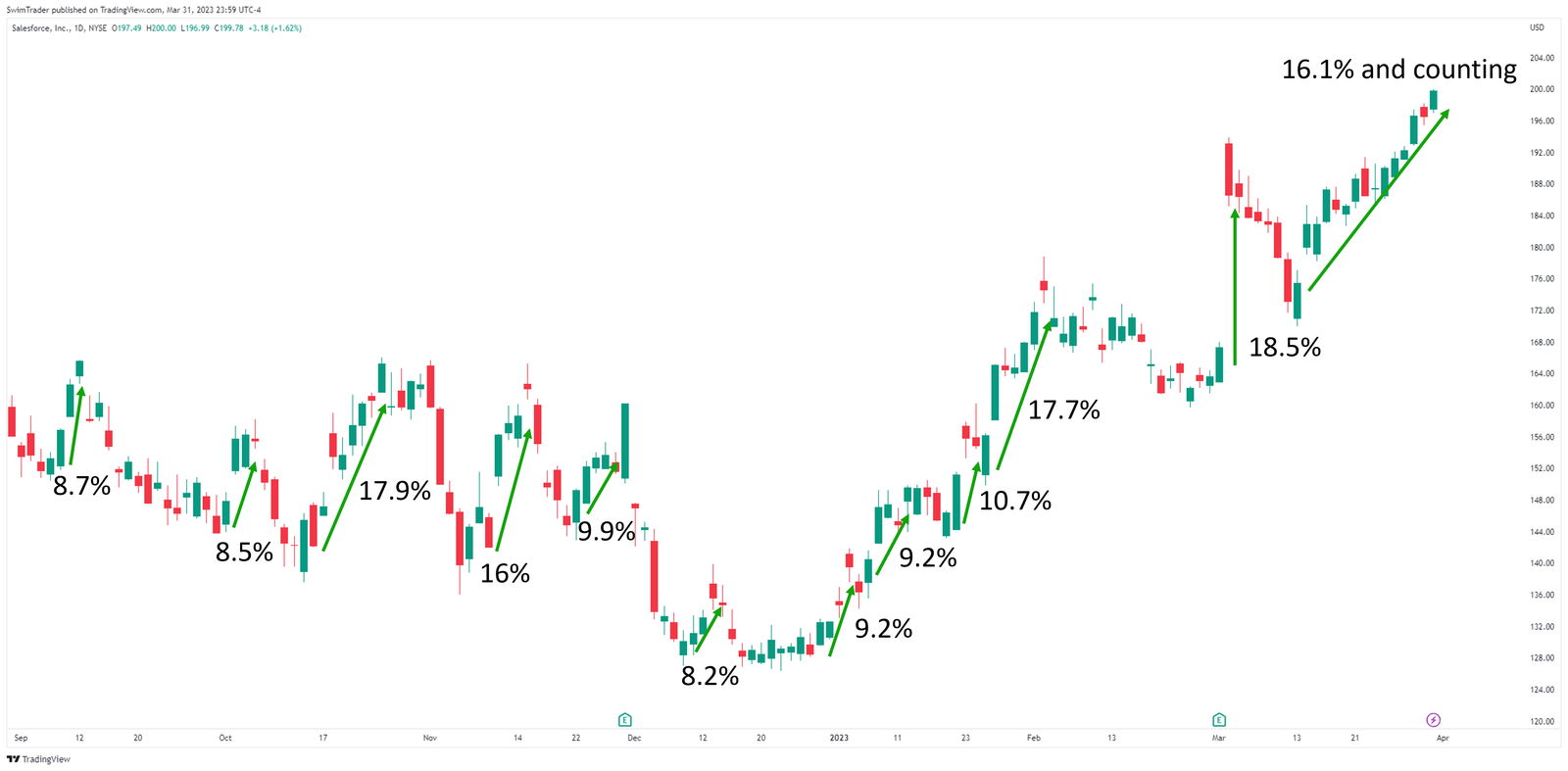 At this stage, you'll want to uncover if trading the shares of Salesforce makes sense. 
You want this stock to have exhibited strong explosive moves so that your trading capital is optimized. 
Let's count the number of up moves and measure them.
How many up moves do you see in the past 6 months? 
Yes, 12 up moves! 
And they measure between 8.2% and 18.5%! 
Armed with the knowledge of Salesforce's staggering market capitalization of $204b, such up moves have left me drooling. 
There's just 1 more analysis to be performed. 
Key Price Levels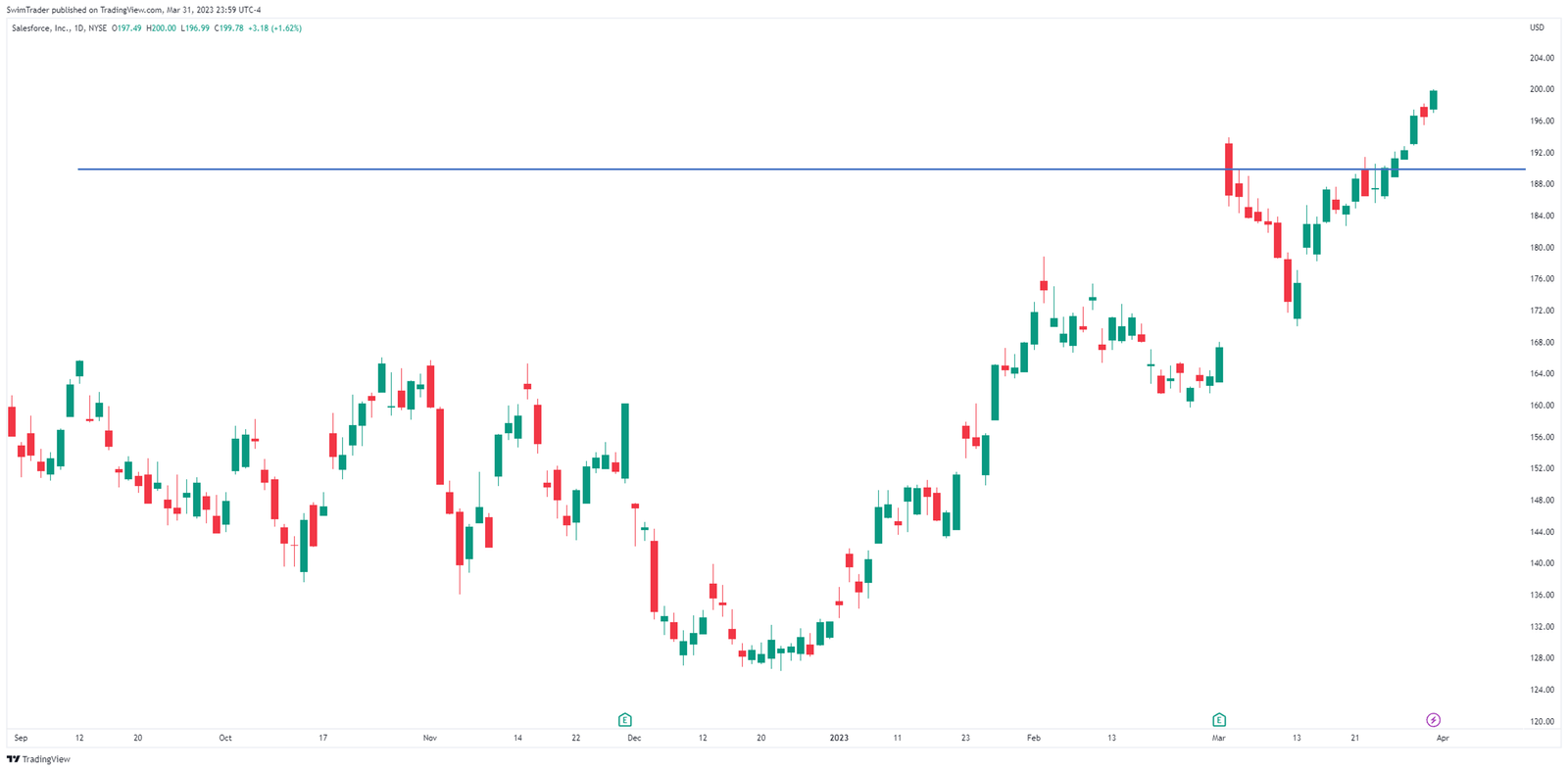 Hooray! You've reached the final part of the analysis. 
Here, I've identified the key price level, which is also known as support and resistance. 
It's good to note that support and resistance are zones instead of a fixed price. 
From the chart above, you can see a support area at ~$191.
Knowing that the share price of Salesforce is up by 16.1% and counting, I feel that its share price could pullback in the near future to around $191.
After the bulls rest for a moment, they could return strong, pushing the share price of Salesforce even higher!
This is the reason I smell something brewing in Salesforce's share price. 
The Strategy You Can Use To Swing Trade Salesforce (CRM)
After comparing the performance of CRM with the broader US stock market, determining whether CRM has experienced explosive up moves, and identifying its key price levels, it's time to talk strategy. 
To stay in business, you must know your entry, profit taking, and stop loss levels in every trading strategy. Yes, trading is a business, which means that your strategy must be well thought out.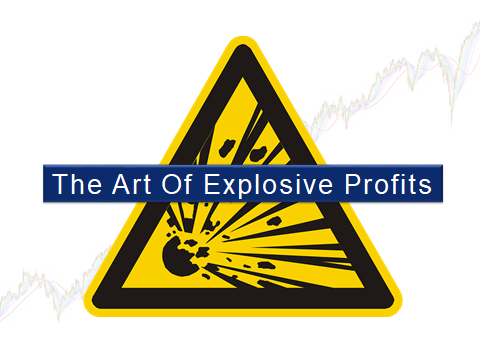 Using The Art of Explosive Profits (AEP) framework, I'd like to see CRM pullback to around $191 before considering an entry for a swing trade.
As the name implies, you'll be looking to consistently catch an explosive move in a short period of time.
Instead of relying on news and hearsay, the AEP course will teach you how to screen stocks for swing trading like CRM.
You'll also learn how to read charts and identify stocks that are about to make a big move.
Finally, you'll learn how to identify the optimal entry, stop loss, and take profit levels to capitalize on these explosive moves (in a safe manner, of course)!
Can you apply the AEP framework to provide you with a side income while working full time? 
Yes, you can! 
Come, have a look at the AEP framework and incorporate this explosive trading strategy to your arsenal to capitalize on more swing trading opportunities.
Why Is Swing Trading CRM Worth It?
Source: salesforce.com/ap/crm
Both the S&P 500 futures and CRM are in an uptrend. 
Although the uptrend of CRM began later, its share performance has outshone that of the S&P 500 futures.
Furthermore, CRM has proven to be explosive in nature, shooting up between 8.2% and 18.5% despite enjoying a mega market capitalization. 
I foresee a pullback in CRM, which should present a wonderful swing trading opportunity. So excited! 
While we wait for a pullback, please keep in mind that I'm not a financial advisor, so please treat this as edutainment and conduct your own research.
Lastly, all photos and images are from unsplash.com, pexels.com, pixabay.com, and tradingview.com.
Here's What You Can Do To Improve Your Trading Right Now:
#1 Join us in our Facebook Group where we discuss the various ways of applying this by clicking here.
#2 Never miss another market update; get it delivered to you via Telegram by clicking here.
#3 Grab a front row seat and discover how you can expand your trading arsenal in our FREE courses (for a limited time only) by clicking here.
Trade safe!