Do you know where the happiest place on earth is? 
Hint: There's 1 each in Shanghai, Tokyo, Hong Kong, Paris, California, and Florida. 
Yes, it's Disneyland! 
The time of holidaying has come, and I'm sure you're looking forward to your year-end trip and rest.
I've just returned from Hong Kong and am itching for another trip!
Just before my trip, I'd unearthed this stock from my weekly scan of the stock market.
It was almost ready for a swing trade, so I quickly penned my thoughts on PulteGroup (PHM).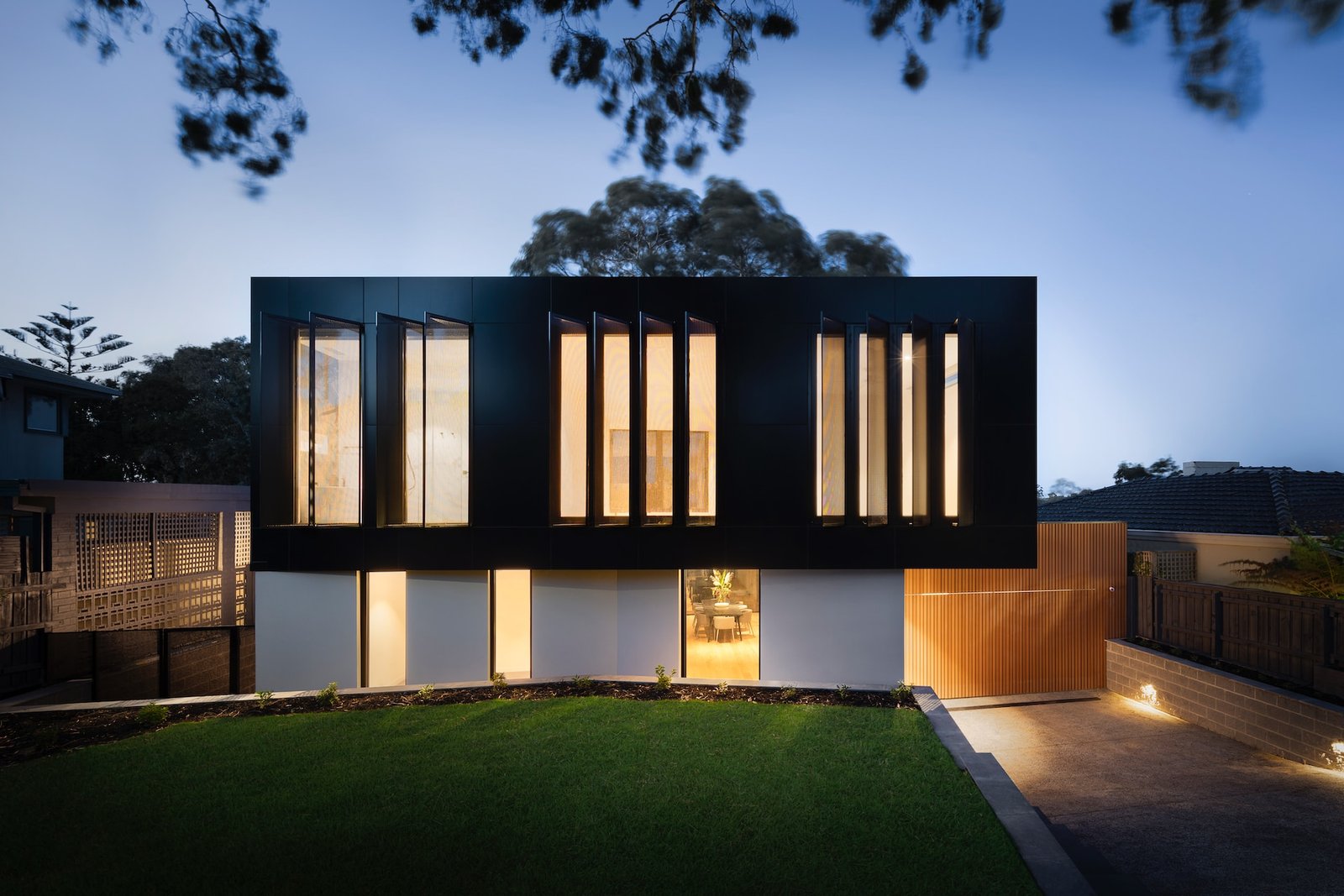 Source: unsplash.com
A pullback came, and a favorable entry point appeared based on The Art of Explosive Profits framework. 
Right after, its share price shot by an eye-popping 6.7% in 1 week! 
Looking ahead, I see a swing trading opportunity in Walt Disney's shares. 
Shall we dive right in?
Performance Of US Stock Market vs Walt Disney (DIS)

The performance of Walt Disney's shares has been dismal until very recently. 
Its share price had been on a downtrend for close to 3 years before turning in late Oct 2023.
Moreover, the performance of its shares has finally begun to outperform the S&P 500 from early Nov 2023!
I think that there's promise in Walt Disney's shares.
So, let's analyze its shares further. 
How Explosive Is Walt Disney (DIS)?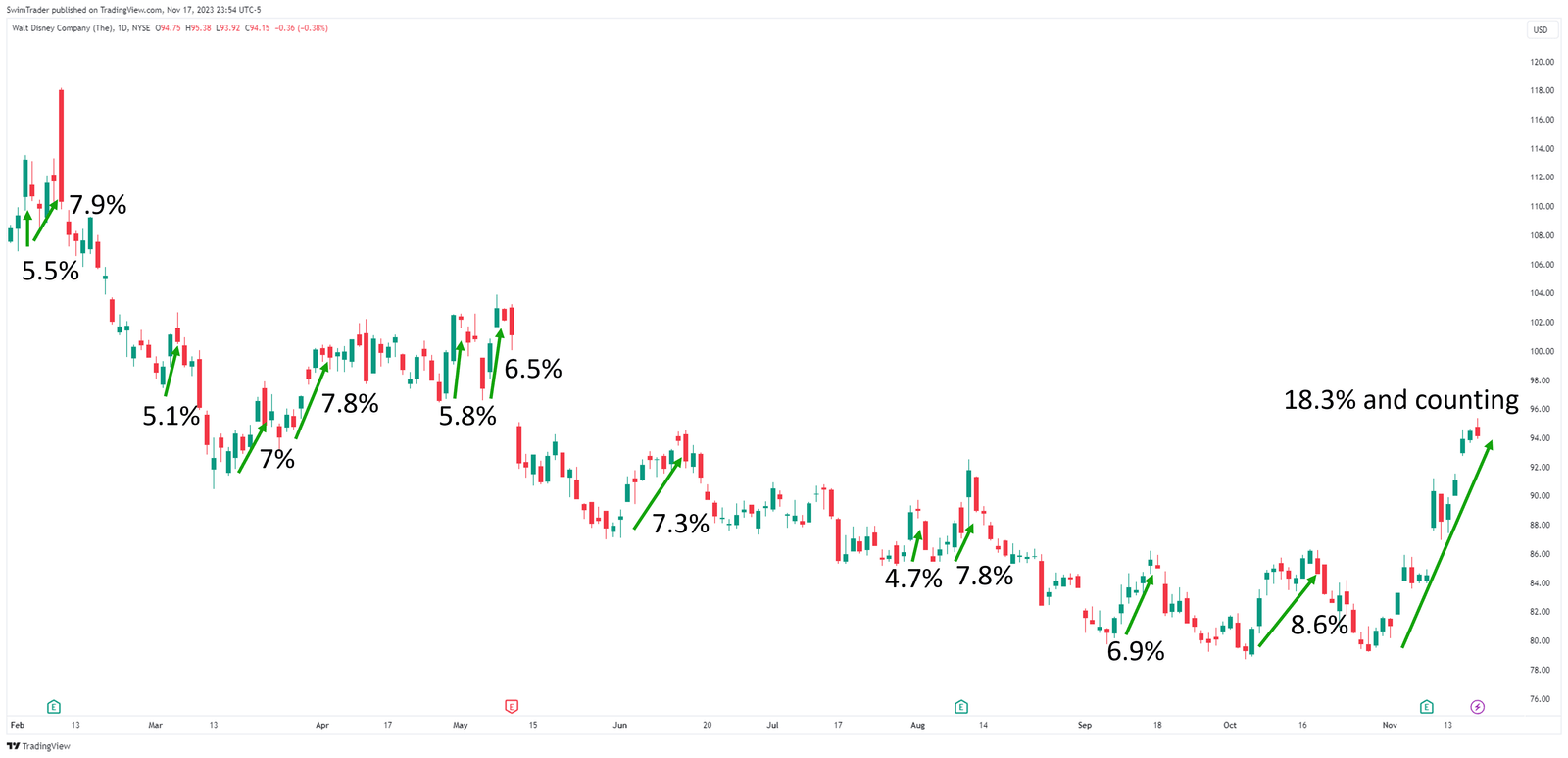 Because swing trading is short-term in nature (where your trade lasts for a couple of days to a couple of weeks), it's a good idea to know if it has the tendency to explode in price. 
Knowing this characteristic will help you decide whether this stock is worth your time and money. I'm sure you won't want your hard-earned money to be stuck in a lethargic counter. 
In the past 10 months alone, the shares of Walt Disney have exploded in price 13 times! 
The largest up move measures 18.3% and counting, while the rest of its up moves are larger than 4%.
Are these moves explosive? 
Given the fact that its share price was in a downtrend only until late Oct 2023, and that Walt Disney enjoys a mega market capitalization of more than $167b, these moves are considered explosive!
Should you buy its shares for a swing trade now?
Hang on! 
Let's uncover its key price levels to help you decide.
Key Price Levels
Why is it important to mark out the key price levels of any financial asset?
These levels are areas where its price could reverse, like how support and resistance zones work. 
Can you tell that the share price of Walt Disney is between its immediate support and resistance areas? 
This signifies that you should wait for its share price to pullback to its support area of around $91.50 before considering an entry.
Because its share price has flown by more than 18%, it's also a better idea to wait for a pullback. 
Therefore, I'll be watching this support area closely before taking action.
The Strategy You Can Use To Swing Trade Walt Disney (DIS)
After comparing the performance of DIS with the broader US stock market, determining whether DIS has experienced explosive up moves, and identifying its key price levels, it's time to talk strategy. 
To stay in business, you must know your entry, profit-taking, and stop loss levels in every trading strategy. Yes, trading is a business, which means that your strategy must be well thought out.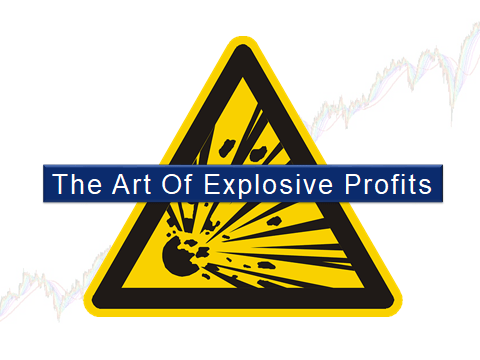 Using The Art of Explosive Profits (AEP) framework, I'd like to see DIS pullback and bounce at $91.50 before considering an entry for a swing trade.
As the name implies, you'll be looking to consistently catch an explosive move in a short period of time.
Instead of relying on news and hearsay, the AEP course will teach you how to screen stocks for swing trading like DIS.
You'll also learn how to read charts and identify stocks that are about to make a big move.
Finally, you'll learn how to identify the optimal entry, stop loss, and take profit levels to capitalize on these explosive moves (in a safe manner, of course)!
Can you apply the AEP framework to provide you with a side income while working full time? 
Yes, you can! 
Come, have a look at the AEP framework and incorporate this explosive trading strategy into your arsenal to capitalize on more swing trading opportunities.
Why Is Swing Trading DIS Worth It?
Source: unsplash.com
Walt Disney's shares have been sliding for more than 2.5 years. I'm heartened to see its share price finally picking up.
Catching a fresh uptrend for a swing trade is likely to bring outsized returns, and its shares have proven to be explosive in nature. 
While you wait for the setup, please keep in mind that I'm not a financial advisor, so please treat this as infotainment and conduct your own research.
Lastly, all images are from pexels.com, pixabay.com, sectorspdrs.com, tradingview.com, and unsplash.com.
Here's What You Can Do To Improve Your Trading Right Now:
#1 Join us in our Facebook Group where we discuss the various ways of applying this by clicking here.
#2 Get market updates delivered to you via Telegram by clicking here.
#3 Grab a front row seat and discover how you can expand your trading arsenal in our FREE courses (for a limited time only) by clicking here.
Trade safe and let the holidays begin!