50 basis points. 
That's how much interest rates rose in the past week. 
Though this was within expectations, stock markets around the world retreated. 
Is there something that you ought to know? 
The stock market is forward looking. Many times, such expectations have already been priced in.
Coupled with the hawkish tone by the Fed, global markets got spooked. 
Yet, if you've been looking at the chart of the overall US stock market, this retreat shouldn't come as a surprise. 
The S&P 500 futures had peaked in early Jan 2022. 
If you'd connected the high points of the S&P 500 futures, you'd have this downtrend line as shown in the chart above. 
With that downtrend line plotted, you'd be skeptical of the rise in the value of the S&P 500 futures.  
In this bearish environment, does it mean that there aren't buying opportunities? 
There are still buying opportunities in the US stock market. Last week, I shared about TJX Companies (TJX) which could breakout soon. 
Performance Of US Stock Market vs Kraft Heinz (KHC)

It was a bearish week for the S&P 500 futures as its value slid by 1.1%. 
Overall, the S&P 500 futures is still bearish, reflected by the downtrend it is in. 
How are the shares of Kraft Heinz performing?
Despite the broader market retreating, the share price of Kraft Heinze closed flat for the week. 
Looking at the larger picture, the share price of Kraft Heinz had been ranging from mid-May 2022 to early Dec 2022.
A fresh uptrend began and seems to be pulling back for a short rest. 
By comparing both charts, it's easy to see that the performance of Kraft Heinze's shares is stronger than the S&P 500 futures. 
Now, I hear you asking whether the shares of Kraft Heinze are sufficiently explosive enough for a quick swing trade. 
Let's discover this in the next section.
How Explosive Is Kraft Heinz (KHC)?
Before swing trading a stock, you'll want to check if the stock is worth a swing trade. 
This can be determined by the explosiveness of its price. 
You'll want its share price to have a track record of exploding at least 5%, consistently. 
Here, you can see that the share price of Kraft Heinze tends to shoot up by at least 6%. Here's something more mind-blowing: Kraft Heinze boasts of a market capitalization of nearly $49b! This is one heck of an explosive huge cap stock!  
In addition, its share price has rocketed by 5 times in a short 8 months! 
Kraft Heinze's shares pass this test with flying colors. 
Does this mean that you enter a buy order now? 
It's too premature to conclude just yet.
Key Price Levels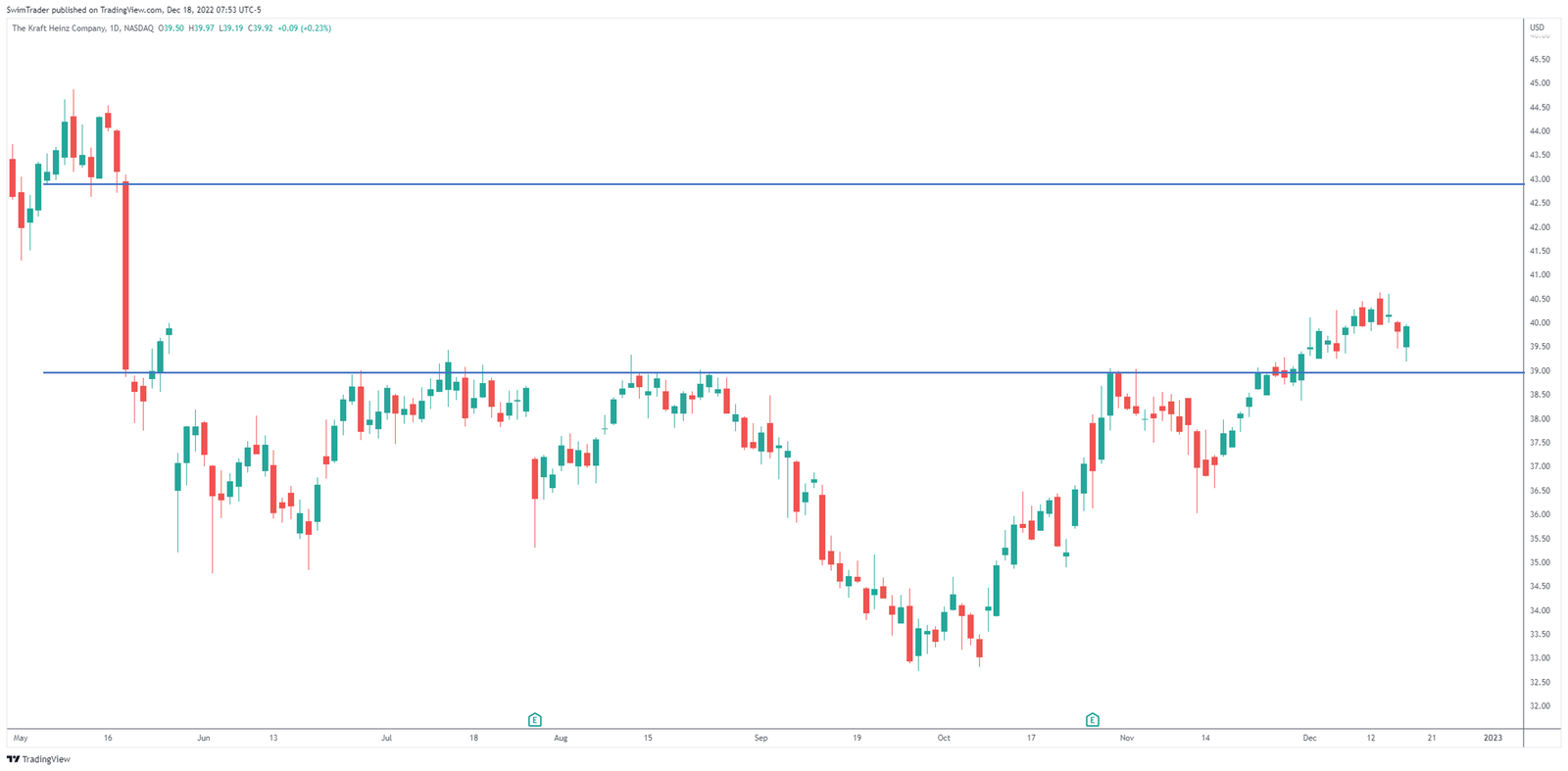 Having established that Kraft Heinze's shares are worthy of a swing trade, let's have a look at its key price levels to uncover if you should buy its shares now. 
Yes, key price levels are also known as support and resistance zones. Prices tend to react to these zones, so it's a good idea to pay attention to them.
From the chart above, you can see that there's an immediate support and resistance zone at ~$39 and ~$43 respectively. 
Therefore, I'm expecting the share price of Kraft Heinze to drop deeper to ~$39 before I consider taking action. 
The Strategy You Can Use To Trade Kraft Heinz (KHC)
After comparing the performance of KHC with the broader US stock market, determining whether KHC has experienced explosive up moves, and identifying its key price levels, it's time to talk strategy. 
To stay in business, you must know your entry, profit taking, and stop loss levels in every trading strategy. Yes, trading is a business, which means that your strategy must be well thought out.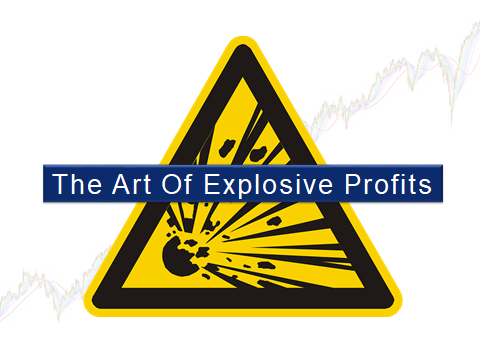 Using The Art of Explosive Profits (AEP) framework, I'd like to see KHC pullback to ~$39 before considering an entry.
As the name implies, you'll be looking to consistently catch an explosive move in a short period of time.
Instead of relying on news and hearsay, the AEP course will teach you how to look for strong stocks like KHC.
You'll also learn how to read charts and identify stocks that are about to make a big move.
Finally, you'll learn how to identify the optimal entry, stop loss, and take profit levels to capitalize on these explosive moves (in a safe manner, of course)!
Have a look at the AEP framework and incorporate this explosive trading strategy to your arsenal to capitalize on more swing trading opportunities.
Why Is Kraft Heinz (KHC) The Stock Pick Of The Week?

Source: kraftheinzcompany.com/index.html
The shares of Kraft Heinze had been going sideways for a while from Jun 2022 to late Nov 2022. Since then, its share price had risen, forming a new uptrend.
This is on the back of a declining US stock market, showing that Kraft Heinze's shares are much stronger. 
Furthermore, the shares of Kraft Heinze have shown to be explosive in nature, allowing you to capture a sizable gain between 6% and 9%!
And, its share price is pulling back to its support area. 
All in all, the price action of Kraft Heinze looks delicious!
Please note that it's not the time to buy its shares for a swing trade yet. Please wait for the pullback to end.
While I await the opportunity, please keep in mind that I'm not a financial advisor, so please treat this as edutainment and conduct your own research.
Lastly, all photos and images are from unsplash.com, pexels.com, pixabay.com, and tradingview.com.
Here's What You Can Do To Improve Your Trading Right Now:
#1 Join us in our Facebook Group where we discuss the various ways of applying this by clicking here
#2 Never miss another market update; get it delivered to you via Telegram by clicking here
#3 Grab a front row seat and discover how you can expand your trading arsenal in our FREE courses (for a limited time only) by clicking here
Trade safe!