When I was much younger, my father used to tell me to look for a stable job. His specific advice – look for a job in a sector that's recession-proof.
The events last year made me reflect on this golden advice. As I reflected on it, I began to see another angle to it. What if I could invest in companies that are quite shielded from economic crises? Are there companies which wouldn't be too impacted by COVID-19?  Which companies would recovery and generate good passive income?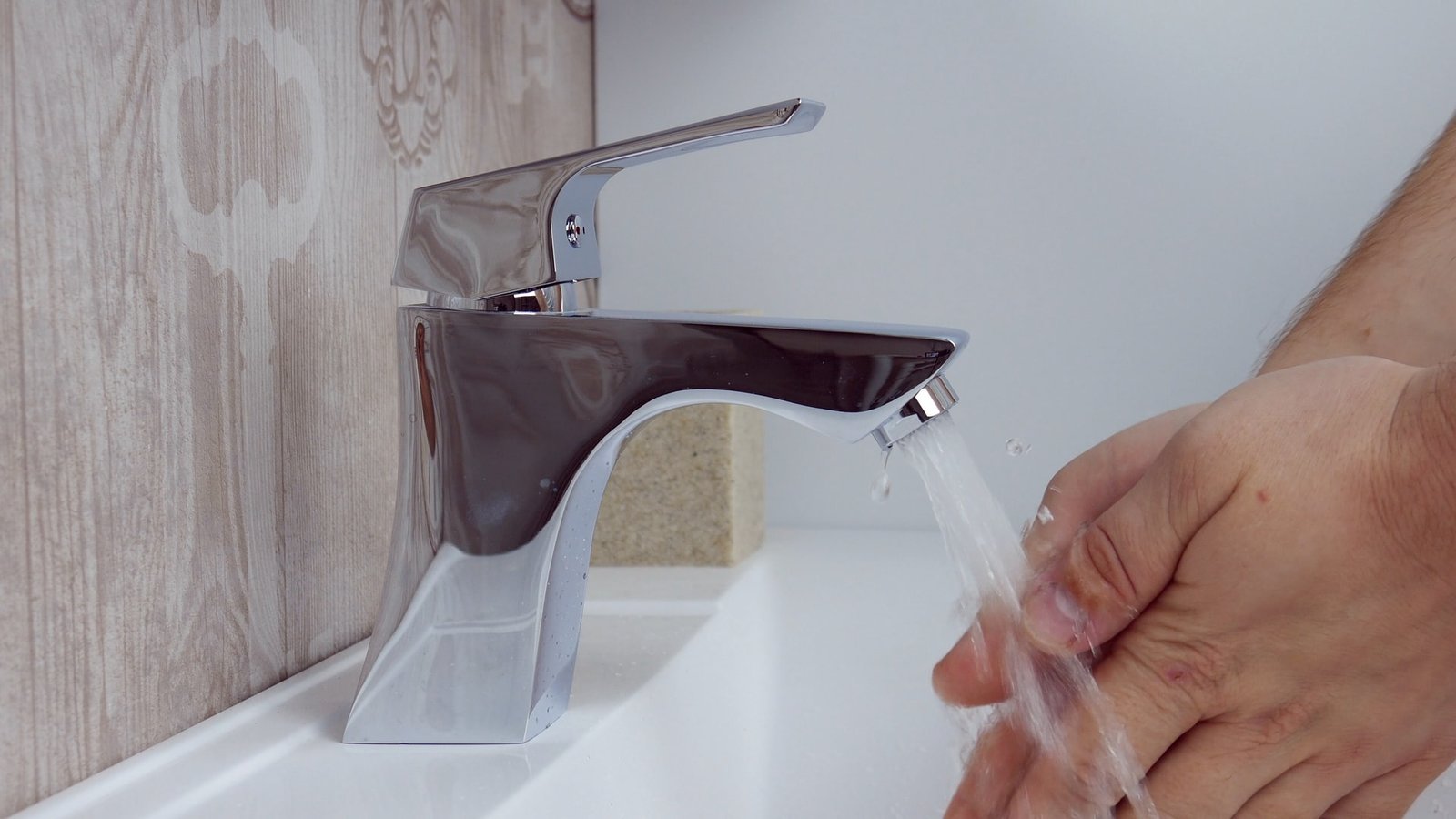 Utilities is one of the most resilient sectors in the economy. Even when the economy is down, or when the world is ending, we still need clean running water, electricity to keep us cool or warm and to power our appliances.
And this utilities company has been around since 1903! Can you guess the name of this company?
This historic utilities company is Public Service Enterprise (PEG).
Let's take a deep dive and evaluate PEG based on the 7 criteria that's shared in my recent article.
#1 Defensive Stock
Defensive stocks are listed companies that fall under the consumer staples, utilities, and real estate investment trusts (REITs) sectors.
Since PEG is in the utilities sector, it is a defensive stock. Regardless of the economic condition, it will continue to operate and enjoy healthy profits.
#2 Stable Profit Margin
Let's examine the profit margin of PEG.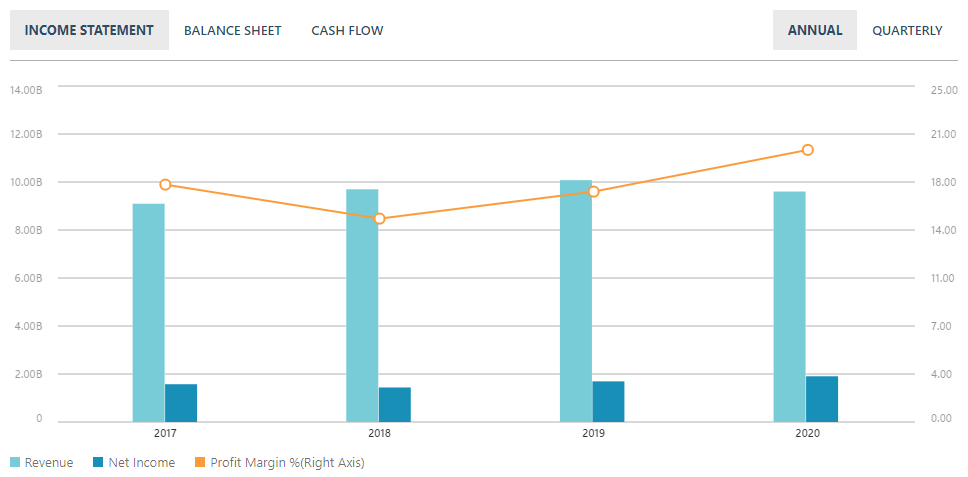 All credits to MSN Money for the chart above.
PEG's profit margin is stable and growing. After a slight dip in 2018, its profit margin has been growing by 2-3% year-on-year from 2019! This is a sign of a healthy company.
#3 Stable Positive Free Cash Flow
PEG"s free cash flow data can also be found on MSN Money, under the tab "Cash Flow".
Does PEG have a stable and positive free cash flow? Let's find out!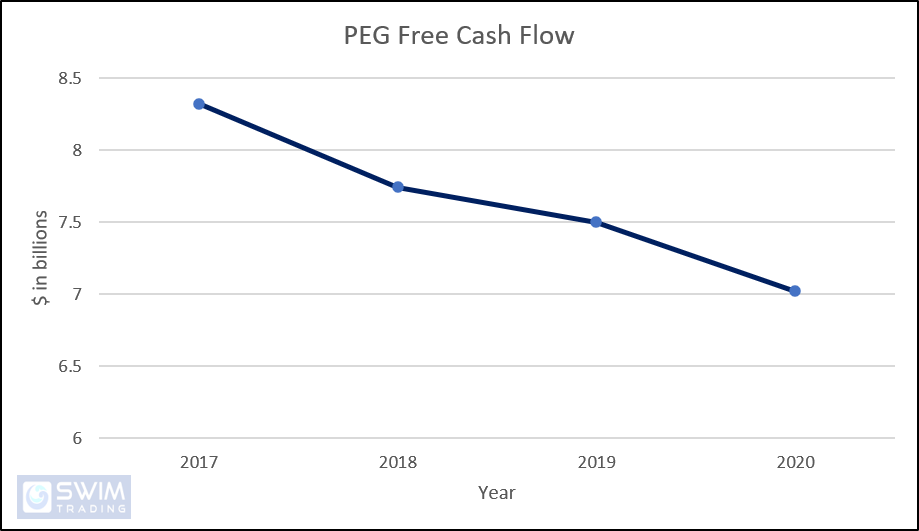 At one glance, you can tell that the amount of free cash flow which PEG has been decreasing. This could be a concern if it continues dropping.
Because PEG has billions in free cash flow, this is not a concern for now, or at least in the near future. In fact, PEG has a much larger war chest than SJM!
#4 Stable Dividend Payout
You can find PEG's dividend payout under the tab "Cash Flow" in MSN Money.
The chart below will delight all investors.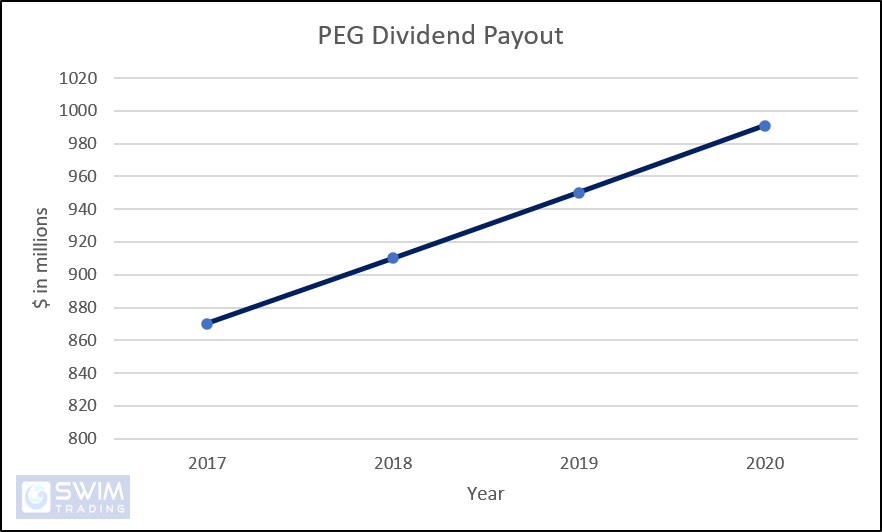 Investors love receiving increasing dividends.
Before you get too excited, you'll need to find out is if this increased dividend payout every year is sustainable. Where's the money coming from? Is the larger dividend payout being distributed at the expense of innovation or growth?
#5 Dividend Payout Ratio
This ratio helps to discover if the high dividend payout by PEG is sustainable and if PEG has funded its dividends through debt.

PEG's dividend payout ratio has been pretty healthy as it hasn't exceeded 100% in the past 10 years.
From this figure, you can tell that PEG is in a very strong financial position as its dividend payout ratio is near its lowest.
#6 Interest Expense Ratio
The interest expense ratio tells you if the interest PEG is paying is healthy or burdensome. Ideally, the interest expense ratio should be under 40%.
The management of PEG has done a good job of keeping PEG's interest expense ratio low. They have excelled in utilizing debt to create more income.
#7 Timing Your Investment
Knowing when to buy and sell your investment beats buying and selling randomly. Why?
In every business, you want to make a profit. This means that you need to sell your product or service at a higher price than your cost. This concept of making money applies to stock investing too!
Understanding this concept, you'll refrain from buying when prices are on a steady decline or even falling. You'll want to ride the uptrend for many months, or even years! Your risk is lowered, allowing you to enjoy peace and quality time with the people who truly matter.
Can you tell if PEG is in an uptrend?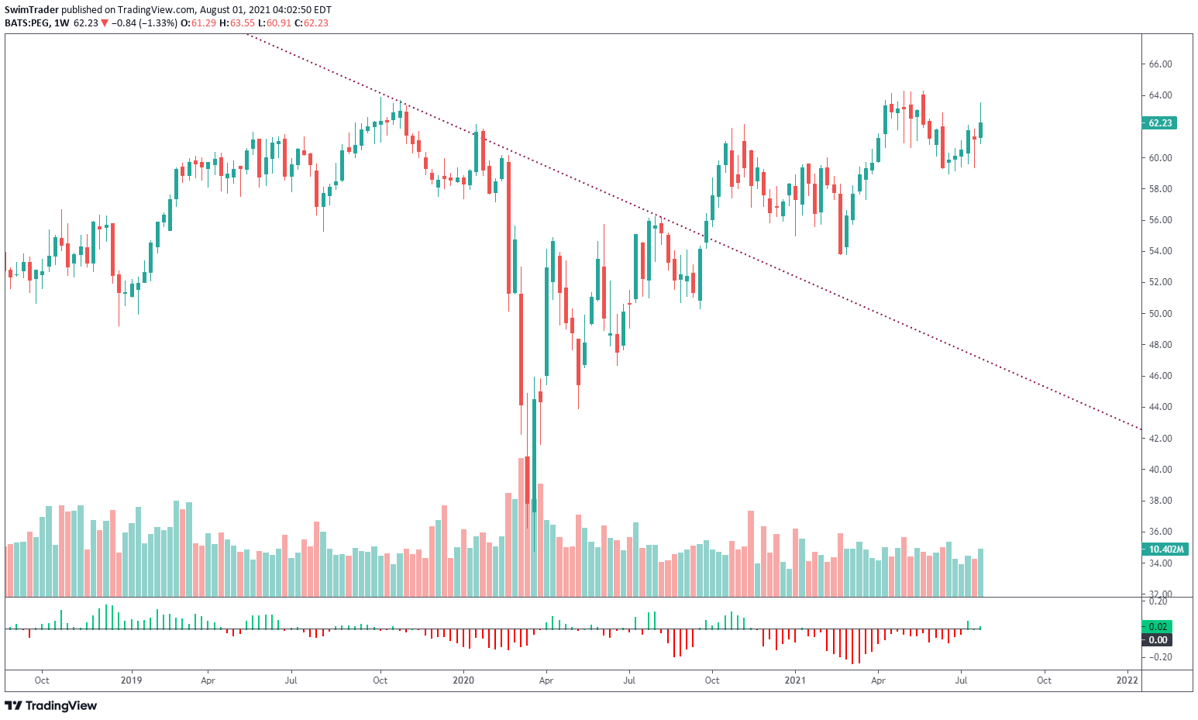 An uptrend is defined as prices making higher highs, higher lows, and having broken out of the downtrend line. This means that PEG is in a fresh uptrend!
A downtrend is defined as prices making lower highs, lower lows, and obeying the downtrend line. Prices of PEG had begun to trend lower since Jan 2021, before COVID-19 shook the global stock markets.
There's an alternative way of telling if a stock's price is in an uptrend or a downtrend. You can insert a 20-period exponential moving average (EMA 20). Its gradient will tell you if the stock's price is in an uptrend or a downtrend.
Before you continue scrolling, find out the calculations and strategies presented by the moving average indicators here and here.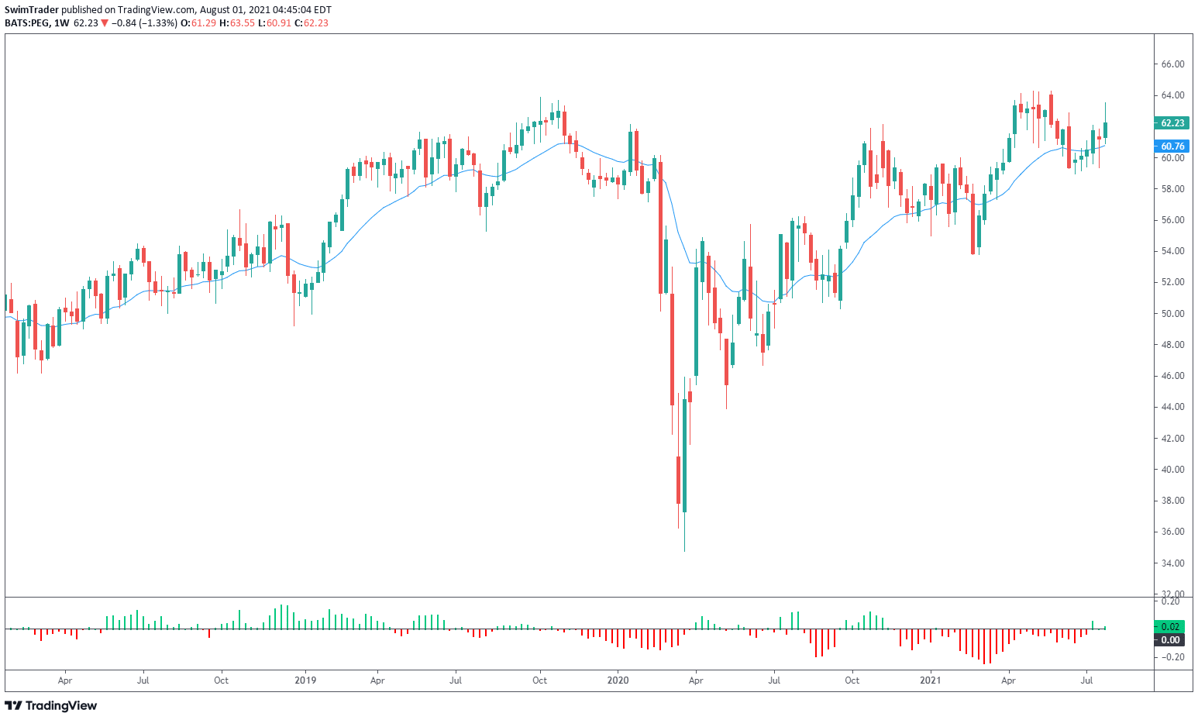 What do you notice about the gradient of the EMA 20 in Jan 2021? The EMA 20 has shown us that prices are on the decline.
Reading price trends, the use of trend lines and indicators are part of technical analysis. Technical analysis can complement and help you in your stock investment.
Technical analysis can be confusing and complex given that there're so many chart patterns and indicators. The worst part? You get mixed signals.
So, I've come up with a couple of indicators that tells you the key things you need to know. Here's how the indicators look like on the chart.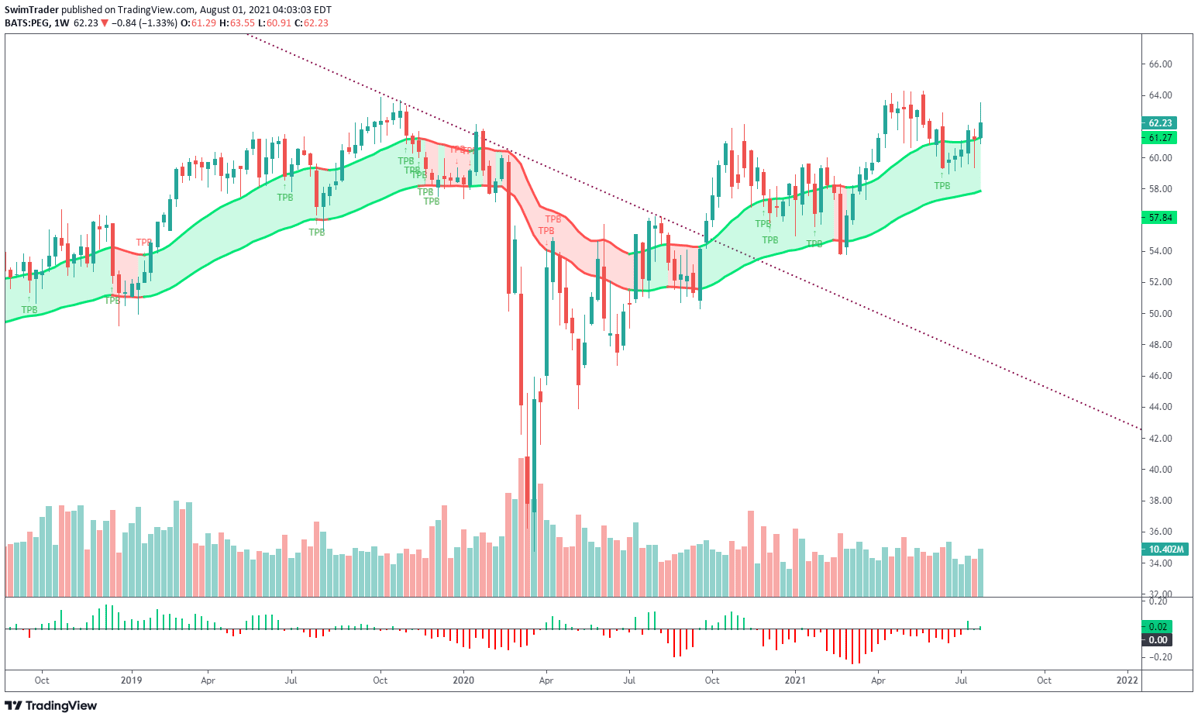 The indicators form the weekly TPB strategy.
Do you see the little TPB signals? Green TPB signals come on when an uptrend or uptrend continuation is highly likely to take place. They signal an opportune time to buy.
Likewise the red TPB signals come on when a downtrend or downtrend continuation is highly likely to occur. They signal an opportune time to sell short.
The indicator at the bottom of the chart is the Strength Meter. It tells you the strength of the stock you're looking at compared to the US stock market. In this case, PEG is stronger than the US stock market, making it a prime candidate to invest in.
The TPB strategy and indicators are proprietary. Click here for more information.
4 Things You Must Remember
#1 Stocks in the utilities sector are defensive
#2 A good investment candidate must pass all these 7 criteria
#3 Pairing technical analysis with fundamental analysis can greatly help you in your investment results
#4 Sharpen your edge in the stock market with the TPB strategy
Here's What You Can Do To Improve Your Trading Right Now:
#1 Register for our market outlook webinars by clicking here
#2 Join us in our Facebook Group as we can discuss the various ways of applying this by clicking here
#3 Never miss another market update; get it delivered to you via Telegram by clicking here
#4 Grab a front row seat and discover how you can expand your trading arsenal in our FREE courses (for a limited time only) by clicking here
Go secure and build your wealth!