All eyes are on Russia.
Is Putin really going to invade Ukraine? What will happen if this invasion occurs?
While there're many negative headlines, I don't believe that this is the beginning of a bear market. We are most probably going to experience a lot more volatility this year, so be sure to buckle up and sit tight!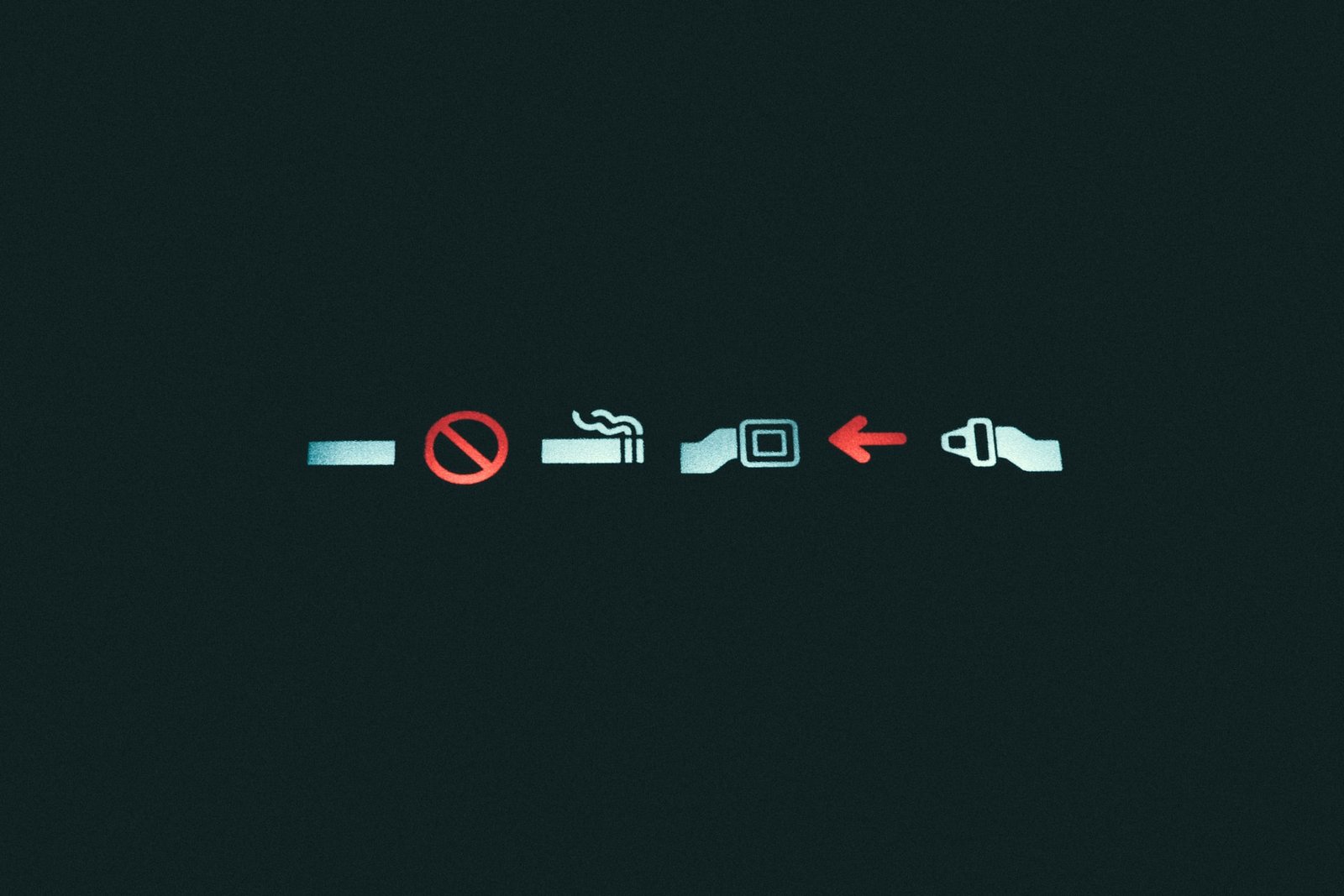 In the midst of this chaos, there's a financial firm that's been performing remarkably well.
Another financial firm?
You've got a fantastic memory. Yes, I shared about a financial firm last week. Here's another huge financial firm which you'll want to pay close attention to.
This giant provides insurance products for commercial, institutional, and individual customers internationally. Being more than 100 years old, this firm is full of stories. Let's have a look at American International Group (AIG).
Performance Of US Stock Market vs American International Group

Fear has spread to the US stock market as the S&P 500 futures dropped by 2.7% last Thur and Fri. The S&P futures ended 1.56% lower for the week (circled in yellow). 
How did AIG perform?
Despite the news of a possible invasion, the share price of AIG stood steady and rose! It was a great week for AIG with its share price closing 1.6% higher. 
The next logical question is to ask if this up move by AIG is purely an outlier. Let's discover!
The S&P 500 futures took a dive in Jan 22. Since then, it has never recovered to its all-time high.
In comparison, the share price of AIG rallied for a while before pulling back in Jan 22. A new high was even formed earlier in Feb 22! This shows that AIG is indeed stronger than the overall US stock market, and is likely to continue its strong performance. 
With this, what can you expect from AIG?
How Explosive Is AIG?
This insurance giant has a market capitalization of $51b. Despite having such a huge market capitalization, AIG is an explosive stock!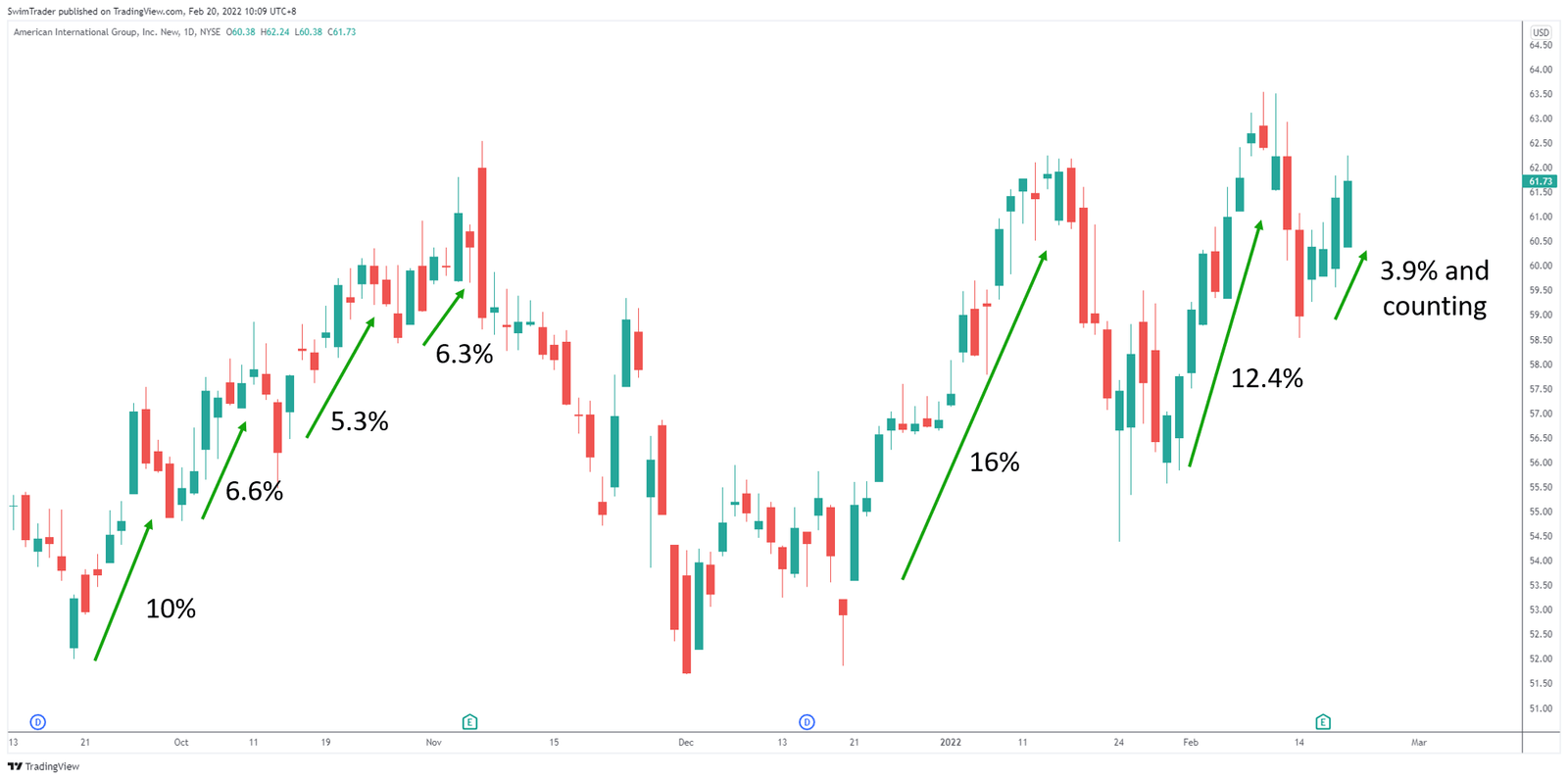 In the past 5 months, there have been 6 big up moves ranging between 5.3 and 16%. 
And a big up move looks to be forming! 
Before we get overly excited, there's one thing we need to uncover. Yes, key price levels. 
Key Price Levels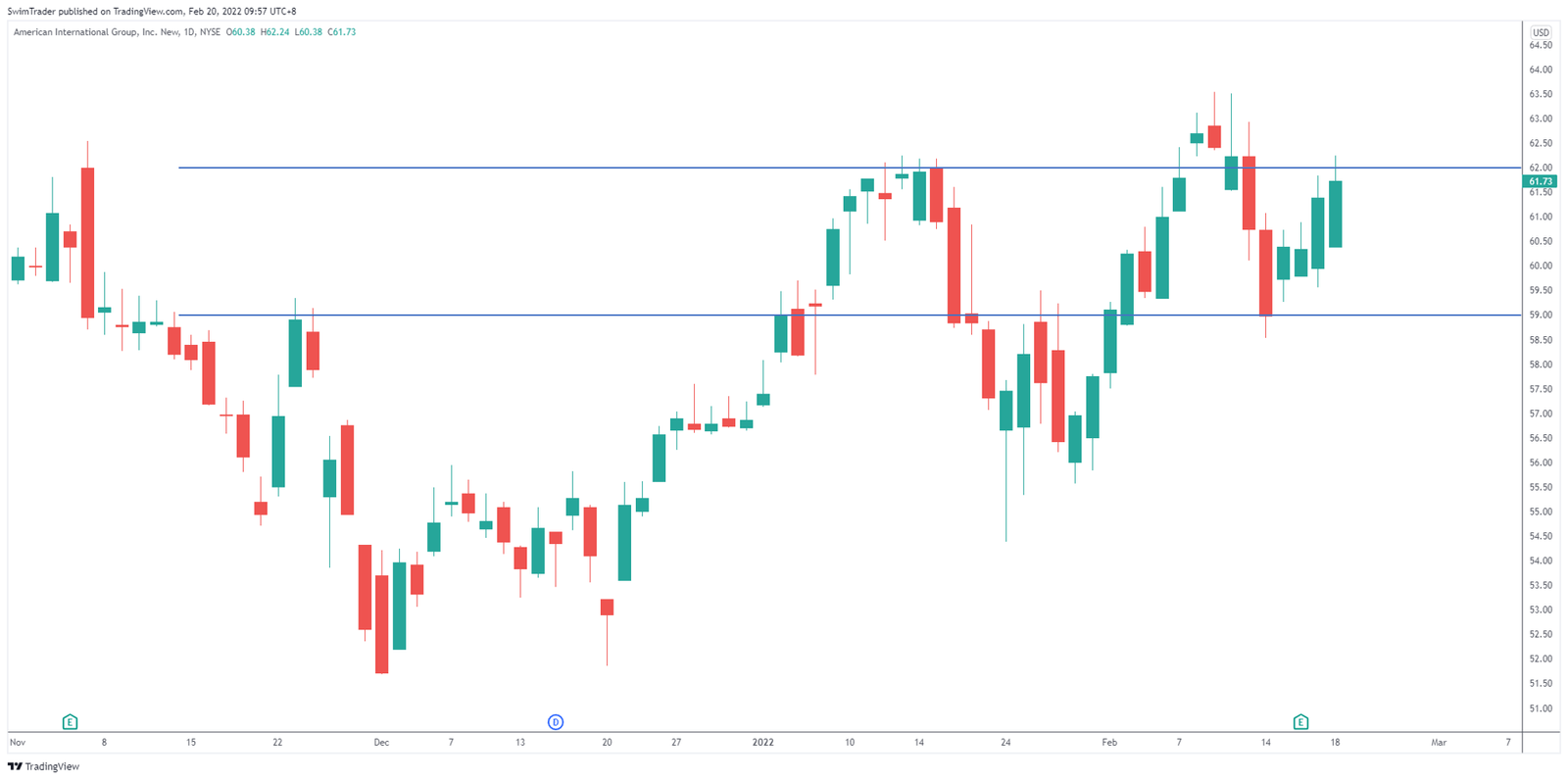 Knowing the key price levels of AIG will help you to spot potential turning points. 
From the chart of AIG above, you can see that there's an immediate resistance zone at $62. This means that although we are keen to see an explosive up move, there's a chance for the price of AIG to turn lower near the area of $62. If the price zone around $62 can be broken and turns into a support zone, that'll be great!
You can also see that there's an immediate support zone at $59. Should the momentum of AIG fade, its price is likely to drop to the area of $59. I'm hoping this scenario doesn't happen!
The Strategy You Can Use To Trade AIG
As mentioned in the previous section, I'd like to see continued strong momentum. Therefore, I'd love to see the price of AIG break above its resistance zone at $62.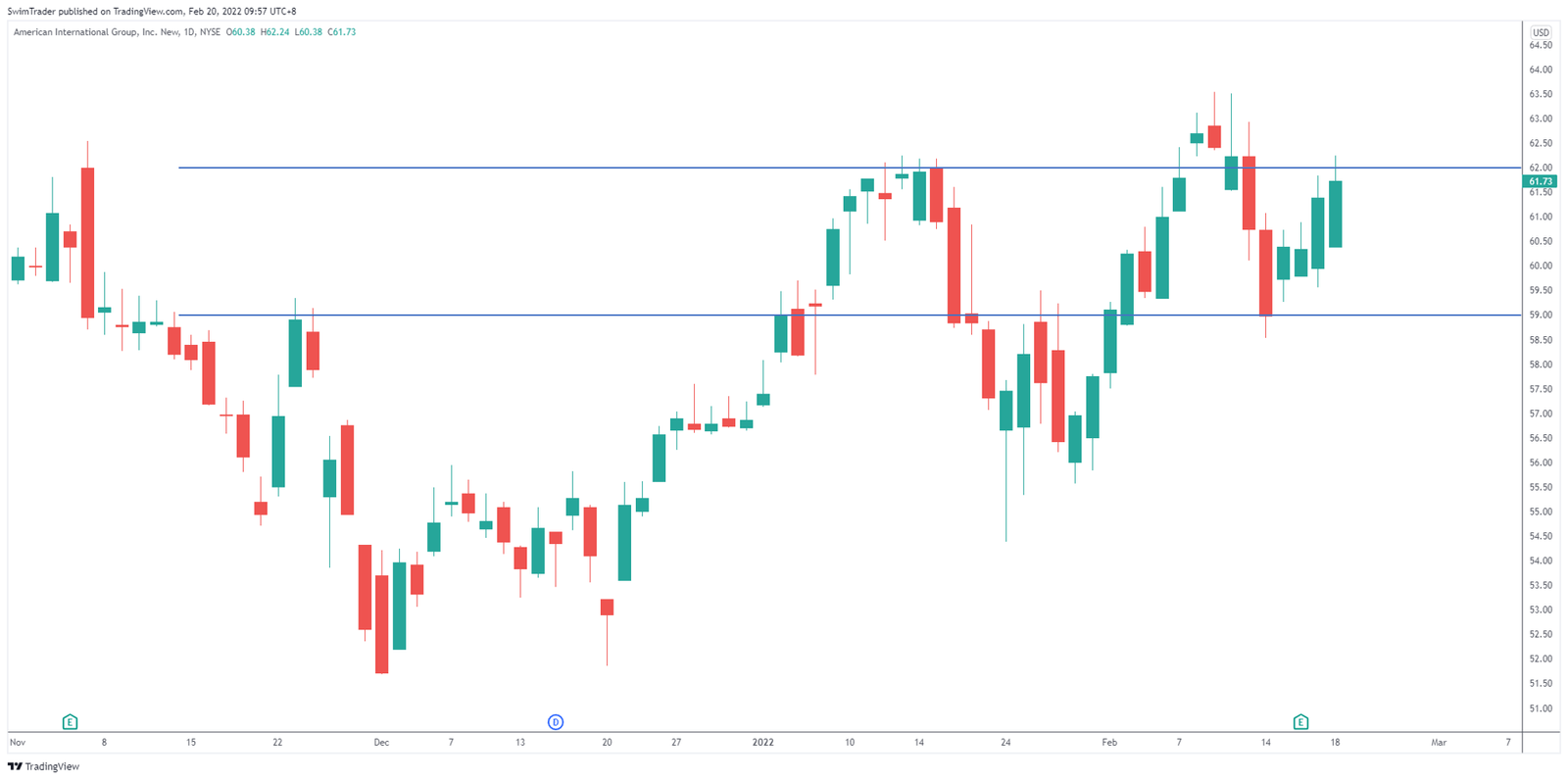 Given that this hasn't happened, AIG isn't ripe for a buy yet. We will probably need a few days of observation. 
Your buying price will be discretionary to adapt to the price movement of AIG. Hence I've created an e-course with examples to share this strategy with precision and clarity – The Art Of Explosive Profits (AEP for short). 
You'll be coached on how to search for strong stocks like AIG instead of relying on hear-say.
You'll also become fluent in reading charts to shortlist stocks that are about to have an explosive move.
Finally, you'll learn how to identify the optimized entry and exit points to capture these explosive moves that you've been waiting for (in a safe manner, of course)! 
Have a look at the AEP and add this explosive trading strategy to your arsenal to seize more trading opportunities.
Why Is AIG The Stock Pick Of The Week?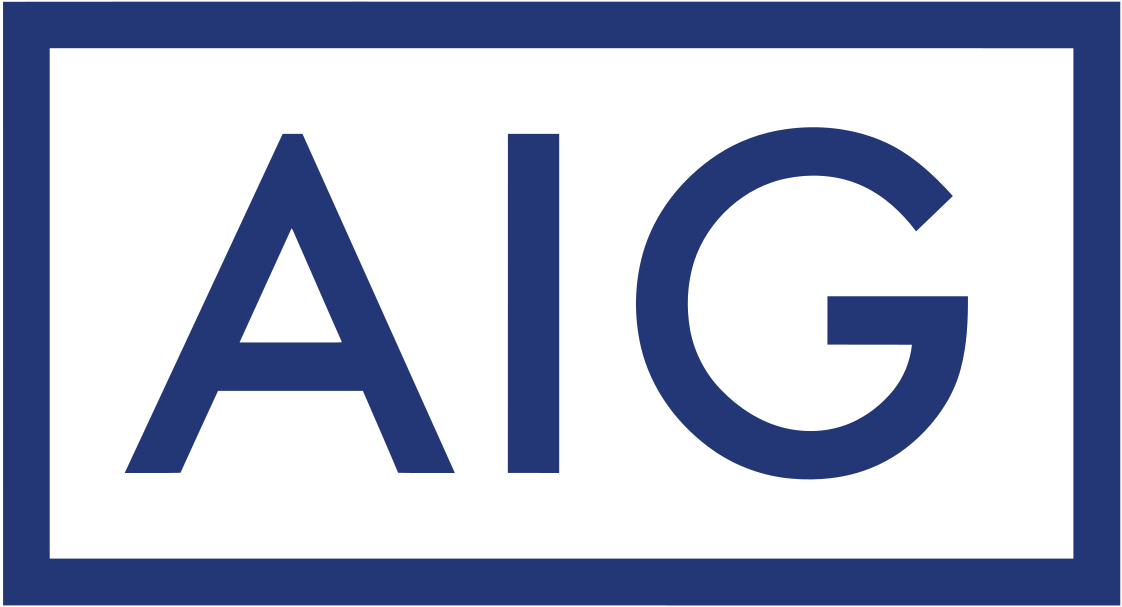 Given that the S&P 500 futures lost 1.56% while AIG gained 1.6% last week, AIG has outperformed the overall US stock market. And this outperformance has been consistent!
There's been 6 huge up moves in just the past 5 months alone, with the largest up move measuring 16%! This is exceptional given that AIG has a huge market capitalization of $51b. 
The chart of AIG looks healthy and the time to buy AIG using the AEP framework is near!
However, you'll need to know that I'm not a financial advisor, so please treat this article as education. Have fun conducting your research and I'd love to hear your thoughts in our Facebook Group. 
Here's What You Can Do To Improve Your Trading Right Now:
#1 Join us in our Facebook Group as we can discuss the various ways of applying this by clicking here
#2 Never miss another market update; get it delivered to you via Telegram by clicking here
#3 Grab a front row seat and discover how you can expand your trading arsenal in our FREE courses (for a limited time only) by clicking here
Trade safe!