How far can you sprint for?
10m? 
What about 100m? 
A 400m sprint used to be a breeze when I was an athlete in my younger days. Sprinting 100m is well beyond me now. 
This brings me to our pick of the week – Invesco QQQ Trust.  Though not a stock, this is a counter I'm paying attention to. 
So, let's jump in and analyze Invesco QQQ Trust (QQQ) right away!
Performance Of US Stock Market vs Invesco QQQ Trust
Comparing the S&P 500 futures against QQQ, you'll notice that both the S&P 500 futures and QQQ were extremely bullish at the start of the week before pulling back from Wed. 
The S&P 500 futures ended the week 0.06% above it's opening price while QQQ ended the week 0.7% above it's opening price. 
This is a good sign as it means that QQQ has been performing stronger than the overall US stock market in the past week. You'll want to trade counters that are stronger than the market to increase your potential returns. 
How Explosive Is QQQ?
QQQ is an exchange traded fund (ETF) which contains many stocks in the technology and communications sectors.
Here's a snapshot of it's top 10 holdings: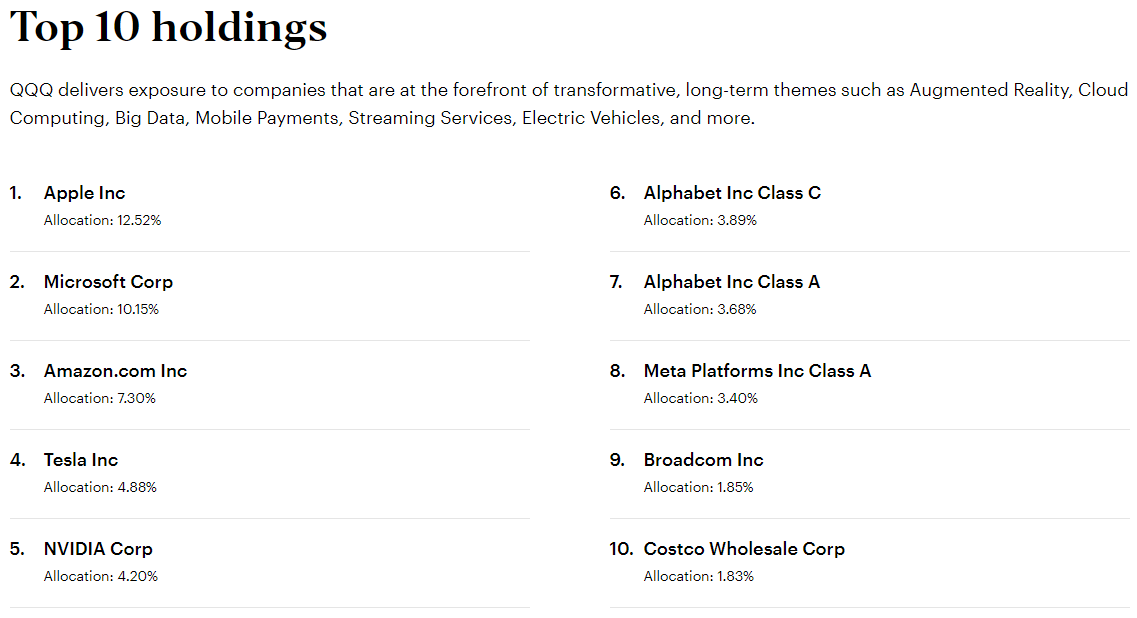 Knowing the nature of technology stocks, they can sprint for a long distance before needing a break.
And these are stocks that have a market capitalization between $255b and $2.8t! Yes, that's how huge these companies in QQQ are! 
With the presence of so many stocks with a mega capitalization, has the price of QQQ been explosive? Let's find out!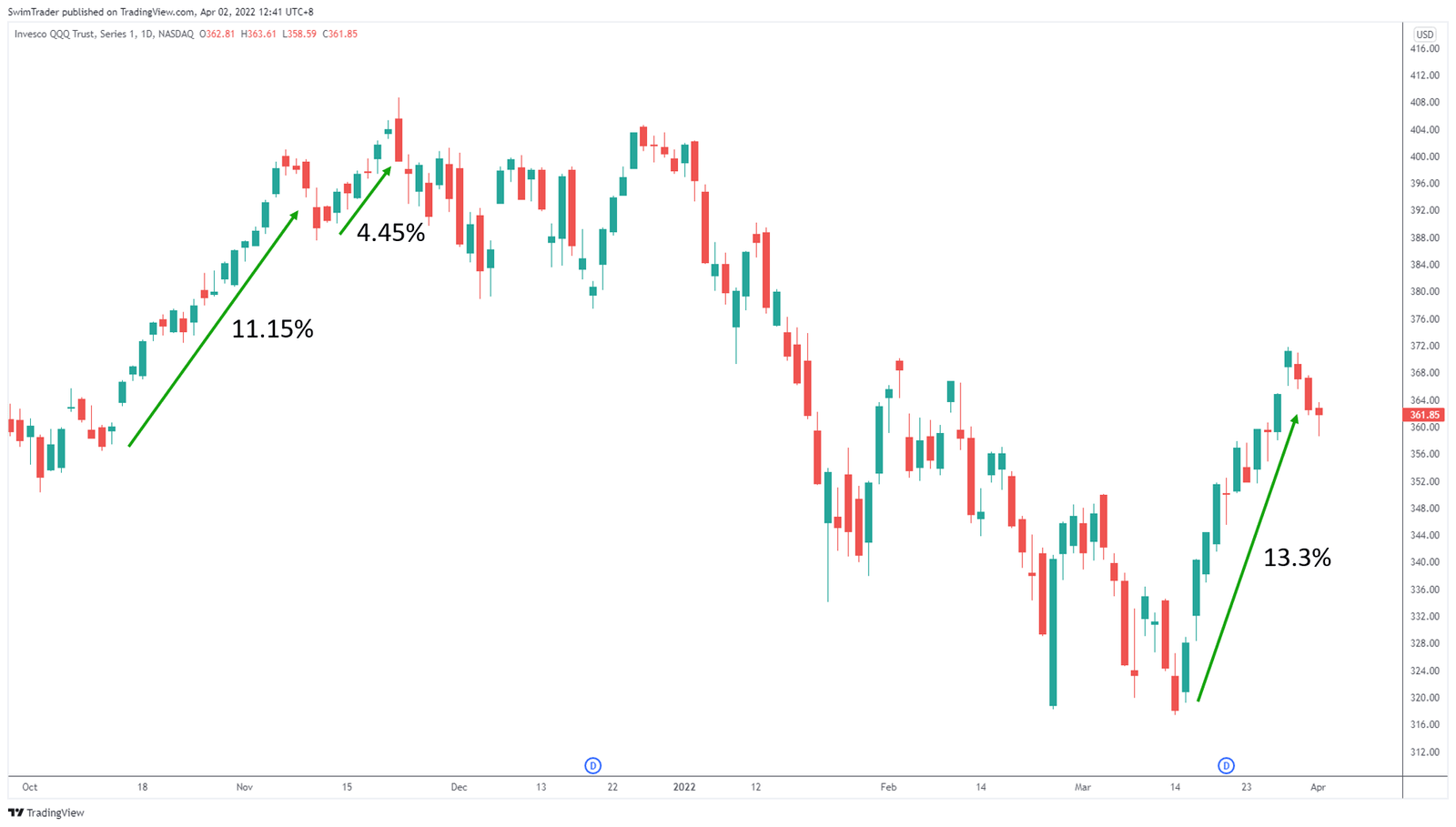 Just in the past 6 months alone, QQQ has experienced 3 massive and explosive moves. 
Each of these up moves are 4.45% and larger, with the largest measuring 13.3%! This is super impressive given the mega stocks that form this ETF. 
Can you guess what the very next step should be? 
Yes! It's to identify the key price levels of QQQ. 
Key Price Levels
Identifying the key price levels of QQQ is important as these price levels are where prices may turn at. And if you're wondering if the idea of key price levels is very similar to support and resistance, it is!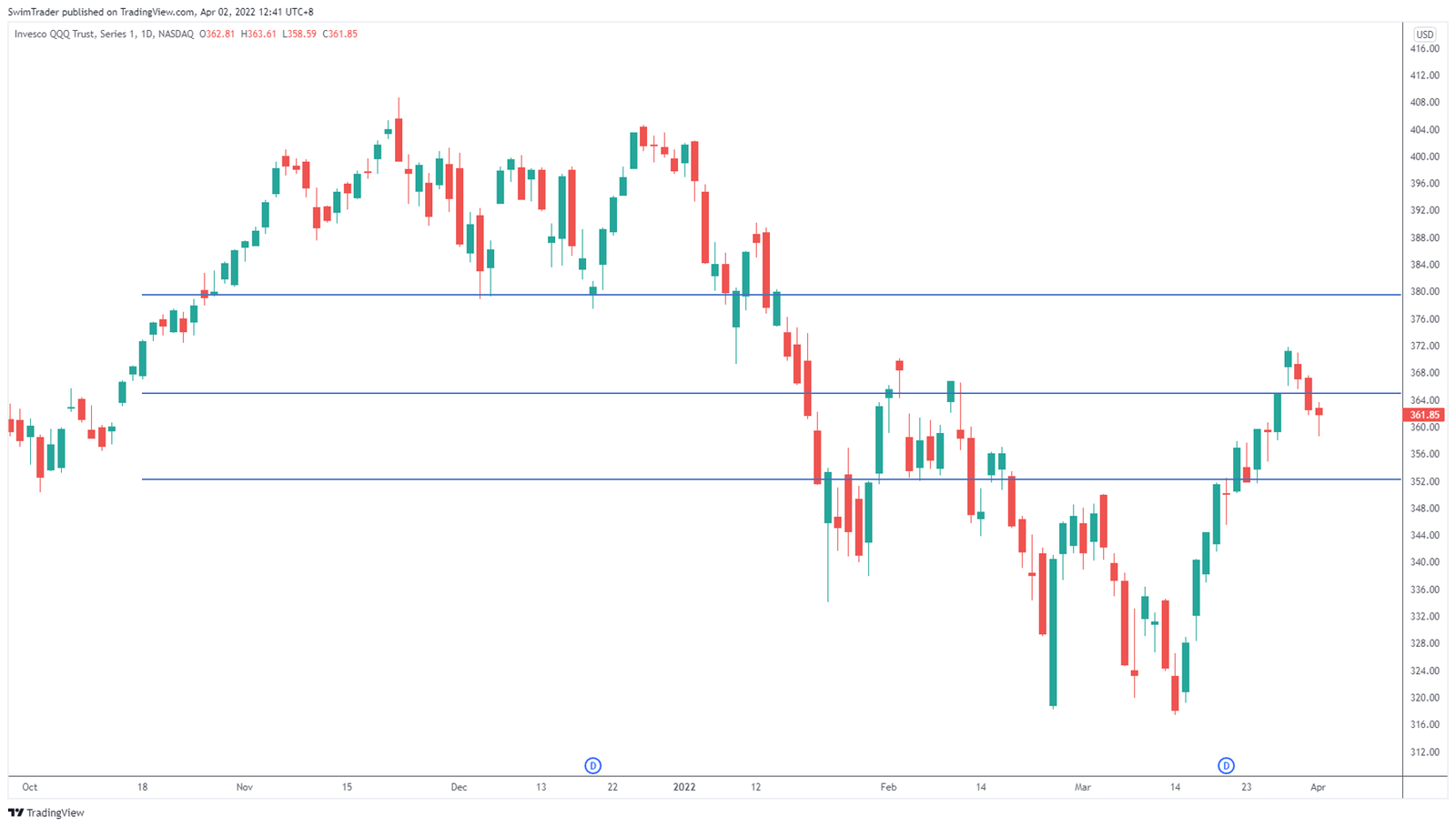 With the key price levels plotted, you can tell that there's an immediate support zone around $352. This means that should the price of QQQ continue to fall, it could fall to $352 before bouncing up. 
There are 2 resistance zones, with the most immediate one around $365, and the next one at around $380. 
With these levels plotted and understood, where do you think the price of QQQ will go in the coming days?
Here's my personal opinion: The price of QQQ is more likely to head lower towards $352 before bouncing back up as a good rest is needed after a run up of 13.3%.
The Strategy You Can Use To Trade QQQ
After spending time analyzing the overall US stock market and QQQ, what strategy are you going to use? 
This will determine the entry and exit price you'll be looking for. Remember to have your stop loss placed too! It's necessary to help you conserve your trading capital if things don't turn out as planned. 
It's also highly advisable to adopt a well-tested strategy and understand the mechanics so that you know when to use such a strategy and how to use it effectively.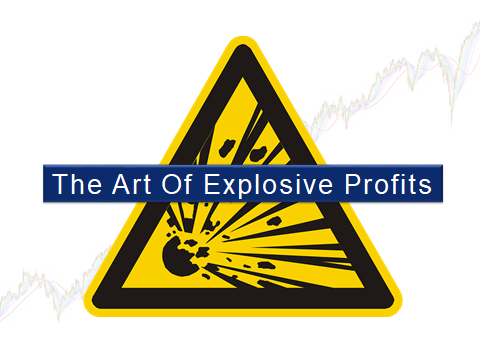 This brings me to  The Art of Explosive Profits framework (AEP for short). 
As its name suggests, you'll be looking to catch an explosive move in a short period of time consistently. 
In the AEP course, you'll be coached on how to search for strong stocks like FAST instead of relying on news and hear-say.
You'll also become fluent in reading charts to shortlist stocks that are about to have an explosive move.
Finally, you'll learn how to identify the optimized entry, stop loss, and take profit level to capture these explosive moves that you've been waiting for (in a safe manner, of course)! 
Have a look at the AEP and add this explosive trading strategy to your arsenal to seize more trading opportunities.
Why Is QQQ The Pick Of The Week?
QQQ houses many huge and explosive stocks in the technology and communications sectors. Stocks in these sectors are well known to enjoy explosive gains and this is reflected in the up moves of QQQ. 
After a long run, QQQ is finally pulling back, presenting a wonderful opportunity to apply the AEP framework. 
These are 2 strong and compelling reasons for QQQ to be the pick of the week. 
However, you'll need to know that I'm not a financial advisor, so please treat this article as education. Have fun conducting your research and I'd love to hear your thoughts in our Facebook Group. 
Here's What You Can Do To Improve Your Trading Right Now:
#1 Join us in our Facebook Group as we can discuss the various ways of applying this by clicking here
#2 Never miss another market update; get it delivered to you via Telegram by clicking here
#3 Grab a front row seat and discover how you can expand your trading arsenal in our FREE courses (for a limited time only) by clicking here
Trade safe!