The World Cup is in its most tense moment – the knock-out round. 
This is where teams want to attack hard and swiftly to avoid entering extra time which will cause fatigue to set in. Fatigue is likely to impede recovery where time is tight in this World Cup, with less than a week between matches. 
You might also know that this is the most expensive World Cup ever. 
Qatar spent about $220b, dramatically more than the past 7 hosts have spent combined! 
Source: dw.com/en/qatar-world-cup-will-be-the-most-expensive-of-all-time/a-63681083
Are you wondering what has the World Cup in Qatar got to do with our stock pick of the week? 
When Qatar won the bid to hosting the World Cup in 2022, it went on a massive spending spree to upgrade and build new infrastructure – roads, stadiums, hotels, airport upgrades, and more. 
That, along with the war in Europe, pushed the demand of steel and other materials, causing their prices to skyrocket. 
Now that the World Cup is halfway through, is demand for steel about to subside?
According to World Steel Association, the demand for steel is forecasted to increase in 2023. Here's a snapshot of the demand for steel in the different regions around the world.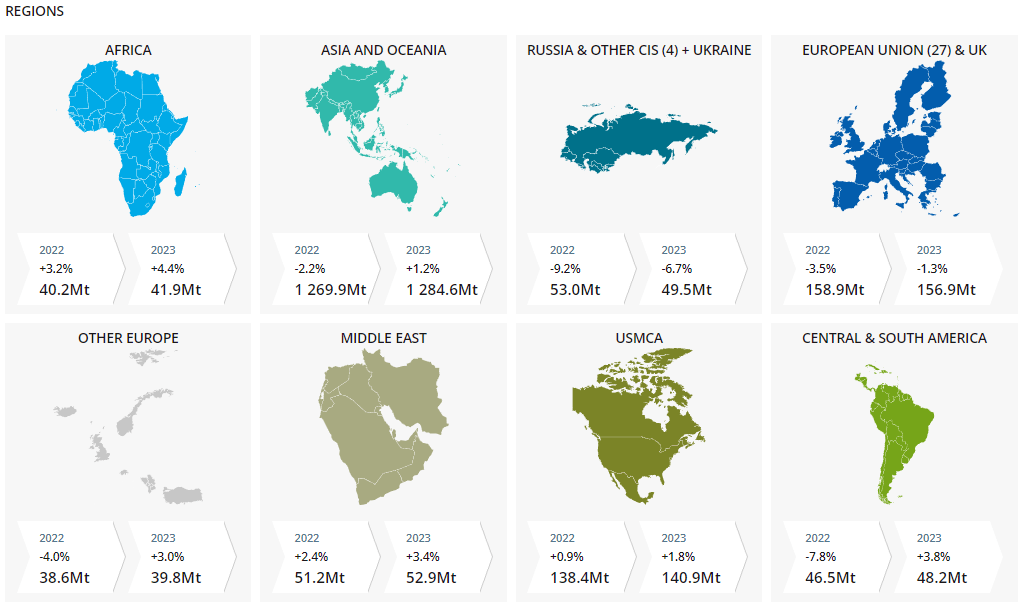 Source: worldsteel.org/steel-topics/statistics/short-range-outlook
How is this piece of positive forecast affecting out stock pick of the week – Steel Dynamics?
Should you buy it for a swing trade now? 
Before proceeding, I'd encourage you to take a look at last week's stock pick of the week – American Eagle Outfitters. 
All is going according to plan; its share price has pulled back and an entry has just been triggered.
Ok, let's now analyze Steel Dynamics shares!
Performance Of US Stock Market vs Steel Dynamics (STLD)
Before you focus solely on the chart of Steel Dynamics, it's beneficial to analyze the chart of the broader US stock market – the S&P 500 futures. 
The past week was bullish for the S&P 500 futures, rising by 1.3%. 
However, I'd be more wary as the S&P 500 futures is still in a downtrend since the start of the year. This bullish move could well be a trap.
How does the chart of Steel Dynamics look?
Like thee S&P 500 futures, the share price of Steel Dynamics rose last week. It had risen by 6.8%, more than the S&P 500 futures. 
Furthermore, the share price of Steel Dynamics has been in a mighty uptrend since the start of the year. Such a performance is far superior than that of the S&P 500 futures. 
But, is it time to buy its shares now for a swing trade? 
There are pointers more to consider. 
How Explosive Is Steel Dynamics (STLD)?
You'll want to consider the explosiveness of its share price because such upward movements bring you profits.
I'm sure you don't want to invest in a slow moving stock and lose out on other opportunities.  
Here, you can see that the shares of Steel Dynamics have been experiencing one explosive up move after another. The largest up move measures 28.8% and most of its up moves measures double digits.
How is this performance for a stock with a market capitalization of more than $19b?
I think that Steel Dynamics' shares pass this criteria with flying colors. 
Next, you'll want to identify its key price levels so that you increase your odds of success.
Key Price Levels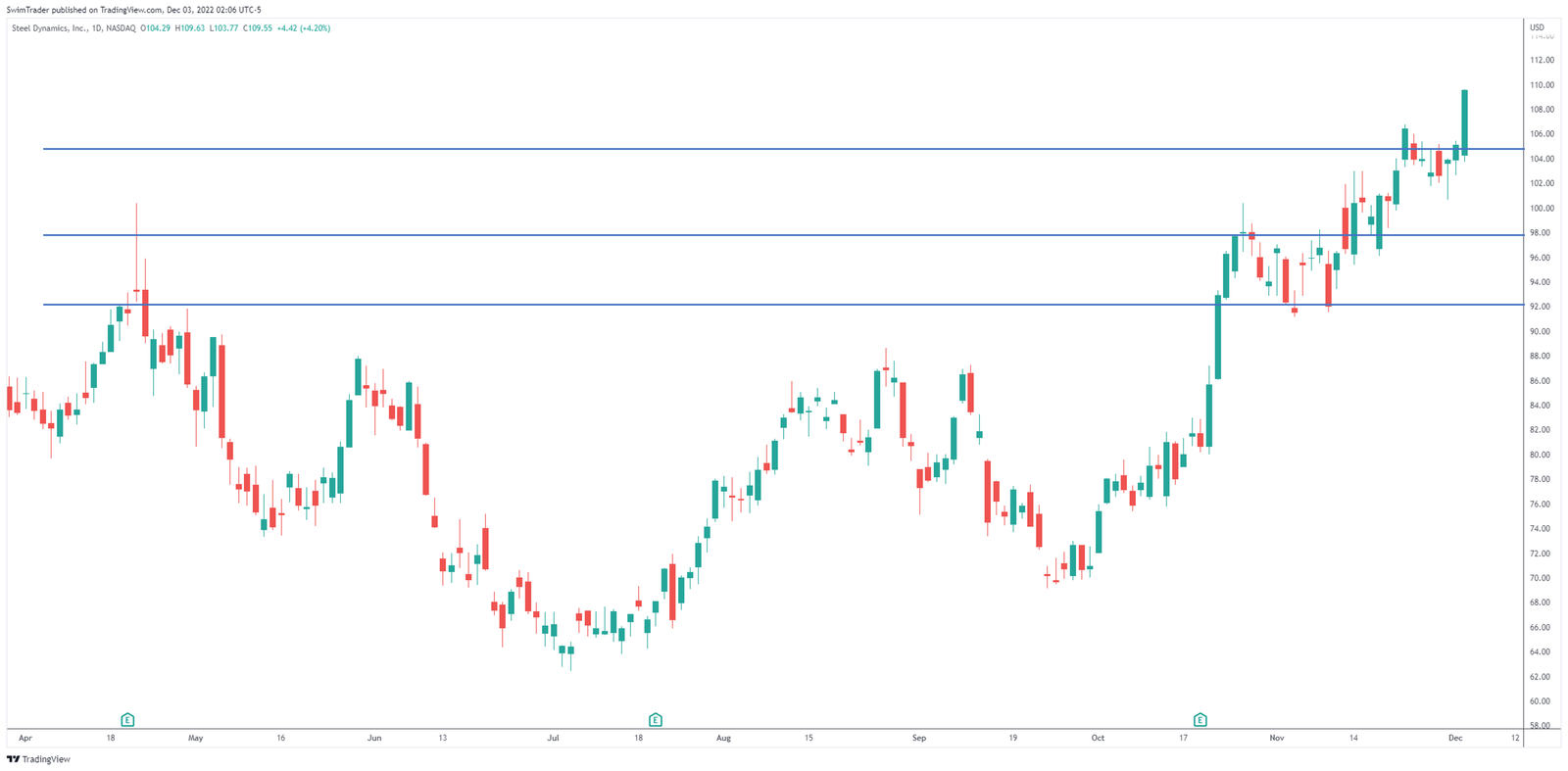 Key price levels, also known as support and resistance zones, are critical in helping you spot great buying and selling price areas.
Here, you can see 3 support zones. 
You'll want to pay close attention to its immediate support zone at ~$105.
If this immediate support zone gets breached, it's likely that the share price of Steel Dynamics will fall to ~$98. 
That isn't the ideal scenario given that this is a fresh up move. 
Because the share price of Steel Dynamics has started to climb, it'd be wiser to wait for a pullback to ~$105 before entering for a swing trade. 
The Strategy You Can Use To Trade Steel Dynamics (STLD)
After comparing the performance of STLD with the broader US stock market, determining whether STLD has experienced explosive up moves, and identifying its key price levels, it's time to talk strategy. 
To stay in business, you must know your entry, profit taking, and stop loss levels in every trading strategy. Yes, trading is a business, which means that your strategy must be well thought out.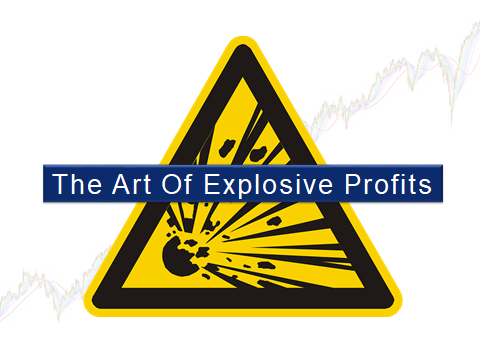 Using The Art of Explosive Profits (AEP) framework, I'd like to see STLD pullback to around $105 before considering an entry.
As the name implies, you'll be looking to consistently catch an explosive move in a short period of time.
Instead of relying on news and hearsay, the AEP course will teach you how to look for strong stocks like STLD.
You'll also learn how to read charts and identify stocks that are about to make a big move.
Finally, you'll learn how to identify the optimal entry, stop loss, and take profit levels to capitalize on these explosive moves (in a safe manner, of course)!
Have a look at the AEP framework and incorporate this explosive trading strategy to your arsenal to capitalize on more swing trading opportunities.
Why Is Steel Dynamics (STLD) The Stock Pick Of The Week?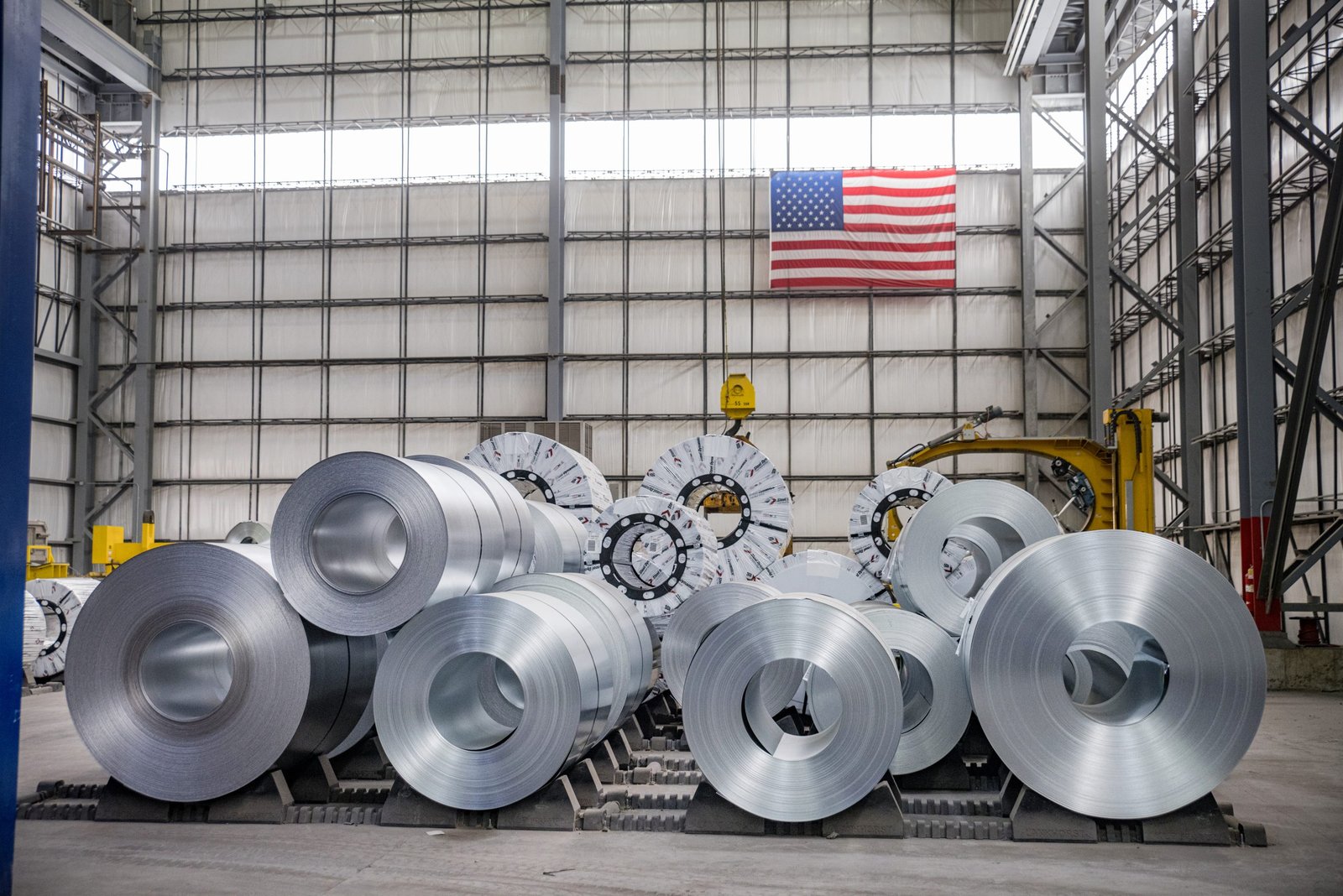 Source: stld.steeldynamics.com
The overall US stock market experienced a bullish run last week. However, I don't think this bullish move is sustainable as the S&P 500 futures is still in a downtrend overall. 
In this backdrop, the share price of Steel Dynamics has been performing solidly in the background without the attention of the media. 
The past 7 months have been explosive for its share price, measuring between 8.9% and 28.8%!
Now, I need to emphasize again that the time to buy its shares for a swing trade isn't here yet. Please wait for a pullback. 
While I await the opportunity, please keep in mind that I'm not a financial advisor, so please treat this as edutainment and conduct your own research.
Lastly, all photos and images are from unsplash.com, pexels.com, pixabay.com, and tradingview.com.
Here's What You Can Do To Improve Your Trading Right Now:
#1 Join us in our Facebook Group where we discuss the various ways of applying this by clicking here
#2 Never miss another market update; get it delivered to you via Telegram by clicking here
#3 Grab a front row seat and discover how you can expand your trading arsenal in our FREE courses (for a limited time only) by clicking here
Trade safe!