Have you started shopping for your Christmas gifts?
The malls are getting packed with shoppers, promotion booths, and gift wrapping services. 
With more performances happening after a couple of quiet years, the festive mood is back. 
As this phenomenon occurs globally, which company's shares are likely to benefit? 
Retail.
This is the reason why I've been sharing about retail stocks in the past few weeks – Crocs and American Eagle Outfitters. 
TJX Companies is another retail stock which I believe that you should watch. 
Here's why!
Performance Of US Stock Market vs TJX Companies (TJX)

When you are looking for stocks to buy for a swing trade, you'll want the stock to be much stronger than the market. This is due to opportunity cost. 
Hence, you're highly encouraged to start off by looking at the chart of the S&P 500 futures. 
Last week was bearish for the S&P 500 futures. It closed 2.5% lower.
But, how has its performance been in the longer term?
The S&P 500 futures is still in an ongoing downtrend which started back in Jan 2022. 
While many were cheering as it was bullish in the past 2 months, it was worth remembering that the downtrend isn't over yet. Not yet. 
Turning our attention to the chart of TJX Companies, it was bearish last week too. Its share price had dropped by a mere 0.9%.
In the larger scheme of things, the share price of TJX Companies is in an uptrend! 
It's clear that the performance of TJX Companies' share price is much stronger than the S&P 500 futures.
Therefore, it's worth analyzing TJX Companies' shares further. 
How Explosive Is TJX Companies (TJX)?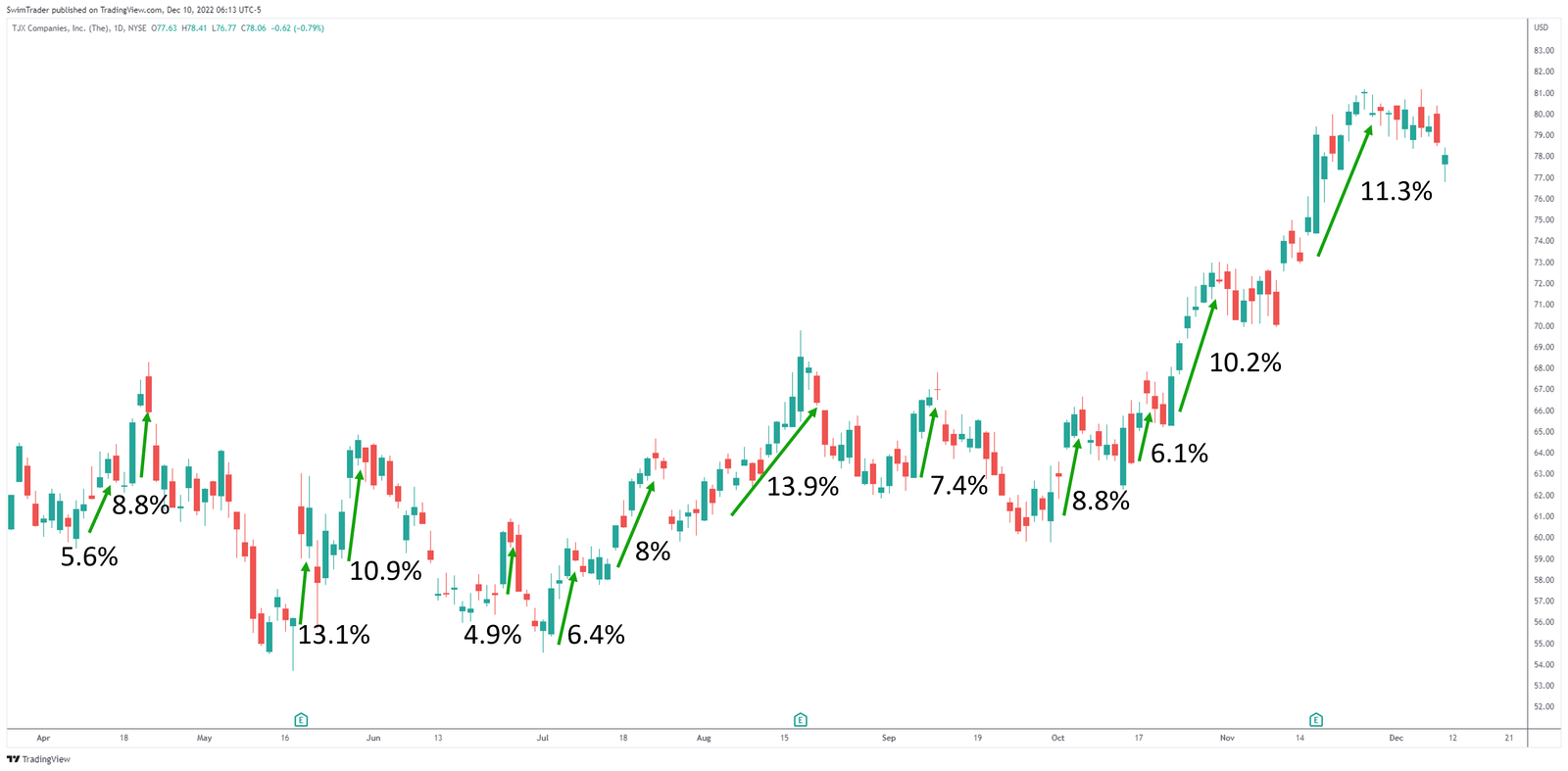 Naturally, you'll want to know the behavior and price action of the shares of TJX Companies. This will help you decide if you should consider its shares further because you don't want to buy shares that hardly move in price. 
In a short 8 months, the shares of TJX Companies have soared 13 times! 
Each time, its share price has shot up by a minimum of 4.9%. The largest up move in this period measures 13.9%
Given that TJX Companies has a whopping market capitalization of more than $90b, this is a stupendous feat! 
Discovering that its shares have the tendency to shoot in a short period of time, let's have an even closer look at the shares of TJX Companies.
Key Price Levels
This is when we have a look at its key price levels, also known as support and resistance zones.
These key price levels are likely to be turning points which will help to bring the odds of success towards you. 
You can see an immediate support zone at ~$72.50 and an immediate resistance zone at ~$79.  
Presently, the share price of TJX Companies is just under its resistance zone. 
What does this mean?
This means that there's selling pressure around $79. Therefore, it isn't the best time to buy its shares yet. 
I'd wait for its share price to break out of its resistance zone before considering an entry. 
The Strategy You Can Use To Trade TJX Companies (TJX)
After comparing the performance of TJX with the broader US stock market, determining whether TJX has experienced explosive up moves, and identifying its key price levels, it's time to talk strategy. 
To stay in business, you must know your entry, profit taking, and stop loss levels in every trading strategy. Yes, trading is a business, which means that your strategy must be well thought out.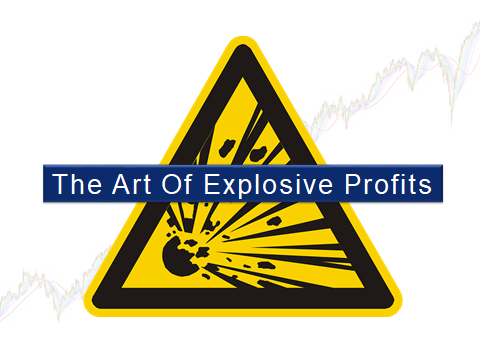 Using The Art of Explosive Profits (AEP) framework, I'd like to see TJX breakout above $79 before considering an entry.
As the name implies, you'll be looking to consistently catch an explosive move in a short period of time.
Instead of relying on news and hearsay, the AEP course will teach you how to look for strong stocks like TJX.
You'll also learn how to read charts and identify stocks that are about to make a big move.
Finally, you'll learn how to identify the optimal entry, stop loss, and take profit levels to capitalize on these explosive moves (in a safe manner, of course)!
Have a look at the AEP framework and incorporate this explosive trading strategy to your arsenal to capitalize on more swing trading opportunities.
Why Is TJX Companies (TJX) The Stock Pick Of The Week?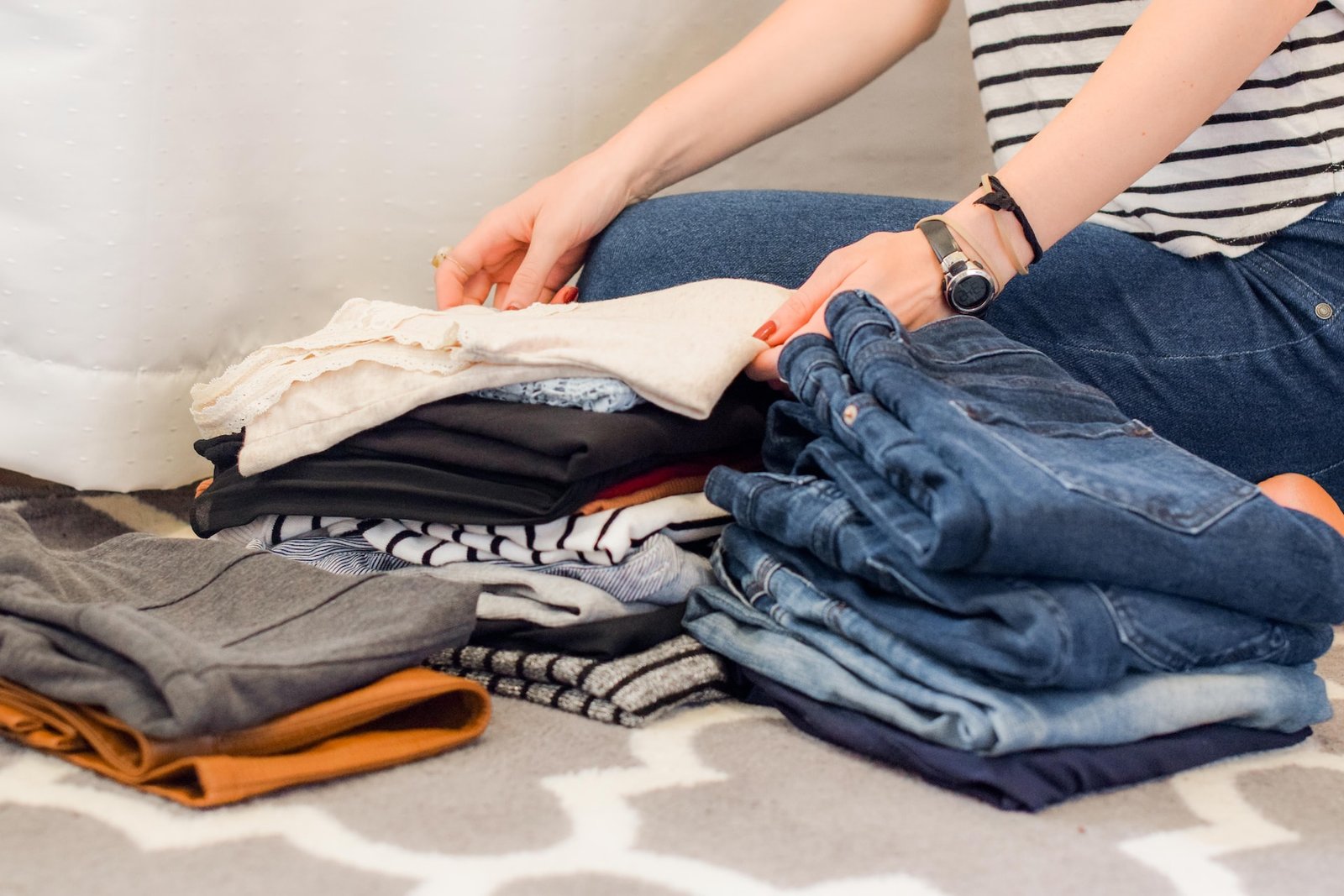 Even when the sentiment of the overall stock market is pessimistic and bearish, there are stocks that you can consider buying for a swing trade.
Such stocks usually require some digging effort as they shy away from attention. 
The past 8 months have been marvelous for TJX. Its share price exploded in price 13 times, with each up move measuring between 4.9% and 13.9%!
As its share price is under its immediate resistance zone, it's not the time to buy its shares for a swing trade yet. Please wait for a breakout.
While I await the opportunity, please keep in mind that I'm not a financial advisor, so please treat this as edutainment and conduct your own research.
Lastly, all photos and images are from unsplash.com, pexels.com, pixabay.com, and tradingview.com.
Here's What You Can Do To Improve Your Trading Right Now:
#1 Join us in our Facebook Group where we discuss the various ways of applying this by clicking here
#2 Never miss another market update; get it delivered to you via Telegram by clicking here
#3 Grab a front row seat and discover how you can expand your trading arsenal in our FREE courses (for a limited time only) by clicking here
Trade safe!