Facebook or Meta? Which should I use in this article?
Facebook's current ticker symbol is FB and that's going to change on 1 Dec 21 to MVRS. So let's still call Facebook Facebook.
FB has been on a tear from Mar 21 to Sep 21 when it came tumbling down with the overall US stock market. Though the overall US stock market has recovered and made gains, the same cannot be said of FB.
Before we dive deeper into analyzing FB, let's have a look at its chart.
Big Picture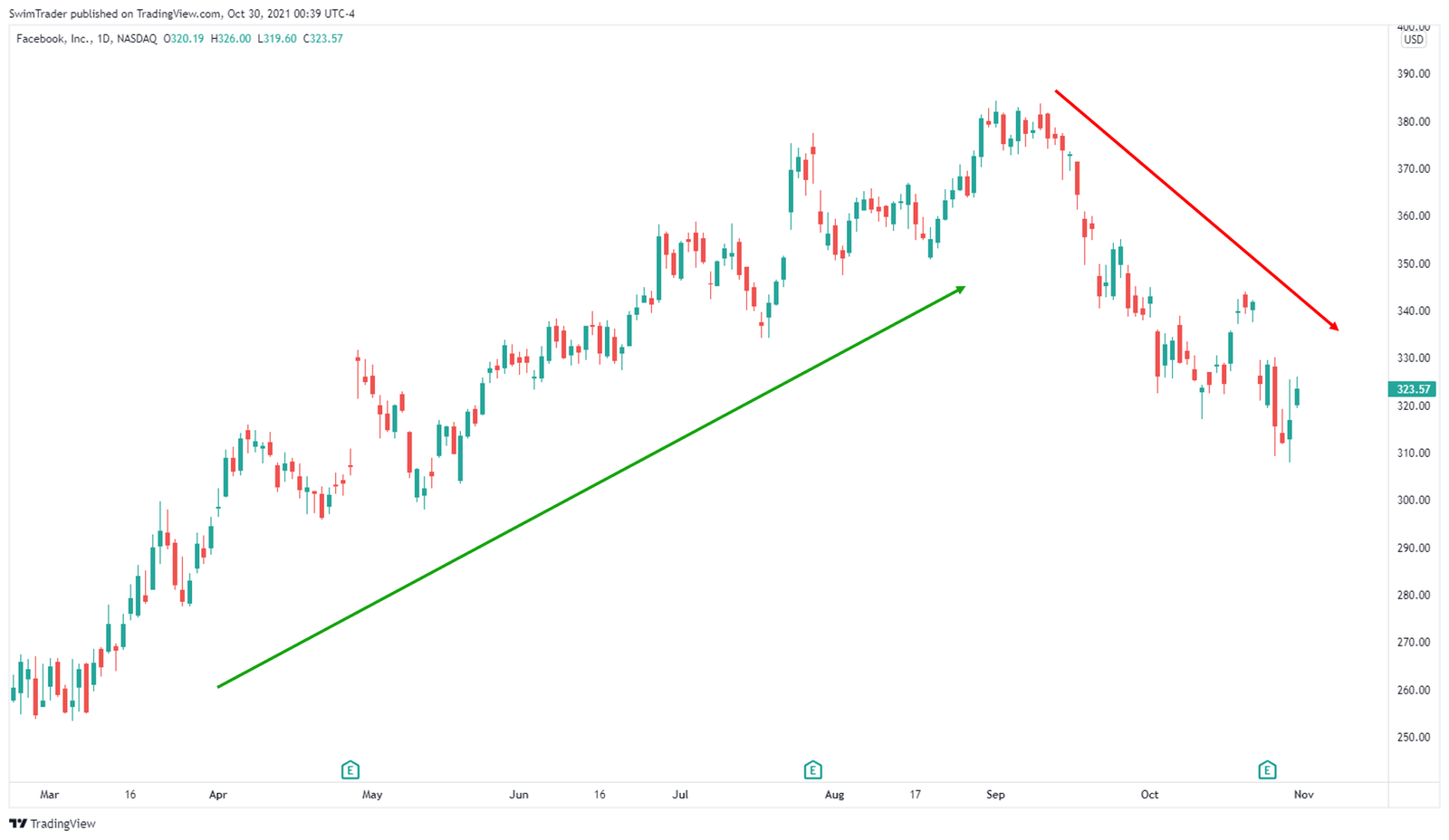 FB is clearly in a downtrend. Are the tools that you can use to tell trends fast? YES! All you need is 5 seconds to read the trend of a chart.
What does a downtrend mean?
A downtrend is formed when prices are consistently heading lower. The market participants are generally more bearish; they are pessimistic about the outlook of the stock (in this, FB).
From peak to trough in Sep 21 to 28 Oct 21, FB has dropped by more than 19%. It has since recovered a little, reducing the drop to about 15%.
Is this small recovery the start of a larger recovery? To arrive at a conclusion, let's have a look at FB's key price levels.
Key Price Levels
There are the 3 immediate key levels that require our attention.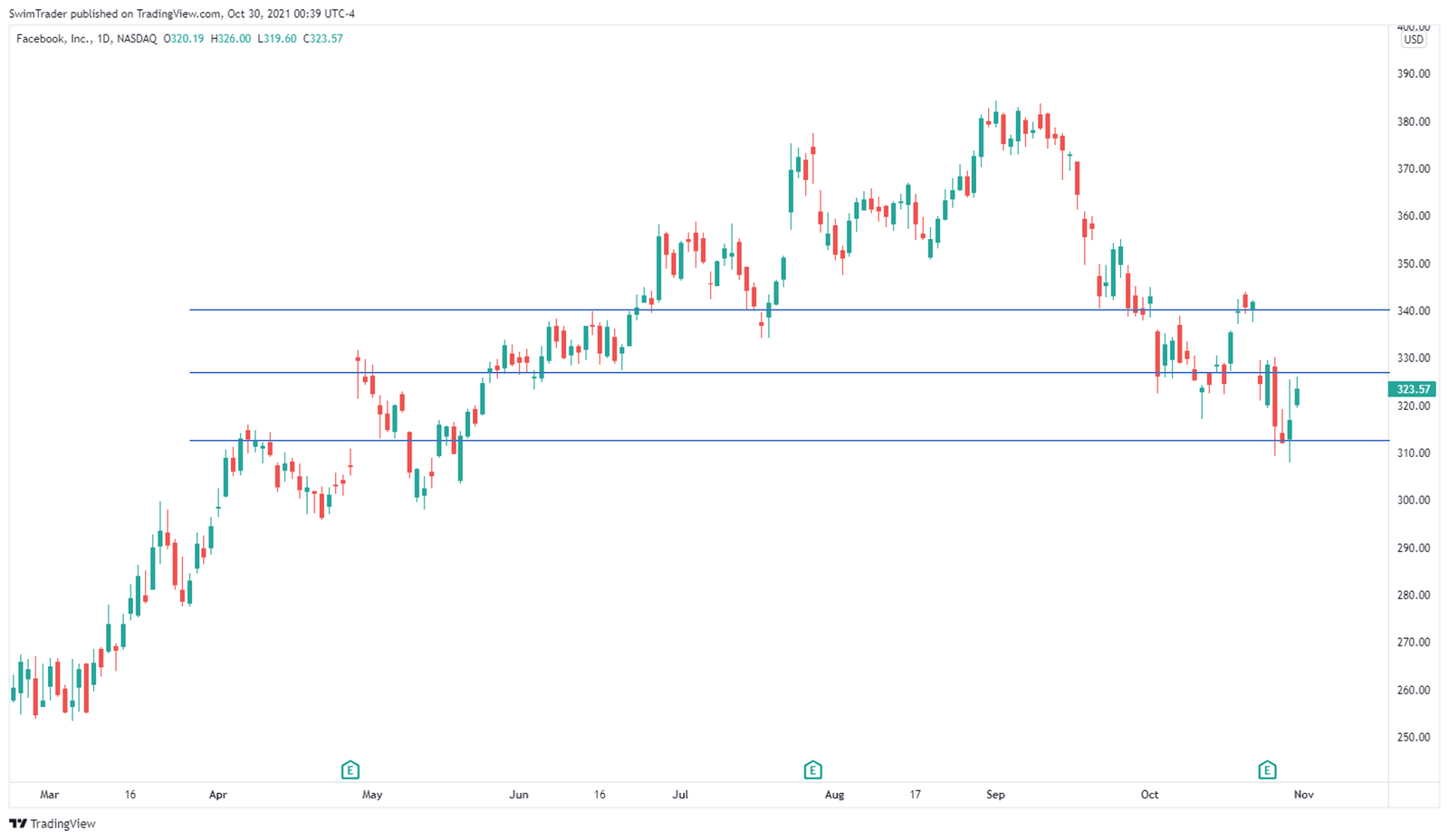 The 3 horizontal lines drawn are support and resistance. Support and resistance levels play an important role in technical analysis. They are psychological price levels which traders look out for.
From the chart above, we can tell that FB's immediate support level is at $313. There's an immediate resistance area at $327, while it's next resistance area is at $340. These price levels are important in the next few days.
Since FB is in a downtrend, we could see the price of FB hover between $313 and $327 before heading lower. 
Technically Speaking
What do the 3 momentum indicators suggest? 
The indicator at the top is in its neutral zone, suggesting that the price of FB could either rise or decline in the days to come.
The indicators in the middle and bottom are near their oversold zones, implying that the price of FB could rise in the coming days. 
These momentum indicators seem to suggest that the price of FB should rise in the days ahead, but don't be fooled into thinking that the worst is over. It'll take quite a lot of optimistic market participants with deep pockets to move prices up. 
If you're looking to trade FB, remember to place your stop loss to help you bail out should the market have a different idea in mind. 
Since the purpose of a stop loss is to help us protect our hard-earned capital, why is it that we often get stopped out of our trades prematurely before prices eventually rise a couple of days later? And I know that feeling of endless frustration!  
After a while, it dawned upon me. I had experienced stop loss hunting.
How can you avoid the pain I had gone through? Here's an explanation with 3 tools that you can use to avoid your stop loss from being hunted.
As with any good trading plan, it's wise to have several plans. In the coming week, we may see any of these scenarios pan out:
FB hovers between $313 and $327 before heading lower
FB rises above $327 towards $340 before heading lower
FB rises above $327, towards $340, stabilizes before head higher
Which scenario do you think is more likely? 
Conclusion
Because the overall stock market is bullish, I believe that FB will turn around, just not so soon. 
In the short-term, I think that Scenario 2 is more probable. 
I'll need to insert a disclaimer here: I'm not a financial advisor, and everything in this article is for educational purpose. You're highly encouraged to do your due diligence and arrive at your conclusion. 
Here's What You Can Do To Improve Your Trading Right Now:
#1 Join us in our Facebook Group as we can discuss the various ways of applying this by clicking here
#2 Never miss another market update; get it delivered to you via Telegram by clicking here
#3 Grab a front row seat and discover how you can expand your trading arsenal in our FREE courses (for a limited time only) by clicking here
Trade safe!