To the moon! 
Traders and investors were cheering because the bulls have returned. 
The S&P 500 had risen by 2.5% after pulling back last week. 
In a smooth and rising market, it's easy to profit from the market. However, we are in a volatile bull market, so your stock selection matters a lot more. 
I know that you're eager to read about this week's stock pick.
Before we dive right in, let's review last week's swing trading opportunity: Edwards Lifesciences (EW). 
Using The Art of Explosive Profits (AEP) framework, you'd be in Edwards Lifesciences and making more than 3.5%!
Congrats if you're in!
Now to this week's swing trading opportunity: CSX.
Performance Of US Stock Market vs CSX (CSX)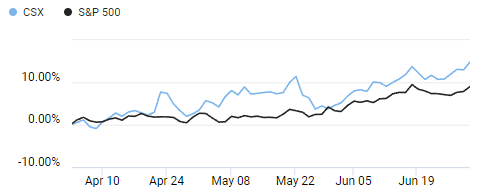 This is the 1st filter to determine whether CSX is a stock worth your time and money. 
From the comparison chart of the S&P 500 and CSX above, what are the 2 things you can tell?
CSX's shares have been consistently outperforming the S&P 500
Both the S&P 500 and CSX are in a great

uptrend
These 2 points point to CSX's shares being a worthy candidate for a long swing trade thus far.
Shall we proceed to the next filter? 
How Explosive Is CSX (CSX)?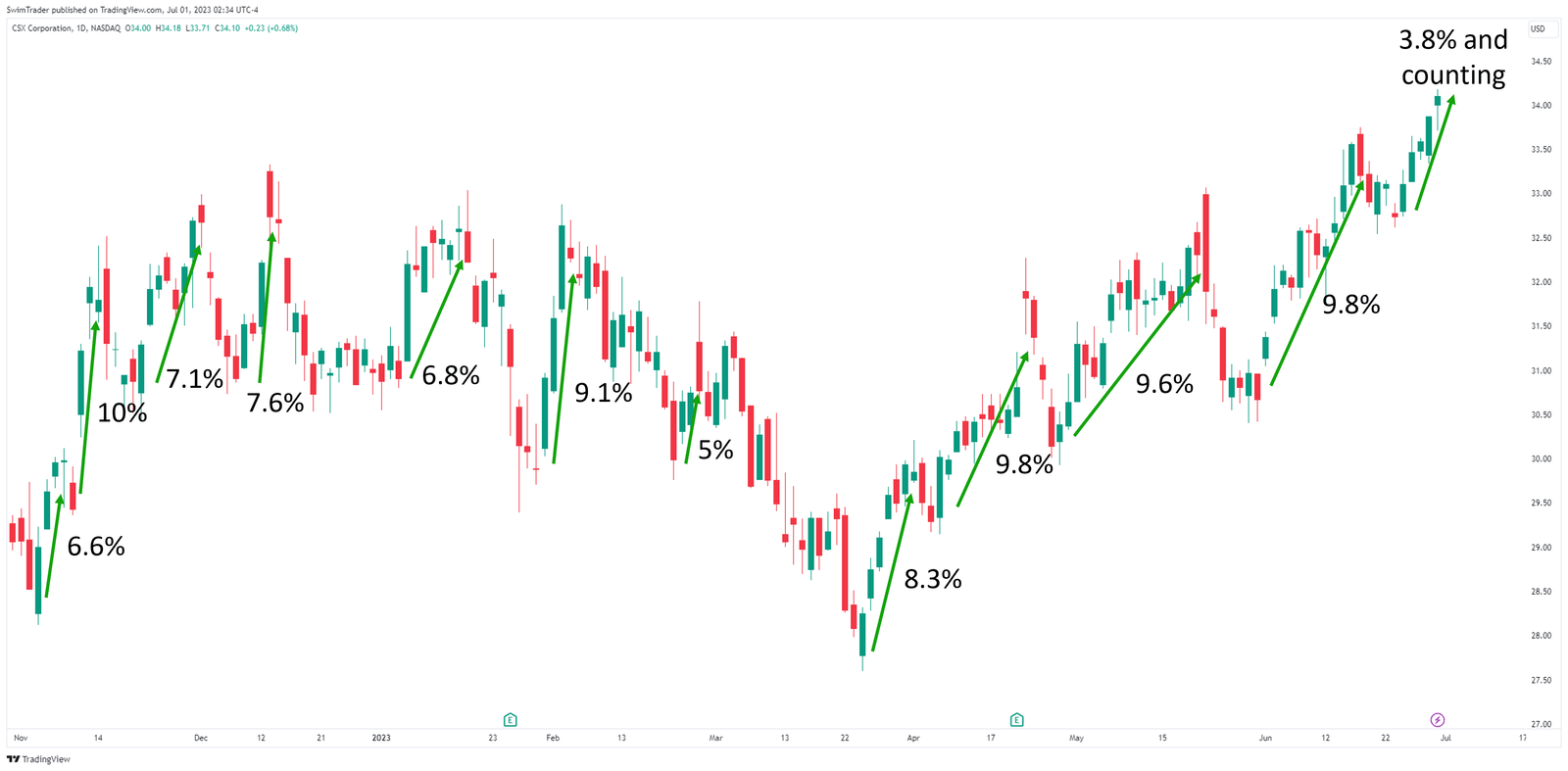 You've concluded that the shares of CSX are performing better than the S&P 500.
But outperformance isn't the only consideration for a swing trade. 
You'll want its shares to enjoy explosive up moves so that you make full use of your trading capital and time.  
To save you time, I've marked out all of its up moves in the past 8 months.
Can you see that each of its up moves measures at least 5% (excluding the one that's forming)?
The largest up move measured is 10%, which is remarkable as CSX boasts of a market capitalization of $69b!
With a $69b market capitalization, this ranks CSX as the 211th most valuable company in the world. Not an easy feat, if you ask me!
CSX's shares have proven to be explosive in nature, passing this filter with flying colors. 
What's the next filter?
Key Price Levels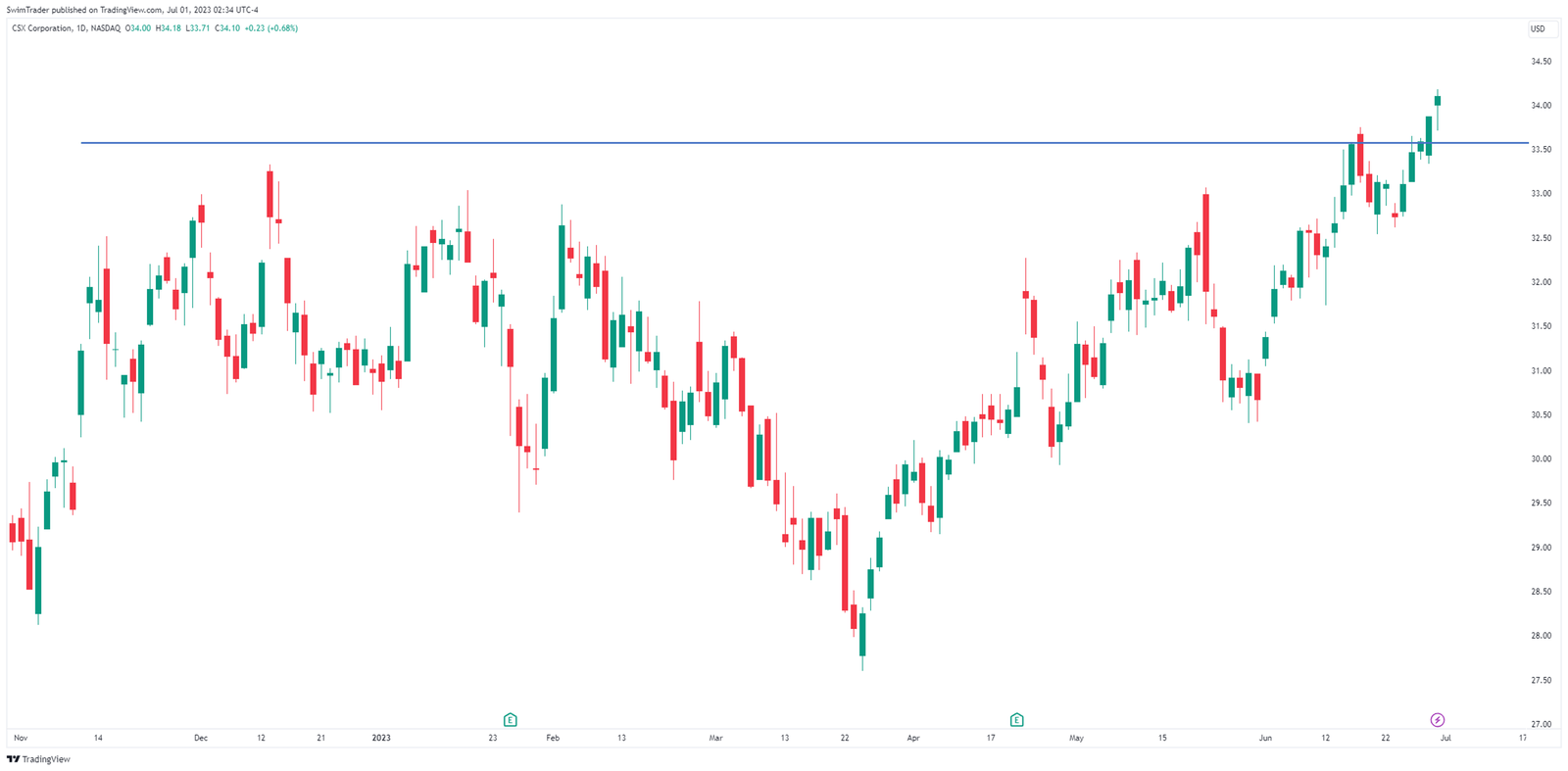 The next filter is to uncover the key price levels of the shares of CSX. 
This is because you'll uncover its support and resistance zones. 
Looking at the chart of CSX, you can see an area of support ~$33.50. When the share price of CSX pulls back in due time, it's likely to fall to ~$33.40 before resuming its rise. 
Being aware of this, you'll want to be looking for buying opportunities near $33.50 instead of chasing its shares now. 
The Strategy You Can Use To Swing Trade CSX (CSX)
After comparing the performance of CSX with the broader US stock market, determining whether CSX has experienced explosive up moves, and identifying its key price levels, it's time to talk strategy. 
To stay in business, you must know your entry, profit taking, and stop loss levels in every trading strategy. Yes, trading is a business, which means that your strategy must be well thought out.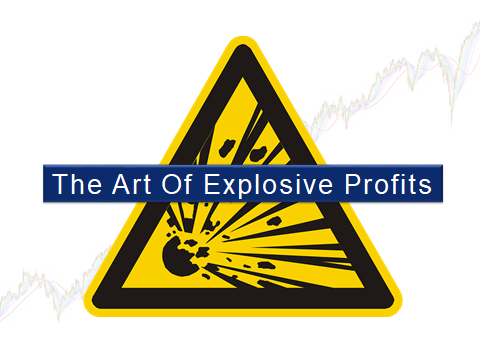 Using The Art of Explosive Profits (AEP) framework, I'd like to see CSX fall to $33.50 before considering an entry for a swing trade.
As the name implies, you'll be looking to consistently catch an explosive move in a short period of time.
Instead of relying on news and hearsay, the AEP course will teach you how to screen stocks for swing trading like CSX.
You'll also learn how to read charts and identify stocks that are about to make a big move.
Finally, you'll learn how to identify the optimal entry, stop loss, and take profit levels to capitalize on these explosive moves (in a safe manner, of course)!
Can you apply the AEP framework to provide you with a side income while working full time? 
Yes, you can! 
Come, have a look at the AEP framework and incorporate this explosive trading strategy into your arsenal to capitalize on more swing trading opportunities.
Why Is Swing Trading CSX Worth It?
Source: csx.com/index.cfm/customers/intermodal
The share performance of CSX has been better than the S&P 500. This makes its shares an attractive and worthy candidate for a swing trade.
In addition, its shares have shown to be explosive, enjoying up moves of between 5% and 10%!
While we wait for the pullback, please keep in mind that I'm not a financial advisor, so please treat this as edutainment and conduct your own research.
Lastly, all images are from pexels.com, pixabay.com, sectorspdrs.com, tradingview.com, and unsplash.com.
Here's What You Can Do To Improve Your Trading Right Now:
#1 Join us in our Facebook Group where we discuss the various ways of applying this by clicking here.
#2 Get market updates delivered to you via Telegram by clicking here.
#3 Grab a front row seat and discover how you can expand your trading arsenal in our FREE courses (for a limited time only) by clicking here.
Trade safe!