We are 1 week into Apr, known to be usually bullish for the US stock market. 
Through the past week, many stocks have pulled back, causing alarm to traders who had entered in late Mar or early Apr.
The share price of our stock pick for last week, Salesforce, has also pulled back. 
Salesforce's shares had touched its support zone of ~$191 before closing higher, and a swing trading opportunity looks to be inching closer.  
This week's swing trading opportunity is another technology stock: Oracle.
Shall we analyze its stock? 
Performance Of US Stock Market vs Oracle (ORCL)

Since mid-Oct 2022, the S&P 500 futures (aka overall US stock market) turned an uptrend. 
However, this uptrend isn't the smoothest of uptrends. Volatility is prevalent which has caused headaches for many traders. 
This can be inferred from the jagged movement of the S&P 500 futures. 
In the past week, the S&P 500 futures finally pulled back 
How did the share price of Oracle perform since mid-Oct 2022?
The share price of Oracle started climbing in mid-Oct 2022, before coming to a rest in mid-Jan to mid-Mar 2023. Its uptrend resumed thereafter, and its share price hasn't pulled back since.
Here comes the most important question in this section: Is the performance of Oracle's shares stronger than the overall US stock market? 
Yes, it is! 
Now that you've established that the performance of Oracle's shares is stronger than the overall US stock market, it's time to analyze it further. 
How Explosive Is Oracle (ORCL)?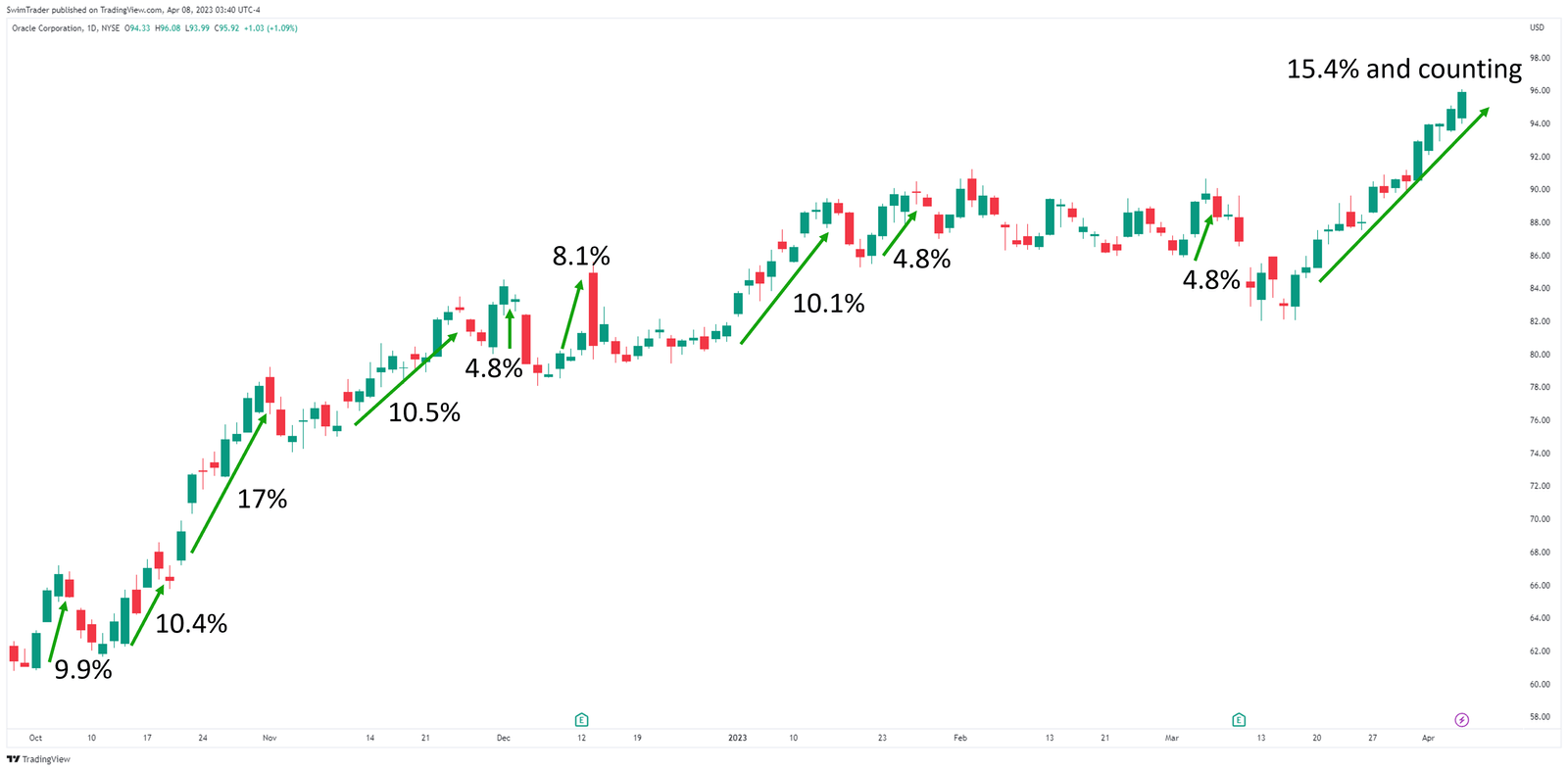 As a swing trader, you want the stock you're trading to move because time is money. 
Buying a stock that doesn't have the trait of being explosive in nature is costly. 
Just in the past 6 months, Oracle's shares have been rising by 4.8% or more in 10 occasions.
The largest move of them all is still ongoing, at 15.4% and counting! 
For a company that has a market capitalization of $259b, moves of such magnitude are mind-blowing.
Therefore, Oracle's shares pass this section with flying colors. 
Key Price Levels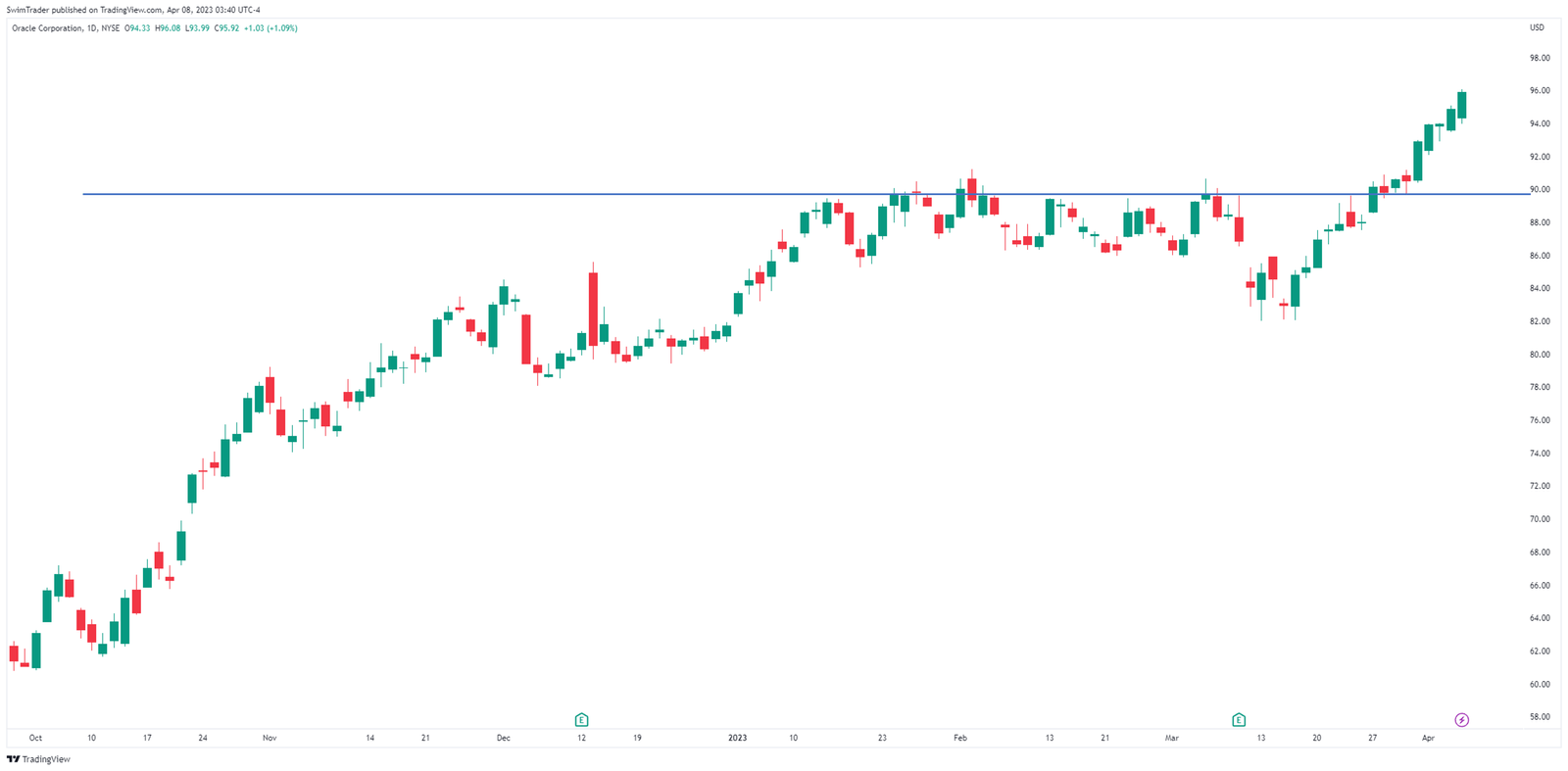 Before you turn your excitement into action, there's 1 more analysis to be performed. 
Yes, it's uncovering the key price levels (aka support and resistance zones) of Oracle's shares.
From its chart, you can tell that there's an immediate support zone at ~$90. 
What does this mean?
Oracle's share price has been rising for a good 3 weeks, 15.4%, without a pullback. It's therefore logical to expect it to fall in the near term to around $90 before heading higher. 
This also means that time is on your side. Patience is key and should be rewarded handsomely. 
The Strategy You Can Use To Swing Trade Oracle (ORCL)
After comparing the performance of ORCL with the broader US stock market, determining whether ORCL has experienced explosive up moves, and identifying its key price levels, it's time to talk strategy. 
To stay in business, you must know your entry, profit taking, and stop loss levels in every trading strategy. Yes, trading is a business, which means that your strategy must be well thought out.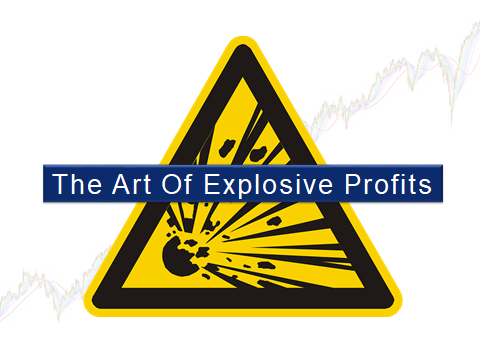 Using The Art of Explosive Profits (AEP) framework, I'd like to see ORCL pullback to around $90 before considering an entry for a swing trade.
As the name implies, you'll be looking to consistently catch an explosive move in a short period of time.
Instead of relying on news and hearsay, the AEP course will teach you how to screen stocks for swing trading like ORCL.
You'll also learn how to read charts and identify stocks that are about to make a big move.
Finally, you'll learn how to identify the optimal entry, stop loss, and take profit levels to capitalize on these explosive moves (in a safe manner, of course)!
Can you apply the AEP framework to provide you with a side income while working full time? 
Yes, you can! 
Come, have a look at the AEP framework and incorporate this explosive trading strategy to your arsenal to capitalize on more swing trading opportunities.
Why Is Swing Trading ORCL Worth It?

Source: oracle.com
The US stock market is in a bull run, and has entered 1 of its best months. While the S&P 500 futures was down slightly, the share price of Oracle soared. 
This strength is necessary when choosing a stock to swing trade on. 
Oracle's share price has also demonstrated its ability to explode upwards, between 4.8% and 15.4% while enjoying a huge market capitalization!
Everything that goes up must come down, at least temporarily. I foresee that the share price of Oracle should be coming down in the near future, presenting you with a fantastic swing trading opportunity. 
While we wait for a pullback, please keep in mind that I'm not a financial advisor, so please treat this as edutainment and conduct your own research.
Lastly, all photos and images are from unsplash.com, pexels.com, pixabay.com, and tradingview.com.
Here's What You Can Do To Improve Your Trading Right Now:
#1 Join us in our Facebook Group where we discuss the various ways of applying this by clicking here.
#2 Never miss another market update; get it delivered to you via Telegram by clicking here.
#3 Grab a front row seat and discover how you can expand your trading arsenal in our FREE courses (for a limited time only) by clicking here.
Trade safe!