Ask anyone what the best smart phone brand and model is and you'll be met with differing responses. This is because it depends on several criteria such as budget, taste and preference, usage type. This applies to stocks too.
When placed in the context of swing trading, there are a couple of important criteria to determine if a stock is ideal for swing trading. Instead of providing the criteria, I've made them more actionable by listing out the steps. And the best part? You can complete all the steps at a glance, under 1 minute.
#1 Price
Price means a lot especially when all of us have a limited trading capital. If you have a $6,000 trading account with margin, you can afford stocks that cost up to $120. If you have $10,000 in your trading account, you can look at stocks that cost up to $200.
Since there is an upper price limit depending on your trading account size, is there a lower price limit? Yes!
It is best to look at stocks that are priced at $20 or higher. This is because it'll be harder for these stocks to be manipulated.
Discover the 4 main considerations to determine how much you need to start swing trading here.
#2 Fluency
This simply means that the chart movement is smooth. There aren't many huge gaps where prices shoot up or down.
Here's a comparison between a fluent and broken chart:

Small gaps are also known as common gaps. They are acceptable in swing trading.
When there are frequent large gaps, they make swing trading a lot more difficult. Why?
The 1st reason is that such stocks are highly unpredictable. The price of such stocks can shoot up by 5% or more and collapse by the same amount or more within a week.
Instead of enjoying steady and consistent profits, you'll be in for a rollercoaster ride. Why risk hundreds (if not, thousands of dollars) when you can spend $80 at an amusement park to enjoy the same thrill?
The 2nd reason is that your stop loss will be so far away. Remember the elements to position sizing? One of the core element to calculating the number of shares you should buy for any given stock is the stop loss amount.
Imagine that your stop loss is $15 wide. How many shares can you purchase?
A more important question to ask is if you are able to stomach this loss of $15 per share. If your answer is no, then you should shift your attention to another stock.
#3 Market Type
Identifying the type of market for the stocks that you're watching comes next. There're 4 market types and the Type 1 market is the most ideal for swing trading.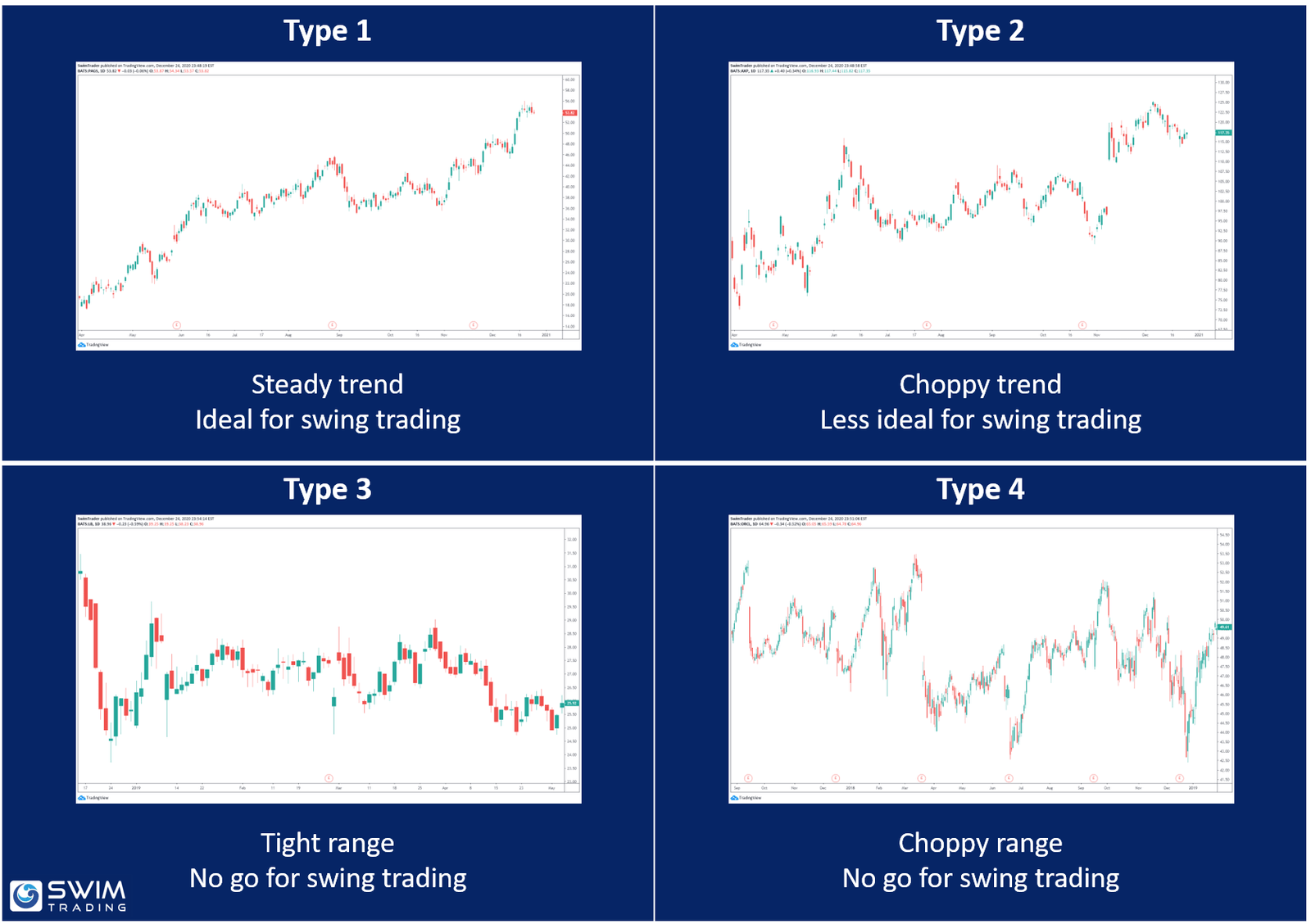 How do you qualify that a stock is in a Type 1 market? You'll be able to draw a tight channels that are about 10% wide. Prices are also trending smoothly.
This translates to a tighter stop loss. With this, you are able to purchase more shares of the stock. You'll be able to sleep soundly at night too.
As a Type 1 market is highly predictable, that's where you can employ your 2 swing trading strategies to reap consistent profits.
Here's What You've Learnt Today
The 3 criteria and steps – Price, Fluency, and Market Type will enable you to spot ideal stocks for swing trading. And you don't need a lot of time to find suitable candidates for swing trading.
Here's What You Can Do To Improve Your Trading Right Now:
#1 Register for our market outlook webinars by clicking here
#2 Join us in our Facebook Group as we can discuss the various ways of applying this by clicking here
#3 Never miss another market update; get it delivered to you via Telegram by clicking here
#4 Grab a front row seat and discover how you can expand your trading arsenal in our FREE courses (for a limited time only) by clicking here
Trade safe!