Health is wealth. 
You've probably heard this a hundred times. 
But it's so true. 
I was down from COVID-19 and have never felt so miserable with a sore throat, cough, and having to be cooped up at home. I was unable to do many of the things I love such as cycling and spending quality time with my family. 
Through this episode, I've come to cherish great health a lot more. 
Coincidentally, healthcare stocks are starting to turn bullish and this stock caught my eye – AbbVie (ABBV).
Shall we dive in to analyze ABBV? 
Performance Of US Stock Market vs AbbVie

It's good practice to analyze the overall US stock market before any particular US stock. Hence, you see the chart of the S&P 500 futures above. 
The S&P 500 futures is a good indication of the health of the overall US stock market as it consists of more than 500 big listed companies and the futures operates 24/5 as opposed to the S&P 500 index which is only open for trading during US trading hours. 
In the past week, the S&P 500 futures rose. This is in view of a massive downtrend which had started in Jan 22. 
On the other hand, the price of ABBV went sideways last week. This can be seen from the gray box in the comparison table above.
Does this mean that ABBV's performance is worse off than the S&P 500 futures?
ABBV was in a marvelous uptrend from Jan 22 before turning into a downtrend in Apr 22 which ended in mid Jun 22. 
Since mid Jun 22, ABBV has been in a new uptrend. 
Taking this into context, ABBV has in fact outperformed the S&P 500 futures. 
Understanding that ABBV has been performing strongly, how explosive is the share price of ABBV?
How Explosive Is ABBV?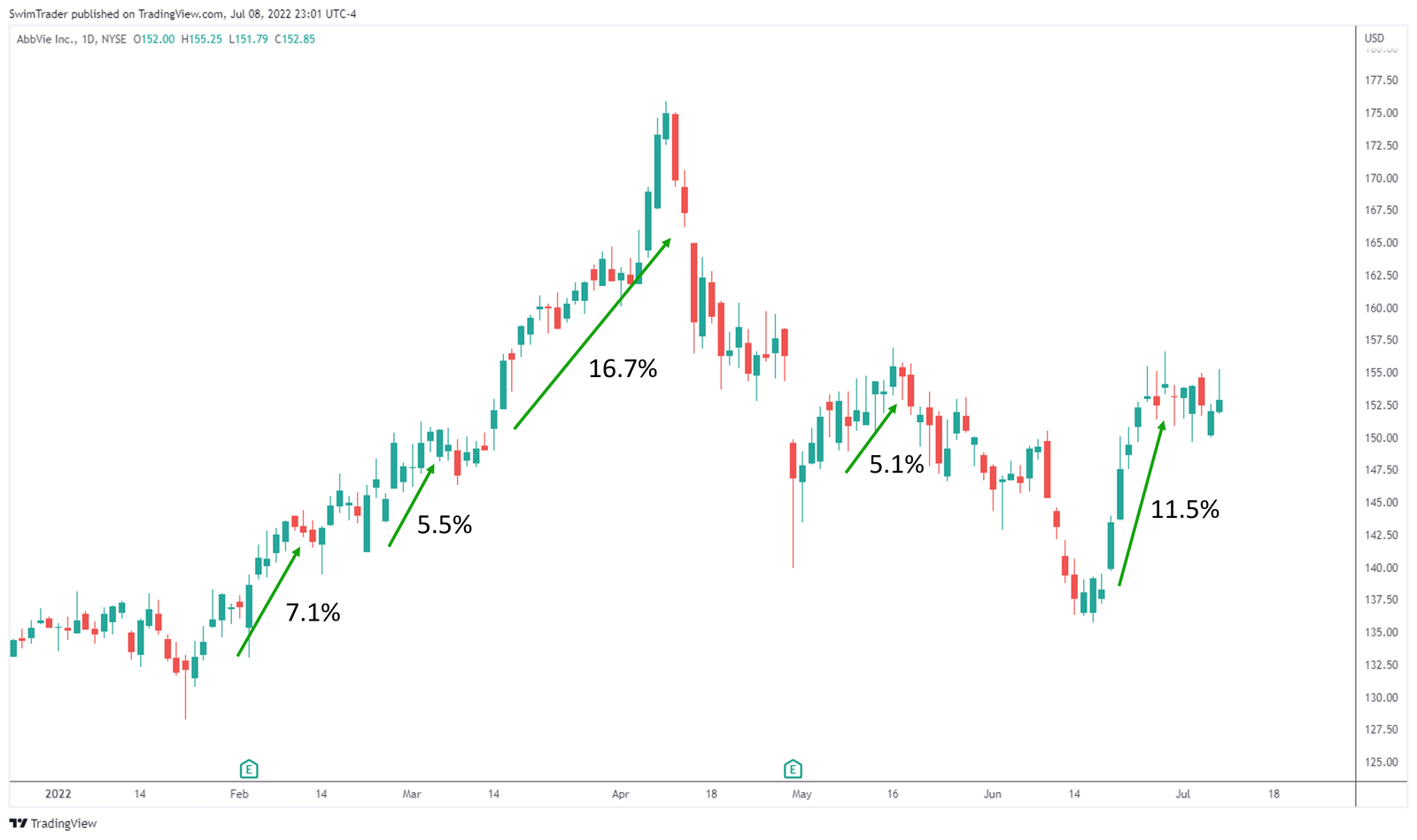 While in an uptrend between Jan to Apr 22, ABBV has experienced 3 explosive up moves. Each of these up moves ranged between 5.5% and 16.7%!
Over the past 6 months, there's been a total of 5 explosive up moves, with the smallest measuring 5.1% while the largest measuring 16.7%.
This is no easy feat for a company that has a market capitalization of more than $270b, making it the world's 31st largest publicly traded company. 
I see that you are logging into your trading account to buy ABBV.
Hang on! 
You'll need to uncover ABBV's key price levels 1st.
Key Price Levels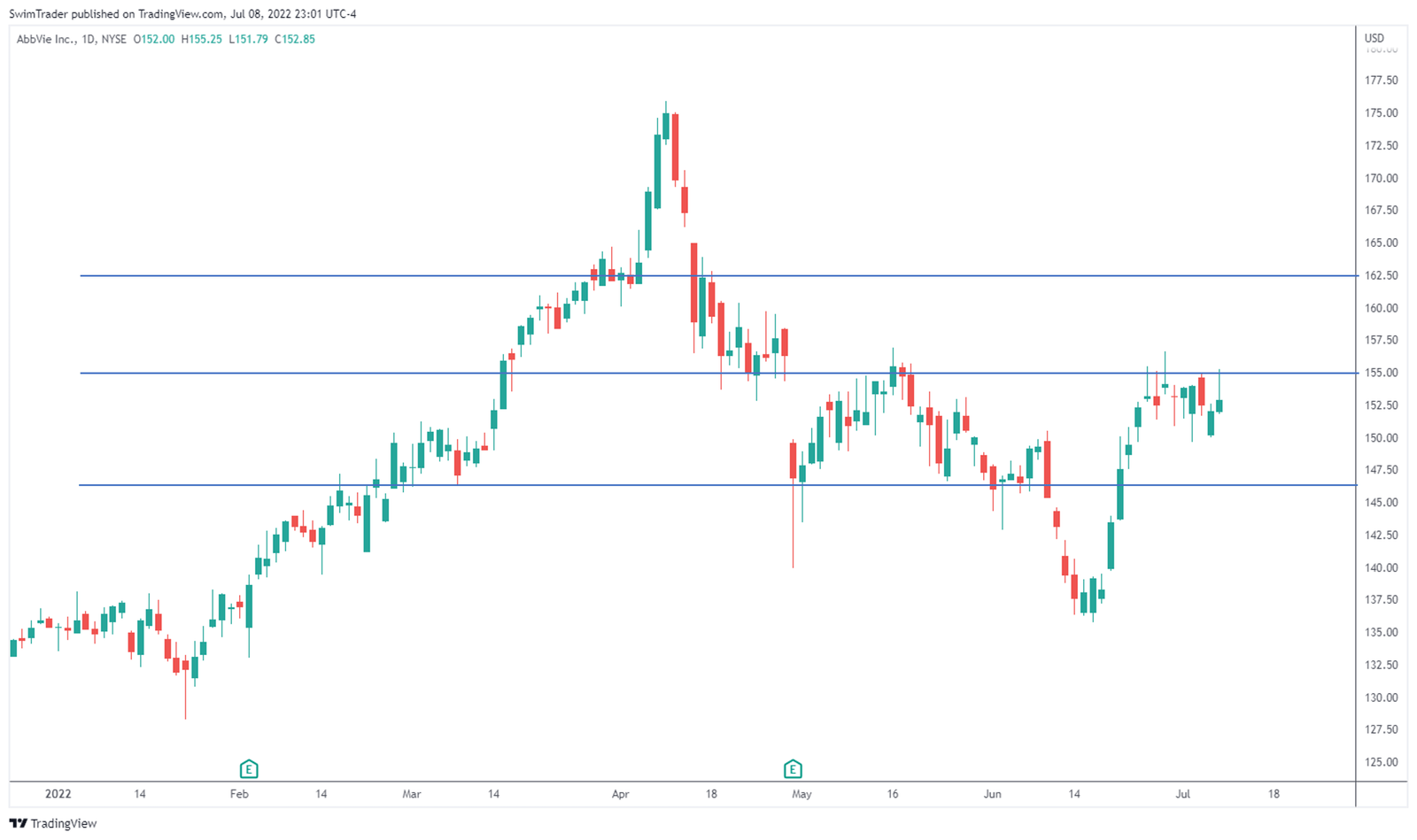 Yes, the next move is to plot out ABBV's support and resistance zones. This will help you to uncover the psychological price zones where traders are looking to buy or sell at.
Performing this analysis is also critical to help you evaluate if there's sufficient headroom for its price to increase to make your trade worthwhile. 
Here, you can see that there's an immediate support zone around $146, an immediate resistance zone around $155, and another resistance zone around $162.50. 
The price of ABBV is $152.85, which is below $155. This means that there's a chance for the price of ABBV to head lower towards $146 or break higher towards $162.50. 
However, I'm more inclined to see the price of ABBV break out of $155 before considering an entry.
The Strategy You Can Use To Trade ABBV
Here, you'll be planning your entry, profit taking, and stop loss levels. 
In every trading strategy, you must know your entry, profit taking, and stop loss levels to stay in business. Yes, trading is a business indicating that the strategy you use must be well formulated too.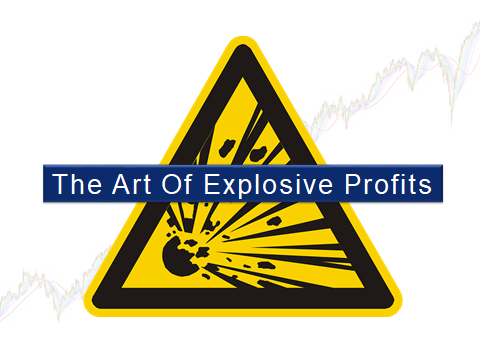 Using The Art of Explosive Profits framework (AEP for short), I'd like for the price of ABBV to break out of $155 and remain higher before entering. 
As its name suggests, you'll be looking to catch an explosive move in a short period of time consistently. 
In the AEP course, you'll be coached on how to search for strong stocks like ABBV instead of relying on news and hear-say.
You'll also become fluent in reading charts to shortlist stocks that are about to have an explosive move.
Finally, you'll learn how to identify the optimized entry, stop loss, and take profit level to capture these explosive moves that you've been waiting for (in a safe manner, of course)! 
Have a look at the AEP framework and add this explosive trading strategy to your arsenal to seize more trading opportunities.
Why Is ABBV The Stock Pick Of The Week?

Source: abbvie.com
ABBV is the healthcare sector which is extremely bullish since mid Jun 22.
The performance of ABBV has been fantastic compared to the overall US stock market for months. 
Moreover, each of the up moves of ABBV has proven to be explosive, measuring at least 5.1% for this behemoth. 
Besides, I smell a trading opportunity that's nearing. 
As I wait for the opportunity to arrive, please note that I'm no financial advisor, so I encourage you to treat this edutainment and do your own research.
Lastly all photos and images are from unsplash.com, pexels.com, pixabay.com, and tradingview.com.
Here's What You Can Do To Improve Your Trading Right Now:
#1 Join us in our Facebook Group as we can discuss the various ways of applying this by clicking here
#2 Never miss another market update; get it delivered to you via Telegram by clicking here
#3 Grab a front row seat and discover how you can expand your trading arsenal in our FREE courses (for a limited time only) by clicking here
Trade safe!