Berkshire Hathaway. What's the 1st thing that comes to your mind? 
Warren Buffet, the greatest investor of all time, value investing, the Oracle of Omaha, Charlie Munger, and the list goes on. 
The past few weeks have been madness – war in Ukraine and skyrocketing inflation due to the surge in oil and commodity prices. Yet, Berkshire Hathaway hasn't been hit hard. In fact, its share price has just reached a new all-time high!
How has the shares of Berkshire Hathaway (BRK.B) been performing? Let's find out!
Performance Of US Stock Market vs Berkshire Hathaway

This week was spectacular for both the S&P 500 futures and BRK.B. 
At this juncture, can you tell that the bulls are stronger in the S&P 500 futures? 
How? Through the length of the candlestick's body. 
The body of the candlesticks of the S&P 500 futures are much larger than those in BRK.B. However, this is only for last week. 
Overall, do you notice that BRK.B is a better performer? 
While the S&P 500 futures was falling from Jan to mid Mar 22, the share price of BRK.B was going sideways before exploding upwards! From this, you can be assured that BRK.B is in much better health overall.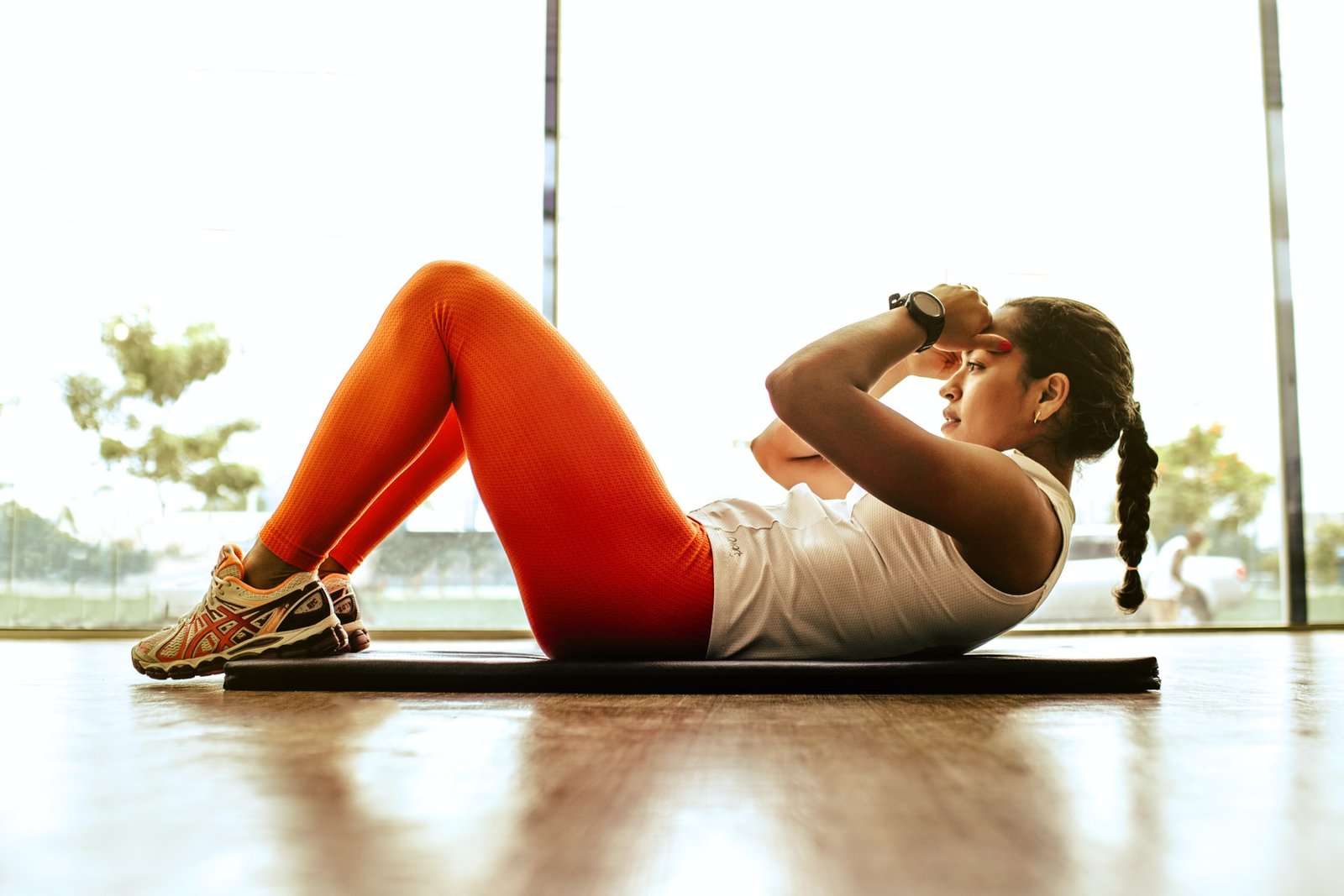 How Explosive Is BRK.B?
To appreciate how explosive BRK.B is, you need to know a bit of Berkshire Hathaway's background. 
Berkshire Hathaway is a mega conglomerate has the 7th largest market capitalization in the world! Can you guess how much Berkshire Hathaway is worth? 
Last week's candidate, Republic Services, is worth $40b and ranks the 434th largest company in the world. Berkshire Hathaway is worth a staggering $756b! 
With that said, is the share price of BRK.B explosive?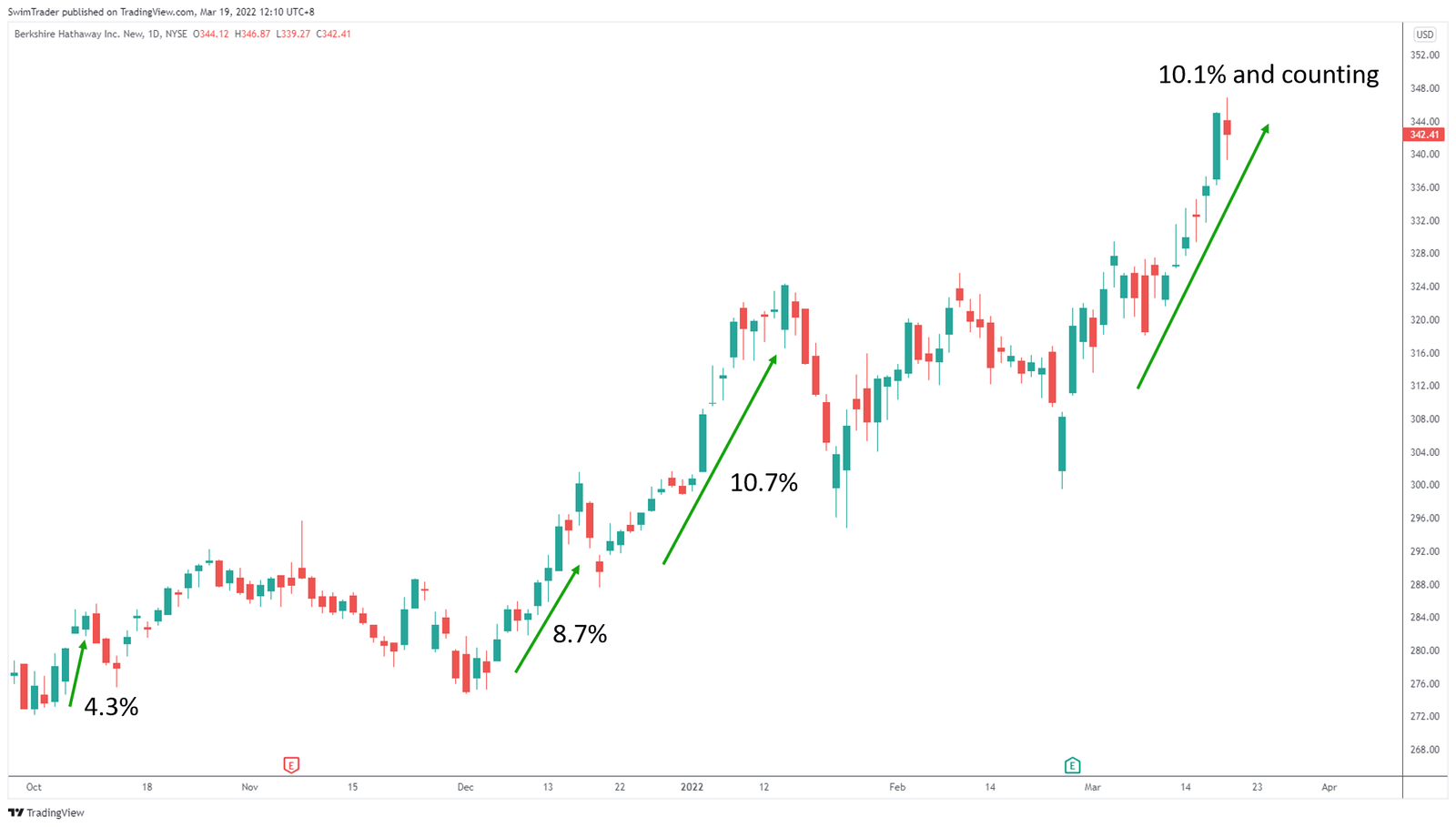 In just the past 6 months, BRK.B has experienced 4 explosive up moves ranging between 4.3 to 10.7%, with the last one at 10.1% and counting! This is a feat for a stock with a $756b market capitalization priced around $300 per share! 
Key Price Levels
Are there key price levels that you need to watch for? 
Let's have a look!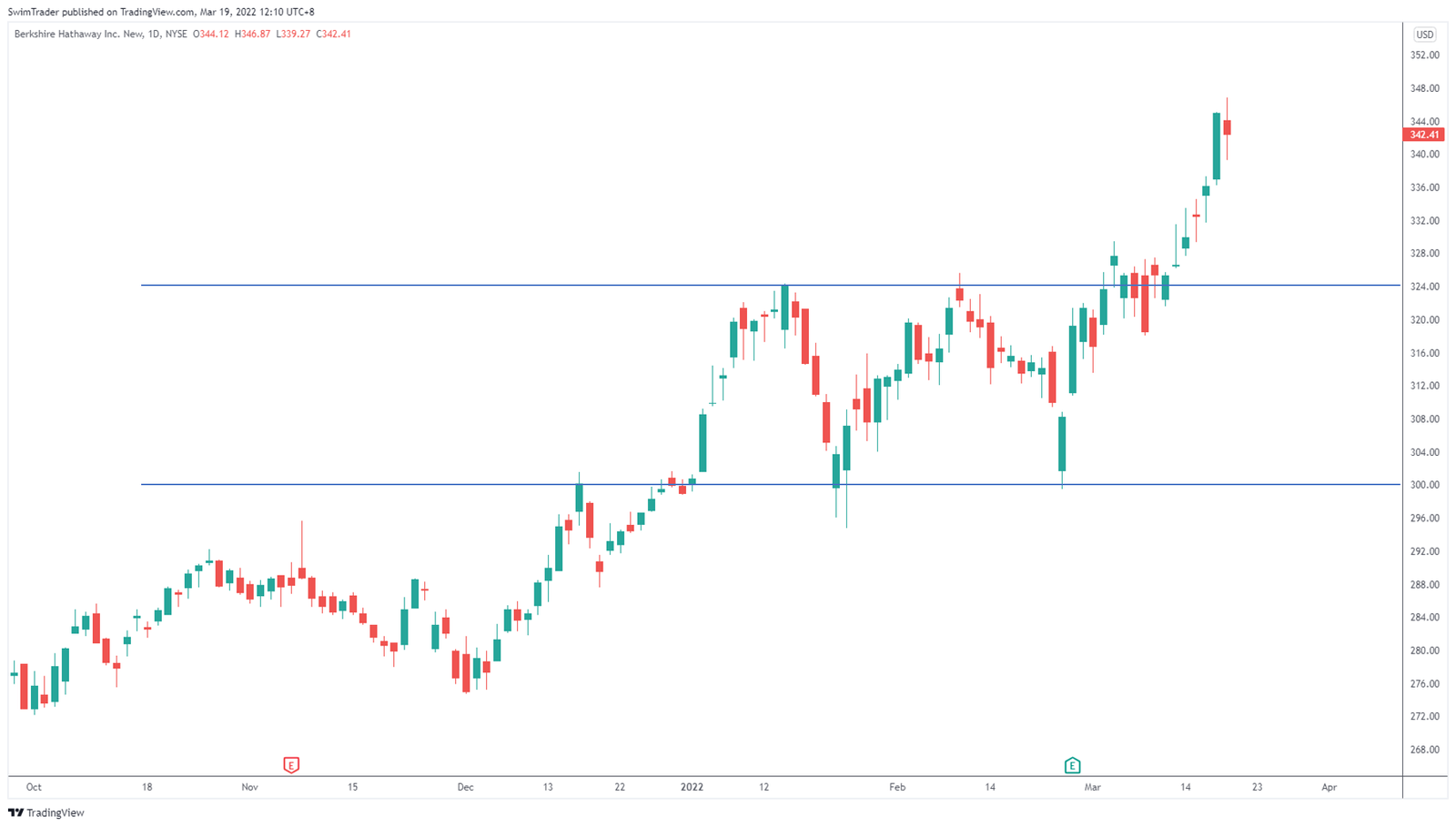 Did you also identify these 2 key price levels? 
There's an immediate support area at $324 and a lower support area at $300. 
Please note that all support and resistance area are zones where transactions happen, pushing price to the opposite direction. This means that if the price of BRK.B were to fall, its price may come back to $324 and bounce.
Does this mean that prices will come back to $324 in the near future? Should you wait for the price of BRK.B to drop to $324 before buying? 
The Strategy You Can Use To Trade BRK.B
Since you know that the share price of BRK.B is explosive, I won't want it to return to its immediate support at $324. By returning to $324, it would show me that the bulls are losing steam. 
So where should your entry price be?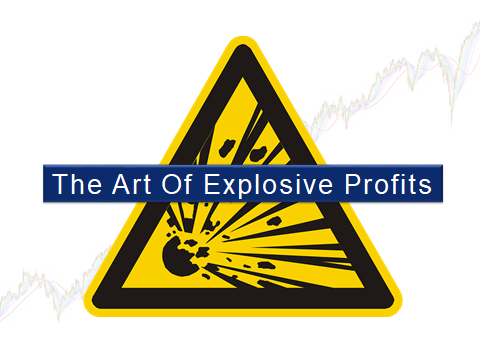 Using The Art of Explosive Profits framework (AEP for short), you'll want to wait for a shallow pullback before capturing the next explosive up move of BRK.B.
During the AEP course, you'll be coached on how to search for strong stocks like BRK.B instead of relying on news and hear-say.
You'll also become fluent in reading charts to shortlist stocks that are about to have an explosive move.
Finally, you'll learn how to identify and catch the explosive moves that you've been waiting for (in a safe manner, of course)! 
Have a look at the AEP and add this explosive trading strategy to your arsenal to seize more trading opportunities.
Why Is BRK.B The Stock Pick Of The Week?

BRK.B has been stronger than the overall US stock market. When the S&P 500 futures dived from Jan to mid Mar 22, BRK.B didn't. In contrast, the share price of BRK.B rose, consolidated in a range, and continued to rise again in the same period. 
This breakout has just begun, providing excellent opportunities to apply the AEP framework.
Being a $756b mammoth, BRK.B has shattered all doubts of it being a slow mover. It has proven that its recent up moves can be as large as 10.7%! 
However, you'll need to know that I'm not a financial advisor, so please treat this article as education. Have fun conducting your research and I'd love to hear your thoughts in our Facebook Group. 
Here's What You Can Do To Improve Your Trading Right Now:
#1 Join us in our Facebook Group as we can discuss the various ways of applying this by clicking here
#2 Never miss another market update; get it delivered to you via Telegram by clicking here
#3 Grab a front row seat and discover how you can expand your trading arsenal in our FREE courses (for a limited time only) by clicking here
Trade safe!