What beverage do you order with your meal at a fast food restaurant?
I usually order Coca-Cola to go with my meal.
Yes, I share the same taste for soft drinks as Warren Buffett.
I find that a cup of Coca-Cola goes well with meals.
In addition, the chart of The Coca-Cola Company looks great. But before we dive straight into analysis its chart, let's take a look at the performance of the overall stock market in the US and compare it to The Coca-Cola Company's.
Performance Of US Stock Market vs The Coca-Cola Company

What can you tell from the chart of the S&P 500 futures?
The S&P 500 futures has been in a downtrend since Jan 22. In the past week, its price has fallen too, as denoted by the red arrow.
On the contrary, the chart of  The Coca-Cola Company (KO) has been in an uptrend since late 20. Its share price has also risen in the past week (denoted by the green arrow)!
This is significant as this tells us that KO is A LOT stronger than the overall US stock market. Given its bullish strength, it's a potential candidate for an explosive swing trade.
Shall we analyze KO further?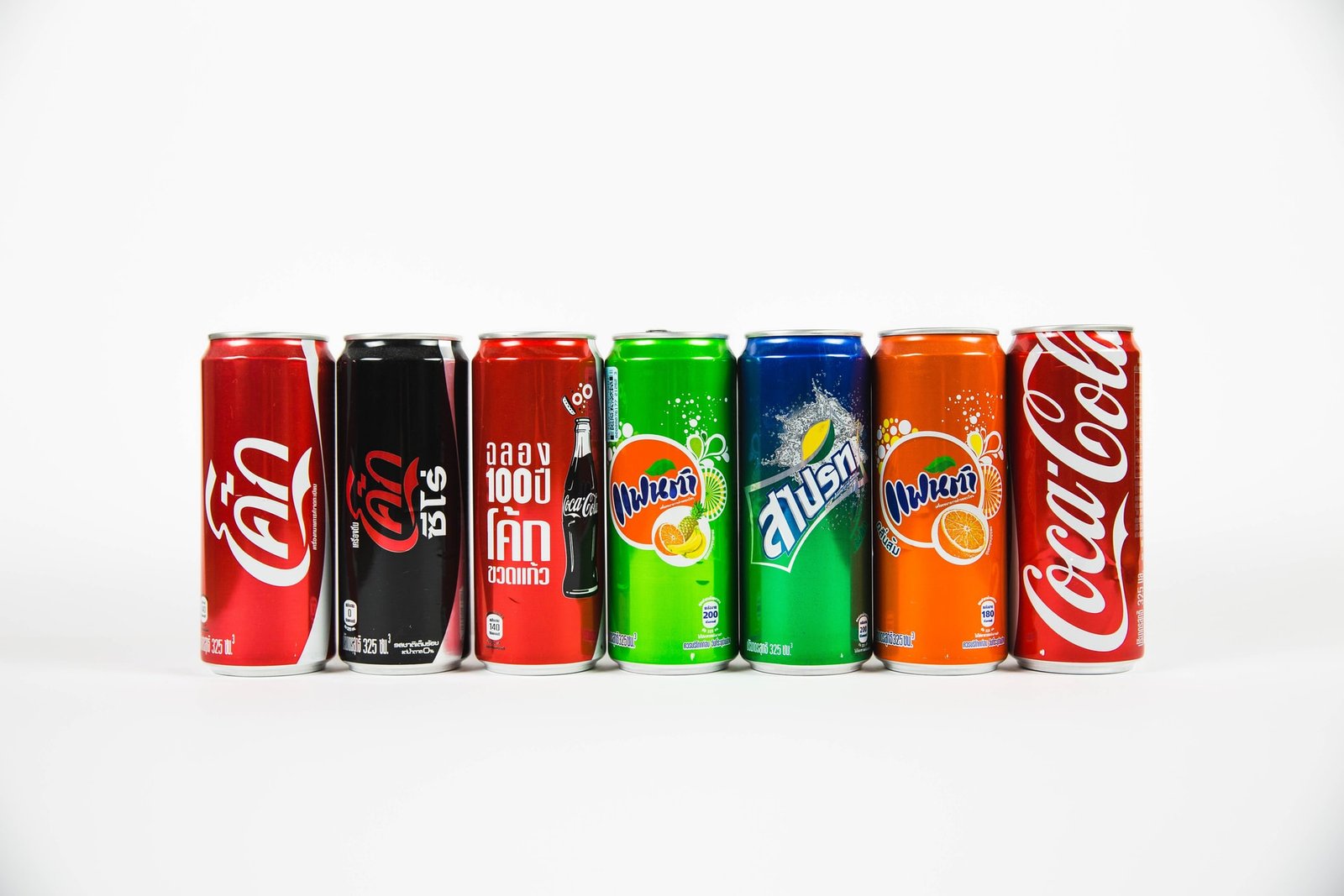 How Explosive Is KO?
KO is a huge company. How huge?
It has a market capitalization of nearly $285b! This ranks KO 26th in the world based on market capitalization!
Being this huge, has KO demonstrated that its share price is explosive?
Let's check it out.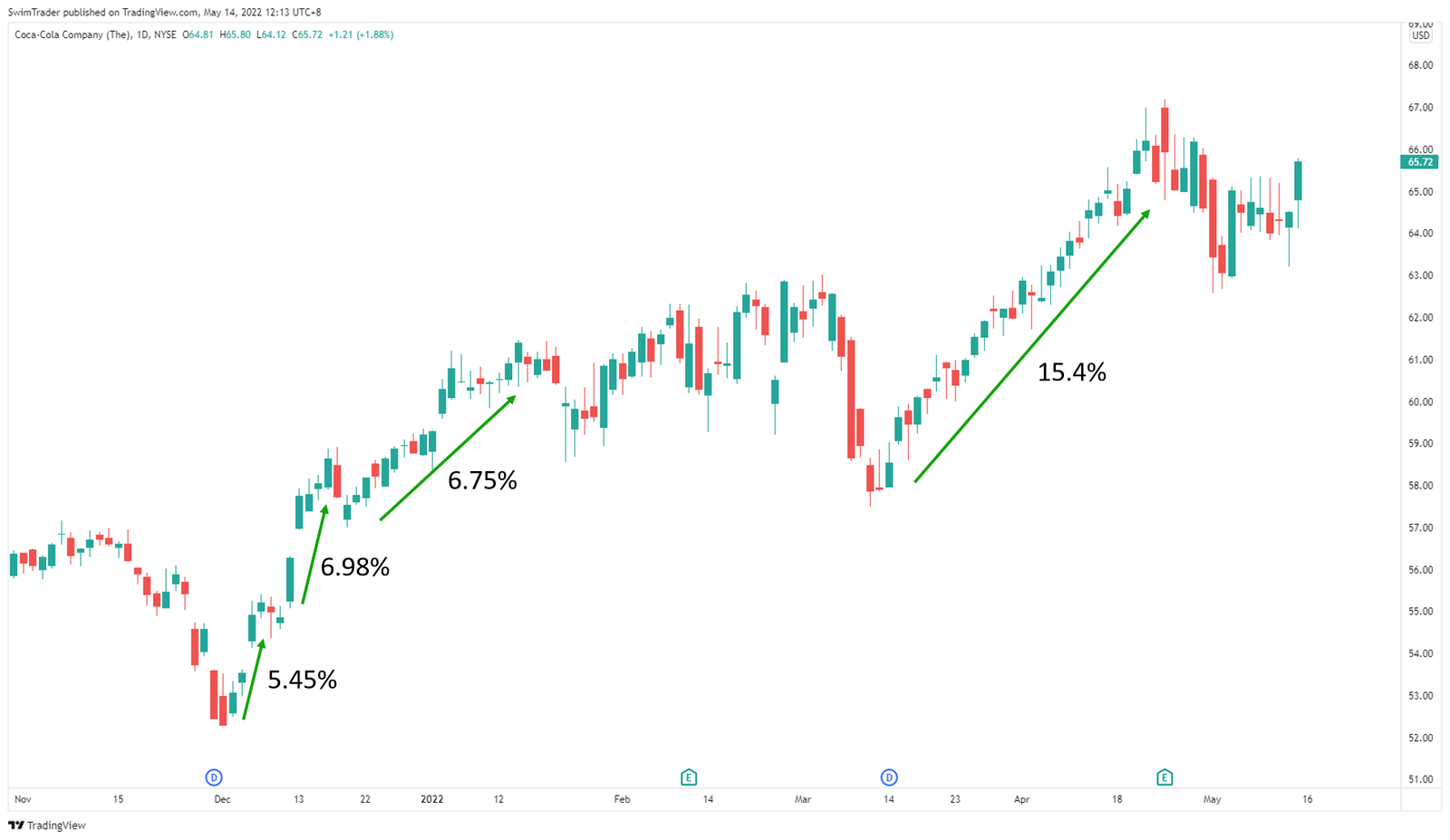 From the past 6 months alone, KO has enjoyed 4 big up moves.
The best part?
Each of these up moves have been larger than 5%, with the largest up move measuring 15.4%! This is despite KO's market capitalization of $285b.
Now that you know that KO has the potential to be explosive in its up moves, the next step is to uncover its key price levels.
Key Price Levels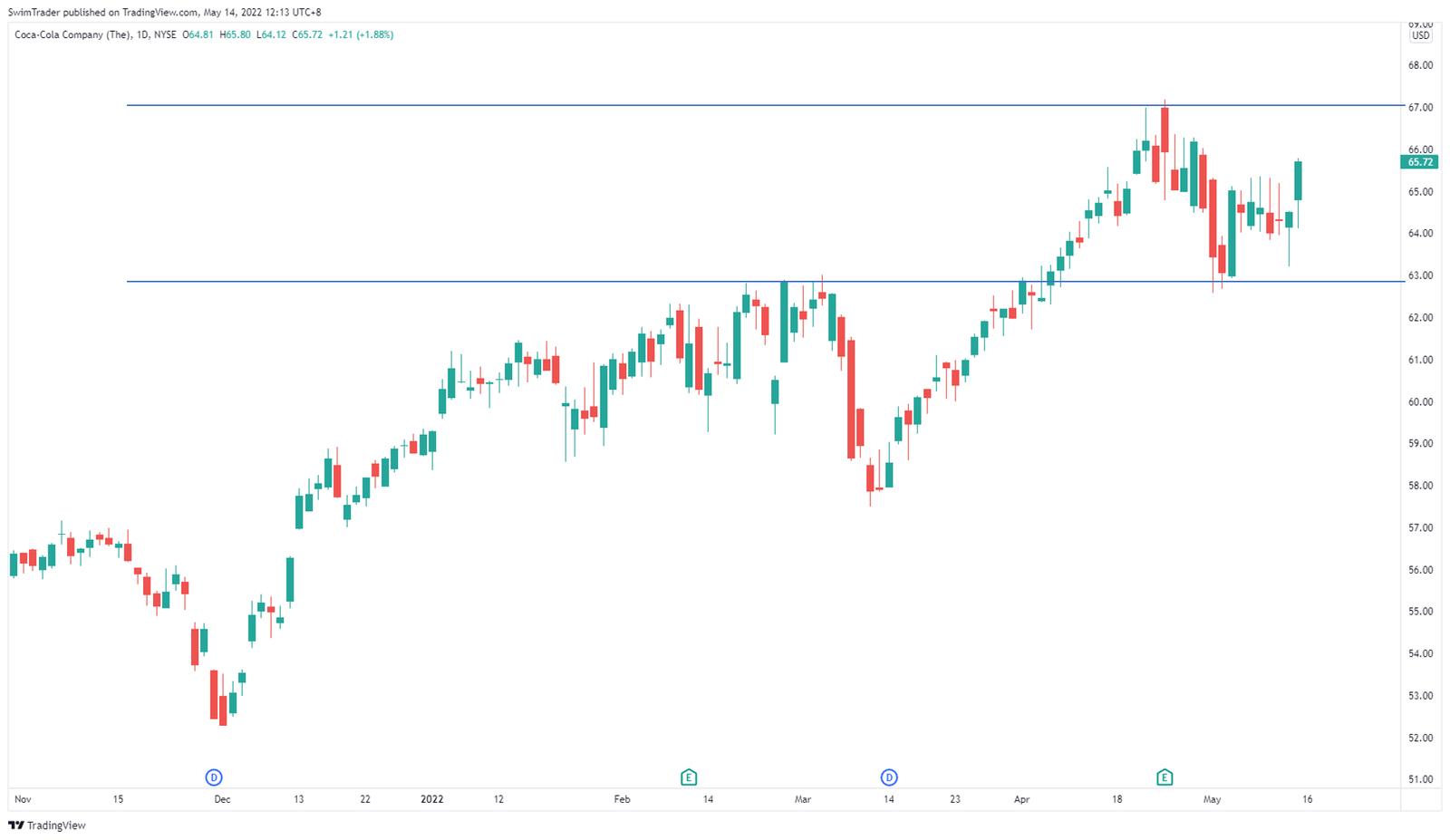 With the key price levels of KO plotted out, you've identified its support and resistance zones. This is important as support and resistance zones tell you where prices are likely to turn, helping you to avoid heartache from losses which could've been prevented. 
From the chart above, you can tell that there's an immediate support zone at $63 and an immediate resistance zone at $67. There's potential buying pressure at $63 while potential selling pressure at $67. 
Having identified the support and resistance zones of KO, it's time to discuss the strategy you can employ to capitalize on such an explosive stock.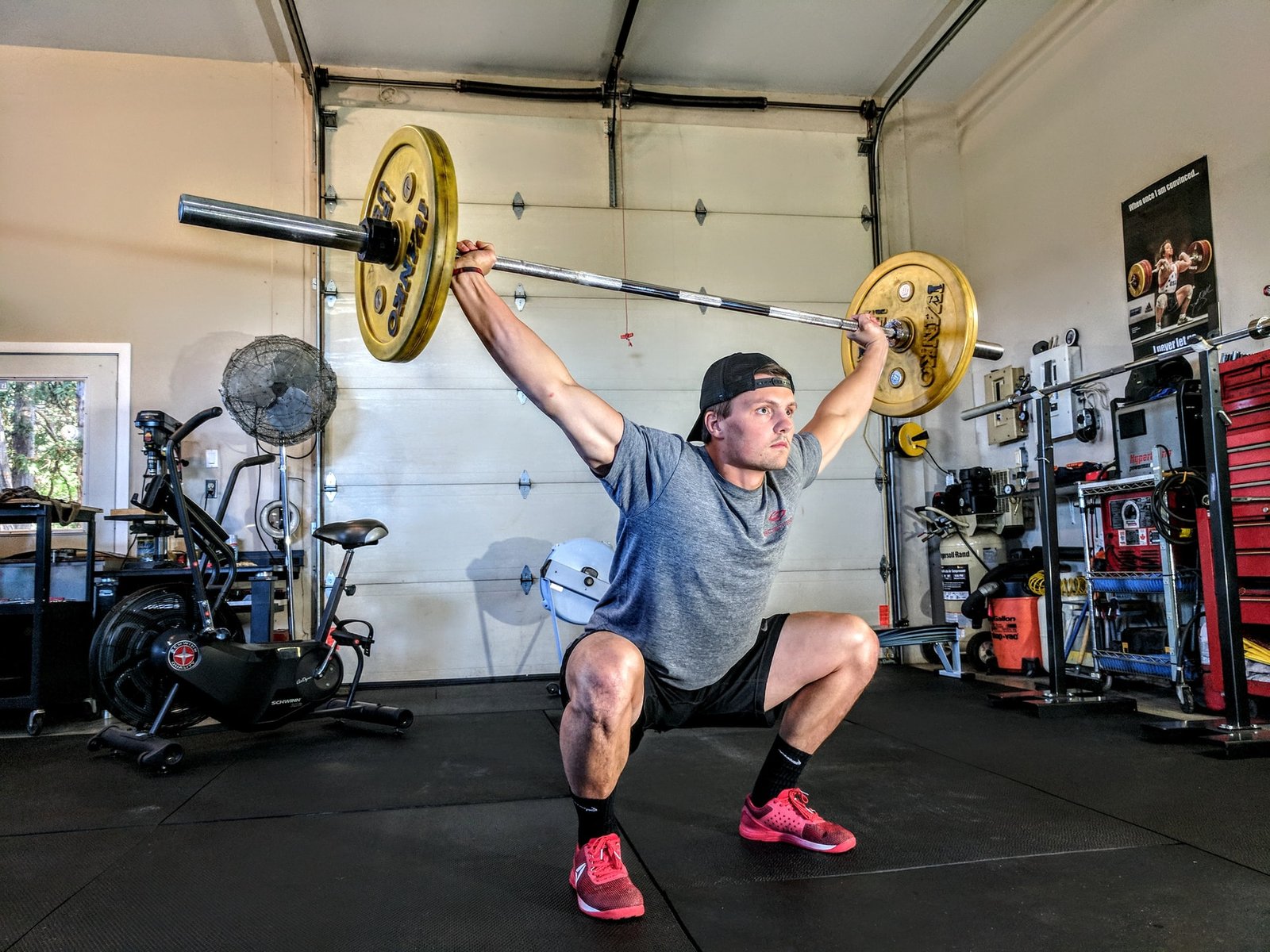 The Strategy You Can Use To Trade KO
I've spent time analyzing the S&P 500 futures to have a sense of the overall US stock market before diving into KO. This is to provide you with an added edge. 
Now, you've finally arrived at the part on strategy where you'll be planning your entry, profit taking, and stop loss levels. 
In every trading strategy, you must know your entry, profit taking, and stop loss levels to stay in business. Yes, trading is a business indicating that the strategy you use must be well formulated too.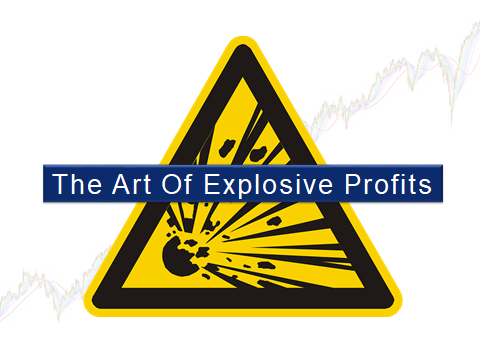 Using The Art of Explosive Profits framework (AEP for short), I'd want the support level of $63 to hold well. I'd also want the price of KO to head higher within next week, forming another explosive up move! 
As its name suggests, you'll be looking to catch an explosive move in a short period of time consistently. 
In the AEP course, you'll be coached on how to search for strong stocks like KO instead of relying on news and hear-say.
You'll also become fluent in reading charts to shortlist stocks that are about to have an explosive move.
Finally, you'll learn how to identify the optimized entry, stop loss, and take profit level to capture these explosive moves that you've been waiting for (in a safe manner, of course)! 
Have a look at the AEP and add this explosive trading strategy to your arsenal to seize more trading opportunities.
Why Is KO The Stock Pick Of The Week?
KO is the stock pick of the week for a handful of strong reasons. 
The US stock market is still declining. However, KO has been outperforming the US stock market over the past 6 months! Trading strong stocks provide you with a winning edge. 
KO is the world's 26th largest company in the world by market capitalization. And this hasn't stopped the up moves of KO from being explosive. 
In the past 6 months alone, KO has had 4 massive up moves with the largest up move measuring more than 15%! KO is such an explosive stock. 
With all these said, please treat this article as educational content because I'm no financial advisor. Have fun conducting your own research. 
And, I need to stock up on Coca-Cola to survive this sweltering summer!
Here's What You Can Do To Improve Your Trading Right Now:
#1 Join us in our Facebook Group as we can discuss the various ways of applying this by clicking here
#2 Never miss another market update; get it delivered to you via Telegram by clicking here
#3 Grab a front row seat and discover how you can expand your trading arsenal in our FREE courses (for a limited time only) by clicking here
Trade safe!